If you are searching for Huawei Nova 3 display price, we can help. On this page, we offer Huawei Nova 3 screen replacement, which you can use to overcome a broken display or touch screen glass problem. It is very common to damage the screen accidentally, but a broken display can be restored quickly with a new Huawei Nova 3 Combo.
What is the meaning of Huawei Nova 3 Combo?
The meaning of the Huawei Nova 3 combo is a complete set of the display and touch screen digitizer glass. In Huawei Nova 3, display and touch screen glass, both parts form a single unit called Combo or Folder. Now when the touch screen glass or the display breaks accidentally, you need to replace the complete display unit.
In other words, It really doesn't matter if the touch screen glass is broken or the display is broken. In any case of damage, you need to replace the complete unit consisting of display and touch screen glass. This is the exact protocol that is followed by all the official service centers all over the world. The glass replacement is the worst quality solution you can buy for your phone and as we are not into selling low-quality parts. We are simply not doing or recommending such solutions. We are fully aware that despite warnings, customers have a tendency to run behind cheap solutions, which will always result in additional headaches and money wastage.
How can I replace only the glass without replacing the display?
Many customers are looking for cheap alternatives to replace the screen, but all those solutions come with pain. If you are thinking about replacing only the glass, this is something we never recommend due to quality issues. Please also keep in mind that only glass replacement is done using inferior quality material, so you can't expect great results. The glass replacement is a workaround, not a solution to the problem. The process of glass removal is entirely manual, and dust spots and low brightness are very common problems after glass replacement.
If you love the quality, always go for Huawei Nova 3 combo replacement. The advantage of the folder is you are buying a brand new display unit for the phone instead of repairing the broken one. So the new Nova 3 Combo is 100% the same as fitted on your phone. For this reason, you can expect 100% perfect quality and the same user experience as your original display.
What are the supported model numbers of this display?
Huawei is a global brand and sells the phone in almost all countries. So It is also possible that you bought the Huawei Nova 3 phone overseas and now looking to buy its display. In different countries, the phone sells under a different model number, and these model numbers are :
PAR-AL00
PAR-LX1M
PAR-LX1
PAR-LX9
PAR-TL20
PAR-TL00
All the above model numbers indicate Huawei Nova 3 phone, and If you have got a phone matching with the above model numbers, feel free to order the display from this page. If you've any further questions, please feel free to contact us at 9587954273.
Are you also attracted to the low prices and fooling yourself?
We are in business for more than ten years now, and from our experience, the masses are running behind cheap solutions. Almost every customer goes to the market to find the most inexpensive solution to the problem and still expect a top-notch quality, and this is impossible.
We have seen lots of customers come to us after buying from big retail websites, and they are fully dissatisfied with the quality they got from there. We ask them about the price they paid, and the fact is, they expected an original product for a super low price. Now they are skeptical about buying from any website because they made a decision which wrong went. If you are buying low-quality goods which come from third party manufacturers, you are burning your money just because you are attracted to a low price.
Most customers don't want to understand that originals are never available for cheap. If you just want to show off that you bought something cheap, It can satisfy your ego, but you will never get the original product. Whatever you are buying for affordable prices is 100% duplicate junk, and this led you to believe that original parts are not available anywhere.
What are the benefits of buying a 100% original display?
We do have original parts available, but they cost almost double of what you had paid before. We are not into cheap marketing tactics, and we don't even like to talk with customers who are expecting miracles for low prices because they will always burn their hands, no matter what. Here are the benefits of an original display :
The original display of Nova 3 is extremely durable because of the original touch screen glass.
The brightness of the display will be simply excellent, which you'll never get in first copies.
You can easily play games as only the original display supports multitouch features.
The original display will never overheat your phone because the components and circuits used in the display are 100% quality.
The touch screen smoothness of the original display is unmatched, and cheap screens can never match it.
We have seen lots of cases when customers are fooled by their known mechanics for the sake of making money. The mechanics you deal in the local market literally know nothing about the original screens and their ultimate goal is fooling you and making money. We back our products with a solid 30 days money-back guarantee because we are 100% confident about what we sell to our customers.
Huawei Nova 3 Display Specifications
| | |
| --- | --- |
| | This combo is 100% original, tested and suitable for Huawei Nova 3 (Model Number PAR-AL00). |
| | The Huawei Nova 3 display size is 6.3-inch, display type is FHD+ IPS display and display resolution is 1080×2340 pixels. |
| | It is a complete unit of display and touch screen glass combined together. |
| | Our testing engineers test each screen for 100% perfect working before dispatch. |
| | This display works perfectly in all Indian and foreign variants. |
| | The Nova 3 combo offers 100% original colors, quality and brightness. |
| | We test these screens on actual motherboard of Huawei Nova 3. |
| | You can always take a trial before your fix the product to verify the quality. |
| | You can easily connect with us using WhatsaApp support at 9587954273. |
| | We can deliver the products to your doorstep anywhere in India. |
| | You can order our products using Cash on Delivery or Online Payments. |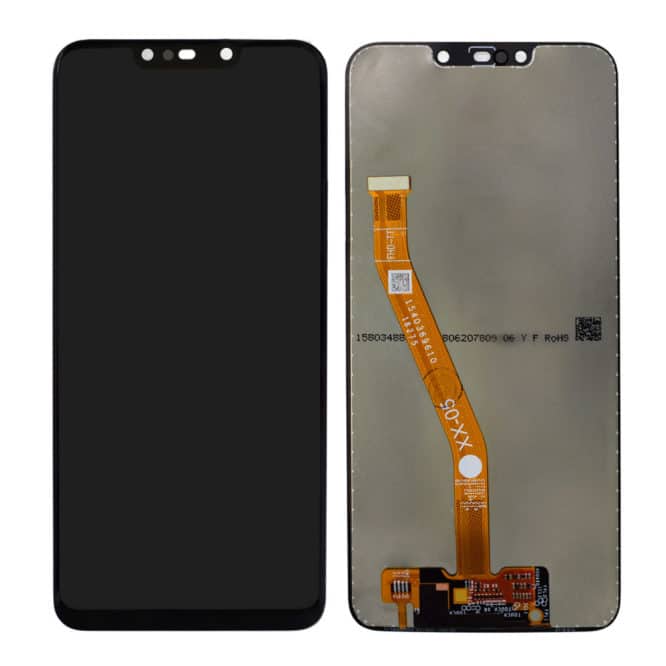 Frequently Asked Questions
Q: How much does it cost to replace a broken Huawei Nova 3 display in India?
The price of a 100% original Huawei Nova 3 display replacement is around Rs 3300-3500. If you buy a first copy screen replacement, then the combo costs about Rs 1300-1500 in India. You may have to pay additional repairing charges on top of the display's price to a mechanic.
Q: Can I replace the display myself at home?
Yes, you can replace the display home if you've all the necessary tools and necessary knowledge. However, as replacing the display from a technician will cost you simply Rs 150-200, we don't recommend that you take any type of risk. Simply go to a technician's shop and have him replace the display for you. It is the best solution for a broken display problem.
Q: How can you get the original parts when no one has them? 
For your information, the Original parts cost two times higher than the first copy duplicate screens. In the local market, everyone is sourcing parts from the big wholesale markets (like Delhi and Mumbai), where you can never find an original part because it is a price war there.
All shopkeepers are afraid of losing the customer if they didn't offer the lowest price, and this competition is fueling the price war, which can be won only by offering first copy duplicates. We are not working on such a concept as our purchase price is nearly double than what is selling price in the retail markets. We buy directly from the OEM manufacturers, and that's why the quality we offer is the same as you get with a brand new phone.
Q: The mechanic is my friend, and he says that the original parts are nowhere available. What about that?
The mechanic can be your friend or your brother or a known person, but It doesn't mean that they know everything about the business. In our purview, 99% of mechanics have never even fitted an original display in customer's phones, and they still consider themselves as a master of all trades. If you want to test the person you thought is a genius, simply ask him about the OEM manufacturer of the display and can't say anything about that.
The original parts are indeed available, but the prices are quite high. When it comes to paying the amount for the original display, most customers will rather accept a duplicate screen, and that's why selling first copies is a thriving business. If you wanted a 100% original screen for Huawei Nova 3, give us a try, and you'll be pleasantly surprised by the quality you get.
Q: Do you accept returns?
Yes. We do accept returns provided you return the product to us in the same condition as received. We don't accept used parts back. You are free to test the display by connecting it to your phone, but you can't tamper with the product in any way. We supply brand new products to our customers, and we'll accept the returns in the same condition only.
Shipping, Return and Refund Policy
We test each combo for 100% perfect working before shipping it to the customer. We always ensure that every piece is 100% original, tested, and working without any flaws. Still, our products come with 30 days return, refund, and replacement guarantee. To return a product, It should be in the same condition as we sent. You can't use or fix the items If you want to return. For complete details about Shipping and Returns, please click here.