You can't purchase any ordinary display replacement for your Huawei P30 Pro phone because it's a premium flagship device. The Huawei P30 Pro is a beloved phone of many customers who want to purchase a 100% original display replacement for their phone. Please note that a new display for this phone is quite costly if you want to enjoy the same quality as before. If you are looking for a cheaper alternative, we cannot help you in that regard.
The Huawei P30 Pro display is very sturdy and can easily take minor drops. It is not a display that will break on the first drop because it is solid in terms of durability. However, any glass component will break after a harsh drop, and the Huawei P30 Pro display also breaks if you drop it from a great height or your phone collides with a hard surface. The Huawei P30 Pro display structure is complex, and makeshift solutions are not going to work.
How much does it cost to replace a broken Huawei P30 Pro display in India?
The price of a 100% original Huawei P30 Pro OLED (in-display fingerprint working) display replacement is Rs 18500-19000. If you buy a display replacement without the frame and the fingerprint scanner, you can get it cheaper, but we don't suggest you sacrifice the essential features of your phone.
What is the meaning of the Huawei P30 Pro Display Combo?
The simple meaning of a display combo is a unit of display and touch screen digitizer glass merged into one. A display and touch screen digitizer glass are no longer separate in recent times, but both parts go hand in hand to craft a display unit. It doesn't matter if the top layer of glass is broken or the inner display is broken; you always need to replace the complete display unit.
Some customers find alternative solutions when only the inner display breaks or only the touch screen glass breaks. If you try your hands on alternative solutions, the outcome won't be worthwhile. Almost all solutions in the local market make use of duplicate parts, and that's why lower prices are possible.
Before you order a display replacement for P30 Pro, always read the product description because many shady websites that sell duplicate products don't mention all the aspects to trap customers. At Touch LCD Baba, we sell only original screens, and all the specs are the same as your factory-fitted display. If you have any additional questions, you can always contact us at 9587954273.
Huawei P30 Pro Display Specifications
| | |
| --- | --- |
| | This display is 100% original, tested, and suitable for all variants of the Huawei P30 Pro. |
| | The Huawei P30 Pro display size is 6.47 inches, the display type is OLED (HDR 10) and the resolution is 1080 x 2340 pixels. |
| | It is a combo of the display and touch screen glass pre-assembled into the outer frame. |
| | We offer a 100% original display which also supports an in-display fingerprint scanner/reader. |
| | You don't need to paste the display manually as the display combo comes pre-fitted in the frame. |
| | We always test each display for 100% flawless working before dispatch. |
| | This display replacement works with all Indian and overseas variants of the Huawei P30 Pro. |
| | We make sure to test each display for 100% perfect working before dispatch. |
| | You can also test the new display for flawless working before dispatch. |
| | We have ready stock of Huawei P30 Pro display and shipping time is very quick. |
| | You can order the product using Cash on Delivery and Online Payments (10% discount). |
These are the model numbers of the Huawei P30 Pro
Huawei is a global brand and sells premium phones all over the world. A single device can have different model numbers depending on the origin country. Many customers bring a phone from overseas, and later when the display accidentally breaks, they need a replacement for their phone in India.
That's why it is important to mention all the model numbers so that even if you've bought the phone overseas, you can match the model number and purchase a suitable display replacement for your phone accordingly. The model numbers for Huawei P30 Pro phone are :
VOG-L29, VOG-L09, VOG-L04 (Global)
VOG-AL00, VOG-AL10, VOG-TL00 (China)
If your device matches to above model numbers, this display is suitable for your phone. If you're in doubt, we can always assist you. You need to share front and backside photos of your phone with our support team, and they will help you order the right product. Please send a WhatsApp message to us at 9587954273.
Why should you purchase a display with an outer frame?
Please note that it is always a good idea to purchase a pre-assembled display for your phone, and we call it a display with an outer frame. Please note that you can also purchase a display without the outer frame, which is cheaper, but that's not the right approach.
If you purchase a display without the frame, you'll need to paste it manually in the frame, which requires expertise. If you are repairing your phone locally, the technicians can even damage a without-frame display if not installed properly. To install a without frame display, you'll need to do the following:
First of all, you need to take off the broken display from the frame.
Then take off the remaining glue and clean the frame properly.
After that, you need to apply glue to the frame manually and then paste the display after testing it.
If you don't align the display properly or overuse the glue, you can face big consequences, and you can't afford to take such a big risk. The final fitting of the without frame display is not up to the mark, and that's why even the official service center always uses a display replacement along with the outer frame.
That's why a display with a frame is always the recommended approach because the hard work is already completed for you. You need to shift the motherboard, battery, and other components in the new frame, and that's all. You don't need to paste the display manually, which is the biggest advantage. Additionally, the outer body of your phone gets completely renewed, and you feel like buying a brand-new phone after replacing the broken display.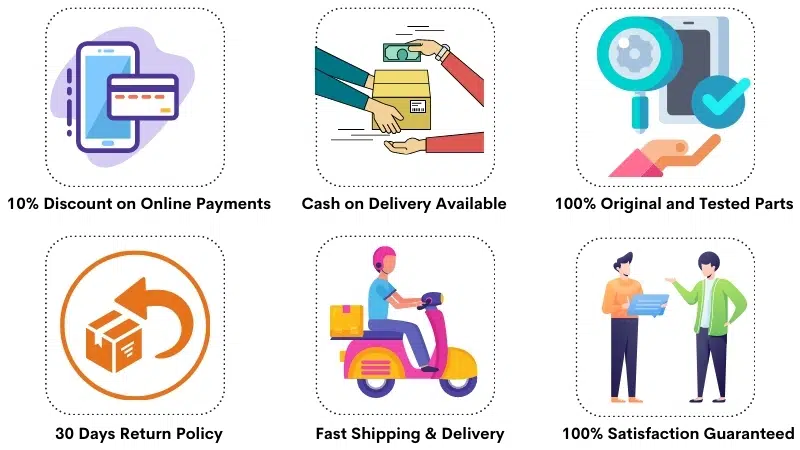 Frequently Asked Questions
Q: Can I use the in-display fingerprint scanner with the new display?
Yes. The display we offer is 100% original, the same as you get with a brand new phone. All the features of your phone will continue to work without any hiccups. The in-display fingerprint reader also works flawlessly with the new display, and you don't need to worry about that functionality.
Please note that you need to place the fingerprint reader properly on the rear side of the display to function properly. When you dismantle the phone, you'll see a camera-type fingerprint reader in your phone, and you need to assemble it back in the same direction on the rear side of the new display. Please note that properly mounting a fingerprint reader is a must so that it can work properly.
Q: Should I assemble the Huawei P30 Pro display at home?
We don't recommend repairing this phone at home because that's obviously a risky undertaking. Please note that repairing a premium phone needs experience, and it is not something a first-timer can do without any risk. The OLED screens are sensitive, and proper assembling is very important. For this reason, you should always seek a professional technician's help in this regard.
Q: How much should I pay a technician to install the display?
The installation charges are not fixed and vary from place to place. In our opinion, the reasonable installation charges for this phone are Rs 500. Depending on your location and availability of technicians, someone can quote a higher price to take advantage. As a rule of thumb, always stay beside the technician during repairs and never leave the spare parts with him.
Q: How come other websites sell this display for cheap?
Please note that duplicate screens are available for almost all models in the market, and often, customers fall into low-price traps. You might think about how a display can be priced at Rs 18000 while someone offers it for Rs 5000, and the answer is the display's quality and durability. We'll try to clarify this for you so that you can understand the concept.
1. Original Display is OLED and Costly 
The original display of the Huawei P30 Pro is OLED, and it is a costly display as offered on this page. This is a factory-fitted display, and you don't have to make any compromise with the quality or features of your phone. We recommend this display for all customers who want to invest in original screen replacements.
2. Duplicate Display is TFT/IPS and Offers Horrible Quality
On the other hand, all customers don't want to buy original parts, and that's why third-party manufacturers also make lower-grade screens for this model. If you purchase a IPS or TFT quality display for this model, you can get them cheap, but their quality is around 30% of the original, and some essential features like the fingerprint scanner and the proximity sensor will not work. The overall brightness, colors, and sharpness of the display will be way lower than before. You can use your phone for basic functions like answering calls, WhatsApp, and sending messages, but you can't expect the same mesmerizing experience as before.
Q: Do I also get the back panel along with the display?
No. You don't. The back panel is a separate spare part. The display comes exactly as you see in the product photos. If you also have a cracked back panel, you can purchase it separately from our website. Please make sure to purchase the back panel according to your phone's body color; otherwise, a mismatch will occur.
Q: What are the basic steps to install a P30 Pro display?
If you purchase a frame display, you can follow these steps to install it :
First of all, you need to decouple the back panel. If it is also cracked, you also need to arrange it first.
If the back panel is not broken yet, you need to remove it safely to reuse it.
Once the back panel is removed safely, you need to open the screws to access the motherboard.
Then you need to test the new display first by connecting its flex cable to your phone's motherboard.
You don't need to remove the broken display yet. Connect the new display on the backside in open condition and test it first.
When everything works flawlessly, you can assemble the display permanently on your phone.
Please note that installing the display is a technical task, and you shouldn't take it into your hands without having proper skills. In our opinion, installing the display is probably an easier task, but you should do it according to the set procedure.
Q: Can I use the existing fingerprints on my device?
Yes. You can. After replacing the display, you can access all the data and also use the previously registered fingerprints. Replacing the display doesn't impact the fingerprints or data on your phone. You can lose the data on your phone only if you format it or if some issues arise with the motherboard/software.
Huawei P30 Pro Display Photos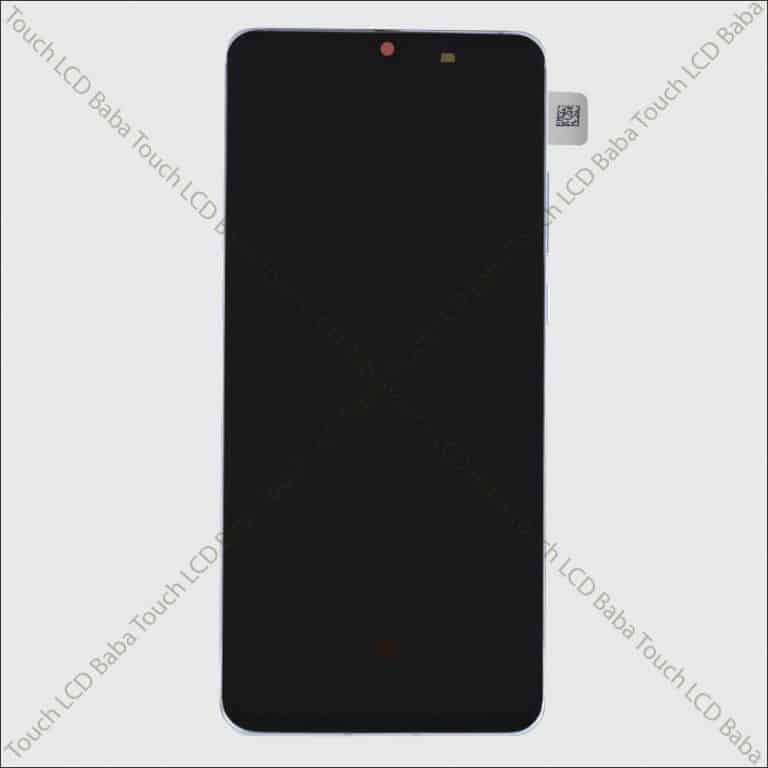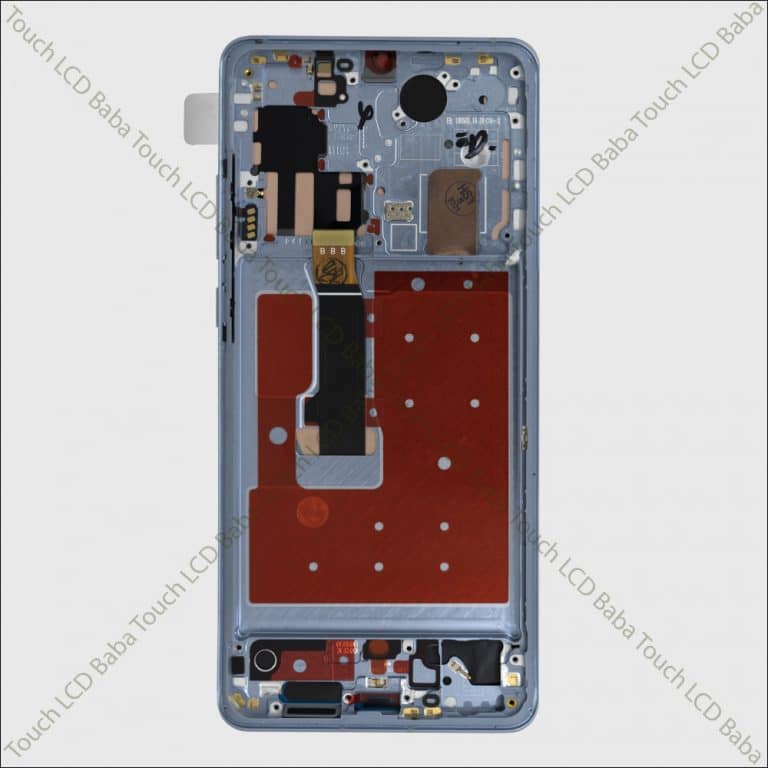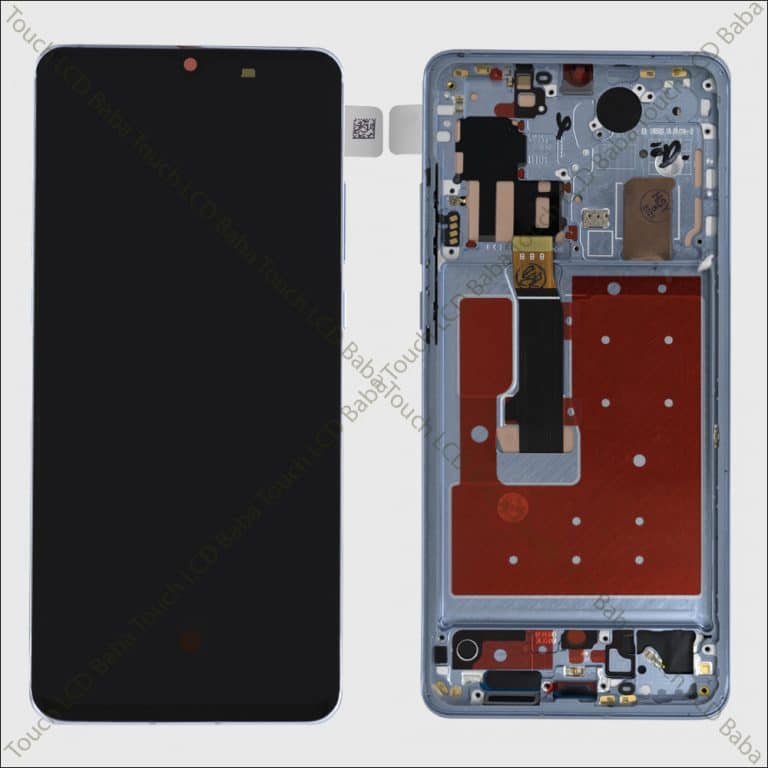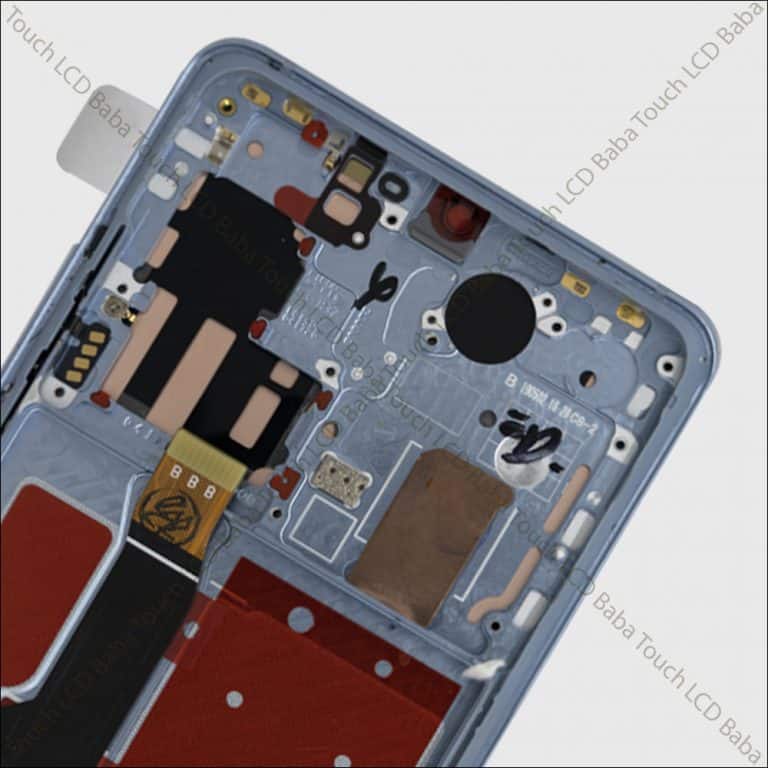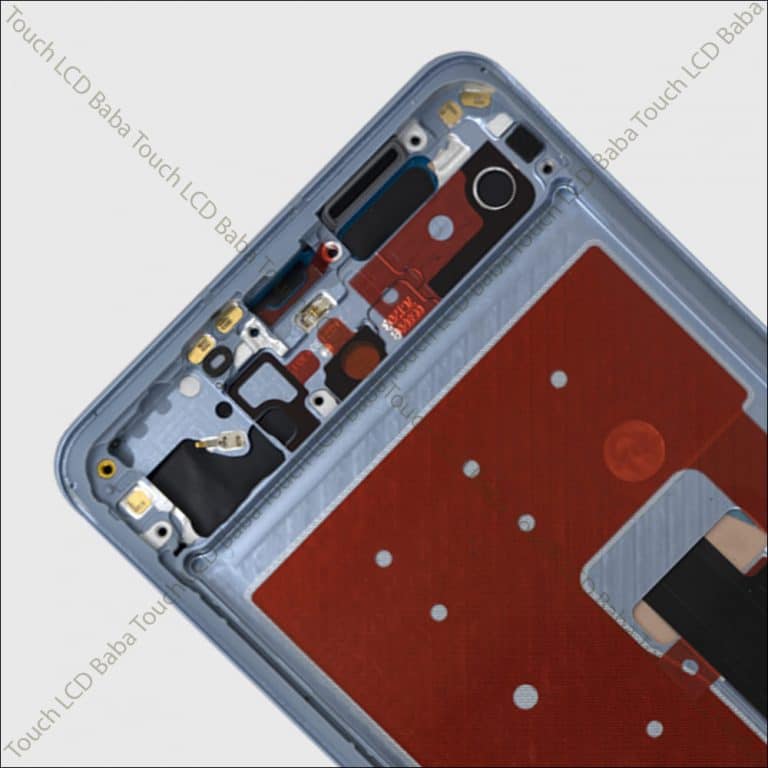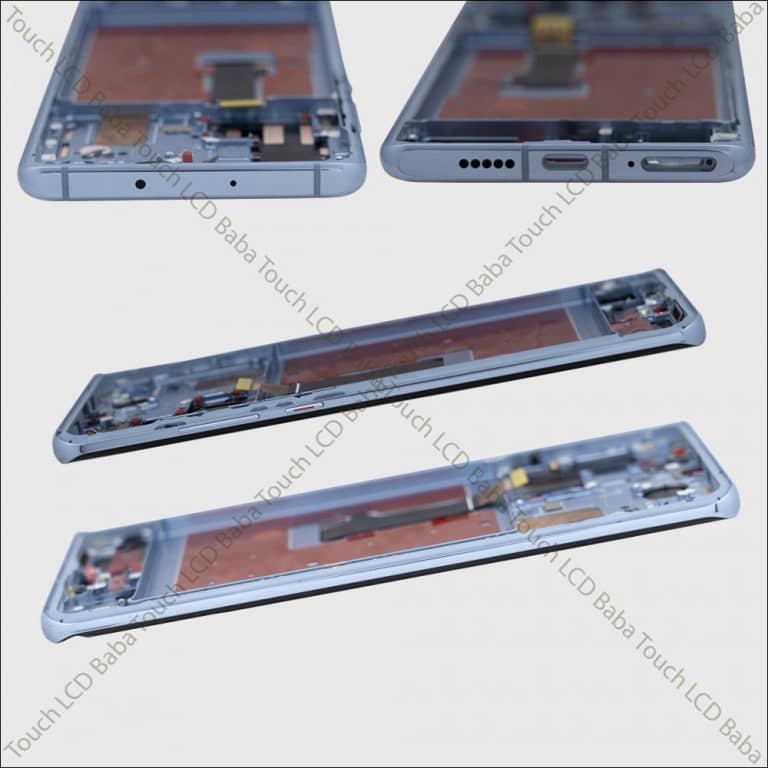 Shipping, Return and Refund Policy
All the products supplied by us come with 30 days return, refund, and replacement guarantee. To return a product, It should be in the same condition as we sent. You can't use or fix the new Huawei P30 Pro display if you want to return it. For complete details about Shipping, Returns and Warranty, please click here.