A 100% original display and touchscreen combo for Mi Mix 2 is available here, and you can order it if you need it. These days, everyone has a mobile phone, which is always prone to damage if not handled properly. Sometimes, the damage is intentional when the customer throws the phone in agony; other times, it can result from accidental drops.
Mi Mix 2 is a premium phone from Mi, and once the display is broken, you need to replace it as soon as possible. A broken display can be painful because you can't use your phone for daily activities. The broken phone also attracts unwanted attention, and you might not feel comfortable taking out a broken phone from your friends or relatives.
Those days are long gone when you couldn't find the display replacement easily. Now, you can easily find a 100% original Mi Mix 2 display replacement and get it fixed by a local technician. Many customers order online daily and get the right goods for their phones. You don't need to rely on your mechanic because now you can easily choose the best goods for your needs.
What is the meaning of Mi Mix 2 Display Combo?
The combo's simple meaning is a complete display and touchscreen glass unit. The display is attached to the touch screen glass, making the individual replacement of the display or touch screen glass impossible. That is a quality protocol now followed by almost every company globally. This protocol combines the display and touchscreen glass for additional clarity, brightness, and a dust-free experience. You have to replace the complete combo even if the inner display is not broken, but this is how it works.
Mi Mix 2 Display Specifications
| | |
| --- | --- |
| | This combo is 100% original, brand new, and suitable for Mi Mix 2. |
| | The Mi Mix 2 display is a 5.99″ Full HD+ IPS LCD, and the resolution is 2160 x 1080 Pixels. |
| | You can use this combo to replace a broken display or touchscreen glass. |
| | It comes as a complete module of display and touchscreen glass. |
| | The main touchscreen glass is protected by Corning® Gorilla® Glass 4. |
| | The combo offers 100% original colors, quality, and brightness. |
| | We test each piece for 100% perfect working before dispatch. |
| | We offer 30 days refund, replacement, and return guarantee in case of any defects. |
| | The parcel is insured during transit, and you don't have to worry about damage in transit. |
| | We have the Mi Mix 2 display available and ready in stock, and shipping time is very fast. |
| | We accept Cash on Delivery and Online Payments as payment methods. |
How do we test each Mi Mix 2 Display before dispatch?
This video shows how to test each Mi Mix 2 display before dispatch. You can also follow the same procedure to test the display before fitting. It is vital to ensure that a display is working before you proceed with the final installation of the product. We also follow the same process internally to test all the Mi Mix 2 screens.
How can I replace only the touchscreen glass?
Customers are fond of cheap options to repair the broken display, and only glass replacement is such an option. When the touchscreen glass cracks, a  customer thinks about various options to overcome the damaged glass and thinks that replacing only the touchscreen glass is the solution. In theory, it sounds perfect to replace only the glass, save money, and enjoy the same experience, but the reality differs from your expectations.
In our purview, only glass replacement is the worst solution because it is fully geared towards compromise. It is never accepted as a solution by the service center or anyone doing the quality replacement. Still, customers are easily biased towards low prices and hope for the moon. Only glass replacement is a manual process in which you are willfully buying duplicate parts for your information. After glass replacement, your display will have many flaws, like dust spots, white spots, and reduced brightness. You might see strange things inside the display, and if you bought such a premium phone, we don't think you want to spoil it completely. You can try your hands on glass replacement, but you've been warned.
Replacing the Broken Mi Mix 2 Display
You can undertake various options to replace a broken Mi Mix 2 display. You should choose one of these options depending on your needs and spending capacity.
Visit the Official Service Center
You can visit the official service center to get a display replacement for Mi Mix 2. They will charge a hefty price, but you will surely get the original display. The cost of the display in the service center is nearly 7000 rupees. If they don't have the stock, you might need to wait a few days to replace your display. Furthermore, the service center may not be available at all locations, so you might have difficulty finding the service center.
Repair the display from the Local Market.
The local market usually sells first-copy screens for the Mi Mix 2. So, if you are looking for a cheap screen replacement, you can try your hands on the first copy display replacement in local markets. You shouldn't expect quality because the main focus is selling at low prices. The technicians in the local market emphasize duplicate screens to make money. If you don't care about the quality, you can buy from them and get the replacement done.
Buy Online From a Reliable Website and install it locally.
This option is probably the best because you can get an original display for half price and then fix it in the local market. The main problem with buying online is fitting because we can send an original part to you, but we don't do repairs. So, if you find someone who can repair on your behalf, you can buy from us with 100% confidence. Please note that all online vendors do not sell the original screens because most websites sell cheap first copies. Please make sure to do your research before you buy.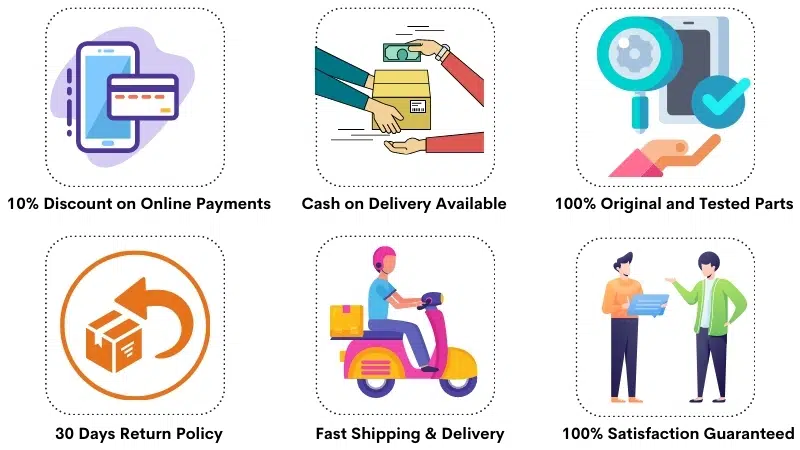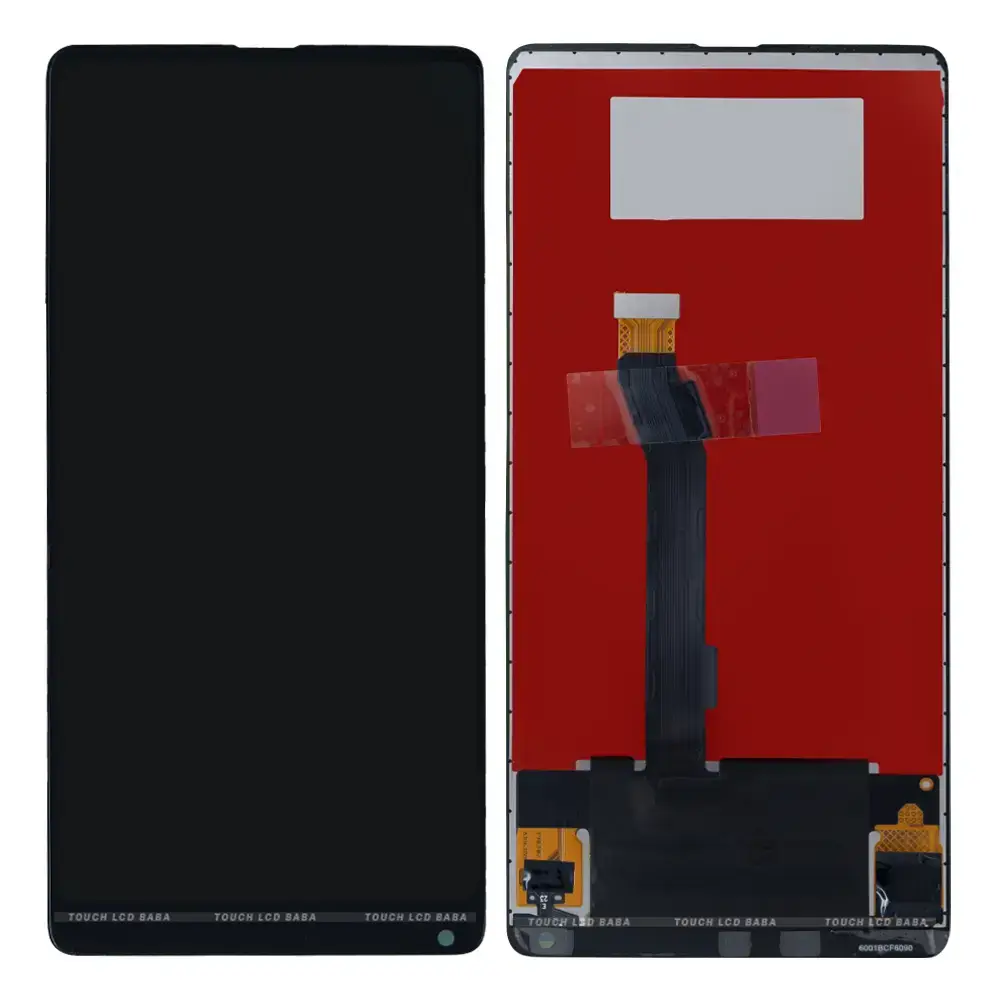 Frequently Asked Questions
Q: How much does it cost to replace a broken Mi Mix 2 display in India?
A 100% original Mi Mix 2 display replacement costs around Rs 3800-4000. If you buy a first copy screen replacement, the combo/folder costs Rs 1500-1800 in India. You may have to pay additional repair charges to a mechanic on top of the display's price.
---
Q: What if I receive a display that is not working with my phone?
We make sure to test the Mi Mix 2 combo before dispatch. The chances of receiving a defective or non-working product are non-existent; still, we cover your purchase with our 30-day return and replacement guarantee. If you face any problems with our product, you can always contact us and ask for assistance. We will be more than happy to process your replacement or return.
---
Q: Can you also send glue along with the display?
If you want to repair the display yourself, you will need glue to stick the display properly. We don't send the glue with every parcel, but we can send glue to you for no extra charge on special requests. If you need glue, please get in touch with our customer support at 9587954273, and we'll fulfill your request.
---
Q: How can I install the Mi Mix 2 display? 
We suggest that you take the help of a mechanic to replace the display. If you want to replace it, please ensure you have enough knowledge and skills to complete the task. If you are not confident, please visit the nearest technician and ask him to install the display. The technician will charge Rs 200-300 for you to install the display on your phone. Please stay beside the mechanic to see the installation process so that you are confident about installing the display yourself next time.
---
Q: Will the camera and overall picture quality reduce after display replacement?

 
The display quality and camera quality depend on the display you purchase. If you purchase a 100% original display like the one we sell, there will be no reduction in the display output. We sell a 100% identical display as it comes installed with a brand-new phone. If you purchase a first copy or cheap display to save money, the camera and overall picture quality will certainly reduce.
---
Q: Can I play games fleetly after the display replacement? 
We have seen instances when customers can't play games when they purchase duplicate products. That happens because the sensitivity of the duplicate touch screen is not as good as the original. However, we proudly sell the 100% original display of Mi Mix 2, and you can easily play games as fleetly as before. The touch screen will respond the same as before, and you'll not even realize if you've ever replaced the display.
---
Q: Do you accept returns and give back money for returned products? 
Yes. We accept returns and process refunds provided you return them in original unused condition. We sell 100% brand new and fresh parts and don't accept used parts back. You can test the product and take a trial, but please ensure you don't fix the display on your phone.
---
Q: Do you accept Cash on Delivery as a payment method? 
Yes. We do accept Cash on Delivery as a payment method. Please decide before placing an order because we are not looking for tentative orders. If you are not sure, please don't place an order from us. We blacklist customers who misuse the Cash on Delivery facilities because ordering a product and refusing it later doesn't make any sense. We don't welcome fake orders in any case.
Shipping, Return, and Refund Policy
All the products supplied by us come with a 30-day return, refund, and replacement guarantee. To return a product, It should be in the same condition we sent. You can't use or fix the new Mi Mix 2 display if you want to return it. For complete details about Shipping, Returns, and Warranty, please click here.