A new Nokia 6.1 Plus fingerprint scanner is available on this page. If you are looking for this product to repair your phone, most welcome to Touch LCD Baba. On this page, you can find all the answers related to the fingerprint sensor of the Nokia 6.1 Plus.
Why Do I need a Nokia 6.1 Plus Fingerprint Scanner?
The fingerprint scanner no longer works at all.
You dropped the phone, and fingerprint scanner glass shattered.
The fingerprint strip broke inadvertently while removing the back glass.
You pulled off the battery back door, and the fingerprint flex cable damaged.
The 6.1 Plus fingerprint scanner works randomly, and you can't isolate the actual problem.
It does not recognize the fingerprint properly, and you have to try numerous times to unlock the phone.
There can be some other issues that require immediate replacement of the Nokia 6.1 Plus fingerprint scanner. If you recently replaced the display and just after that, the fingerprint sensor stopped working, a mistake likely occurred during display replacement. It generally happens when mechanics make mistakes during repairs, and they blame the customers saying that the fingerprint was already broken. Even in such situations, you need a new fingerprint scanner for your phone. The fingerprint scanner on this page is suitable for model number TA-1083, aka Nokia 6.1 Plus.
Although It is possible to use the phone without a fingerprint scanner yet It just feels very slow when you unlock the phone using a password or pattern.  When you are driving and want to make an urgent call, It is tough to type the password. Mostly, fingerprint scanner damages when you open the back panel because It sticks underneath the back glass. Some people also try to replace the glass or charging flex at home, and as they are not technically skilled, sometimes they damage other parts unwillingly.
Please also note that you need to buy the fingerprint according to the color of your phone. Nokia 6.1 Plus phone comes in 3 different colors, Black, Blue and White. So according to the color, you need to buy a fingerprint scanner. This is because a black fingerprint scanner may look bad in a white color white. The display color is always black in all 3 variants but battery back door color is different.
Product Description
| | |
| --- | --- |
| | 100% Original Nokia 6.1 Plus fingerprint scanner. |
| | You can use this Fingerprint sensor to replace a non-working scanner. |
| | We test this spare part for 100% flawless working before dispatch. |
| | It is quite easy to fit and you can even do it at home. |
| | it comes with full Replacement Warranty For Manufacturing Defects. |
| | 100% Hassle Free Returns, Refund, and Replacement. |
| | Ready Stock Available With Fast Shipping. |
| | Cash On Delivery Option Available. |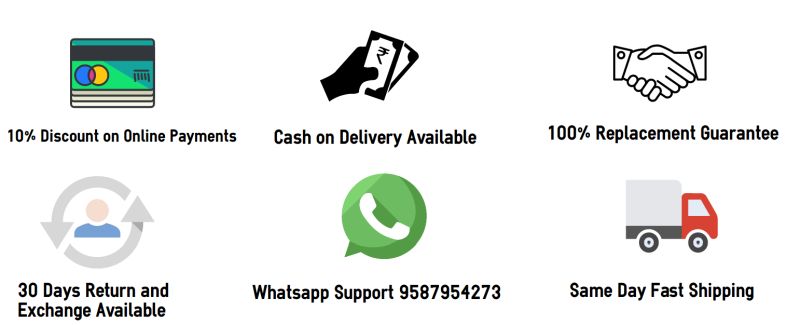 Frequently Asked Questions
Q: How much does it cost to replace the Nokia 6.1 Plus Fingerprint scanner in India?
A: The price for Nokia 6.1 Plus Fingerprint sensor is about Rs 1450 in India. On top of this price, you also need to pay labor charges to a mechanic to replace it on your phone, which can be around Rs 150.
Q: Is it possible to replace the Nokia 6.1 Plus fingerprint sensor at home?
A: It is certainly possible, but If you are not technically skilled, then you shouldn't try this at home. The hardest part of the whole process is removing the back panel safely. That is because the fingerprint scanner stays under the battery back door. The battery door is glass made, and It is tough to remove at home if you are trying this for the first time.
You will need a hot gun and a pry tool to remove it safely. Although many Youtube videos are there to help you with the process but doing the same thing practically is different. The best solution is, take the assistance of a mechanic to replace the fingerprint scanner. Everything else is effortless and straightforward after removing the back panel.
Q: How can I test the fingerprint scanner before I assemble the back panel again?
A: When you repair a phone or change a component, It is always a good idea to test it before you assemble everything. So when the phone is open, connect the new fingerprint scanner, restart the phone and test it to your satisfaction. Only after that, fix the back panel in its place. Please note that fingerprint sticks with the back panel, so you will need to take off the non-working scanner first and then fix the new one.
Q: In my Nokia 6.1 plus, the fingerprint option missing. What can I do?
A: We have seen this happening when the fingerprint option is missing from the Settings, and its main reason is a bad fingerprint scanner. However, before you go for the replacement, try a software reset first to see If the problem resolves. If you disassembled the phone recently for some repairs, make sure that you connected the fingerprint scanner back in its place. If the problem persists, after trying the above solutions, then you can consider replacing the scanner.
Q: The fingerprint reader is working randomly. What can I do?
A: The location of the fingerprint sensor is on the backside, and dust can cover it fairly quickly. If you have to redo the fingerprint numerous times, then clean the fingerprint scanner gently with a cotton cloth. Also, you can register the same finger two times in Settings. That is because some people have poor quality fingerprints due to various reasons (like Skin or Health issues), and registering the same fingerprint twice helps.
Shipping, Return and Refund Policy
We test the fingerprint sensor before shipping it to the customer so there is no chance of receiving a defective part. As per our policy, we don't send our goods for trials. It means that if later you diagnose that you don't need the fingerprint scanner anymore, you can return it in unused condition but you have to pay two-way shipping charges. For complete details about Shipping and Returns, please click here.