If you want a brand new, 100% original display for Nokia 8, we can help. On this page, you can find complete information about the Nokia 8 display price and get answers to all the questions about display replacement.
On this page, we offer Nokia 8 complete display combo, which you can use to replace a broken display or touch screen glass. The spare part shown here is a combo of display and touch screen glass combined in a single unit. This unit is called Combo or Folder. It is quite easy to drop your Nokia 8 and damage its display accidentally. However, you can easily replace the broken display with a new one. Nokia 8 original combo is available here, which you can buy and replace with the help of a technician.
How can I replace the Only Touch Screen Glass of the Nokia 8?
If you drop your phone, in most cases, you will end up scratching only the touch screen digitizer glass. However, that glass is carefully combined with the inner display, and you can't replace it individually. Despite all the warnings, many customers try to replace only the glass and end up damaging the display as well. For this reason, we don't recommend only glass replacement. If you have a broken screen, replace the entire combo, and that's all you need to do.
Why Does The Mechanic Suggest Only Glass Replacement?
The mechanics suggest glass replacement because it allows them to sell a duplicate glass worth Rs 60 for Rs 1200 to you. These days, only glass replacement is a thriving business in the local market due to low costs, and this is what customers want. The glass replacement is a trap mechanics use to get the customers in their shop. Please also note that successful glass replacement is not guaranteed, and many times, the mechanic will damage the display during the separation process and hand over the phone to you. We consider glass replacement as the worst solution because, at best, you will have a low-quality display, which will destroy the excellent experience you had with your phone.
One more thing which you should know is, frequently, after glass replacement, you will see dots, spots, and other impurities inside the display. Such things look very annoying, and you can't feel confident using the phone. The glass replacement is geared towards customers who want to save money. Even the Official service center never suggests or does the glass replacement.
How can I repair the broken Nokia 8 Display?
Nokia 8 display replacement can be quickly done with the help of a mechanic, and most people who buy parts online visit the nearest technician's shop and get the screen replacement done. Always stay beside the mechanic when he is replacing the screen to avoid any mix-ups.
Never hand over the part to the mechanic and let him do whatever he wants. Get the Nokia 8 screen replacement done when you are present there and see how it works. It will help you understand that screen replacement is very easy, and no special skills are required.
What is the difference between the Original and First Copy Display?
Generally, if you purchase from the market, you get the quality according to the amount you spend. This rule applies to anything you are buying and is also applicable for mobile phone replacement parts.
A first copy display takes its shape using low-quality material, and It will not serve you like the original one. The quality of the display will be inferior, having low brightness, dull colors, and very inaccurate working of the touch screen. Such screens target customers who are not willing to spend money and looking for miracles for low prices.
On the other hand, the Original display of the Nokia 8 comes from the same manufacturer who makes it for the company so you can expect 100% original colors, quality, brightness, and a very smooth experience. If you care for your phone and don't want to spoil it, we suggest you stay away from subpar solutions.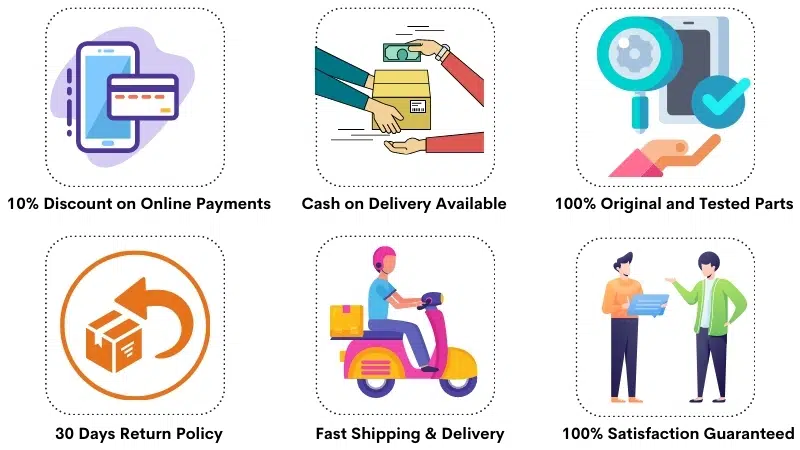 Nokia 8 Display Specifications
| | |
| --- | --- |
| | This combo is 100% original, brand new and suitable for Nokia 8, model number TA-1004 / TA-1012. |
| | The Nokia 8 display size is 5.3″, display type is IPS LCD and display resolution is 1440 x 2560 pixels @554 PPI. |
| | You can use this Nokia 8 Combo to replace a broken display or touch screen glass. |
| | It comes as a complete unit of display and touch screen. |
| | The main touch screen glass is protected by Corning Gorilla Glass 5. |
| | It offers the 100% original brightness, colors and quality as your genuine display |
| | This Nokia 8 display replacement is tested for 100% perfect working before dispatch. |
| | We back our products with 30 days refund, replacement and return guarantee. |
| | We offer hassle-free returns with door step pickup services. |
| | The screen is readily available in stock and shipping time is very fast. |
| | You can use the product on Cash on Delivery or Online Payment options. |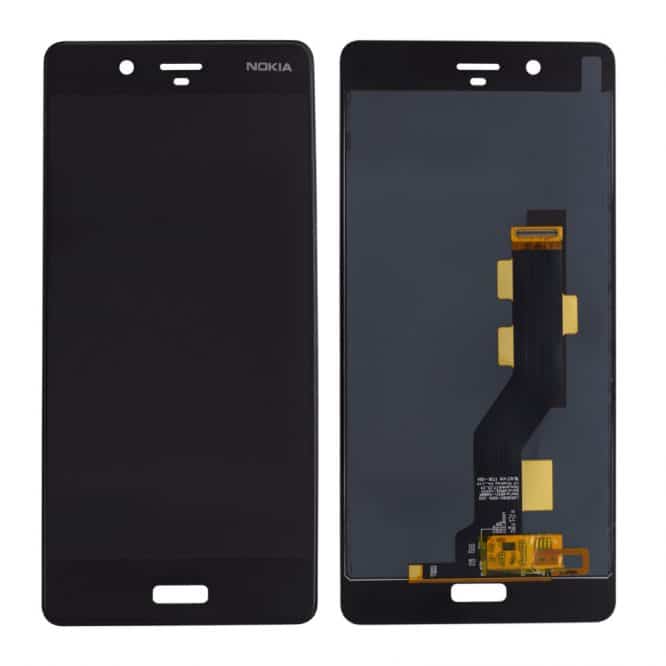 Frequently Asked Questions
Q: How much does it cost to replace a broken Nokia 8 display in India? 
The price of a 100% original Nokia 8 display replacement is around Rs 3200-3500. If you buy a first copy screen replacement, then the combo costs about Rs 1300-1500 in India. You may have to pay additional repairing charges on top of the display's price to a mechanic.
Q: I bought the Nokia 8 phone overseas. Can I still use this combo? 
Nokia 8 phone sells in many countries, and the might model can be different in different countries. The model numbers are :
If you are using a phone which has any of the above model numbers, you can buy this Nokia 8 display. If the model number is different, but you are sure that you have a Nokia 8, please contact us so that we can check and advise accordingly.
Q: Which color's Nokia 8 display should I purchase?
Nokia 8 Phone comes in various colors options like :
Tempered Blue

Polished Blue

Steel

Polished Copper
If you are confused about the display's color, please remember that the display's color is always Black. These color variants mean that the back panel and side frame have a different color, and the display is always Black in all the variants. So It doesn't matter which variant you are using, you need to buy the Black color display, which is the only available option.
Q: Does the new display come with a new fingerprint scanner? 
No. The fingerprint scanner is not included with the display as It is not required. You can decouple the fingerprint scanner from the broken screen and align it into the new display. In case the fingerprint scanner is broken, you can buy a new one separately from our website.
Q: What if the new display doesn't work on my phone? 
We always allow our customers to return the product or get a replacement if they have any issues. However, such cases are sporadic because we test each Nokia 8 combo for 100% perfect working before dispatch. Still, you can return a product to us, but make sure that It is unused.
It means you can test the product by connecting it to your phone, that's alright, but you can't remove the screen guard or paste the display on your phone. You need to return the display in the original condition as you received it.
Q: What if I receive a broken Nokia 8 display inside the parcel? 
We pack your products very carefully, and the broken display inside the parcel is something we've never encountered before. The products are packed in hard plastic boxes accompanied by additional layers of durable protection.
Still, if you are worried about in-transit damage, you can record an unboxing video when you open the parcel. If you find anything damaged, you can forward that video to us and get a free replacement.
Q: How can I assure myself about the 100% original product?
We source displays from the OEM manufacturer who makes for the company. That's why our products are 100% original and perfect all the time. We work very hard to source the original products to enjoy the original quality. Please keep some faith in our services and rest assured about receiving a product exceeding your expectations.
Q: Do you accept returns, just in case?
Yes. We do accept returns. To be eligible for a return, you should keep the display in unused condition. We understand that there might be some other issues that can prevent you from using the display on your phone. In such unavoidable circumstances, you can return a product to us by contacting our customer support team.
Q: How do the back and recent keys work in Nokia 8 combo? 
In Nokia 8 Combo, the back and recent keys are not a part of the display, but there is a separate flex cable that controls this function. These keys are a part of the fingerprint scanner flex, and they stick on the backside of the combo just beneath the signs of Recent and back buttons. Please make sure to test the function of those keys before you paste the combo.
Q: How can I replace the broken display for free from the service center? 
There is no way to replace a broken display for free from the service center unless you've insurance. Many customers insist that a broken display should be replaceable for free under a year's warranty, but that doesn't make sense. If you drop the phone and the display is scratched, you've to pay the price for the screen replacement.
Shipping, Return and Refund Policy
All the products supplied by us come with 30 days return, refund, and replacement guarantee. To return a product, It should be in the same condition as we sent. You can't use or fix the new Nokia 8 display if you want to return it. For complete details about Shipping, Returns and Warranty, please click here.