Are you searching for Oppo A5 display price? On this page, we have detailed information available for Oppo A5 screen replacement and how to do it easily. We are also selling 100% Original display replacement for Oppo A5, so if you need one, feel free to buy.
Accidental screen damage is nothing new and happens all the time. Every day, due to mishandling, the Oppo A5 screen can damage very easily, but luckily, you can easily replace the screen with a new one. So if the display or touch screen glass got scratched recently, there is nothing you should worry about.
How are the display and touch screen glass combined?
In Oppo A5, display and touch screen glass, both parts are pasted together with a Glue called LOCA (Liquid Optical Clear Adhesive). The glue is applied to the top layer of the display, and then the touch screen glass is pasted over it. Such screens provide terrific display quality, colors, and brightness.
These days, all mobiles use the same technology to combine the display and touch screen modules. If you are wondering why they are combined, then the reason is, such screens are more durable and weatherproof. There is no chance for the dust to enter inside the display as it was easily possible with the old age phones. As the display is much more close to the glass, you can use the touch screen more precisely and faster.
What to do after the Oppo A5 display is broken?
If the Oppo A5 screen or touch screen glass is damaged, then you would need to replace the complete combo of the display as well as the touch screen glass. That is because the display and touch screen, both parts are combined as outlined above. Many people who are dealing with a broken Oppo A5 glass want to replace only the glass. Their theory is, why should they replace the entire combo when the only glass got damaged? The real answer to this question is, you should never go for only glass replacement due to poor quality reason.
The outcome of the only glass replacement will never be equivalent to combo's quality. So if you don't want to compromise with quality, then go for original display replacement. If you don't care about the quality, then you can go for only glass replacement, but remember that those glasses are not quality and will break very easily, and then you have to replace them again and again.
Do I need Oppo A5 screen replacement immediately?
The urgency of display replacement depends on the type of damage. If there is only a hairline crack on display, you can continue using the phone for some time. There is no need to rush for a display replacement at this point. A hairline crack will not interfere with the daily use of the phone, and you can protect the glass by applying a tempered glass.
In case the damage is intensive and there are a lot of cracks on the glass, then you need to rush for display replacement immediately. A broken touch screen glass can hurt your hands and allow the dust the go inside the phone. It is always a good idea to take a backup of your phone and replace the display immediately.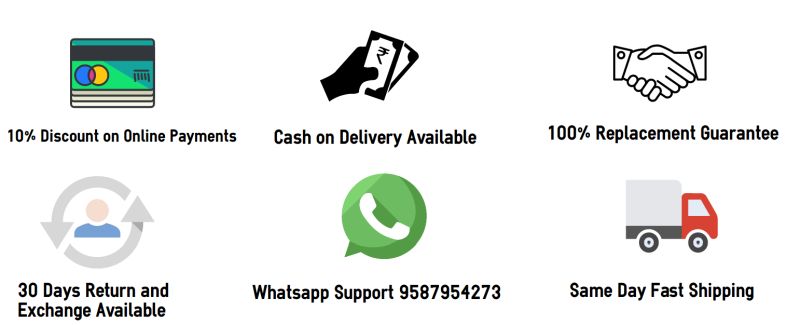 Oppo A5 Display Specifications
| | |
| --- | --- |
| | This combo is 100% original, brand new and suitable for Oppo A5, model number CPH1809. |
| | Oppo A5 display size is 6.2″, display type is IPS LCD and resolution is 720 x 1,520 pixels @271 PPI. |
| | You can use this folder to replace a broken display or touch screen glass. |
| | It is a complete unit consisting the display and touch screen glass both. |
| | The touch screen is protected by a coating of Corning Gorilla Glass 3. |
| | The display we provide offers the same colors, quality and brightness. |
| | We test the display on actual Oppo A3s motherboard for 100% perfect working. |
| | We back our products with 30 days return, refund and replacement guarantee. |
| | The part can be delivered to your doorstep, even to small villages and towns. |
| | The comb is readily available in stock and shipping time is very fast. |
| | We offer Cash on Delivery and online payments both. |
Frequently Asked Questions
Q: How much does it cost to replace a broken Oppo A5 display in India?
The price of a 100% original Oppo A5 display replacement is around Rs 2300-2500. If you buy a first copy screen replacement, then the combo costs about Rs 1300-1500 in India. We suggest you always buy the original screen for long term durability.

Q: Can I fit the new display myself at home? 
We believe that Oppo A5s phone is straightforward to repair, and you can replace the display at home. However, it is necessary to have a basic idea of how mobile repair works. So before you proceed further, please make sure you know what you are doing. Otherwise, please visit a mechanic's shop and have him replace the display for you.

Q: How much do I need to pay to the mechanic for fixing the display?
The average charges for fixing the display on your phone are like Rs 150-200. If you visit a local technician in the market to set the display on your phone, please stay beside him when he is doing the repairs and watch his steps carefully.
Q: How can I replace only the glass without changing the display? 
Many customers are looking to save money on display replacement and don't want to spend money on quality solutions. If you are one of them looking for duplicate glass replacement, please visit the local market where lots of mechanics are doing this job.
The glass replacement is a manual process, and the quality of glass replacement is terrible. The mechanic will take out the broken display and touch screen glass from your phone, and try to separate both parts. If he is able to separate the glass, he will paste a duplicate glass over the display, and you will have a refurbished type of display with low quality.
Please note that the brand new display is very good, and if you repair a broken display manually by any means, there will be a huge reduction in the overall quality. The service center never replaces only glass because of quality issues.
Q: Why the touch screen broke despite having the Gorilla Glass protection? 
We know that Oppo A5 touch screen glass is protected by Corning® Gorilla® Glass 3 coating. For your information, Gorilla glass is just a glass that is tougher and protects your phone from the minor drops. It can't withstand falls occurring from great heights.
The definition of Gorilla Glass says it is scratch resistant and hard to break. Therefore, it can't protect you from damage, and you should always take additional measures to protect your phone's screen.
Q: What if the display arrives in a damaged condition? 
We pack your products very carefully in hard plastic boxes with additional layers of protection. Still, we take full responsibility for any in-transit damage. So far, there is no case of in-transit damage. However, still, you can record an unboxing video when you open the parcel, and if you find any damage, forward that video to our WhatsApp support number to get a free replacement.
Shipping, Return and Refund Policy
We test each combo for 100% perfect working before shipping it to the customer.  Still, our products come with 30 days return, refund, and replacement guarantee. For complete details about Shipping and Returns, please click here.