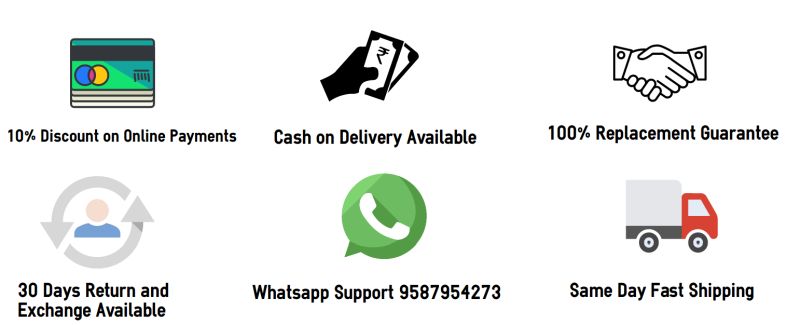 Looking for Oppo A5s display price? If yes, then welcome to Touch LCD Baba. The part we are selling on this page is Oppo A5s display and touch screen glass combo, which can be used to replace a broken display or touch screen glass. It is quite easy to damage your Oppo A5s accidentally, but luckily, you can easily replace the display and restore the full life of your phone. Oppo A5s display price is dependent on its quality, and we are selling 100% pure Original Combo for the said model. Please note that Oppo A5 and Oppo A5s are two different models, and If you need Oppo A5 display instead, please visit this page.
In Oppo A5s, the display and touch screen glass both parts get combined in a single unit, and you can't replace them individually. In most cases, when you drop the phone, only touch screen glass will get damaged. However, as the touch screen glass gets pasted with the display, you need to replace the complete unit. The display shown here is for Oppo A5s, which comes as an entire display unit. In this unit, display and touch screen both parts are combined, and you can't separate them for individual replacement. Many customers still try to separate the display and touch screen and end up damaging both parts.
Please also keep in mind that If you visit the local market, the mechanics will also try to convince you for ONLY glass replacement so that they can put Chinese glass in your phone and extort money. Don't fall for this scam as you will end up paying Rs 1000-1500 for a barely Rs 60 product. It is a widespread practice in local markets where mechanics replace the ONLY glass and put cheap duplicate glass and take money from customers. Ask yourself, when you are paying the amount, why would you end up compromising on quality? When you are seeking for ONLY glass replacement, you are just getting your broken display repaired somehow. If you get the only glass replaced, you are NOT buying a new product with your money.
In Oppo A5s, display and touch screen, both parts get combined, and when you try to separate them, you will end up damaging both parts. That's why when the screen damage occurs, replace Oppo A5s Combo (Complete unit of display and touch screen) to avoid any hassles later on. Combo replacement is fast, easy, durable, and there is no compromise on quality. For this reason, Oppo A5s combo replacement is the best option when it comes to replacing a broken/damaged display. These days all mobile phones are built on folder technology, and in case of any damage, you need to replace the complete display unit. There are several cheap alternatives available in the market, but they are cheap for a reason.
Products Details
100% Brand New and Original Combo Of Oppo A5s (Model CPH1909).
6.2-inch HD+ Display with 1520 x 720 pixels resolution
You can use this Oppo A5s combo to repair a broken Display or Touch Screen Glass.
It is a combined module of display and touch screen.
Gorilla Glass with Super Responsive Touch Screen.
Same Brightness, Colors, and clarity. 100%. 100% Original Combo Guaranteed.
We test it on an Actual Oppo A5s motherboard For 100% Perfect Working!
We offer Full Replacement Warranty For Manufacturing Defects.
100% Hassle Free Returns, Refund, and Replacement.
Ready Stock Available With Fast Shipping.
Cash On Delivery Option Available.
High Quality Photos Of The Actual Product
These images show the actual Oppo A5s combo you get after your order. It is a complete combo consisting of display and touch screen both parts. You can buy this Oppo A5s Combo and easily replace it yourself or with the help of a mechanic. It is the best Oppo A5s screen replacement you can get online. If you still have any unanswered questions, please contact us at 9587954273.