Are you looking for the Realme 2 display and touchscreen combo? Lots of customers drop their phones accidentally and end up damaging the display or the upper touchscreen glass. The same thing also happens to Realme 2, and if you have dropped the phone accidentally and damaged its display or upper glass, there is nothing to worry about. You can easily replace Realme 2 Combo and make your phone completely new again.
What is the Realme 2 Display Combo?
Realme 2 combo is a full unit of display and touch screen digitizer glass. It simply means that both parts are combined, and if you have broken the RealMe 2 display, you will need to replace its combo altogether. Replacement of Realme 2 combo is the most perfect and easiest way to restore your mobile's life. It is very easy to replace the combo and can be done anywhere with the help of a technician. These days, all mobile phones are made on folder technology. It simply means that display and touch are always combined, and If one of them is broken, you have to replace them altogether.
Is it a good solution if I replace only the touch screen glass?
Many people start looking for cheap alternatives once they have broken the Realme 2 display, and this is where the problem starts. Looking for cheap solutions means putting cheap products on your phone, which will eventually make your phone completely sick. The battery will start draining, ghost touch issues, sensor not working properly, poor backlight, and other similar issues.
Cheap solutions always come with heaps of issues. For this reason, we always recommend replacing the combo to avoid all the potential problems. If you replace the broken display with a combo, your phone perfect shape, and there is no reduction in quality. You can use your phone for another two years easily without any hassle.
You can also consult with anyone doing quality screen replacements, and they will always suggest the replacement of combo. That is because Original quality can be achieved only by replacing with an original combo.
What is the difference between the first copy and an Original display?
The original display offers the same experience as using a brand new phone. On this page, we sell 100% original display of Realme 2, the same as comes with a brand new phone. If you replace a broken display with an identical display, your phone will stay in 100% good shape and durability will also be very good.
On the other hand, if you buy a first copy screen for a low price and repair your phone, you can't expect the same quality. A first copy screen is manufactured by the 3rd party vendors using low-quality material, and quality is inferior. Such screens also work but for a short period. In a month or so, the screen will damage, and again you have to replace it.
Consider replacing 3 first copy screens in a year because you bought a low quality product. So If you buy an original display of Realme 2, surely you'll pay more but the satisfaction is worth the investment.
Product Description
| | |
| --- | --- |
| | This is 100% original and brand new combo suitable for Realme 2, model number RMX1805. |
| | The Realme 2 Display size is 6.2″, display type IPS LCD and display resolution is HD+ 1520 x 720 Pixels. |
| | You can use this Realme 2 Combo to replace a broken display or touch screen glass. |
| | It is a complete unit of display and touch screen glass combined together. |
| | We make sure to test each combo for 100% perfect working before shipping. |
| | It offers the same colors, quality and brightness as your original display. |
| | We use an actual Realme 2 motherboard to verify the working condition of the display. |
| | We back our products with 30 days return, refund and replacement guarantee. |
| | Our delivery service is available all over India, even in smallest towns. |
| | The display is readily available in stock with fast shipping time. |
| | You can utilize Cash on Delivery or Online Payment methods to place the order. |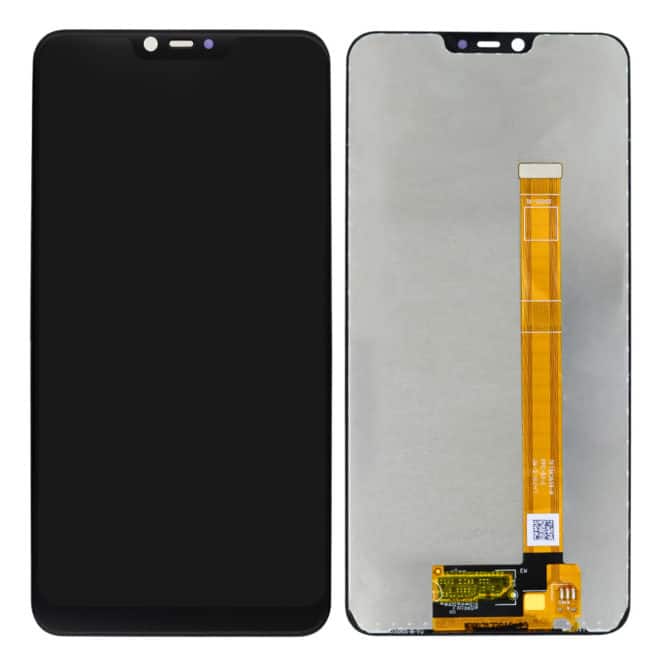 Frequently Asked Questions
Q: How much does it cost to replace a broken Realme 2 display in India? 
The price of a 100% original Realme 2 display replacement is around Rs 2200-2400. If you buy a first copy screen replacement, then the combo costs about Rs 1100-1200 in India. You may have to pay additional repairing charges on top of the display's price to a mechanic.
Q: Can I replace a broken display for free under service center warranty? 
The official 1-year warranty offered by the company is valid for manufacturing defects only. The problems that come from customer's negligence are always out of warranty. The customer always creates a broken screen display issue, and hence there is no warranty for that.
Q: Can I use the same display in all variants of Realme 2, 3GB and 4GB? 
Yes, you can use this display in all variants of Realme 2 Phone. It doesn't matter If you are using 3GB-32GB Variant or 4GB-64GB Variant. This display will work perfectly in both variants. We have tested it here, and only after that, we are assuring you.
Q: What are the model numbers of Realme 2?
As per our research, there are two different model numbers of Realme 2.
Realme 2 model number is RMX1805, which was available mostly sold via Flipkart.
We have seen some Realme 2 phones having the model number RMX1809.
So If you have a phone having the model number either RMX1805 / RMX1809, you can use this screen replacement without any problems.
Q: How can I protect the phone from damages in the future?
Many customers are extremely careless towards handling their phones, and that results in physical damages. Always make sure to protect the screen with high-quality tempered glass and don't keep your phone with keys, coins, and other similar objects in your pocket. Don't place heavy objects on the phone and don't sleep over your phone at night after watching a movie 🙂
Q: Why is the Realme 2 display available for a low price in the local market? 
You are buying a local first copy display in the local market, and that's why the prices are low. It is normal, and you shouldn't think like you found the gold for the prices of silver. If you purchase a duplicate screen for your phone, the quality will be like 50% of the original, and that's why you are paying less money.
Q: How can I verify that the new display is working perfectly? 
You can always test the new display before fixing it in your phone. It is mandatory to test the screen before you fix it permanently on your phone. All the mechanics use the same method to verify the working condition of a display before fixing it in your phone.
First, you need to connect the new display to your phone's motherboard in open condition, without fixing it permanently. Then turn on the phone, and you can test the new display just like you use your phone every day. You should lock and unlock the phone a few times to ascertain everything is working fine. After testing the screen for 10-15 minutes, you can go for the final fitting.
Q: What is the meaning of the Realme 2 display folder? 
Different people call the display using different names and it creates confusion for customers. Oftentimes, you will hear the words like Realme 2 display folder, screen, combo, display unit, assembly, etc. but all these words indicate the same thing. So don't get confused as you will need to replace the display and touch screen both.
Q: What is the average lifespan of the original display replacement? 
The original display lasts up to 2-3 years, provided you handle it safely. If you buy a local first copy product, the average life is 2-3 months on the maximum side. Always invest in quality for long term benefits and hassle-free experience.
Shipping, Return and Refund Policy
All the products supplied by us come with 30 days return, refund, and replacement guarantee. To return a product, It should be in the same condition as we sent. You can't use or fix the items If you want to return. For complete details about Shipping and Returns, please click here.