If you broke your Redmi Note 12 Pro display, you don't want to buy anything less than the original display replacement. Finding an original display in the local market can be tiring because original products are unavailable, and local technicians always try to maximize their profit with forgery techniques. Customers pay the required amount for the original product but still get a counterfeit display because the technician deceives them. In this industry, thousands of technicians repair phones, but most don't have access to the original screen replacements and always install duplicate screens on your phone.
Many customers want to repair their phones within the next 1 hour, so they rush to the local market and buy anything that resolves the working condition of their phone. We believe this urgency is artificial in 95% of cases, and customers can easily wait or use a standby phone. This urgency will always get you the wrong product because you've not done any due research. As original screens are unavailable, you pay for a compromised product, and your phone will never work the same way as it used to.
We at Touch LCD Baba provide 100% original spare parts to our customers, and our prices might feel very expensive to some customers who have never bought original screens after damaging their factory-fitted displays. If you're used to buying copy screens, the original display's price will surely overwhelm you, and that's normal.
What is the Redmi Note 12 Pro 5G display combo?
Simply put, a display is a brand-new display unit that supplants the broken display and restores your phone's working condition. The display combo consists of two individual spare parts, the inner display and the front layer of touchscreen glass. When these two parts get combined in a single unit, the resultant product is called a combo.
You should know that all Redmi Note 12 Pro display replacements are not original, and you'll run into several gotchas. You should know that the original display is AMOLED, and all duplicate screens offer IPS/TFT quality. If you don't buy the original AMOLED display panel, you can't enjoy the same original quality, which is a straightforward rule.
All the fake screens are lower-grade versions and don't offer AMOLED alike quality. The IPS/TFT screens are cheaper, and their output quality is terrible if you keep the original and a duplicate display combo side by side. Please note that the original and copy display are two different products, and you can't compare them in any aspect.
Is this Redmi Note 12 Pro Display 100% original AMOLED?
Yes. It is a 100% original display identical to the original display because their make is the same. An original display comes from an OEM factory that makes original screens for the company, and these screens go into brand-new phones. We source the same screens, so these are 100% original AMOLED screens, and there is no difference between what you were using before the damage and what we supply.
Please note that we don't offer fake products and don't have the best price concept in our mind. For this reason, our prices might not be the best on the web, but quality is paramount. Customers who buy original screens from us understand the value of original products, which is a worthwhile investment. The quality of a display depends on its manufacturer, and that's why the source matters.
Redmi Note 12 Pro 5G Display Specifications
This display is 100% original, tested, and suitable for Redmi Note 12 Pro 5G

.

Redmi Note 12 Pro display size is 6.67″, the display type is OLED, and the resolution is 1080 x 2400 pixels.
The front layer of the touchscreen digitizer glass has Corning Gorilla Glass 5 protection.
The display supports 1B colors, 120Hz, HDR10+, 800 nits (typ), and 1000 nits (peak).
We offer a 100% original display, and you don't have to compromise on the quality.
The new display exhibits 100% original colors, quality, and brightness, like a new phone.
We source our products from OEM manufacturers to ensure original quality.
Our testing team tests and verifies each display before shipping it to you.
All the parcels are insured during transit, and you don't need to worry about damage.
Redmi Note 12 Pro 5G display is readily available in stock and has a fast turnaround time.
We offer Cash on Delivery and Online Payments (10% additional discount) as payment methods.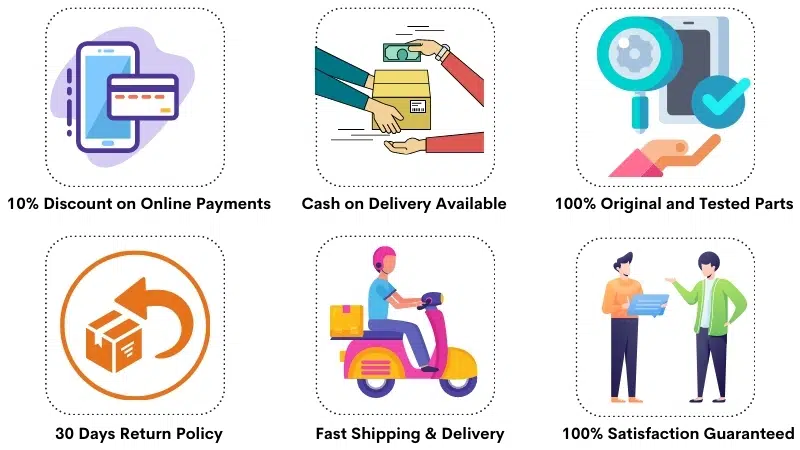 Frequently Asked Questions
Q: How much does buying a new Redmi Note 12 Pro display cost in India?
A 100% original AMOLED Redmi Note 12 Pro display replacement costs around Rs 6800-7000 in India. This investment will get you a 100% original display, and you can restore your phone to its 100% original levels without any quality compromise. We offer only original screen replacements, and you can find low-quality duplicate screens in the market for Rs 1800-2000.
---
Q: Where does the 100% original Redmi Note 12 Pro display come from?
As a customer, you might have several questions regarding the originality of the display because you don't know how it works. Customers often assume that original screens should have a certain barcode or a particular packing, but all these things are nothing more than guesswork. The source of the original display is an OEM factory that makes and supplies original screens to the company.
Some shopkeepers have manipulated the theory of an original display to sell their stuff, but the reality is different. For any particular model, you can find different-looking screens in the market, and these are all third-party manufactured fake products. The original display has a specific design and a small barcode identification, but that's not known to retail customers, and you can trust us blindly for the original screens. Please note that barcode identity alone is nothing because it can be easily mimicked, and there are several other factors, and it is always best if you leave it to the experts like us.
---
Q: I found an original display for a lower price. How is it possible?
We sell 100% original new screens directly from the factory that have never been used, which are expensive. It is undoubtedly possible to sell original screens for cheaper with the help of glass-changed screens. Please note that the original Redmi Note 12 Pro display comes with Corning Gorilla Glass 5 protection, and other cheaper so-called original screens don't have that protection. These are refurbished screens; their quality is equivalent to the original display, but their glass is fake. So one component (display) is original, and the other (glass) is fake.
You might wonder where such screens come from. These glass-replaced screens are refurbished screens that are restored to their working condition. For example, you go to the service center and buy a display replacement, but you only had the glass broken, and the inner display was good. These broken screens are later sold in the open market, where thousands of vendors buy them, refurbish them, and then resell them in the market. These screens can have some repaired parts like the display's flex cable or the touchscreen glass, and that's why these are cheaper.
---
Q: Can I self-install the new Redmi Note 12 Pro display at home?
We are not against installing the display at home, and that's certainly possible. However, we strongly discourage installing the screens at home without prior experience because that adversely affects the customer and the seller. Often customers try to install the display themselves even without knowing the small tidbits and damage the product, which is a complete loss for them and should be avoided.
We suggest all customers be honest with your expertise, and if you don't know how the installation works, visit a technician locally and pay the installation charges. The standard installation charges are around Rs 350-500 Rupees for installing AMOLED screens. Don't ever leave the display with a technician and come back home. Always stay near him during installation; it hardly takes 30 minutes to complete it fully.
---
Q: Can I return the display if it doesn't work or meet my expectations?
You always get a 30 days return period if you don't like our product after testing it on your phone. Please note that we don't accept used returns, so you should ensure returning the product in its original condition. Returns are never a problem for us because we are 100% sure about our offerings, but we don't allow anyone to misuse the return policy as we can't supply used products to our other customers.
---
Q: How can I verify the working condition of the new display?
Open condition testing of a display is your best friend when you want to verify the working condition of a display. You should always verify a display's working condition before installation, as that's mandatory. We strongly discourage installing a display without testing it first because it is not returnable after installation. You can follow these steps to test the display before installation :
First, you need to dismantle the phone and access the motherboard.
Locate the old broken display's connection on the motherboard and gently eject it.
After that, connect the new display's flex cable to the motherboard and turn on the phone.
The new display will start showing graphics normally, and then you can use/test the display without any problem.
Please note that open-condition testing is live, and no guesswork is involved.
Please note that you must trust yourself when you test the display in open condition. A few customers ask if the display works in open condition and stops after installation. No risks are involved during installation if you know how to do it properly. If you handle a display with extreme negligence, bad things will happen, and you must take responsibility for your actions.
---
Q: What If I received a damaged display? Is open delivery possible?
There is no risk of damage during transit because we pack shipments securely in rigid plastic containers with additional protection layers. So far, we've succeeded in our attempt and have never had a damaged case because we pack very carefully and use premium courier services that handle the shipments well.
We don't allow open delivery under any circumstances because we also have trust issues. We've seen many forgery attempts made by customers with the help of delivery persons. You can record an unboxing video while opening the shipment, proving what you received. Please always record a clear uncut video from the beginning to the end, and you're good to go.
Redmi Note 12 Pro 5G Display Combo Images
Customers feel a sense of relief when they see the actual product photos, and that's why we have this section. Please check the images below for the actual Redmi Note 12 Pro 5G Display photos. You can easily replace a broken touchscreen glass or internal display with this part and restore the original condition of your phone in less than 30 minutes.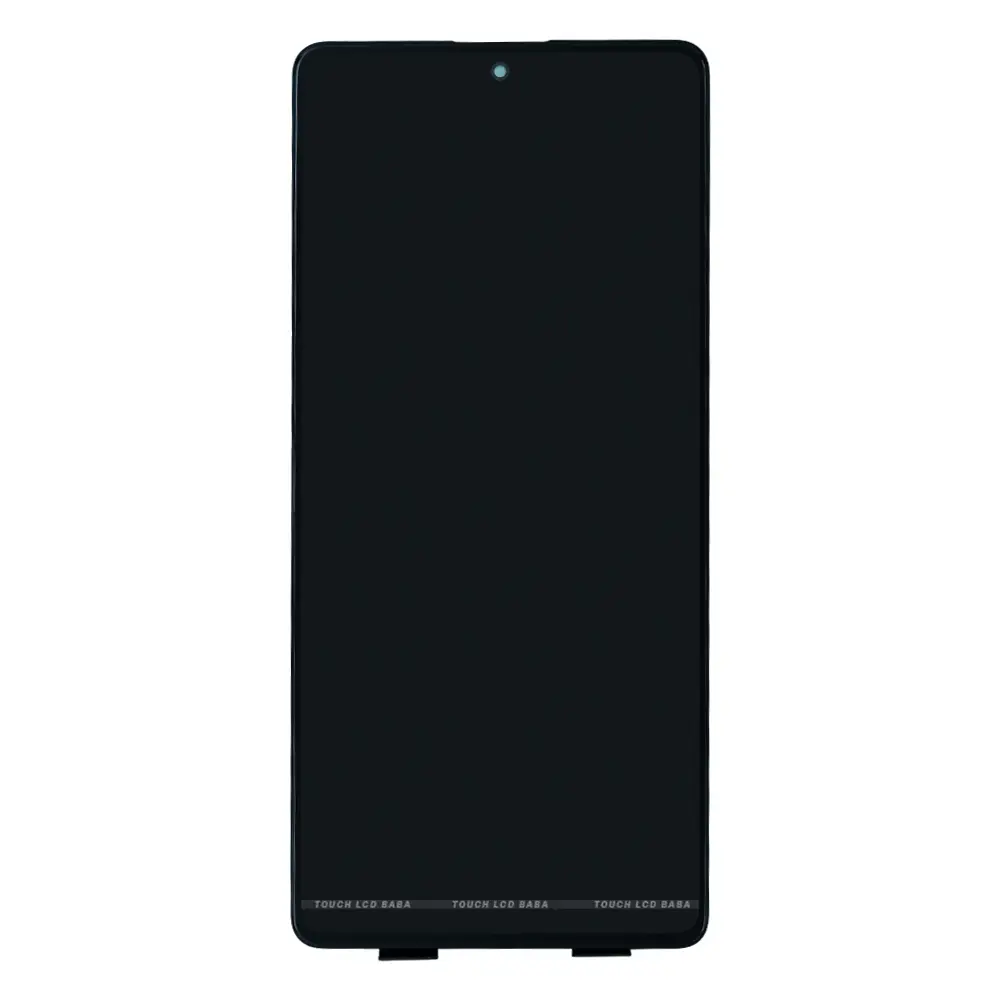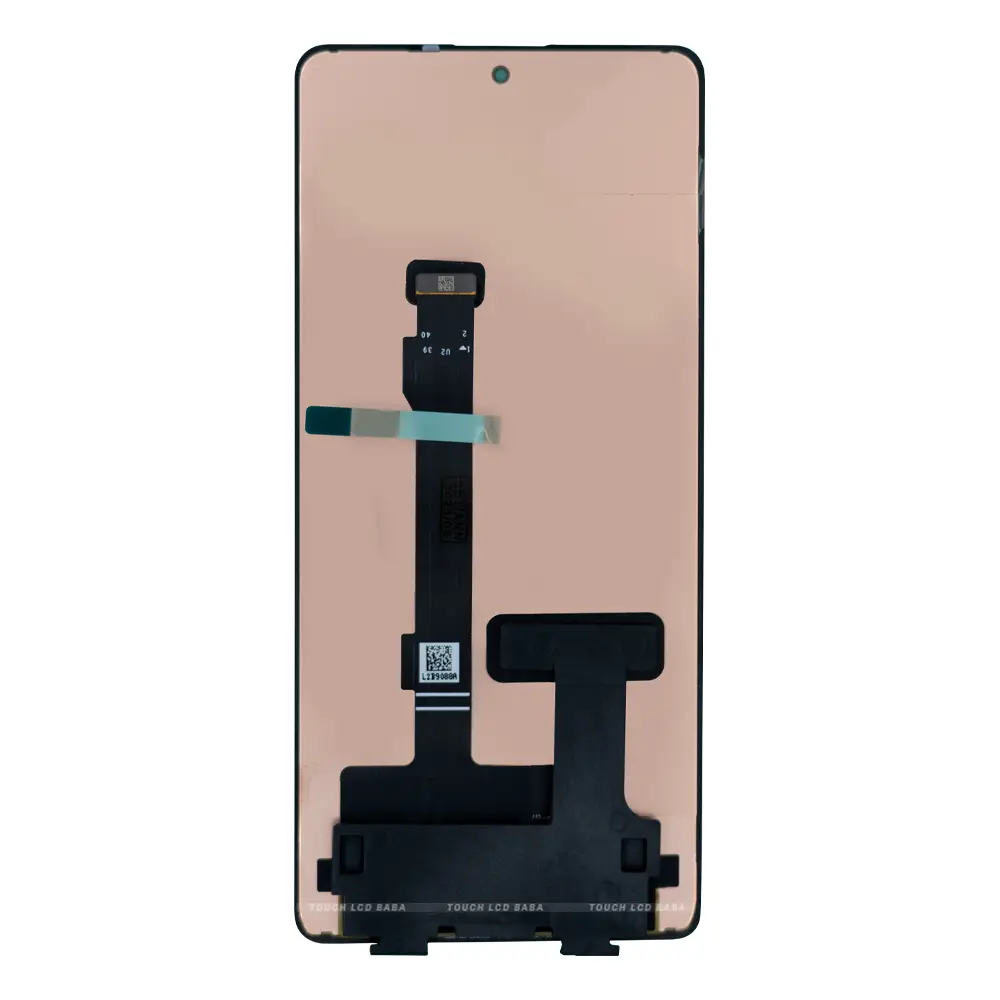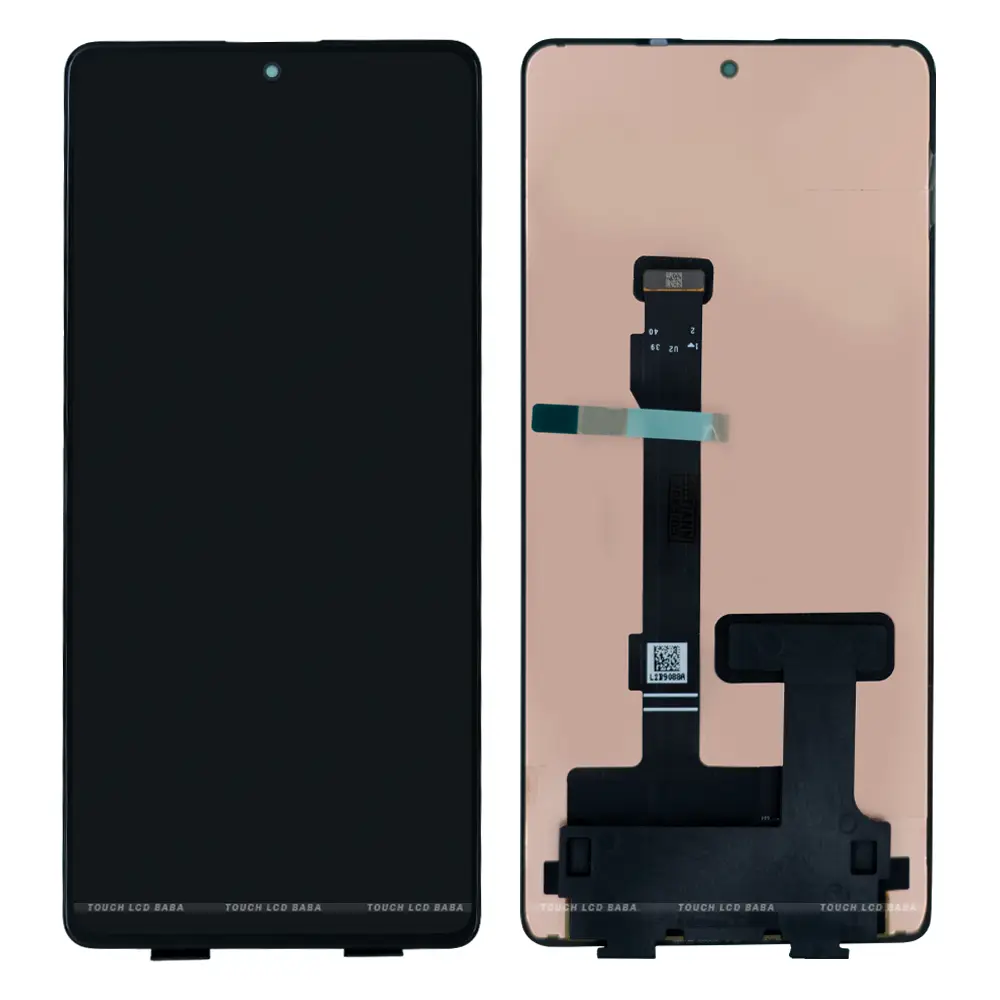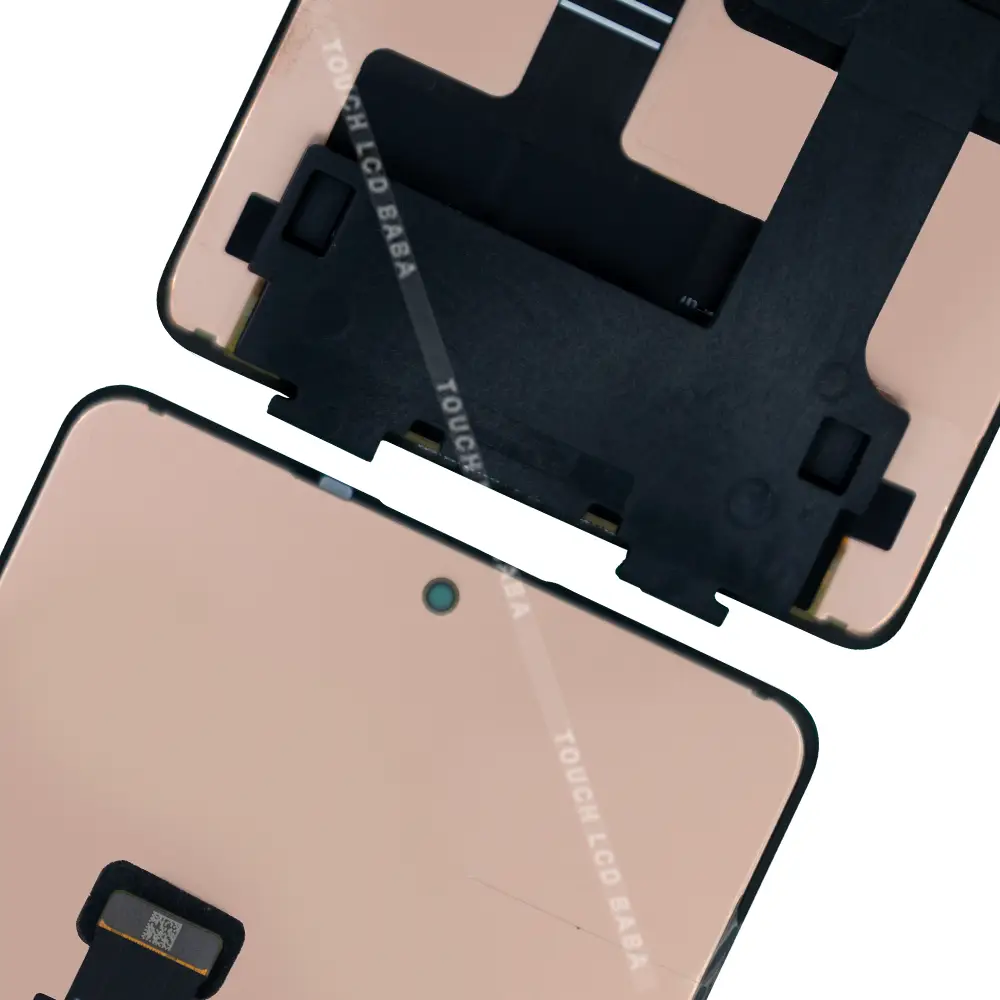 Shipping, Return, and Refund Policy
All our products come with 30 days return, refund, and replacement guarantee. To return a product, It should be in the same condition we sent. You can't use or fix the new Redmi Note 12 Pro 5G display if you want to return it. For complete details about Shipping, Returns, and Warranty, please click here.