If your Redmi 7 battery is no longer as performant as it was, you'll surely look for solutions. A mobile phone's display rarely goes bad if you don't break it, and you can use it for a very long time which is not true for a battery. The life of the Redmi 7 battery depends on its charging and discharging cycles. When those cycles are over, the battery starts showing signs of natural exhaustion, and you must replace it without considering other solutions.
Typically, you can use a battery for around 2 years with moderate use. If you are a heavy gamer, the battery can run down quickly, and replacement becomes imminent. Most customers don't face issues with the battery for at least two years, and it can be more depending on your usage pattern. On this page, we'll discuss all the aspects of the Redmi 7 battery and help you choose the right product for your needs.
What are the charging and discharging cycles of a battery?
Please note that a mobile phone's battery's life depends on its charging and discharging cycles. Typically, you get 500/600 cycles on a good battery, and you complete one charge cycle when you've discharged the battery by an amount of 100% of your battery's capacity. This 100% charge is not all from the charge, and you might use 75% one day and 25% the next day, which will add up to one charge cycle.
The number of charging and discharging cycles a battery can go through before needing replacement depends on its size, composition, and quality. If you use your device more often, your battery will also have to be charged more often, reducing its lifespan. Therefore, it's important to understand your device's charging and discharging cycles to maximize its life expectancy.
What are the common problems of an exhausted Redmi 7 battery?
Please note that even if the battery is depleted, it gives enough time for a replacement unless you don't ignore the problems completely. Most customers start facing battery issues but don't consider a replacement unless that becomes a compulsion. We suggest you replace the battery as soon as you establish the problem and save yourself from all unforeseen issues. These issues are very common with a dying battery :
The battery no longer holds the charge and discharges very quickly.
If you leave the phone in standby mode, the battery will continue to drop.
Your phone's battery doesn't last long, more than 4-5 hours, which was not the case before.
The battery doesn't take charge and is stagnant at a certain percentage.
Your mobile phone automatically turns off even inside your pocket, and you don't know why.
While using the phone, it reboots automatically without any apparent problem.
The battery is swelled/puffed up, pressing the display or back panel.
You feel a bulge inside the phone because the battery is puffed up.
The phone overheats when you charge the phone.
After charging the battery to 100% levels, it suddenly drops to 80% within a minute.
The remaining battery percentage swings up and down automatically.
You might run into software issues if your phone reboots randomly because of a worn-out battery. You must take the rebooting issues seriously; otherwise, if the phone gets stuck on the Mi logo because of a software problem, you must wipe out all the data. As with computers, we've seen numerous customers facing software issues because the data/files might get corrupted by sudden rebooting.
Redmi 7 Battery Specifications
| | |
| --- | --- |
| | This battery is 100% original, tested, and suitable for Redmi 7. |
| | The battery model number is BN46, and the battery capacity is 4000 mAh. |
| | This original battery can replace a swelled/defective/draining battery. |
| | Rated Capacity: 3900mAh |
| | Typical Capacity: 4000mAh |
| | Rated Voltage: 3.85V |
| | Limited Charge Voltage: 4.40V |
| | All the issues related to the battery will end after replacement. |
| | We offer seven days testing and replacement warranty on the battery so that you can ensure backup time. |
| | The battery is readily available in stock, and shipping is fast. |
| | You can order the product using Cash on Delivery or Online Payments (an additional 10% discount). |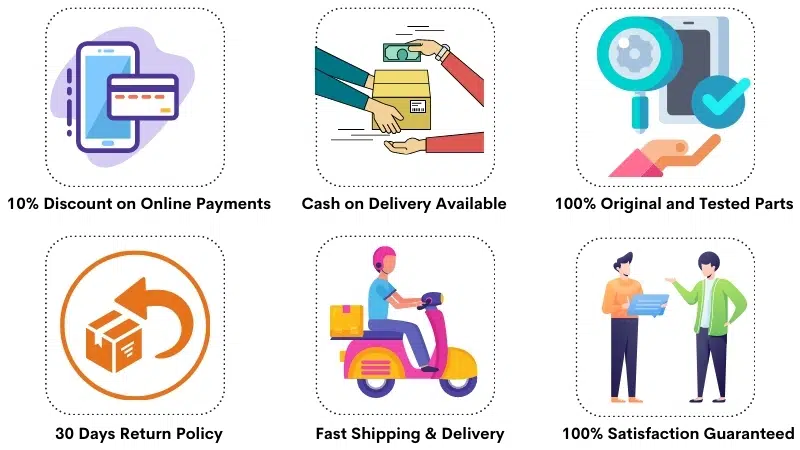 Common Customer Questions
Q: How much does it cost to replace a Redmi 7 battery?
A 100% original Redmi 7 battery replacement (BN46) costs around Rs 1300-1400. The price of a duplicate battery is around Rs 350-450, including installation. Counterfeit batteries are infamous for their performance issues, and your phone starts to scramble with such products.
Q: Is it a 100% original battery for Redmi 7?
Yes. We offer a 100% original battery replacement with true capacity and no hiccups. If you never had issues with your original battery, you'll never face issues with our battery. We supply our products after strict testing, and you'll be pleased with their authenticity and performance.
Q: Should I replace the battery myself at home?
Before attempting to replace the battery at home, you must honestly judge your expertise and whether you've done this before. If you think about self-replacement just because you feel it is easy, you shouldn't try it at home. Watching YouTube videos on this subject is a great idea, but it is not as easy as it sounds in battery replacement videos.
You'll need several tools to open the phone and decouple the old battery, which requires expertise. You can run into unforeseen issues that might erupt in other parts of your phone if you are not careful enough. Therefore, always seek a professional technician's help and don't hesitate to pay a small amount to replace the battery. It hardly takes 15 minutes to replace a battery.
Q: What are your forethought before installing a new battery?
You should always plan things so that everything goes swimmingly. Please make a note of the followings :
Always seek a professional technician's help to replace the battery.
Be gentle, and don't behave hastily while replacing the battery.
Don't let a technician do things in a hurry.
Always test the new battery before reassembling the phone.
After connecting the new battery, use the device for an hour and charge the phone in open condition.
You should measure how much the battery has drained in an hour, and you can guess the battery life.
Generally, you'll not face any trouble with the new battery, and all this guidance is to keep you in the alert mode so that you never make any mistakes. If you've any specific questions, please get in touch with us at 9587954273, and we'll surely have answers for you.
Q: What is the average lifespan of an original battery?
An original battery easily lasts for two and half years, provided you use all original accessories. Most customers cannot maintain the original accessories for a long time. They will either have a duplicate charging adapter or a duplicate cable. All these things are not good for battery health, so you should use original accessories.
Redmi 7 Battery Photos
Please refer to the images below to see the actual product photos of the Redmi 7 battery. You can match your existing battery's model number and other vital information. If you find any discrepancies, please get in touch with us at 9587954273.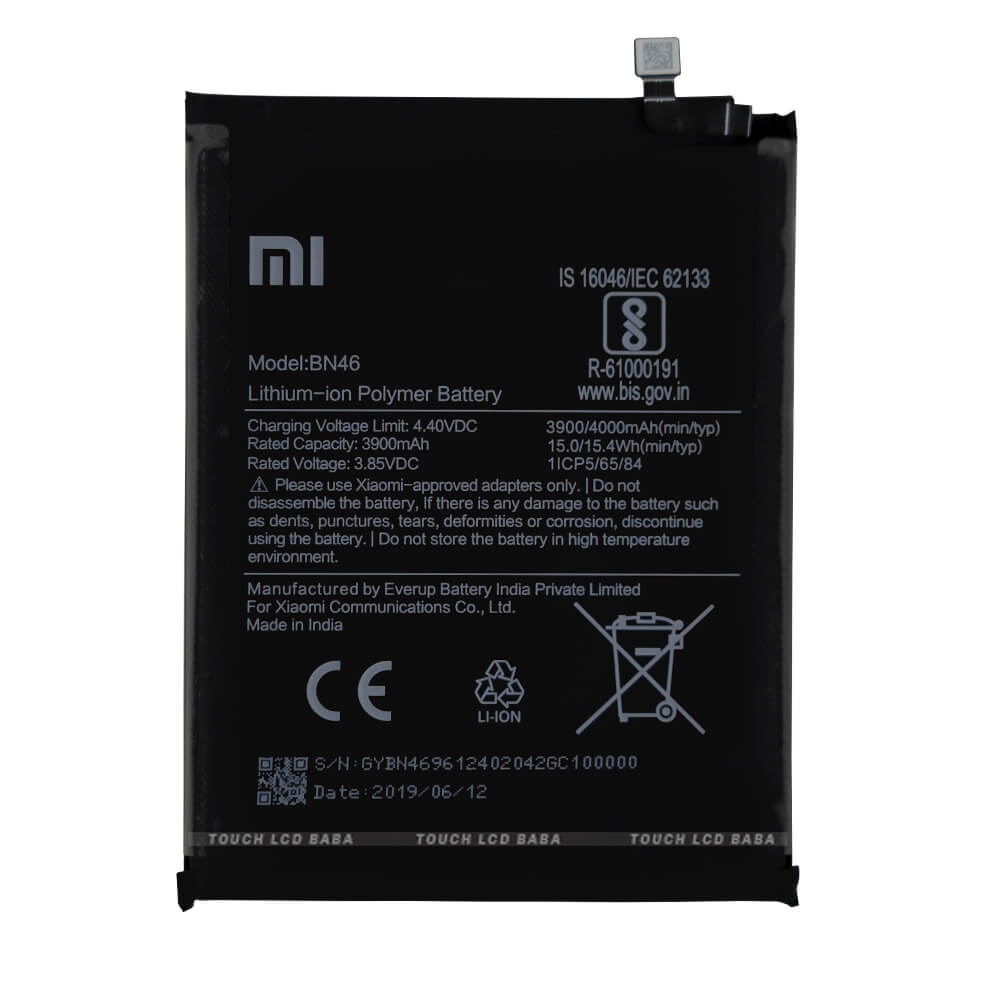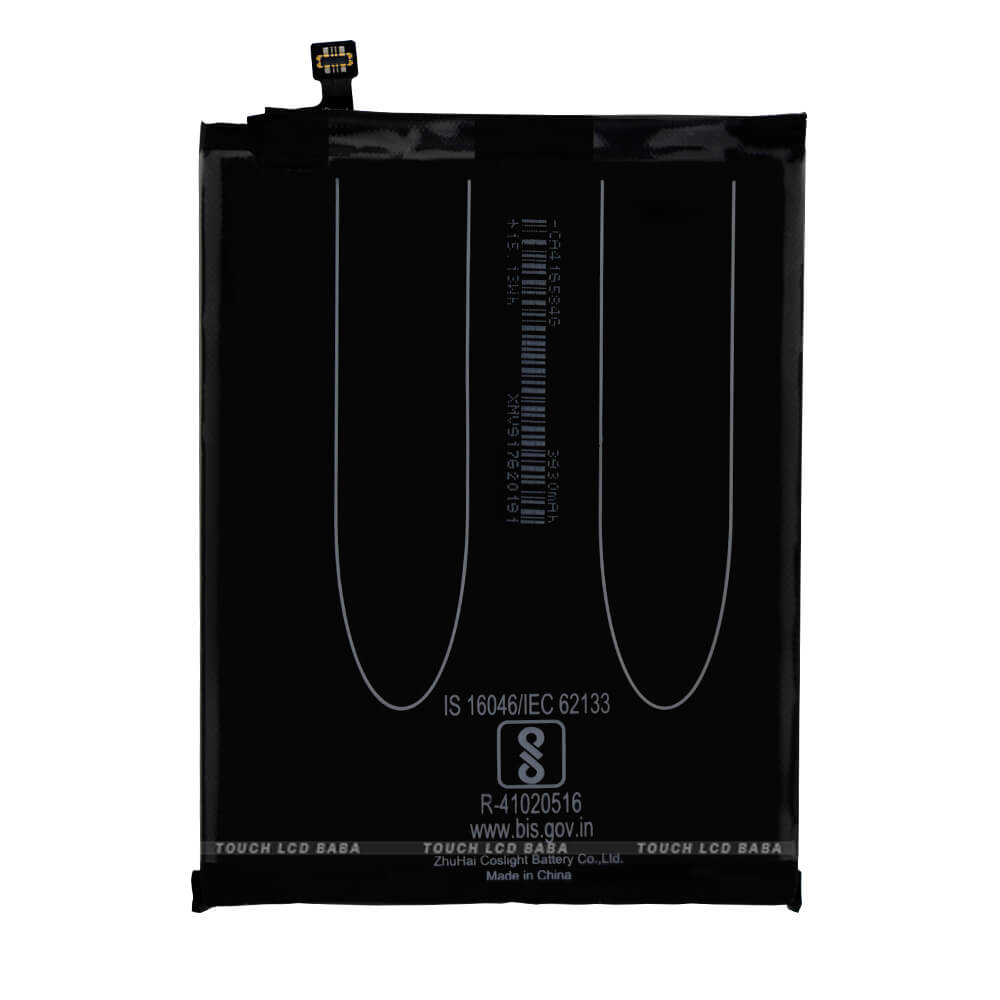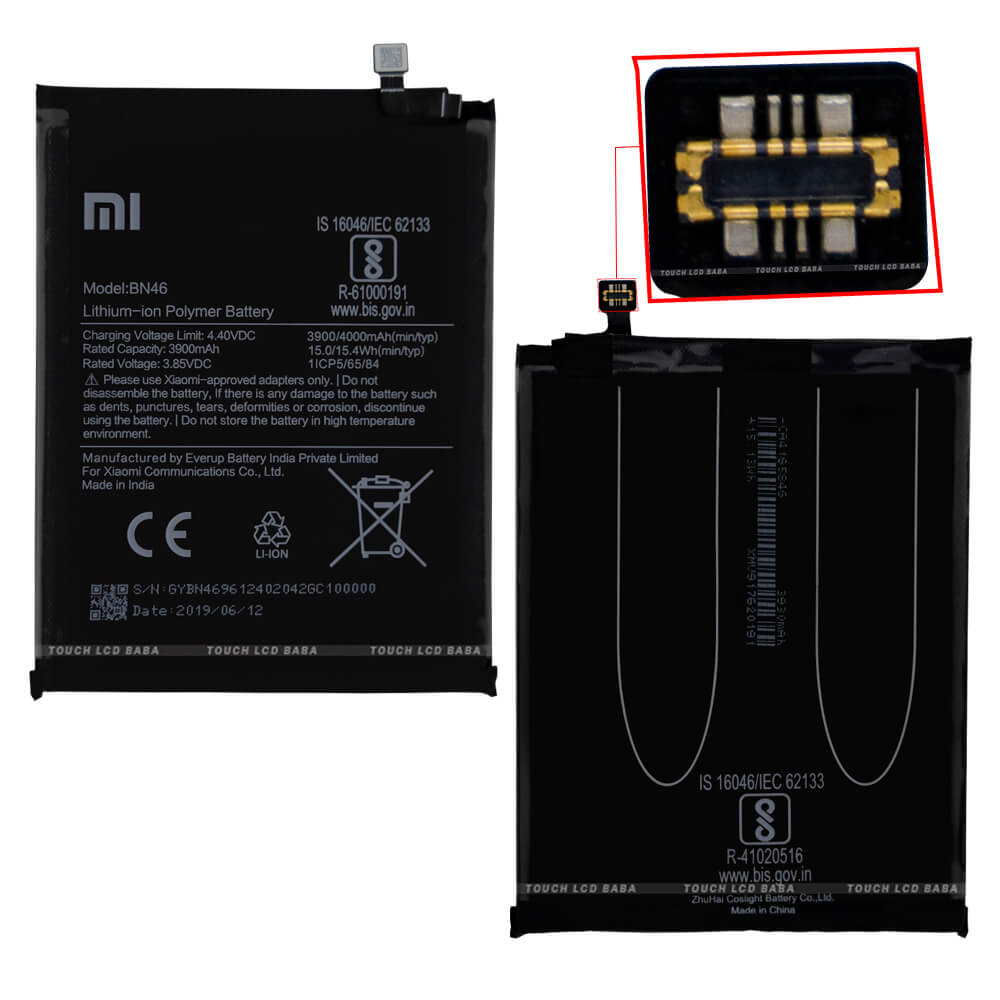 Shipping, Return and Refund Policy
All our products come with 30 days return, refund, and replacement guarantee. To return a product, It should be in the same condition we sent. You can't use or fix the new Redmi 7 Battery if you want to return it. For complete details about Shipping, Returns and Warranty, please click here.