If you are looking for Sony Xperia XA1 Plus Display Replacement, we can help. The part you see on this page is a complete combo of Sony Xperia XA1 Plus G3416, which you can use to replace a broken display or touch screen glass. In Sony XA1 Plus combo, the display and touch screen digitizer glass both parts are combined, and this is the best screen replacement you can get for your phone. As the display is 100% original, you will not face any kind of issue.
What are the different model numbers of the Sony XA1 Plus?
If you are using any of these model numbers, this combo will support your phone. The supported model numbers are G3412, G3416, G3421, G3426, and G3423. If you are using a Sony Phone having any of these model numbers, you can buy the combo.
The different model numbers are in use in different countries, but the display is the same in all of them.  The model number of the Indian variant is G3416, and you can use this display on your phone even if you bought it overseas. Many people stay abroad for some years, buy a phone there and then emigrate to India. Even those customers can purchase this display and easily replace it.
What is the meaning of Sony XA1 Plus Display Combo?
In Sony XA1 Plus, display and touch screen get attached, and you can't separate them. It means that in case of any physical damage to the display or touch screen, you need to replace the complete folder. The part you are seeing is called Folder or Combo. The meaning is the same, a full set of display and touch screen glass.
These days all mobile phones are made on Folder Technology. It means that display and touch screen both parts are combined, and you can't separate them. Now when the mobile phone is accidentally damaged, you can't replace the glass alone as that is in conjunction with the display. In that case, you need to replace the Sony XA1 Plus Combo consisting of both parts, display, and touch screen.
Should I replace only the touch screen glass?
If you are one of many customers who want to replace only the touch screen glass, we don't suggest or recommend this solution. Generally, customers try to opt for the cheapest solutions to save money and embrace worthless solutions, which will give more pain in the long run.
The only glass replacement is such a solution, which is recommended by mechanics so that they can make money on repairs. The glass replacement is not worth it because it is not a quality solution.  If you want to retain 100% quality of your Sony XA1 Plus, buy original parts and stay away from all the unforeseen issues.
There are mechanics doing workarounds to change the only glass of Sony XA1 Plus, but all those efforts go towards extorting money from the customers. You end up paying money and losing all the quality of your phone. For this reason, always replace complete combo as that is the best solution for a scratched screen. If you have any further questions about Sony XA1 Plus screen replacement or price, please feel free to call us at 9587954273.
Why is the Sony XA1 Plus display not available in my city?
Many customers call us and frown that they live in such a big city and still couldn't find the display anywhere. Such customers seem to be very upset about why the display is not available in their city and how come we can have it in stock.
To such customers, just chill down because everything is not available everywhere; otherwise, the world won't be so big. We also buy our stock from so many different origins and sell our inventory on a single platform so that customers can quickly get the screens they need.
For your information, there are thousands of models in existence, and sourcing each model is impossible. Even the most prominent vendors in the world are not having all the models always ready in stock. Goods will always come and go, its nature of the business.
Additionally, vendors in the local market never pay attention to the models, which are a hard sell. For example, If just one customer asks for a particular model in 6 months, they will instead prefer to pass on the customer because buying such models can be indeed risky.
The technicians in the local market are not capable of sourcing the Sony XA1 Plus screen from other places because they always want to play on the safe side. On the maximum side, the mechanics can approach most wholesalers within the city, and still, if they can't find that model, they will deny to the customer.
Sony XA1 Plus Combo Specifications
| | |
| --- | --- |
| | This Sony XA1 Plus Combo is 100% original, brand new and never used before. |
| | The Sony XA1 Plus display size is 5.5″, the display type is IPS LCD and resolution is 1080 x 1920 pixels. |
| | The main touch screen glass is curved and protected by Corning Gorilla Glass 4. |
| | It is a complete unit of display and touch screen combined. |
| | We test each combo for 100% perfect working before dispatch. |
| | It offers the same brightness, clarity, and sharpness as your original display. |
| | The Sony XA1 Plus combo is 100% original as we source it from OEM manufacturers. |
| | It comes with a full money-back guarantee for any defects. |
| | We offer a hassle-free return, refund, and replacement guarantee on our products. |
| | The spare part is readily available in stock, and shipping time is swift. |
| | You can order the product using Cash on Delivery or Online Payment. |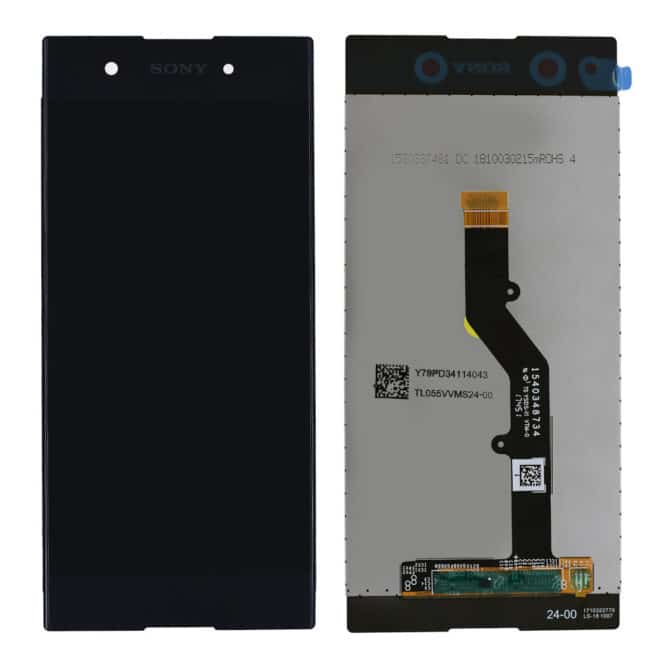 Frequently Asked Questions
Q: What is the price of the Sony XA1 Plus display in India?
The price of a 100% original Sony XA1 Plus display replacement is around Rs 3300-3500. If you buy a first copy screen replacement, then the combo costs about Rs 1300-1500 in India.
Q: Can I accomplish the display replacement myself at home?
For the most part, it depends on your expertise with screen replacements. It is an effortless job for us because we do it almost every day for years. If you are trying your hands for the first time, you might not have that level of expertise. So if you are sure about your knowledge and have all the necessary tools in hand, you can try to replace the display at home.
Before you proceed, always watch a few YouTube videos on the subject to fortify your knowledge and to have a basic understanding of the complete process. When you are ready, you can proceed slowly and just remember one rule of thumb, don't hastily do anything. If you keep this rule in mind, you will never end up damaging additional components of your phone. It is effortless to replace a broken screen, provided you do it sensibly.
Q: Do you have all the color variants available?
We might not have all the color variants in stock all the time, as it depends on availability. Most of the time, we have Black and Pink variation in stock as these two variations sell the most. We may or may not have the color you need, but if you are very serious about getting the same color as before, you can always contact us on Whatsapp 9587954273, and we'll try to source the color you need.
Q: What If the new display is not suitable for my device?
Many customers overly worry about the incompatibility issues they might face with the new screen. We want to reinforce that this fear is baseless because if we sell a screen for the Sony XA1 Plus model, It is bound to work in that particular model. We even verify the working condition of the display before sending off the spare part. Always keep in mind a tested screen will always work without any issues.
Still, we offer a 30 days replacement and return warranty for all the customers. If you face any unforeseen issues with the product or any incompatibility issues, you are 100% protected by our policy. Just make sure to keep the merchandise in the same condition as received and don't tear off the protective films. You can connect the new screen to your phone to take a trial, but don't fix it or tamper with it in any way.
Q: Do you have only the top layer of the touch screen glass without the display?
No. We don't have the only touch screen glass as we don't sell duplicate parts to our customers. We don't claim that only glass is not available anywhere in the market, but it is a very messy and complicated solution. The retail price of only touch screen glass is like Rs 100-150, but the technician who will try to replace the glass will rob you for such a low-quality solution.
Q: How would I know that the new screen is working as desired?
When you receive your new Sony XA1 Plus screen, there is no need to install it on your phone without testing it first. Anyone doing the mobile repairs will take a trial of the screen, and when everything is working as desired, he/she will go for final fitting.
So, you can also take a trial of the new display, verify the working condition, and then fix it on your phone. Testing the display is a breeze; you just need to connect the new display's flex cable into the motherboard of your phone and turn on the handset. At this point, the display stays in an open condition, and you don't need to paste it or tear off its screen guard. You can easily test the display without altering its original condition and verify it to your satisfaction. We hope now you understand how to check the new Sony XA1 Plus display.
Q: Will you also fix the display on my phone or only deliver it?
We don't install the screen on the customer's phone because our job is limited to delivering the product. To fix the display, you need to head over to a local technician and have him replace the screen for you. You will also need to pay installation charges to the technician ranging Rs 150-300.
Q: Do you accept returns, and what is the procedure?
Yes. We do accept returns, and for that, the part should be in the same brand new condition as we delivered. You can always call our customer support number at 9587954273 to register a pickup request and follow the procedure outlined by our support team.
Q: What if the parcel arrives in a damaged condition?
We take pride in doing our business, and you'll be amazed to see the quality of our packing material. We pack your products in bubble wrap and place it inside a hard plastic container. Then we set the plastic container into a hard corrugated box accompanied by additional layers of thermacol.
After that, we seal the parcel in a tamper-proof bag and then ship it out. So far, we've never had a case of in-transit damage. Still, if you overly worry about the loss, you can always record an unboxing video when you open the parcel. If you find anything damaged, we'll replace it for no charge for you.
Shipping, Return and Refund Policy
All the products supplied by us come with 30 days return, refund, and replacement guarantee. To return a product, It should be in the same condition as we sent. You can't use or fix the items If you want to return. For complete details about Shipping and Returns, please click here.