Are you looking for more information about the Sony Xperia XZ Premium display price? The model number of Sony XZ Premium is G8142, and also known as the Sony XZ Premium Dual. If you are facing any display problems and looking for a display replacement, you can buy a new combo from this page.
Can I use this display If I bought the phone overseas?
Please note that If you have purchased this phone from any other country, this display will still work with your phone. You need to make sure that it is a Sony Xperia XZ Premium phone. The model number can be different depending on the county where you bought the phone, but the display is the same.
Many customers travel to foreign countries and bring phones with them. Another such case can be, you emigrated to India recently, and now you need a display replacement for Sony XZ Premium. There is no problem if you bought the phone outside India as the display is the same in all countries, but model numbers are different. The model number can be :
G8142
G8141
SO-04K
SO-04J
We have tested our original display replacement for Sony Xperia XZ Premium with different phones having the above model numbers, and it all worked fine. So if you have a phone and model number that matches one of the above model numbers, you can place the order.
Why is the Sony XZ Premium Display so costly?
Sony Xperia XZ Premium Display is quite costly as it is a very premium phone, and for this reason, its display is pricy compared to other models. If you are buying a high-priced phone, then the price of a screen replacement will be naturally high.
If you are having a hard time getting the new display in your city, you can buy it from our store and then get it replaced by a local technician. Please note that display and touch screen glass both parts form a single unit called Combo, and you can't replace them individually. If you dropped your phone and its glass or screen is damaged, you need to replace the complete set of the display as well as touch screen glass.
Which color options are available on the Sony Xperia XZ Premium display?
You can see actual product photos on this page and buy the right color for your phone. This display suits Sony XZ Premium dual model and will not suit other Sony models. The display is available in two colors :
Luminous Chrome
Deepsea Black
So It is crucial to make sure that you are buying the right color. The combo sold on this page is 100% guaranteed original and offers the same colors, quality, brightness, and smoothness. Therefore, please rest assured about the quality as we are not selling any compatible parts here but only pure original screens for the said model.
Sony Xperia XZ Premium Display Specifications
If you are looking for more specifications of this display, please refer to the details below. For any further questions, please feel free to contact us at 9587954273.
| | |
| --- | --- |
| | This is 100% Original and Brand New Sony Xperia XZ Premium display (Model No G8142). |
| | Sony XZ Premium screen is Triluminos 5.5 inch display with 3840 x 2160 Pixels resolution. |
| | You can use this Combo to replace a broken display or touch screen glass. |
| | The display is combined with the touch screen glass forming a complete display unit. |
| | The touch screen glass is protected by Corning Gorilla Glass 5 Protection. |
| | We supply 100% original product which offers same clarity and brightness. |
| | We test the display on actual motherboard of XZ Premium and then dispatch. |
| | The display comes with 30 days refund, return and replacement guarantee. |
| | We send insured parcels to our customers and in-transit damage is never a case. |
| | The stock is readily available with us and shipping time is very fast. |
| | You can use Cash on Delivery or Online Payment methods to make an order. |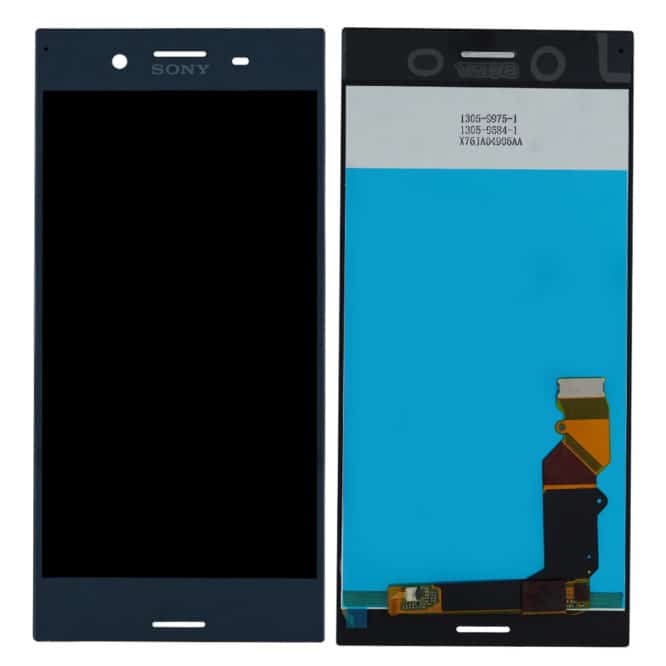 Frequently Asked Questions
These are frequently asked questions and their answers. If you still have any questions in your mind, please call us at 9587954273 or call our Toll Free number 18001236231.
Q: How much does it cost to replace a broken Sony Xperia XZ Premium display in India?
The price of a 100% original Sony Xperia XZ Premium Dual display replacement is around Rs 5800-6000. If you buy a first copy screen replacement, then the combo costs about Rs 2800-3000 in India.
Also, keep in mind that the Sony XZ Premium display is not readily available in local markets. An original display provides a very high resolution of 3840 x 2160, so its price is quite high as well. The Sony Xperia XZ premium price can be even higher in the official service center, so you can buy the same screen for a lower price online.
Q: Can I replace the Sony Xperia XZ Premium display at home?
No, you can't. Sony Xperia XZ Premium display replacement is not very easy, and for a beginner, It is nearly impossible. Sony handsets are not that easy to open and repair at home. Even If you watch a Youtube video on how to fix the display, you may not have the desired success as you also require tools and other pieces of equipment to repair the phone.
You can buy the display online, but for installing the display, you should always visit a technician. It is because technicians do repairs every day and they are experts in such things. They also have all the necessary tools to open the phone and fix the display. Always make sure to stay at the mechanic's shop to see what's going on during the repairs. It hardly takes 30 minutes to replace the folder.
Q: Can I get the display combo for a lower price?
There is a general rule that premium phones always have a costly display, and this is also true for the Sony XZ Premium display. If you buy a premium phone, always be ready to pay the premium price If you damage the display accidentally. So you won't be able to get the Combo for a low price because It is a costly display itself. It is a high-resolution display with Gorilla Glass 5 protection, so its manufacturing cost is high.
Q: Can I check the Sony XZ Premium folder's quality before fitting it? 
Yes, you can always test the display before you fix it permanently. We always recommend checking the screen before pasting it. Please note that there is no need to paste the display without testing, and to test the screen, you need to connect the new display temporarily to your phone's motherboard.
In other words, don't paste the display directly but first connect it to your phone. After connecting the display temporarily, turn on the handset, and you can take a trial of the new display. Take a trial for 15 minutes and try various things as you generally do with your phone. Once you are 100% satisfied, then you can go for the final pasting of the display.
Q: Do you test the display before shipping it to the customer? 
Yes! Each display gets tested for working before dispatch, and we place a Tested OK sticker on the actual part. We have the required motherboard to test the display, and this testing ensures the working state of the Combo. So If the Combo is working on our phone, It will certainly work on the customer's phone as well.
Q: Do you offer any discounts on the listed price? 
Yes! If you pay via any Online payment method, like Credit Card, Debit Card, Netbanking, etc., you can get a flat 10% off on the price shown here. This discount is instant, and you need to pay the final price after the discount. Cash on delivery facility is also available, but discounts do not apply to that.
Q: How can I replace only the touch screen glass without changing the display? 
It is not possible to replace only the touch screen glass as It is attached to the display. If you try to separate the display and touch screen glass, you will also damage the display. After that, you have to replace the complete display folder of Sony XZ Premium.
Even if you are able to detach the display and touch screen, you can't find a duplicate glass to paste over it. People who try strange solutions always end up in a dilemma later. Don't waste your money on weird solutions because, in the end, you will end up paying more.
Q: Can you also install the display on my phone? 
No, we are only selling the spare parts and not doing the actual repairing. Before you order a product, please make sure to consult with a technician who will fix the display on your phone. After discussing with the technician, you can freely order the display without worrying about the installation.
Q: What is the meaning of the Sony XZ Premium display folder? 
People call the display using several names, and these are combo, folder, display unit, assembly, screen, etc. All these are the same, and you don't need to confuse yourself between different words having the same meaning.
Q: How can I identify the original display myself? 
If you are not in this business, you can't learn such things in a day. It takes years of experience and knowledge of OEM manufacturers to know the secrets of the original display. However, It is also possible to judge the original display by its looks. The original display will have the original glass, and there will be no variation in the color, quality, and brightness.
If you hold the original part in your hands and see the quality of the glass, you can clearly understand its original. Further, you can test the display on your phone and see the colors, quality, and brightness. We assure you that the quality will exceed your expectations.
Shipping, Return and Refund Policy
All the products supplied by us come with 30 days return, refund, and replacement guarantee. To return a product, It should be in the same condition as we sent. You can't use or fix the items If you want to return them. For complete details about Shipping, Returns and Warranty, please click here.