A broken screen can be big trouble for you, but luckily, you can easily replace a broken Vivo Y83 display with a new one. On this page, you can find more information about the Vivo Y83 display price and other crucial information, which is essential for you to know.
Before you head to replace the broken display or touch screen digitizer glass, you should have all the information handy so that you can make an informed decision. Most of the time, customers blindly go to local markets or buy from online stores for low prices, which results in a very poor quality display. So before you make a purchase decision, you should decide the quality you want to purchase the then proceed further.
What is the meaning of the Vivo Y83 Display Combo?
Vivo Y83 screen replacement is straightforward and can be done anywhere. All you need to do is, take out the broken screen from your phone and replace it with a new combo. If you are thinking about what is the combo, then It is a complete unit of display and touch screen digitizer glass combined into one.
These days all mobile phones come with a pasted display and touch screen modules, and you can't replace only the display or only the glass. Many customers want to replace only the glass, and that would be the worst decision. The only glass replacement is never trustworthy, and the outcome will be inferior, and the overall quality of your phone will degrade to a great extent. If you want to keep your phone in its original condition, always go for the complete combo replacement.
Ask Yourself – Do you want an original display replacement or a copy one?
A) Buy a Duplicate First Copy
Before you order a product, first you should decide what is your goal after repairing the display. If you don't care about the display quality and any cheap display is alright for you, you can opt for only the glass replacement or buy a duplicate screen locally. There are lots of cheap options available in the market, but none of them provide the original display quality.
After replacing a broken display with a duplicate one, your mobile phone's display quality, camera quality, and everything else will take a big hit. You can still use the phone, but the experience will not be joyful. Such screens are also available online on the websites that sell the products for low prices to attract customers. Surely, you can get the display for a low price, but the quality isn't cheap anywhere. If you want to buy the first copy, don't buy it online because you can get it for a more competitive price in offline markets.
B) Buy the original Vivo Y83 display
If you want to purchase a 100% original display, we have the right spare part available for your needs. The price is not low, but It is the best screen replacement for Vivo Y83. Even after replacing the display, you won't realize that you've changed the screen. The display is pure OEM, the same as you get with a brand new phone.
We source 100% original parts from OEM vendors, and such parts are costly, but the quality is guaranteed. You can also visit the official service center to buy the original display, but the price might not be suitable for everyone. We buy directly from the OEM factories so that we can offer lower prices and original quality altogether.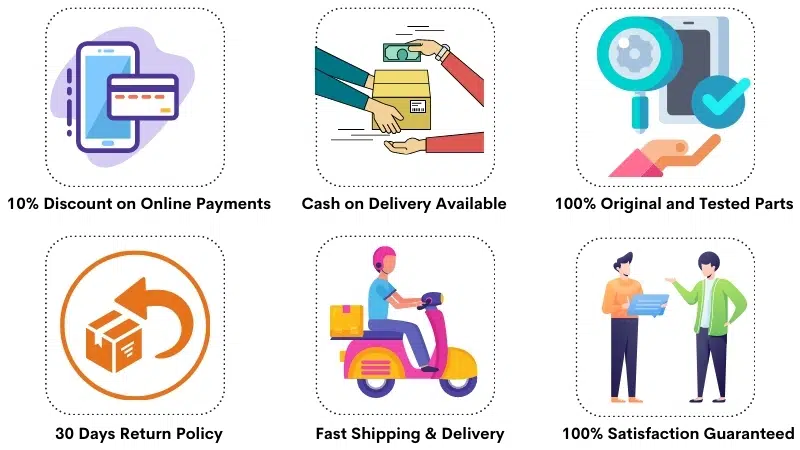 The cheaper price always means a duplicate product.
Most online buyers are looking for lower prices and original products altogether, which is never going to happen. It is effortless to compare prices and buy the cheapest but that means you are buying the lowest quality product for yourself. If you are happy with that, that's perfectly fine too.
However, If you expect that by spending Rs 1200, you will get an original product because you ordered from a big branded eCommerce website is more or less daydreaming. Many customers actually go to that route and burn big holes in their pockets. We suggest that before rushing for the cheapest solutions, at least consider your requirements and base your purchase decision on that. You should never assume that the original display comes for Rs 1200 and If you do, that would be a self-hurting assumption.
Vivo Y83 Display Specifications
| | |
| --- | --- |
| | This display is 100% original, tested and suitable for Vivo Y83 (Model No. Vivo 1802) |
| | The Vivo Y83 display size is 6.22″, the display type is IPS LCD and resolution is 720 x 1520 pixels. |
| | It is a complete unit of display and touch screen combined into one. |
| | We buy the combo from the OEM manufacturer who makes screens for the company. |
| | The display is guaranteed to offer 100% original colors, quality and brightness. |
| | We back our products with a solid 30 days return refund and replacement guarantee. |
| | We test each screen on an actual motherboard of Vivo Y83 to ensure flawless working. |
| | All the parcels are insured during transit so you don't need to worry about any damage. |
| | We can deliver and pickup products from your doorstep all over India. |
| | The display is almost always available in stock and shipping time is very fast. |
| | You can order the display using Cash on Delivery or Online Payments. |
Frequently Asked Questions
Q: How much does it cost to replace a broken Vivo Y83 display in India?
The price of a 100% original Vivo Y83 display replacement is around Rs 2400-2600. If you buy a first copy screen replacement, then the combo costs about Rs 1300-1500 in India. You may have to pay additional repairing charges on top of the display's price to a mechanic.
Q: What is the meaning of the first copy or OG display combo?
You have probably heard these words before, first copy, and OG. These words are used by almost every shopkeeper in the local market to sugarcoat a duplicate display. If they directly say that they have a trashy duplicate screen, you probably won't buy it in the first place.
For this reason, the duplicate low-grade display is called a first copy or OG so that you don't realize that you are buying junk. Some even go further and say that they have a 99% quality display, but under the hood, that is the same Chinese copy that sells widely online and offline.
Q: Can I replace the Vivo Y83 display myself at home? 
It is certainly possible to replace the display at home, but we recommend this approach only If you know what you are doing. If you are trying to do this at home without prior experience, It can be troublesome for you later. You will also need some special tools to open the phone, dismantle the screen and affix the new one. Although screen replacement is possible at home yet it is not worth buying tools for a one-time screen replacement.
Q: How much does a mechanic charge to fix the display?
The normal repairing charges are Rs 150-200 to install the Vivo Y83 display. Hopefully, you can easily find a mechanic in your locality and avail of his services to fix the display. It is always a good idea to visit a technician instead of replacing the display yourself at home.
Q: How can I differentiate between the original and duplicate screens? 
It is a dilemma for many customers to recognize the original display because they are not having any firsthand knowledge. Still, customers try to apply their shallow knowledge of identifying the original screen, which is even more flawed and baseless.  As a novice customer, you can't differentiate between original and copy display without testing it first. We can recognize the screens even without testing them because we have ample knowledge of OEM manufacturers, and we deal with mobile phone screens every single day.
There is no need to identify the original display because as soon as the display turns on and the phone boots up, your eyes will be wide open, and your mind will accept the display in just a minute. That is because there will be no difference in colors, quality, and brightness. The original screen never needs an introduction, but It is self-explanatory.
On the other hand, a duplicate screen feels very cheap in hand and even looks aesthetically bad. When you connect the screen to your phone to test it, the colors, quality, and brightness will be different, totally different. As you are using the phone for a long time, you can notice the difference very easily, and you don't have to be an expert for that. Even a new user can understand that things are very dissimilar than they were before.
We suggest that you don't go into technicalities to recognize the original Y83 display because your knowledge is not ample for that, and you might have an ego problem admitting that. Simply pay more attention to the overall colors/brightness of the display, check for multi-touch support, and smoothness of touch screen, which is always missing from the first copies/duplicate screens.
Q: Why does the first copy display break so quickly? 
Once the original Vivo Y83 display breaks, many customers buy a cheap first copy (or the duplicate) display, and while they realize that the quality is inferior, they are happy that at least they can use the phone again. Now when the phone drops again, the duplicate screen breaks instantly on the first drop itself.
Customers ask us that the original screen didn't break even when the phone dropped quite a few times, and the first copy broke in just one accidental drop. Why did that happen? The first copy display takes its shape by using very cheap quality material, and such screens are designed in such a way that customers can't use them for more than three months. For your information, the first copy duplicate screens are not a solution, but It is a business strategy so that you buy a new screen every three months.
Q: What is the main concept behind the first copy screens? 
The main concept behind the first copy duplicate display is doing business. The third-party manufacturers design such screens willfully as customers want solutions at the lowest possible price. The vendors design these screens for doing more business so that you buy a new Vivo Y83 display every few months and always stay as a customer. You won't stop running behind cheap products, and such kinds of screens will always be an easy sell.
Here is how this cycle works. You break the original display, and then due to your attraction towards low prices, you prefer buying a duplicate display. After that, you'll keep changing the display every three months on average, and now you are a regular customer of first copy screens. You'll spend two times more money than the original display itself in one year, but If you do the math, you've lost your money and never enjoyed the original display's experience again.
Vivo Y83 Display Photos
These photos show the actual display and touchscreen combo of the Vivo Y83. As you can see, the display and touchscreen glass are combined, and It is what you exactly need to replace. You will need to take out the broken Y83 combo and replace it with a new one. That's all. Vivo Y83 screen replacement is straightforward and can be done anywhere by a mechanic.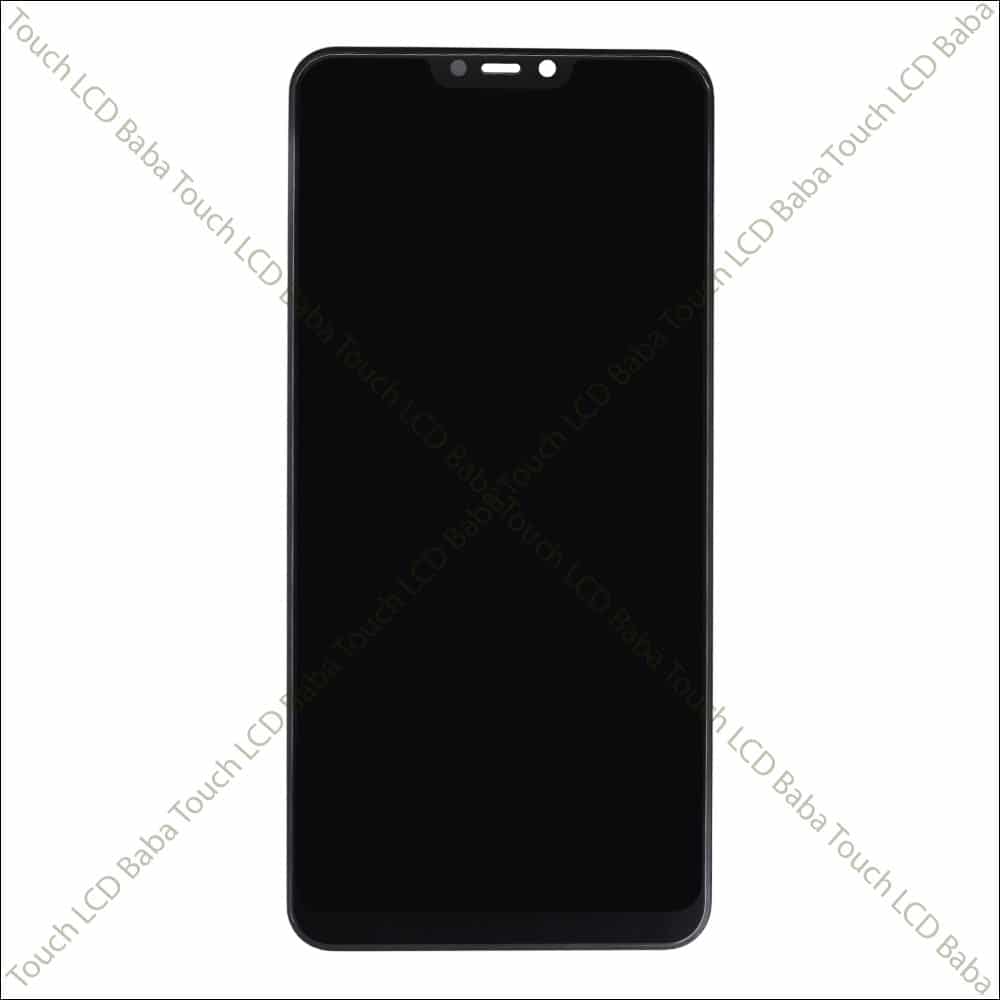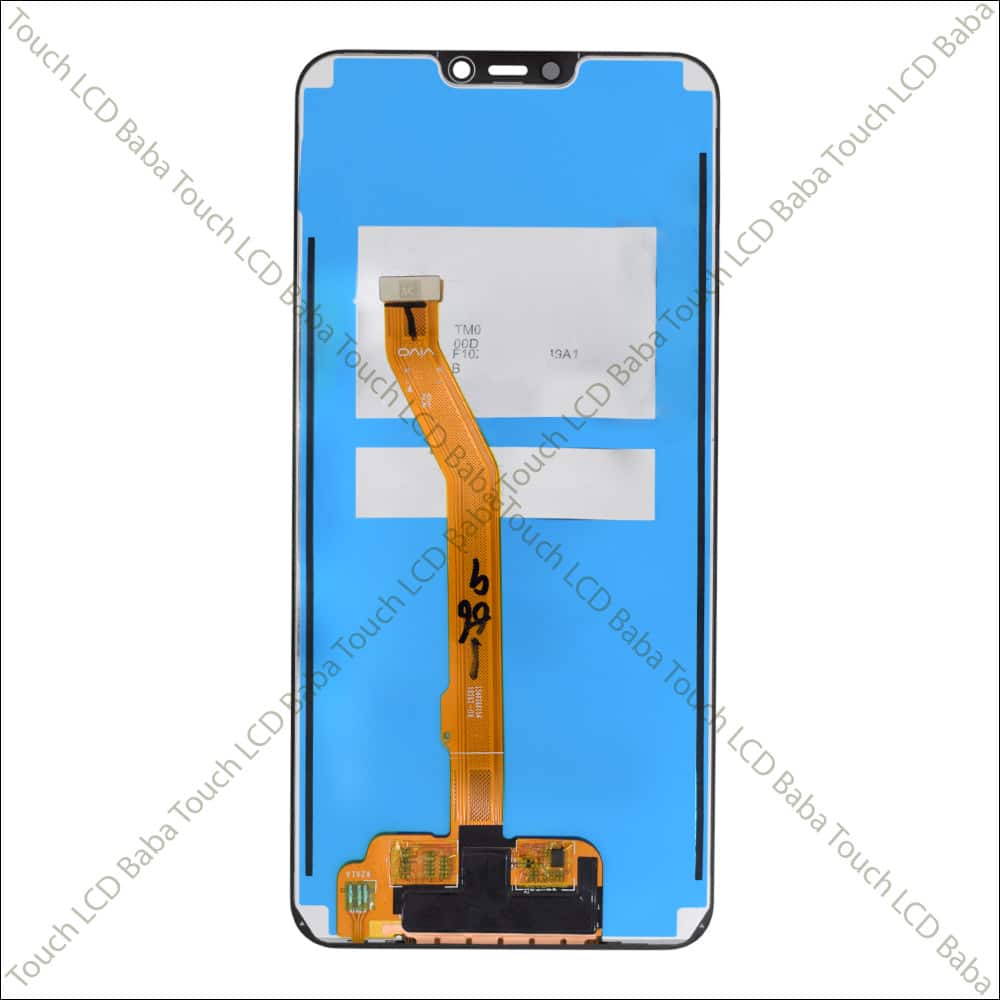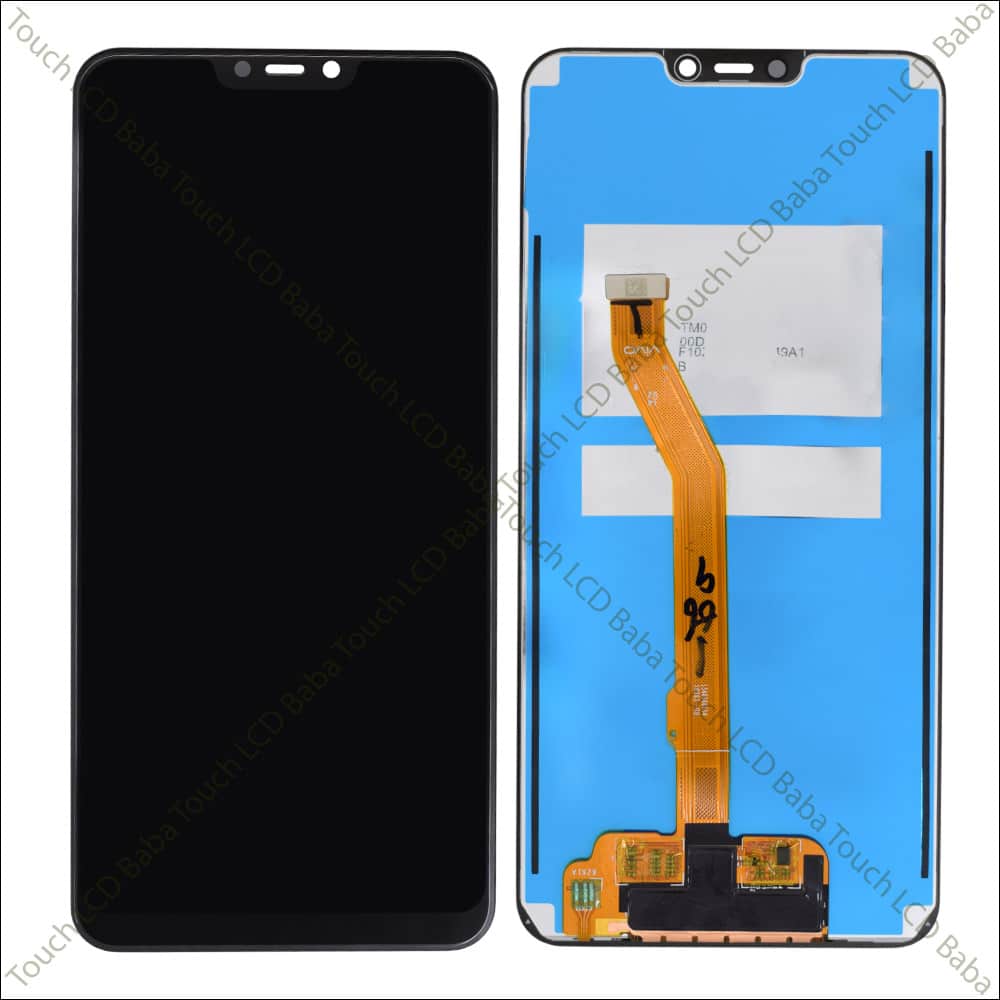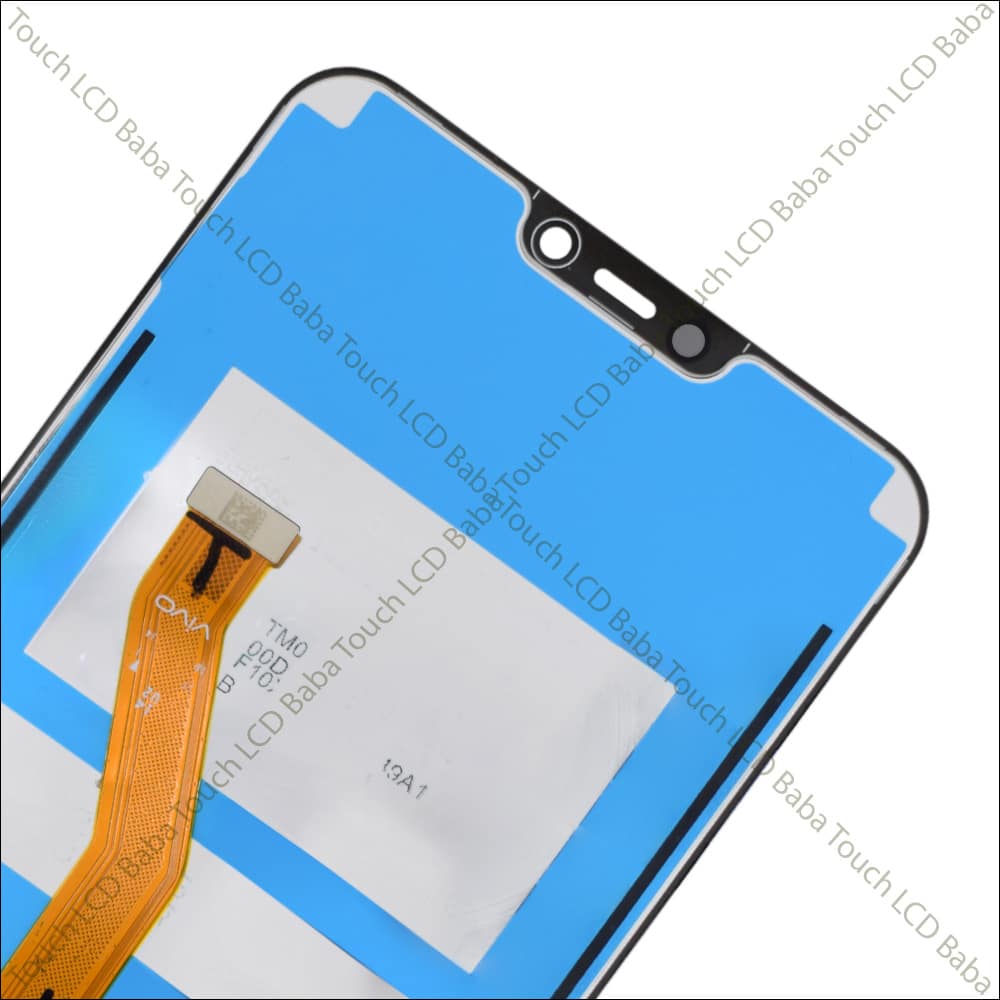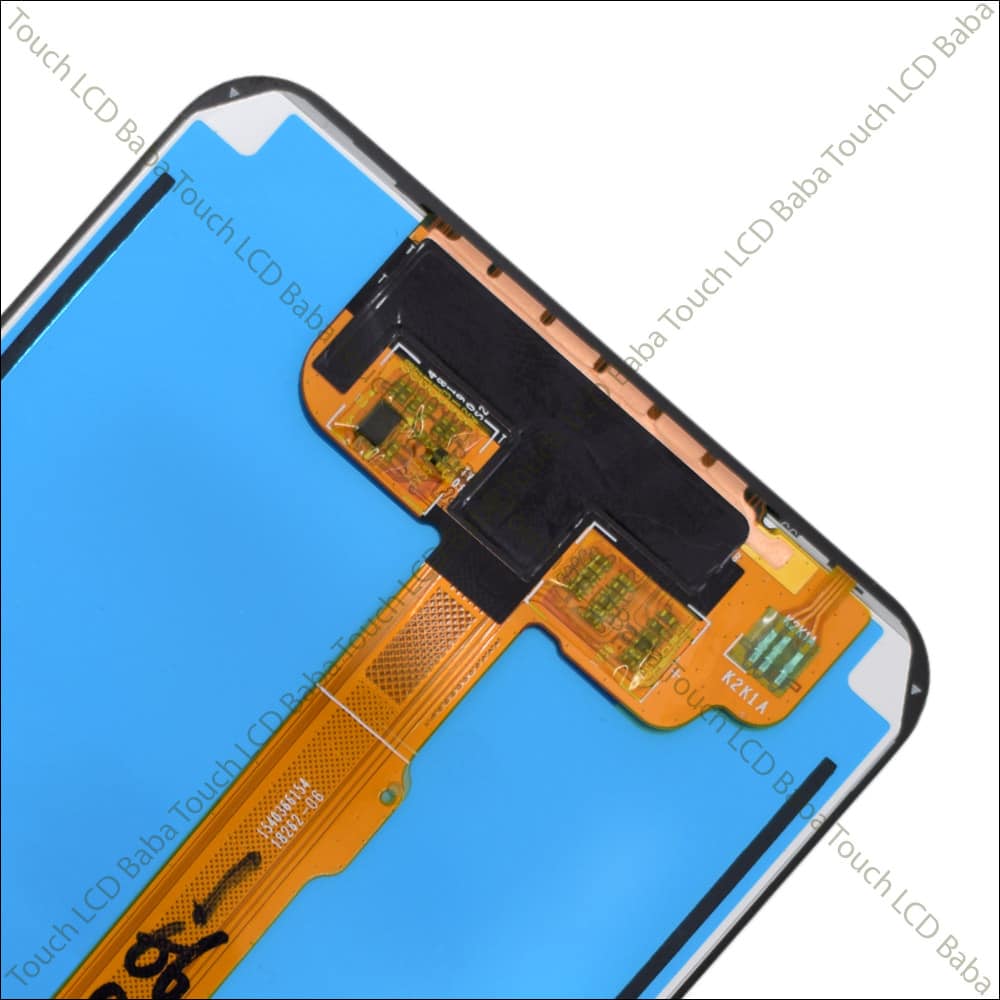 Shipping, Return and Refund Policy
All the products supplied by us come with 30 days return, refund, and replacement guarantee. To return a product, It should be in the same condition as we sent. You can't use or fix the items If you want to return them. For complete details about Shipping, Returns and Warranty, please click here.