Honor Play is a very popular handset, and If you broke the Honor Play display and need a screen replacement, you are on the right web page. We offer the Honor Play screen replacement on this page, which is very useful in replacing a broken display or touch screen digitizer glass. In this display unit, both parts come combined with the IPS LCD and touch screen, and you can't separate them. In other words, the display and touch screen glass always come in conjunction, and individually replacing them is not the right approach.
Honor Play Display eSpecifications
| | |
| --- | --- |
| | This combo is 100% pure original, tested and suitable for Honor Play (Model Number COR-AL00) |
| | The Honor Play display size is 6.3″, display type is IPS LCD and resolution is 1080 x 2340 pixels @409 PPI |
| | It is a complete combo consisting of the display as well as touch screen digitizer glass. |
| | The main touch screen glass is protected by a toughened 2.5D curved glass. |
| | We source the Honor Play display from OEM manufacturer for assured original quality. |
| | This folder offers 100% the same colors, quality and brightness as your factory fitted display. |
| | We test each display on Honor Play motherboard before shipping to our customers. |
| | We can deliver the Honor Play screen replacements all over India. |
| | The stock is readily available and turnaround time is very fast. |
| | We back our products with a solid 30 days return, refund and replacement guarantee. |
| | You can order the display using Cash on Delivery or Online Payments. |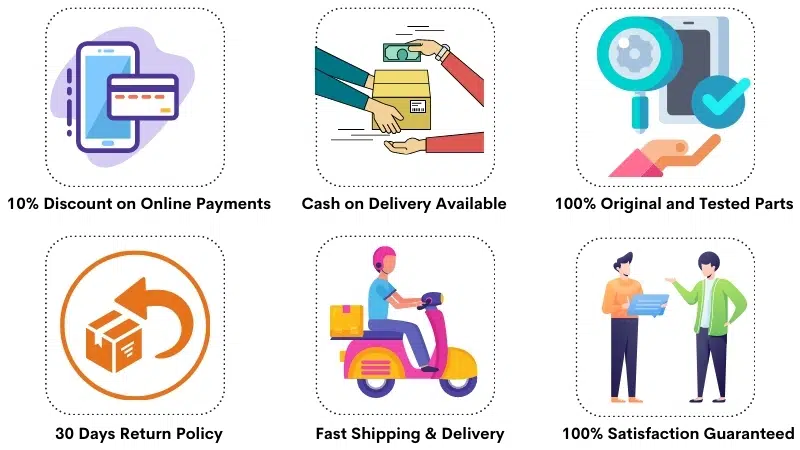 How does the Honor Play Display Replacement Work?
It is quite easy to scratch the Honor Play display accidentally, but you can replace the broken screen with a new one. To replace a broken display, all you need to do is decouple the broken display from your phone and paste a new one in place of it. A mechanic can easily do that, and lots of YouTube videos are also available for immediate assistance.
A whole industry is working for brand new spare parts that are useful for the customers who need a replacement. So the display replacement works by taking off the broken screen and fixing an identical part in place of it.
Which Honor Play Display is the best for me, First Copy or Original?
At Touch LCD Baba, we sell only 100% original screen replacement for Honor Play, and by far, It is the best display replacement for everyone. However, all customers can't afford to buy the original display replacement, and that's why there are lower-quality substitutes available in the market.
Such lower-quality screens are usually called a first copy or OG quality. So if your technician says that he has an OG display of Honor Play, you can understand that he is selling a counterfeit product having poor colors, low brightness, and less durability.
The price of such first copies is quite low, and that's why so many customers are attracted to them. However, comparing both products, the original and the first copy, there is a massive 50% quality difference.  So if you don't want to compromise, go with the original one. If you've no issues making a massive compromise, you can buy the first copy from the local market.
How can you replace only the touch screen glass and reuse the same display?
The Honor Play display is a complete set of IPS LCD combined with the touch screen glass, and that's why you can't replace them individually. Many customers call us and ask about the cheapest possible solutions for the broken display. Their first statement is, everything is working fine, including the touch screen, but just the top layer of glass is broken.
We try to explain that they have broken the main touch screen glass, which is merged with the display, and they need to replace the full combo. But most people are very reluctant to replace the complete combo and spend money. We never understand why customers spend 20k on the phone and then get the original display for Rs 1000-1200 and burn their hands. If you buy a quality phone, the screen replacement will also cost you a considerable amount of money.
The only glass replacement is nothing more than buying a duplicate glass for your phone. The mechanic will try to separate the display and touch screen glass, and if successful, he will paste a duplicate glass worth Rs 40 and charge you for like Rs 1000-1200. So you are paying Rs 1200 for a product that costs Rs 40 in the wholesale markets.
The glass replacement will introduce lots of new flaws, spots, and impurities inside the display, so it is better to stay away from it. We are sorry to disappoint; If you thought that glass replacement is the right step towards a broken touch screen glass replacement, It is not. If you still consider it as a perfect solution, please try it for one time, and then you'll understand the drawbacks in a more practical way.
Frequently Asked Questions
Q: How much does it cost to replace a broken Honor Play display in India?
The price of a 100% original Honor Play display replacement is around Rs 3200-3400. If you buy a first copy screen replacement, the combo costs about Rs 1300-1500 in India. The installation charges are separate from this price and cost about Rs 200-300 additional.
Q: Why is the price so high on your website compared with others?
We provide the 100% original display of Honor Play that comes directly from the OEM manufacturer, the entity that makes original screens for the company. It is tough to source such products, and the prices are also sky-high, but trust us, it is worth the hassle in the end.
If you want an average quality display, don't bother buying from us because we aren't selling low-quality products.  If you are very selective and want to purchase the original display replacement, please feel free to order from our store.  We can guarantee 100% satisfaction and value for your money.
Q: How is it possible for you to source the original Honor Play screens?
Please be informed that original screens are available with the suppliers, but the price is very high. Due to the higher price, 99% of wholesalers in India don't even try for the original as It is tough to sell. Most people, including the most educated fellows, are hunting for the cheapest deals, and thus the business model of selling original screens is not fruitful in the local market.
We source these screens for a higher price, but customers buying from us will appreciate the quality forever. The original display is not magically created but comes from a particular factory / Manufacturer. If you source the screen from the same OEM factory, you can get the original display, but you've to pay the price for the quality. We hope now you understand how we can source the original products.
Q: My friend says that the original screen is not available anywhere. What about that? 
Almost everyone has these hyperbolizing friends who have no idea what they talk about. Their job is throwing any advice, even without having the basic knowledge of the context. If you base your decisions on the suggestions of such people, we still wish you the best of luck.
The world is evolving every day, and every business is taking a new shape forward. We welcome you to contact our helpline and ask any questions you may have. You'll be very pleased with the level of knowledge we have in our field.
Q: I need only the top layer of the touch screen glass. Can you provide that to me? 
No, we can't. Many customers force us and ask to provide only the glass even if it is a duplicate. We are not dealing with such products as the local market is already piled up with shady products. Our motive is to sell original spare parts, which are much hard to source, and many customers still understand and appreciate the value of original products.
Q: How a duplicate display can turn into a nightmare for me?
A duplicate screen takes its shape with the lowest quality materials to reduce manufacturing costs. If you purchase such a display for your Honor Play, please pay the utmost attention to these consequences that you will face later :
The overall display quality will be inferior when compared with the original screen.
Such duplicate screens offer very low brightest, and viewing the screen in the sunlight is nearly impossible.
The motherboard will overheat because of the low-quality circuits used in the first copy display.
No one does any QC testing on the first copy screens so that unpredictable flaws will happen.
The battery life will reduce a lot because backlights in the duplicate screen consume much more battery power.
The touch screen smoothness will recede to a great extent.
You will no longer be able to use the multi-touch and gesture features of your phone.
If you play games on your device, forget about the proper touch screen response.
Some other problems will also turn up their ugly head later, and you can't do anything. That's why buying the original parts is the recommended approach. Everyone has the sources to buy cheap products, but original screens are not easily available.
Q: How do you test the new Honor Play combo before shipment? 
Honestly, there is only one foolproof way to test the screens other than using the Honor Play motherboard. There are other testing mechanisms, but they are not as accurate as testing the screens on the motherboard.
In our back office, we keep a spare Honor Play phone solely for testing the screens. When we receive a new shipment from our OEM suppliers, we test each display individually, mark them as Tested and keep them in a separate facility. Our suppliers first test our screens, and then we also check them one by one. There is no chance of a defective product going out of our facility, and our success rate is precisely 100%.
Q: What If I receive a damaged combo inside the parcel?
We pack our products very carefully in hard plastic boxes, and there is no chance of damage in transit. Still, if you excessively worry about in-transit loss, feel free to record an unboxing video. This video will serve as proof in case you face any problem with the shipment. We want to insist that our packing style is very safe and secure.
Q: Will I face display lag issues If I play games like Pubg?
People often ask if replacing the display will harm the gaming performance of the phone.  Customers often face touch screen lagging and multi-touch not working issues with duplicate screens, but It is not the case here.
We supply a 100% pure original display of Honor Play (the same make as comes with a brand new phone), and you won't face any lags while playing the games. We guarantee 100% perfect colors, quality, and brightness. Al the multi-touch features and gestures will continue to work as always.
How To Test Honor Play Display Without Fitting
Here is a basic overview of testing the Honor Play display without fixing it on your phone. If you have any questions, please get in touch with us at 9587954273.
Step 1 –  Dismantle the Back Panel Of your Phone
To test the new Honor Play display, there is no need to fix it on your phone. You can easily test the display without fitting, and these photos show how to do that. The first step is taking off the back panel of your Honor Play. After removing the back panel, you'll find a small metal cover protecting the display connection. You also need to unscrew that, and then you'll see the phone, as shown below.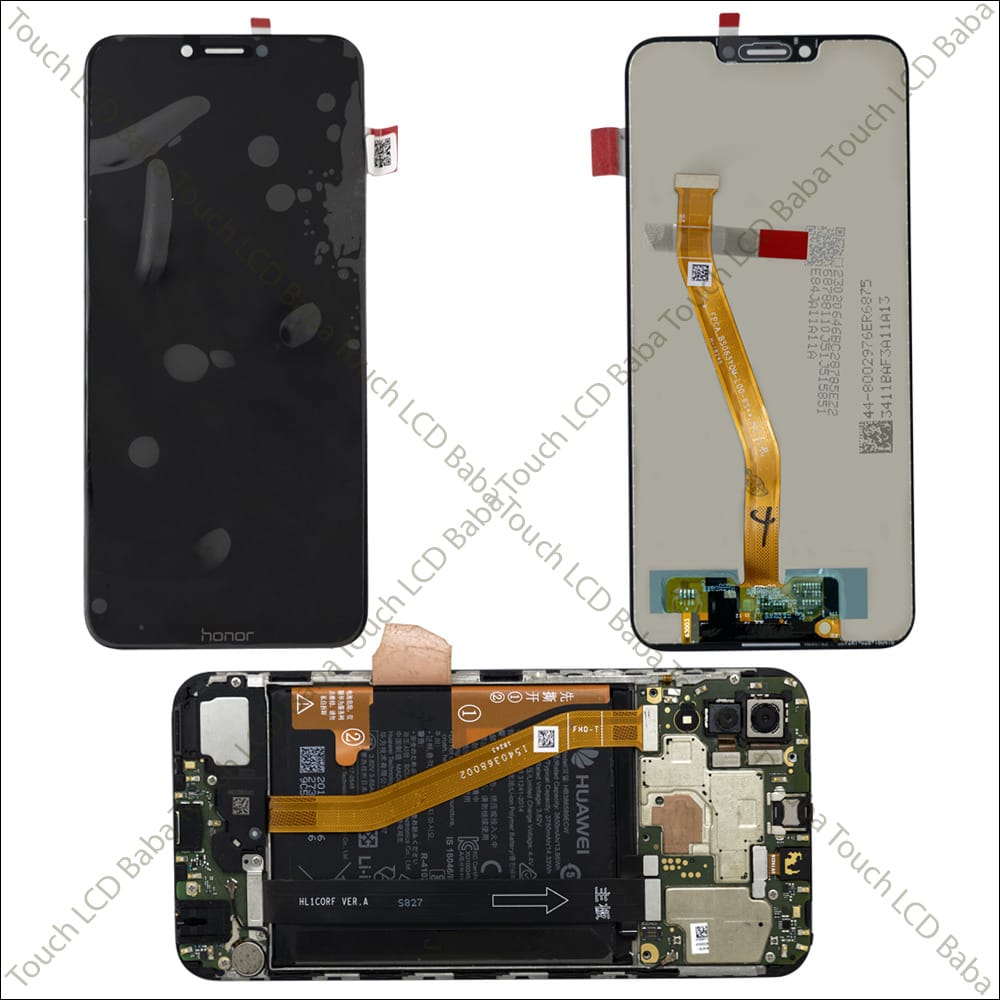 Step 2 – Then, you need to unplug the old display's connection from the motherboard.
As you can see in the photo below, you need to unplug the old display's connection. We will connect the new display's jack into this place, so you need to unplug the old display's connection first.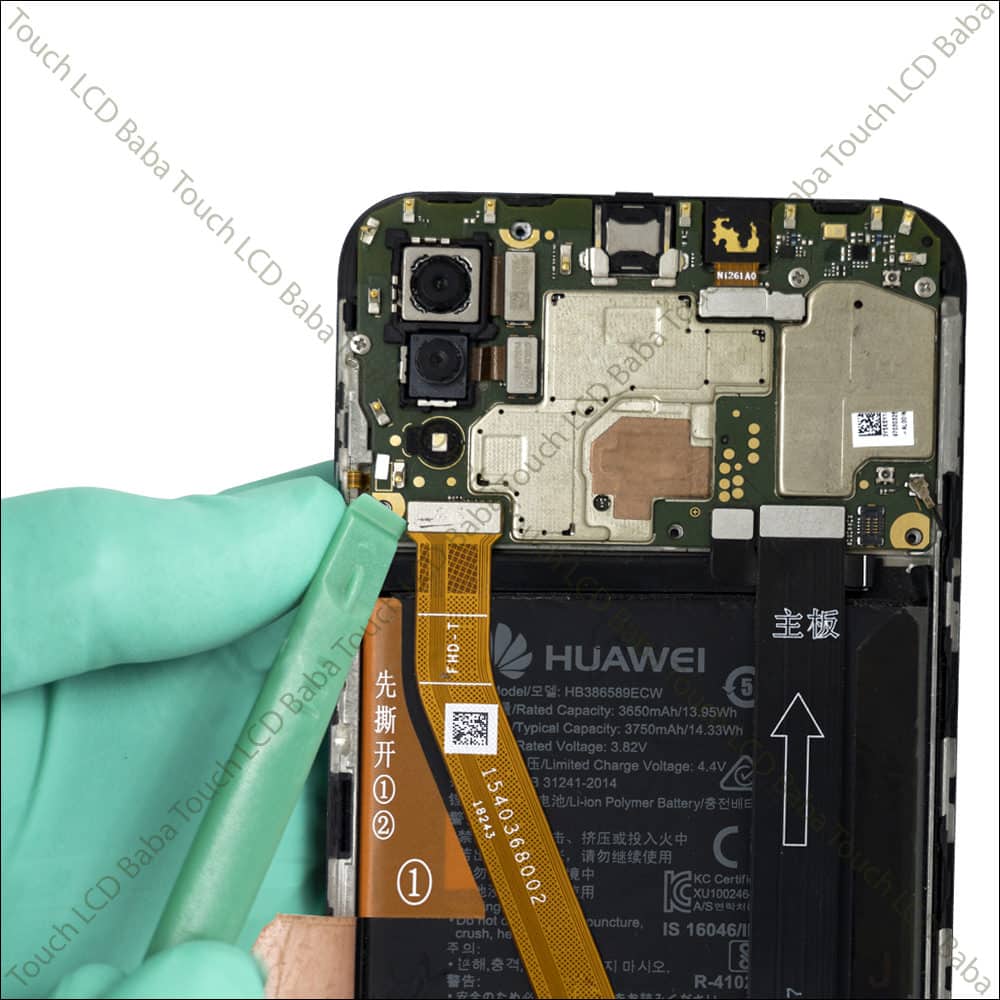 Step 3 – Make sure that the display connection is alright.
After disconnecting the old display from the motherboard, now you'll see the motherboard like this :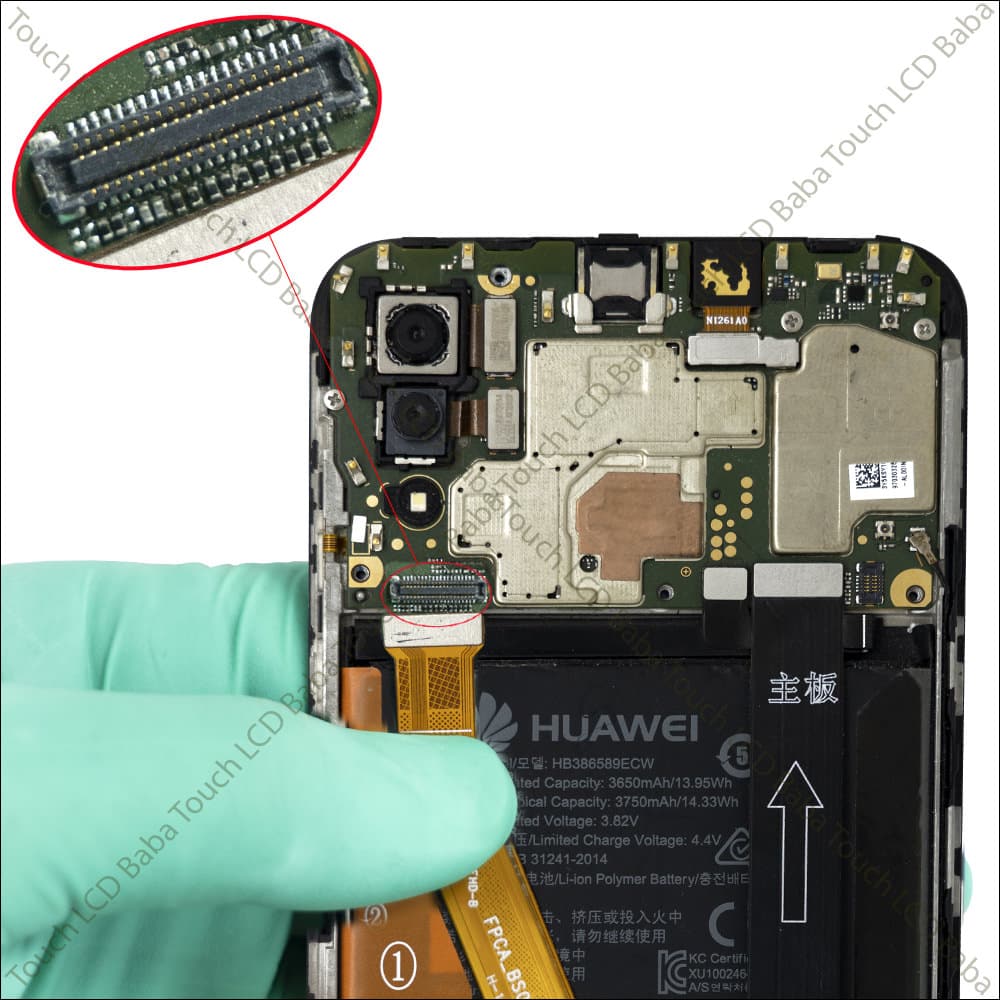 Step 4 – Connect the new display's flex cable to the motherboard.
Now, you need to connect the new screen's flex cable to the motherboard of your phone. Align the display's jack over the connector on the motherboard and press gently. The display's jack will lock itself in the motherboard and after that, turn on the device by using the side button. The device will turn on, and you can see graphics on the new display.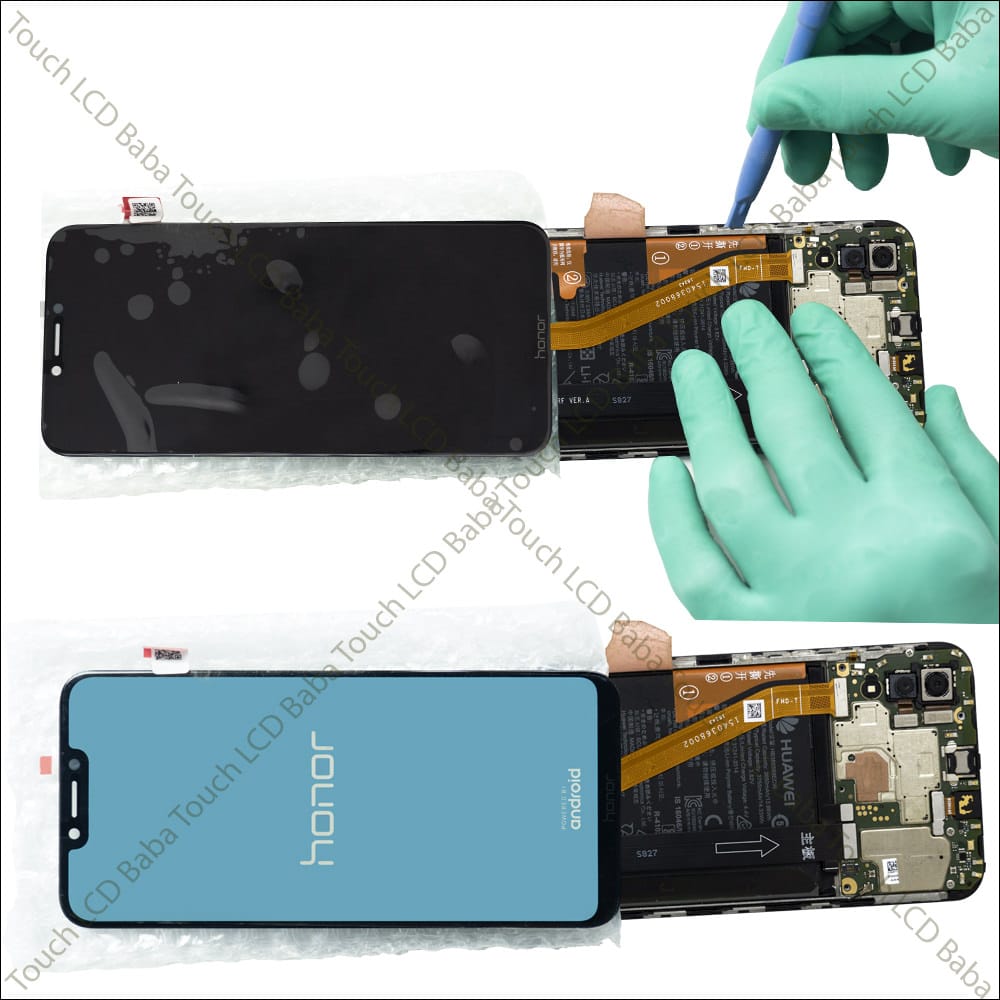 Step 5 – Use the display, just like it is fitted on the phone.
Now the new display is turned on, and you can test everything you want. Please make sure you don't hold the display in your hands; otherwise, the touch screen will not work. Always place the display on a bubble wrap, as you see below. Many customers hold the display in their hands and then try to use it, but it doesn't work that way. You can test the new Honor Play display, as shown below.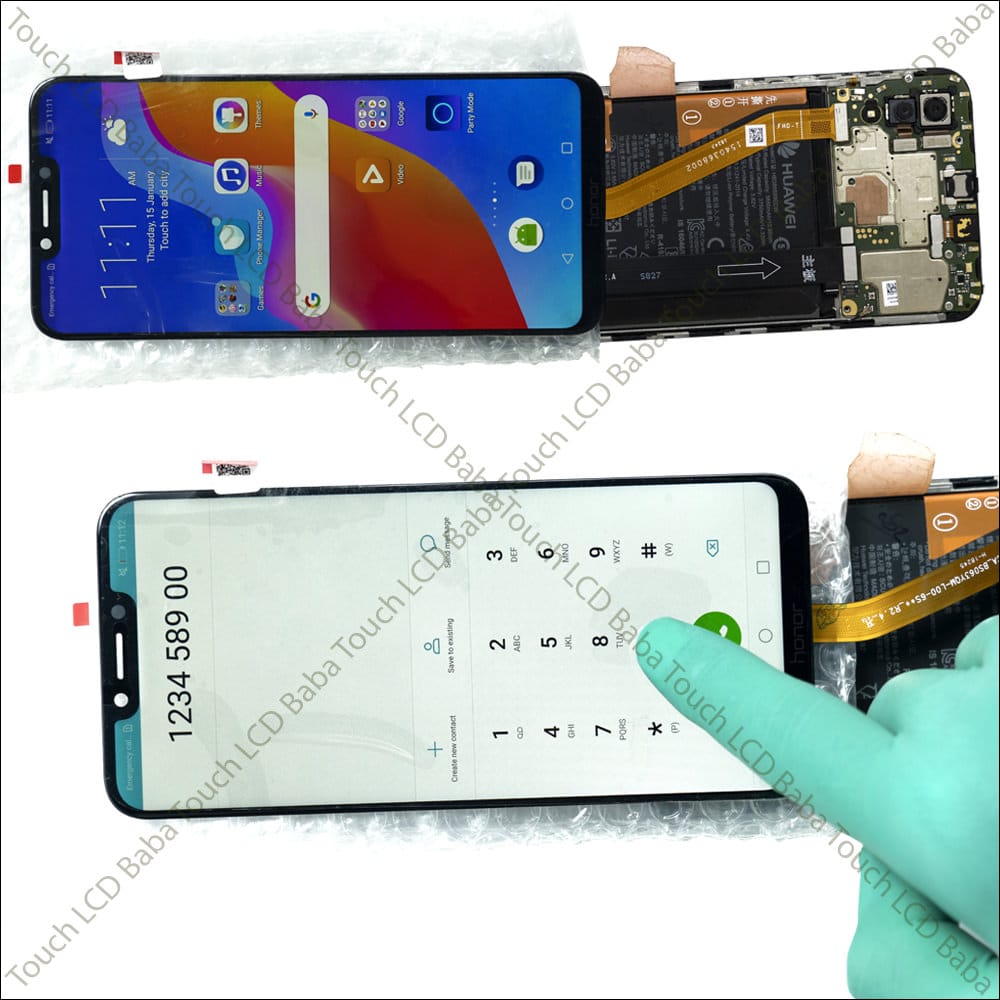 Step 6 – Make sure to test the display for at least 5 minutes.
When you test the new Honor Play display, make sure you use it for at least 5 minutes. It would help if you also did the following:
Increase and decrease the brightness.
Type a message and test all the alphabet.
Dial random numbers and delete them.
Go to the gallery and use the phone as you normally do.
Lock and unlock the device a few times.
Swipe down the notification bar and test all the functions.
You can also download a touch testing app from the Play Store and test everything.
Although, before shipping the display to you, we also simulate the testing process and ensure that everything is in order. Still, you can also take a trial for your satisfaction. If you find any issues while testing the product, we have a 30 days return, refund, and replacement policy to protect you.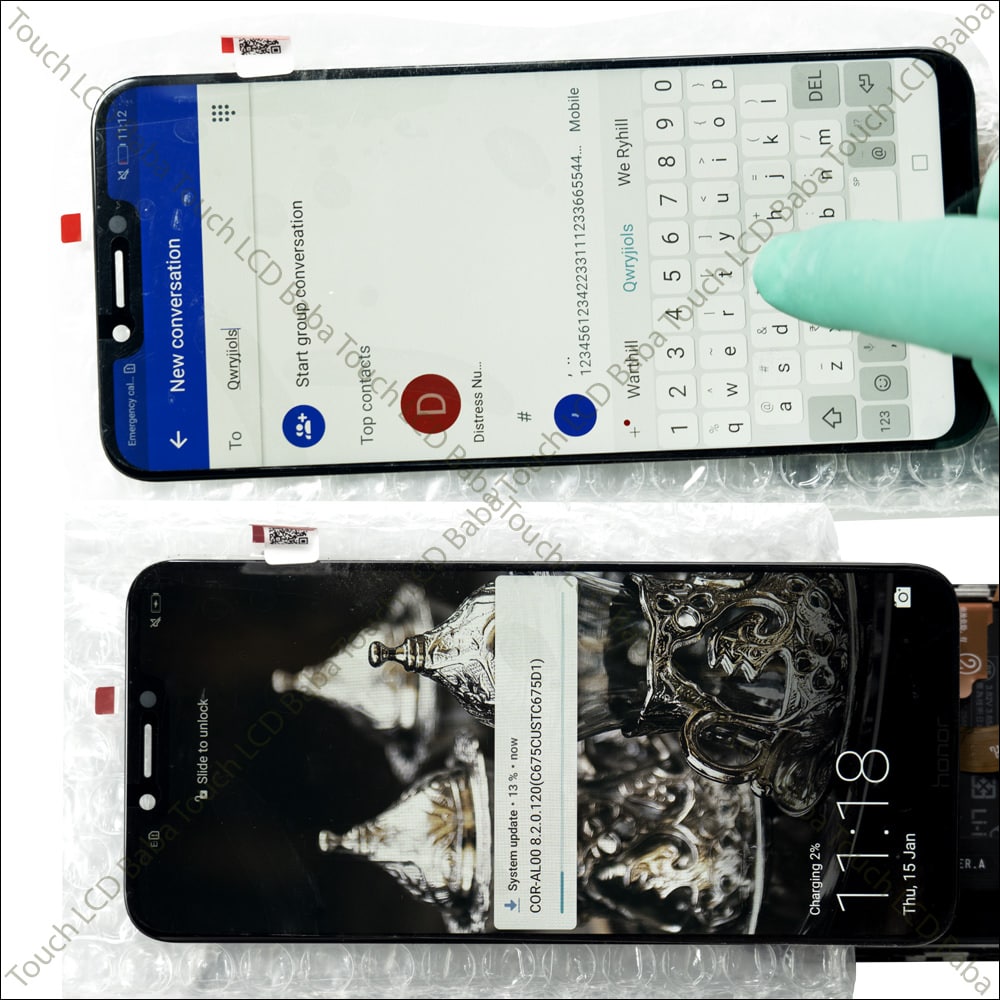 Honor Play Display Photos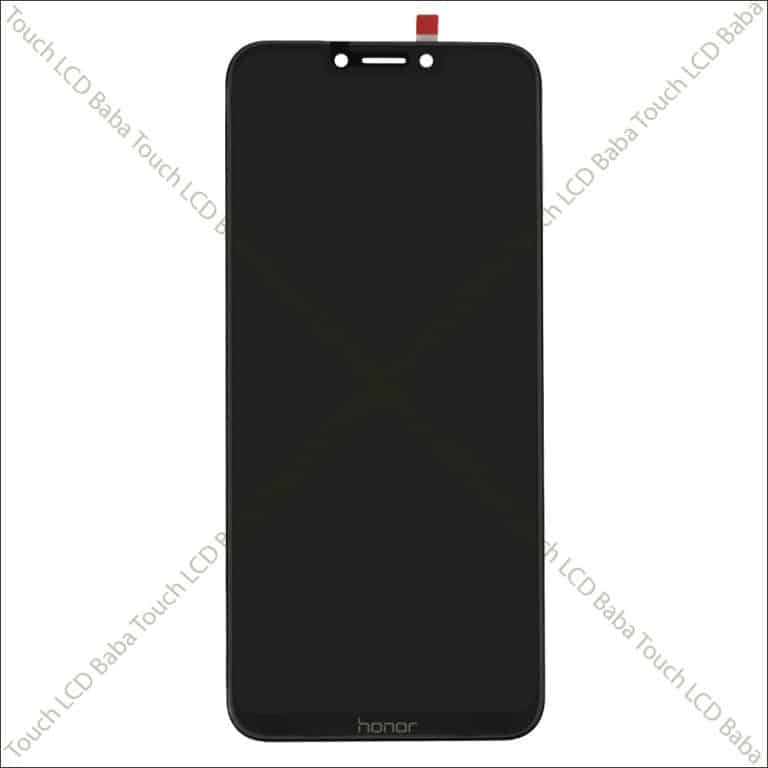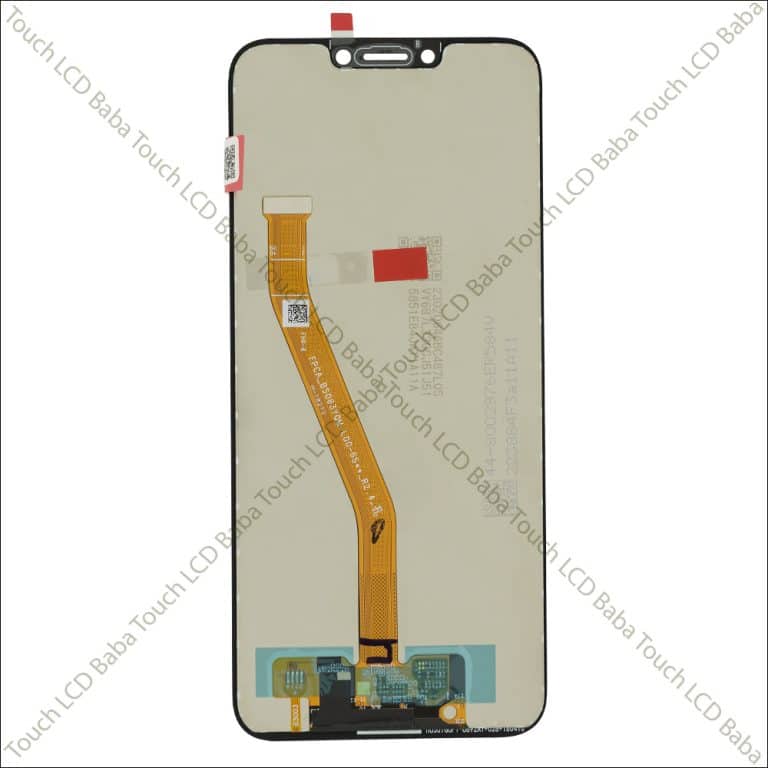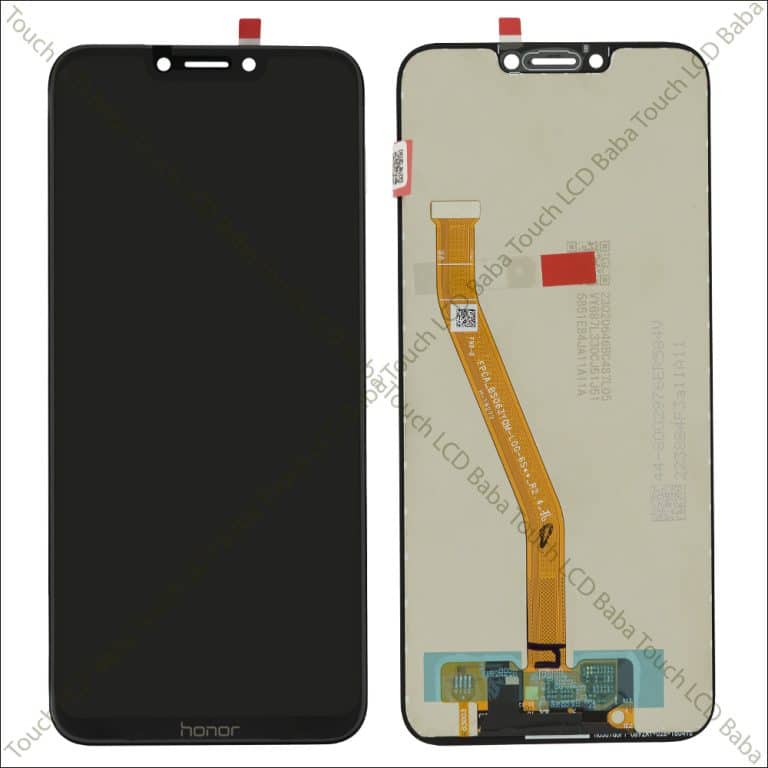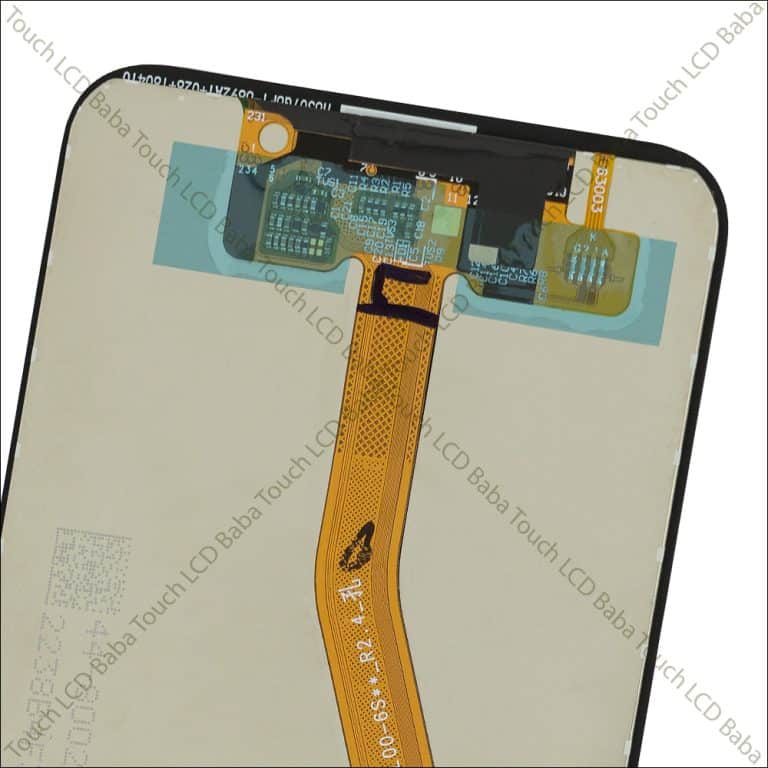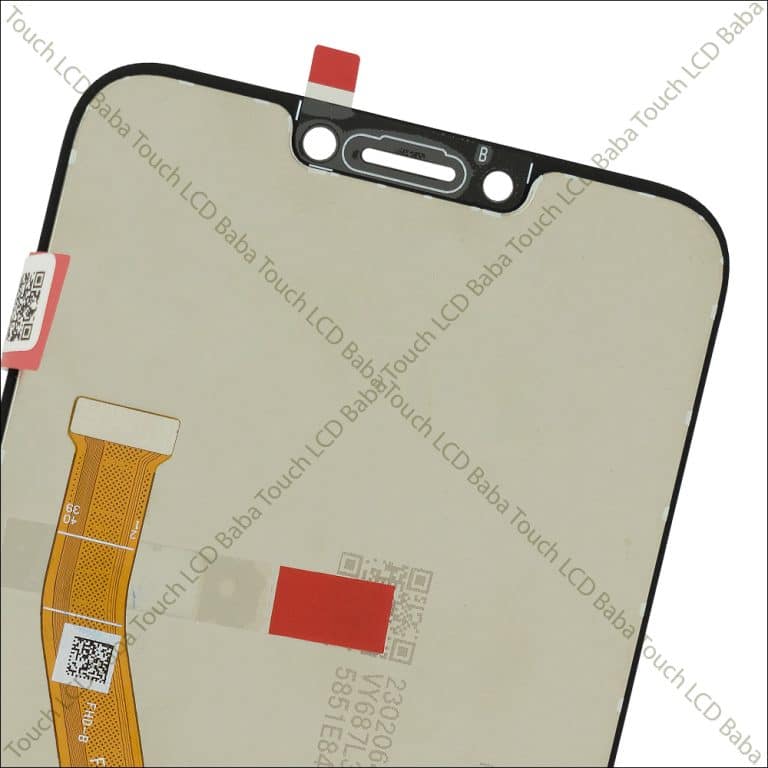 Shipping, Return and Refund Policy
All the products supplied by us come with 30 days return, refund, and replacement guarantee. To return a product, It should be in the same condition as we sent. You can't use or fix the display if you want to return it. For complete details about Shipping, Returns and Warranty, please click here.