So you are here with a broken Honor Play display or touch screen and looking for an original display replacement? If yes, then you are on the right web page. On this page, we offer Honor Play's original display and touchscreen combo with the outer frame and battery. This Honor Play (Model No. COR-AL00) display replacement is 100% authentic and comes with a complete outer frame.
As you can see in the photos, this is the best screen replacement for Honor Play you can get anywhere in India. In this folder, the display and touchscreen glass are pre-fitted in the frame and tested for working. After replacing this combo, you will feel like you've just purchased a brand-new phone. We suggest you don't compare the prices of this product with other low-quality products available in the market because comparison is valid only when both products are 100% equivalent.
How do we test each Honor Play Display?
Worried about receiving a non-working or defective display? Stop worrying, as It is impossible when you order from Touch LCD Baba. We make sure to test each combo of Honor Play before we ship it to our customers. Just don't trust our words, but watch the testing video yourself. We must test and verify each display individually before it goes out to our customers.
We use an actual motherboard of Honor Play to test the display. Now you and our testing engineers have the same phones. If a display is working on our Honor Play motherboard, It will also work with your phone. Still, we back our products with a solid 30 days replacement guarantee. Buy with confidence, and don't forget to watch the video.
Is this Honor Play display folder 100% Original?
To all the customers reading this paragraph, you must be interested in this Honor Play Combo. We want to clear up the questions you may have in your mind regarding quality. It is a 100% genuine part and precisely the same thing as it comes fitted with a brand new phone. The display and touch screen digitizer glass are combined and pre-installed in the front side panel. It means you are getting the front half of your mobile completely new. All you need to do is, remove the broken Honor Play combo from your phone and fix the new combo in place of that.
This screen replacement for Honor Play primarily aims at customers who need quality without compromise. This Honor Play combo may not be cheap, but it's worth it. Quality parts cost more money but save you from lots of headaches later. It is not a good idea if you keep a minimal amount and buy a worthless part. For this reason, always buy a quality screen replacement for your Honor Play and keep your mobile phone in its original condition. For any further questions about the Honor Play display replacement, contact us at 9587954273.
What are the differences between the Combo With Frame and Without frame?
There are many differences between a combo having a frame and a combo not having a frame. All in all, nothing is better than a combo having the frame because it offers so many advantages. Here are the main differences:-
No need for Manual Pasting
There is no need to paste the display manually if you purchase it with a frame. If you purchase without a frame, you must paste the display manually using glue or double tape. In the case of a with-frame display, the display combo comes pre-assembled by the manufacturing factory, and the fitting is as good as a brand-new phone.
Perfect Fitting of The display
The Honor Play folder with frame comes pasted directly from the factory, and the finishing is extremely good. You will not see any pasting signs anywhere as It is factory fitted. On the other hand, you need to paste without frame combo manually, and pasting will not be that good. You will see gaps on the sides, and the screen will start to come out from the middle frame in a few days, and you'll need to paste it again.
You will also get the Anti-Dust Mesh.
Some people also call it an earpiece net, a metal filter that prevents dust from entering the earpiece. When you purchase a local display from the market, mechanics often forget to fix the earpiece net again, and then it clogs the earpiece very soon. When this happens, you can't hear what the person on the other side is speaking. The combo with frame comes with a pre-fitted earpiece net, greatly benefiting many customers.
You will also get a brand-new battery.
Although you may not need the new battery, this is how the original screen comes. The battery is pre-fitted, and you don't need to use your old battery anymore. If you face battery backup issues, this combo will also solve that problem.
To sum up, even the official service center uses the same frame combo all the time. It is a standard quality protocol adopted by the service center, and they will never replace the display without the frame due to quality issues. As you already know, service centers charge a hefty price, but they won't compromise on quality.
How does the Honor Play Display with frame help?
The Honor Play display with frame helps you a lot because It is a pre-fitted display, and there is no need to fix the display manually. In other words, If you purchase the Honor Play display without the outer frame, you will need to stick the display manually by using glue or double tape. The manual fitting is not as perfect as the factory-fitted display.
The screen sold on this page comes directly from the OEM factory and accompanies a battery and the display. You can see the real product photos on this page to understand the display's appearance. It is like buying the front half of the phone in brand-new condition. If you have any further questions about the Honor Play display replacement, don't hesitate to contact us at 9587954273.
Honor Play Display Specifications
| | |
| --- | --- |
| | This combo is 100% original, brand new, and suitable for Honor Play, model number COR-AL00. |
| | Honor Play's display size is 6.3″, the display type is IPS LCD, and the resolution is FHD+ 2340 x 1080 pixels. |
| | The folder comes pre-fitted in the frame, and manual pasting is not required. |
| | You will also get a brand new original battery with this folder. |
| | We make sure to test the display on the actual Honor Play motherboard before shipping. |
| | This display offers 100% original colors, quality, and brightness as before. |
| | This part feels like you are buying the front half of your phone in brand-new condition. |
| | We offer 30 days return, refund, and replacement guarantee to assure you about the quality. |
| | It is the best and 100% original display replacement you can buy! |
| | The Honor Play folder is readily available in stock, and shipping is very fast. |
| | You can order the product using Cash on Delivery or Online Payments. |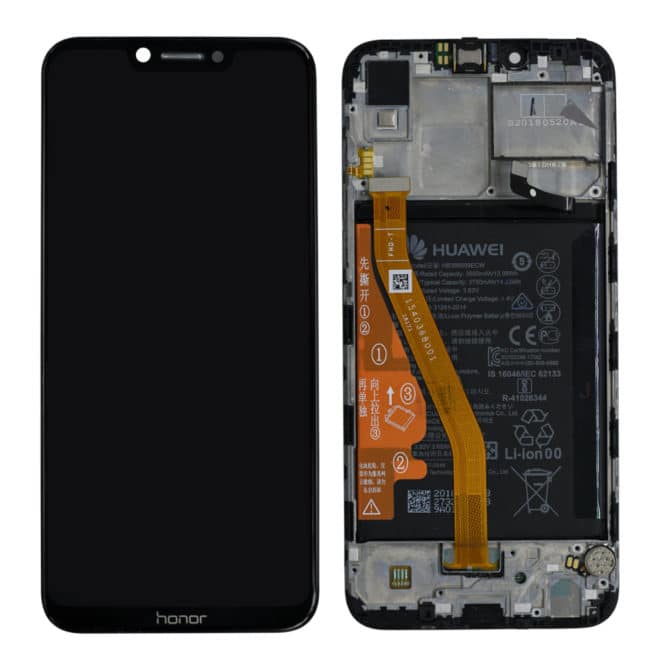 Frequently Asked Questions
Q: How much does it cost to replace a broken Honor Play display in India?
The price of a 100% original Honor Play display replacement with the middle frame is around Rs 3800-4000. The combo costs about Rs 1100-1300 in India if you buy a first copy screen replacement.
Q: Can I fix this display easily myself at home?
As the display is already pasted in the frame, you can easily fix this at home. You need to shift the motherboard, battery, and other components into the new frame, and that's it. As there is no need to paste the display manually, one with basic knowledge of mobile repairing can easily fix this combo.
Q: I don't need the frame and battery. What should I buy? 
We also have the Honor Play combo without frame and battery, which you can purchase
here
. Our customers are from all over India, and the requirements are very different when the phone is badly damaged. In such cases, the combo without the frame is not suitable. That is why we are selling the folder with a frame.
Q: Do you test the display before shipping the parcel?
We always test the display before dispatch, but our customers are not convinced we are testing. For your peace of mind, we have posted a video showing how we test the Honor Play folder so that you can see it. We are sure this will boost your confidence in purchasing our products.
Q: How can I replace only the glass without changing the display? 
We don't do or recommend low-quality solutions to our customers. It is possible to replace only the glass, but the display quality will never be the same as the original. The mobile phone display business has no cheap alternative to the original display. If you are trying a solution to save money, it will surely come with a huge compromise. Customers often complain about getting a first copy or duplicate display, and they are ordering the cheapest items online.
In such cases, the customer is to blame because he thinks the original items are cheap. The world knows that original items are always pricey, but if you buy cheap goods and still expect a moon, it will never work the way you want.
Q: Can I return the display if it is not working on my phone?
We always test the product before shipping to ascertain its working condition. However, in the unlikely event that your phone has some issues and the display is not working, you can use our 30 days return policy. We do accept returns, and money back is also available. You should not use or fit the combo to be eligible for a return. We don't accept returns of used parts. You can connect the display to your phone's motherboard and test it, but make sure not to fit it in any case.
Q: I bought a local display before, but again it broke easily. Why? 
Please note that a first-copy display is fragile because it uses ordinary glass. If you drop the phone, even from the littlest height, the touchscreen glass will damage very easily. You are mistaken if you think the first copy is as good as the original. This is why buying an original spare part is a long-term solution to the problem, and you don't have to go into loops of display replacement. If you want to buy a first-copy display, you've been warned.
Shipping, Return and Refund Policy
All our products come with 30 days return, refund, and replacement guarantee. To return a product, It should be in the same condition we sent. You can't use or fix the Honor Play display if you want to return them. For complete details about Shipping, Returns and Warranty, please click here.