You would be on the right web page if you arrived here searching for Huawei Mate 20 display replacement. Huawei didn't launch the Mate 20 phone in India, and if you own this device, you must have bought this phone from a foreign country, or maybe someone gifted this phone to you because Huawei didn't launch all models of the Huawei Mate 20 series in India. Customers who purchase a display replacement for Mate 20 often clarify that they bought this phone from Dubai or similar countries.
Many customers travel to foreign countries and bring a new phone with them. Afterward, when a particular model's screen replacement is not available in India, it becomes problematic. If a particular device is not launched in India, even the official service center won't have the screen replacements for that model. If you take your Huawei Mate 20 phone to a service center, they don't have the desired display available for you. Some models are launched worldwide, and it is much easier to find a new display for those models.
What are the model numbers of Huawei Mate 20?
Please note that Huawei launches phones in many countries, and several different models are in existence. A particular device may be available in China, but it is not available in India. Therefore, it is essential to verify the model number before you order. The model numbers are the unique identity of a particular device. The Huawei Mate 20 model numbers are :
HMA-L09, HMA-L29 (Global version)
HMA-AL00/HMA-ТL00 (China version)
HMA-LX9
We receive many inquiries for this model, and most customers as for the HMA-L29 model number. It is the Global version of this phone, but all other mentioned models refer to the same device. So if your phone's model number matches the one listed above, you can order this display for your phone. If you've any confusion, please feel free to call us at 9587954273.
Which color display should you purchase?
The Huawei Mate 20 phone is available in 5 colors which are :
Midnight Blue
Twilight
Black
Emerald Green
Pink Gold
Customers often get confused as to which color's display is suitable for them. Please note that the display's color is always back, not related to your phone's color. If you have got a Pink Gold variant, the front side display will still be black. The Pink Gold indicates the color of the body and back panel, but the display's color is always black. Therefore, the display replacement available on this page is suitable for all colors.
Huawei Mate 20 Display Specifications
| | |
| --- | --- |
| | This Huawei Mate 20 display is 100% original, tested, brand new and suitable for all variants. |
| | The display size is 6.53 inches, the display type is IPS LCD with HDR10 and the resolution is 1080 x 2244 pixels. |
| | It is a set of display and touch screen digitizer glass merged into one. |
| | You can use this folder to replace a broken inner display or top layer of touch screen glass. |
| | We buy our stock from the OEM manufacturer to ensure 100% original quality. |
| | This display combo is suitable for all the variants of Huawei Mate 20. |
| | We always test and verify the working condition of a new display before shipment. |
| | Our dispatch team packs your display very carefully with rigid protection during transit. |
| | It is very easy to test the new display before you assemble it permanentally. |
| | The display is readily available in stock and shipping time is very fast. |
| | You can order the product using Cash on Delivery and Online Payments (additional 10% discount). |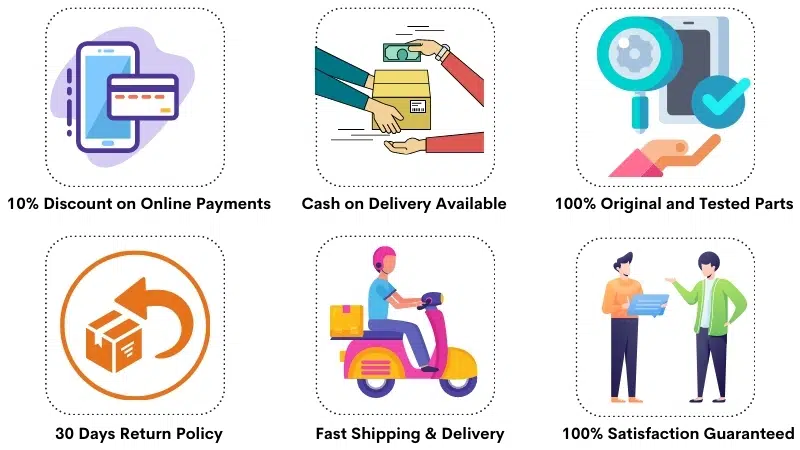 Frequently Asked Questions
Q: How much does it cost to replace a broken Huawei Mate 20 display in India?
The price of a 100% original Huawei Mate 20 display replacement is around Rs 7400-7600. If you buy a duplicate display for Huawei Mate 20, it costs around Rs 3000-3200. The installation charges are extra and not included in the display's price.
Q: Why is the Huawei Mate 20 display not available in the local market?
Many customers rush to the local market to purchase a new display for this phone but come back home in disappointment. If you think that such screens are easily available in the market, you are mistaken. Normally, customers rush to the market, and a technician assures them that he will arrange the display from the wholesale markets. Later, he can't find the display anywhere and returns the phone in broken condition after several days. It is a very normal occurrence in the market because technicians promise anything without having ample resources by their side.
This model belongs to foreign countries, and hence local vendors have not even heard about this. That's the main reason you can't find this model in the market. At Touch LCD Baba, we receive many inquires from interested customers, and when we've got a small chunk of customers looking for the same model, we try to arrange it for them.
Q: Can an average technician install the Huawei Mate 20 display?
Please note that installing Huawei Mate 20 display is not easy, and the person doing this job should be an expert. Oftentimes, customers order products from a remote area and get the product, but the technician cannot install the display on their phone. We want to clarify that installing the display carefully is a must; otherwise, you'll damage the display during installation. Therefore, before you order a product, please make the necessary arrangements to install the display to avoid later issues.
Q: Is it possible to test the new display before installation?
Yes. You can easily test a brand new display for 100% flawless working before installation, and it is also a standard blueprint before you install the display. You should never mount a display on the phone without testing it first, as testing a display prevents any unforeseen issues.
Just imagine a scenario when you can ensure the working condition of a part before installation. It would be convenient and reassuring for you because you can verify that the product you paid for is working flawlessly. You also get a chance to use a display, and when you are satisfied, you can finally install it on your phone.
Q: What is the meaning of a Huawei Mate 20 display combo?
A display combo is a complete unit of display and touch screen digitizer glass merged into one. The part you see on this page is such a display combo which is useful for all the cases when either the display or the touch screen or both are damaged. All the service centers and technicians use these display units to replace the broken parts.
Q: What if the display breaks during transportation?
We are fully aware of all the problems which might happen during the transportation, and we take precautions to avoid such problems. After testing the display, we pack the content in hard plastic boxes accompanied by additional layers of protection like thermacol and a stiff corrugated box. So far, we have never had a case of in-transit damage, and customers always appreciate the way we take care of their merchandise. You can always record an unboxing video when you open the parcel, and any damage during transit is our responsibility.
Q: Will I lose the data after replacing the display?
The display has no connection with the data stored on your phone. The display is just a medium to access the stored data on your device, and even if you don't have a display installed on the phone, the data stays in the ROM on the motherboard, and you won't lose it. You can replace the display as many times as you want without having any impact on the data.
Q: Can I find this display in the official Huawei Service Center?
According to the best of our knowledge, Huawei India doesn't support the models bought from other countries. This is something our customers have reported to us repeatedly. You might want to visit the nearest Huawei service center to know the exact situation. You can find Huawei India's toll-free number on their website.
Q: Can I use this display for other Mate 20 series phones?
Please note that the display available on this page is suitable only for Huawei Mate 20, and we've also outlined the model numbers on this page. Other phones in this series are Mate 20 Lite and Mate 20 Pro, but you can't use this display in those phones. If you need a different model's display, please use the website's search box to find the appropriate model for your requirement.
Q: Is it possible to exchange a broken display for a new one?
This question might sound like a bizarre one, but some customers have actually asked if they can get a new display, and they will give their broken display to us. We are not sure how this would be possible, and when a broken part is useless for you, how would it benefit us? Please note that a broken Huawei Mate 20 display is equally useless for us, and you can't get any discounts in place of your shattered display.
Huawei Mate 20 Display Photos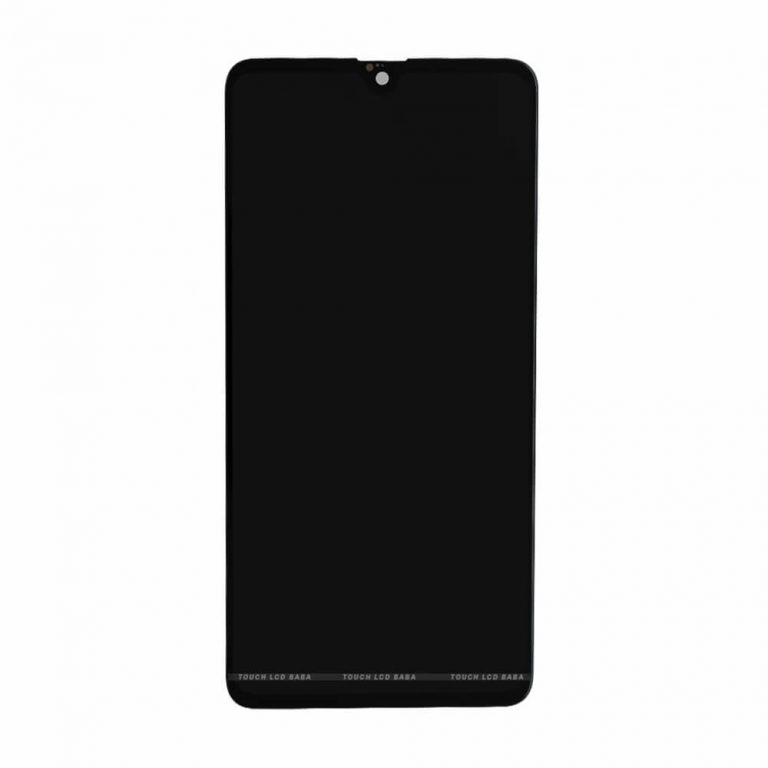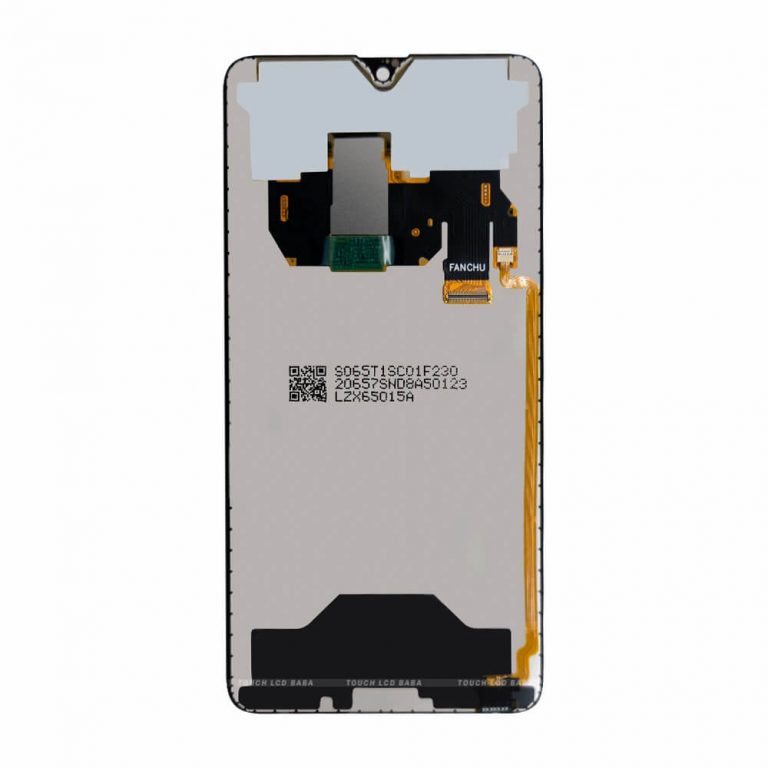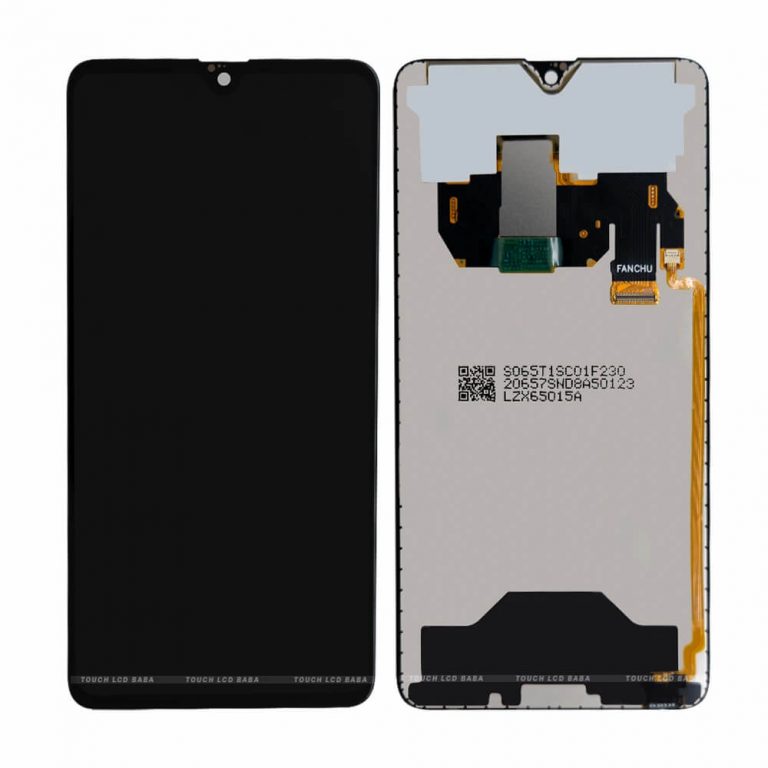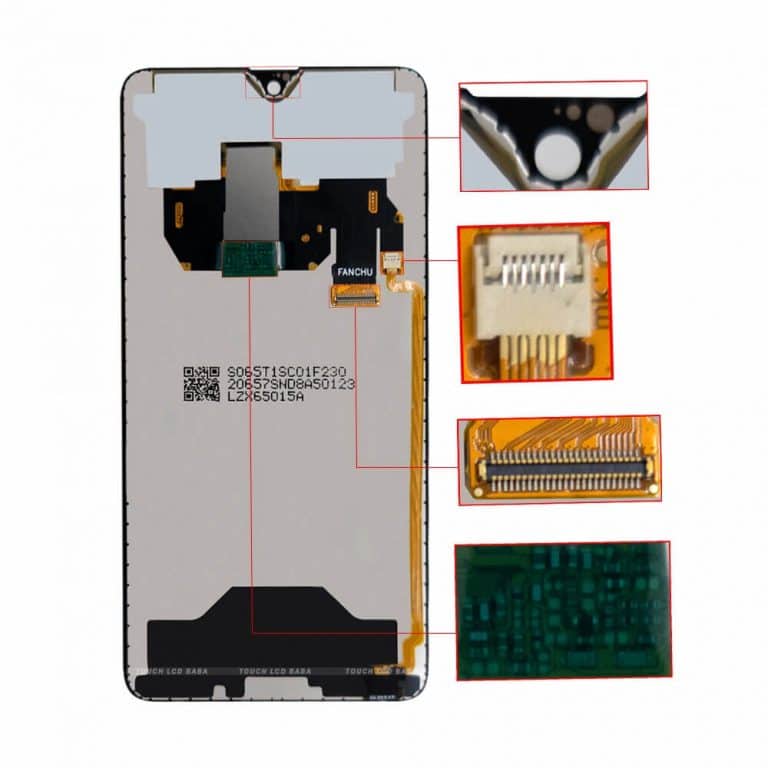 Shipping, Return and Refund Policy
All the products supplied by us come with 30 days return, refund, and replacement guarantee. To return a product, It should be in the same condition as we sent. You can't use or fix the display if you want to return them. For complete details about Shipping, Returns and Warranty, please click here.