Huawei MediaPad M5 Lite is a trendy device in India, and on this page, you can buy a brand new display replacement for this model. Tablets are top-rated among the masses, and customers use them for business, entertainment, learning, and other similar purposes. Most older people prefer tablets as the screen size is bigger, and they can easily use them without straining their eyes. YouTube has become very popular among people of all ages, and tablets provide a much more immersive viewing experience and sound.
Tablets are not easy to carry and more prone to slipping out of hands. If you use the tablet without a flip cover or any other protection, you'll end up with some damage to the device sooner or later. In many households, children use tablets to play games and handle them without necessary precautions. So many reasons, including accidental drops, contribute to the screen damage, but luckily, it is easy to replace the display, and you can do it almost anywhere. Mobile phone technicians are easily available; YouTube helps you with repairs and other how-to stuff.
Huawei Mediapad M5 Lite Display Specifications
| | |
| --- | --- |
| | This display is 100% original, tested, and suitable for Huawei MediaPad M5 Lite, model BAH2-AL00 / BAH2-L09. |
| | The Huawei MediaPad M5 Lite display size is 10.1, the display type is IPS LCD, and the resolution is 1920 x 1200 pixels. |
| | It is a complete combo of display and touchscreen digitizer glass combined into one. |
| | This combo can replace a broken display or touch screen digitizer glass. |
| | The new display offers 100% original colors, quality, and a smooth experience. |
| | We test each display manually for 100% flawless working before dispatch. |
| | All screens come with a testing guarantee before doing the final installation. |
| | We back our products with a 30-day return, refund, and replacement guarantee (in unused condition). |
| | The display is readily available in stock and the turnaround time is very fast. |
| | You can order the product using Cash on Delivery or Online Payments (10% discount). |
What should you replace afterwards a broken Huawei Mediapad M5 Lite display?
A broken tablet feels like the end of the world, and it is very easy to damage a tablet. Any frontal drop will damage because tablets are bulkier, and the battery is bigger, which creates additional pressure on the screen. Most frontal drops will result in a broken touch screen glass, while the display stays functional in most cases. You can still use the touch screen, but the broken glass looks very bad and attracts unwanted attention. If you use the tablet for studies, you can't use the stylus anymore, and you'll feel embarrassed if you take the tablet in your classes.
Please note that the touch screen glass and the inner display form the complete display assembly of Huawei MediaPad M5 Lite. The display and touch screen glass are unified in simple words, and you can't replace either of them individually. You'll need to replace the complete display unit in case of damage to the display or touch screen glass. The touchscreen functionality is merged with the display, and that's why complete replacement is necessary. So if you broke the display (or touch screen digitizer glass), you should replace the complete display unit as you see on this page.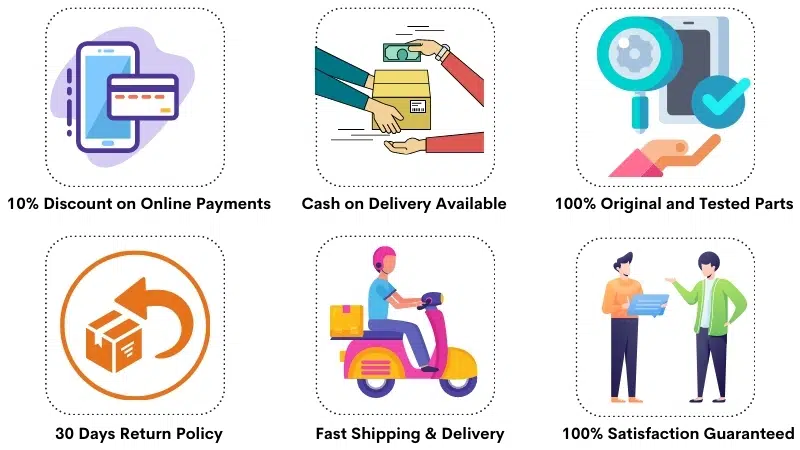 Frequently Asked Questions
Q: How much does it cost to replace a broken Huawei MediaPad M5 Lite 10.1″ display in India?
The price of a 100% original Huawei MediaPad M5 Lite (BAH2-AL00 / BAH2-L09) display replacement is Rs 7200-7500. If you are looking for cheaper alternatives, like the first copy screen replacements, you won't find them for this model. The installation has to be done by a local technician if you purchase online.
Q: What are the model numbers of Huawei MediaPad M5 Lite?
Huawei Mediapad M5 Lite 10.1″ model numbers are BAH2-AL00 / BAH2-L09. If you bought this tablet in a foreign country, the model numbers could be different, like BAH2-W09 and BAH2-W19. The display showcased on this page supports all the Huawei MediaPad M5 Lite models with a screen size of 10.1 inches.
Q: Does this display supports both variants of the tablet?
As you know, this tablet is available in two variants :
4GB and 64 GB
3GB and 32 GB
The display sold on this page supports both variants without any issues. The main difference between both variants is Ram and ROM, while the same display fits perfectly.
Q: Can I install the new Huawei MediaPad M5 Lite display myself at home?
Please note that tablets usually have a complex structure and fragile flex cables. You might feel like doing this at home comfortably, but such things often turn into a nightmare. We are not saying that it takes paramount expertise to open the tablet and install the display; we know it's basic stuff for expert people.
Still, we don't suggest a self-replacement for newbies because if you damage a vital part, you won't find it anywhere. It is tough to find the minor parts, but they play a vital role inside the tablet. Therefore, always consult a technician who will install it and buy the product.
Q: How can I replace only the glass because the inner display is fine? 
We understand that only the top layer of glass has broken, but that is merged with the inner display. To replace only the glass, you need to separate the broken glass from the display, which is a very tedious process, and you won't find a new glass separately anywhere. If you order a separate glass from a foreign website, there is no guarantee that you'll get the right product or that the technician will be able to assemble it correctly. There are tons of hurdles when you try your hands at temporary solutions.
The official service center or anyone dealing in quality screen replacements would never greenlight the glass replacement. You would still need to replace the complete display unit, even if the LCD is functional. You can try glass replacement or other temporary solutions if you want, but in 99% of cases, such attempts result in wasted money, additional waiting time, and headaches. The glass replacement can never furnish the same quality as an original brand-new display. Even after intensive efforts, you'll not appreciate the outcome even if successful.
Q: Can you outline the basics of display replacement?
The basics of display replacement revolve around replacing the broken display unit with a new one. The technician will decouple the broken display from your tablet and install a new one in place of it. Here are some vital forethoughts you should always keep in mind :
Always seek a professional technician's help to install the display.
Be sure to test the new display before assembling it on your device.
You should never paste/fix the new display before testing it in an open condition.
Always try the new display for 10 minutes to ascertain its flawless condition.
You shouldn't leave the spare parts with the technician and come back home. Stay beside him during repairs.
Don't glue the new display to the frame or remove its protective film unless you've verified its working condition.
Please note that it is impossible to return a used product, which is why we emphasize testing the display yourself. Before shipping, we also test the display in our facility and request all customers to verify the working condition independently for 100% satisfaction.
Q: How do you pack such big screens? What if it gets damaged during transit?
We pack such screens in hard plastic boxes accompanied by thermocol and five-ply cartoons for maximum safety. So far, we've never had a case of in-transit damage. Still, if you worry about receiving a broken display, you can always record an unboxing video when you open the package. We replace all the broken products for no charge, provided the customer shares a complete unboxing video with us.
Q: Does the new display affect my ability to use the Stylus?
The factory-fitted display and the one you get from us are identical, which won't affect your ability to use the Stylus. You won't face any issues with sensitivity or smoothness. You won't even realize if you've replaced the display because both screens are identical.
Q: Why can't I find this display anywhere in the local market?
You can't find Huawei MediaPad M5 Lite display replacement locally because only a handful of vendors stock such items. The display is costly, and the local market's main focus is selling low-cost duplicate products. Therefore, it doesn't matter If you are in a Metro City or a small village; finding tablet screens is a tough task.
Q: Can I use a black color display on my white tablet?
Yes. You can use a black color display on a white color tablet. You won't face any issues regarding fitting or functionality. Some customers might find this a weird color combination, but it works perfectly for most customers who are not so concerned about the color mismatch.
Shipping, Return and Refund Policy
All our products come with 30 days return, refund, and replacement guarantee. To return a product, It should be in the same condition we sent. You can't use or fix the new display if you want to return it. For complete details about Shipping, Returns and Warranty, please click here.