If you are looking for a display replacement for Huawei P Smart 2019, we can help. On this page, we offer Huawei P Smart 2019 complete display and touchscreen combo, which you can use to replace a broken display or touchscreen glass. The display combo on this page is a combined unit of the display and the touchscreen glass.
What is the meaning of the Huawei P Smart 2019 Display Combo?
Huawei P Smart 2019 display and touchscreen glass are firmly combined, and this technology is used in almost all phones. Display and touch screen are combined for additional clarity and durability. However, If you damage the display accidentally, you must pay a hefty price for screen replacement. It is because the display and touch are combined.
On the other hand, If you go for cheap glass replacement or other similar methods, the quality of your phone will be destroyed. Only glass replacement always comes with quality issues as you are not buying a new display but just repairing your existing one with cheap material.
As you can see in the photos, display, and touch screen, both parts get firmly pasted together. The company sticks them using LOCA (Liquid Optical Clear Adhesive) Glue, and it is tough to separate the display and touch screen without damaging the parts. If you try to separate them, the film will get scratched, and sometimes yellow spots and dust will remain inside the display, as these solutions always come with some pain. So, If you are looking for a quality screen replacement for Huawei P Smart 2019, these solutions are not for you. It is because you may not want to destroy the experience of using a quality phone.
What are the different model numbers of Huawei P Smart 2019?
The Huawei P Smart 2019 phone is not specific to India but is also sold in many other countries with the same name. If you bought this phone overseas, you might think its display is unavailable in India, but it is false. The Huawei P Smart 2019 display is the same in all countries, but the model numbers differ. The supported model numbers are :
POT-LX1
POT-LX1T
POT-LX1AF
POT-LX2J
POT-LX1RUA
POT-LX3
Please check into the Settings--> About section of your phone to verify the model number of your device. If the model number matches the abovementioned one, you can order this display without issue. If your phone is P Smart 2019, but you can't find your model number listed above, please call us at 9587954273.
Huawei P Smart 2019 Display Specifications
| | |
| --- | --- |
| | This display combo is 100% original, tested, and suitable for Huawei P Smart 2019. |
| | Huawei P Smart 2019 display size is 6.21″, the display type is LTPS IPS LCD, and the resolution is 1080 x 2340 pixels. |
| | This display unit can replace a broken LCD or touchscreen digitizer glass. |
| | It is a complete display and touchscreen glass combined in a single unit. |
| | It offers the same brightness, colors, and sharpness as your original display. |
| | We test each display on Huawei P Smart 2019 motherboard before shipment. |
| | The display works in all Indian and foreign variants. |
| | The Huawei P Smart 2019 display comes with 30 days money-back guarantee for defects. |
| | We offer 100% Hassle Free Returns, Refunds, and Replacements. |
| | The display is readily available in stock, and shipping time is very fast. |
| | You can order the display using Cash on Delivery or Online Payments. |
Frequently Asked Questions
Q: How much does replacing a broken Huawei P Smart 2019 display in India cost?
A 100% original Huawei P Smart 2019 display replacement costs around Rs 3300-3700. If you buy a first copy screen replacement, the combo costs about Rs 1500-1700 in India. The original and the first copy displays have a huge quality difference, so the prices differ, and you can't compare one product's features with another.
---
Q: I bought the phone from a foreign country. Can I still use this display? 
Yes. The P Smart 2019 display we offer works in all the variants regardless of the origin country. Your phone's model name should be Huawei P Smart 2019, and you can use this display to replace a broken display or touchscreen glass. In case of any confusion regarding the model number, please feel free to call us at 9587954273, and our team will assist you further.
---
Q: Can I do the screen replacement myself at home? 
You should answer this question because it depends on your expertise. You can easily do mobile repair and screen replacement at home if you know how to undertake mobile repair and screen replacement. Many customers replace screens at home, and It all works well.
The problem comes when you cannot carry this job, but still, you try to do display replacement at home. It can result in damage to the display or the other components of your phone. Don't mind, but once this happens, you will not be able to accept your faults and try to blame others. Many customers do this at home, damaging the display, and later try to devise irrelevant excuses. It doesn't work that way.
So If you're in doubt, visit a technician's shop and have him replace the display for you. It will cost you nearly Rs 150-200, but you can save yourself from all the hassles.
---
Q: Why replacing only the glass is not a good idea? 
This business has a general problem: customers try to decipher things independently rather than understanding the whole concept. The first thing that comes to a customer's mind is replacing only the glass without replacing the display.
To replace only the glass, a customer tries various options, and all the technicians will tell him that there is a 1% risk, and if something bad happens during the replacement process, they can't reimburse you for anything. It means that glass replacement is like taking chances and hoping for the good; there are no assurances. Even if the glass replacement is successful, you will never get the same quality as before, and that's why it is not a good idea. If you love the quality, buying an original Huawei P Smart 2019 combo is your only option.
---
Q: What are the main drawbacks of only glass replacement?
The replacement of only the glass is something invented by non-official people in the market to reduce the repairing costs and attract more customers. As the price of a complete combo is quite high, mechanics lost many customers because of the high price. Such customers will quickly pay the money in the service center but will not pay in the local market.
To overcome this, mechanics borrowed glass replacement techniques from China, which is what customers are looking for. Even the most educated customers are fully inclined towards glass replacement thinking they are doing the best thing. However, glass replacement is a workaround, and you will run into glass replacements repeatedly. Here are the main drawbacks :
After glass replacement, the display is five times more fragile because the glass is not original now.
You will often see dust spots and strange-looking things inside the display, which are distracting.
After glass replacement, the brightness will decrease significantly and be nowhere near the original.
You will often see screen bleeding issues after glass replacement, which all look regretful.
If you are a gamer, you'll have a hard time using the multitouch features of the touch screen.
The official service center never replaces only the glass because a quality protocol must be followed. We also don't do or recommend only glass replacement due to the plethora of unforeseen issues.
---
Q: What is the best price, as other sites offer a low price?
The best price concept is a trap because you are naturally inclined towards low prices. Most customers will see the products on various websites and compare photos and prices. Then they will conclude that they have cherry-picked the best new display for Huawei P Smart 2019, having the best price.
For your information, the poorly priced goods are the first copies and not the original ones. It doesn't matter from which marketplace you buy; if you expect gold for the price of silver, it will not happen. The fact is, original screens are never cheap and not even easily available. Finding the OEM manufacturers and sourcing the original products takes time and resources. It is not true if you think that 100% pure original products are available on any average website.
---
Q: How can I ensure the new screen is flawless and perfect?
We always make sure to test the display before we ship it out to our customers. It means that you are always going to get a product that is working as per your wish. Still, to your satisfaction, you can try the new display before fixing it. To elaborate on this, connect the new display to your phone's motherboard in open condition, turn on the phone, and test the display. It is like using the display without pasting it into your phone. When you are satisfied, you can finally fix the display.
---
Q: What If I receive a broken display inside the parcel? 
We fully understand that customers always have a doubtful mindset because of fraud and deceitful online behavior. Even when we assure customers that we send 100% perfect and original Huawei P Smart 2019 display, they are still reluctant because some customers have a delusion that someone will dupe them.
To overcome such things and for peace of mind, always make an unboxing video when you open the parcel. We assure you everything will be fine, but it is just for your satisfaction. If you find anything broken inside the parcel, forward the video to us, and we'll send you another screen for no charge. We take insurance for all the parcels during transit, and you should never worry about any in-transit damage. Still, you can record a video for your safety if something happens.
Huawei P Smart 2019 Display Combo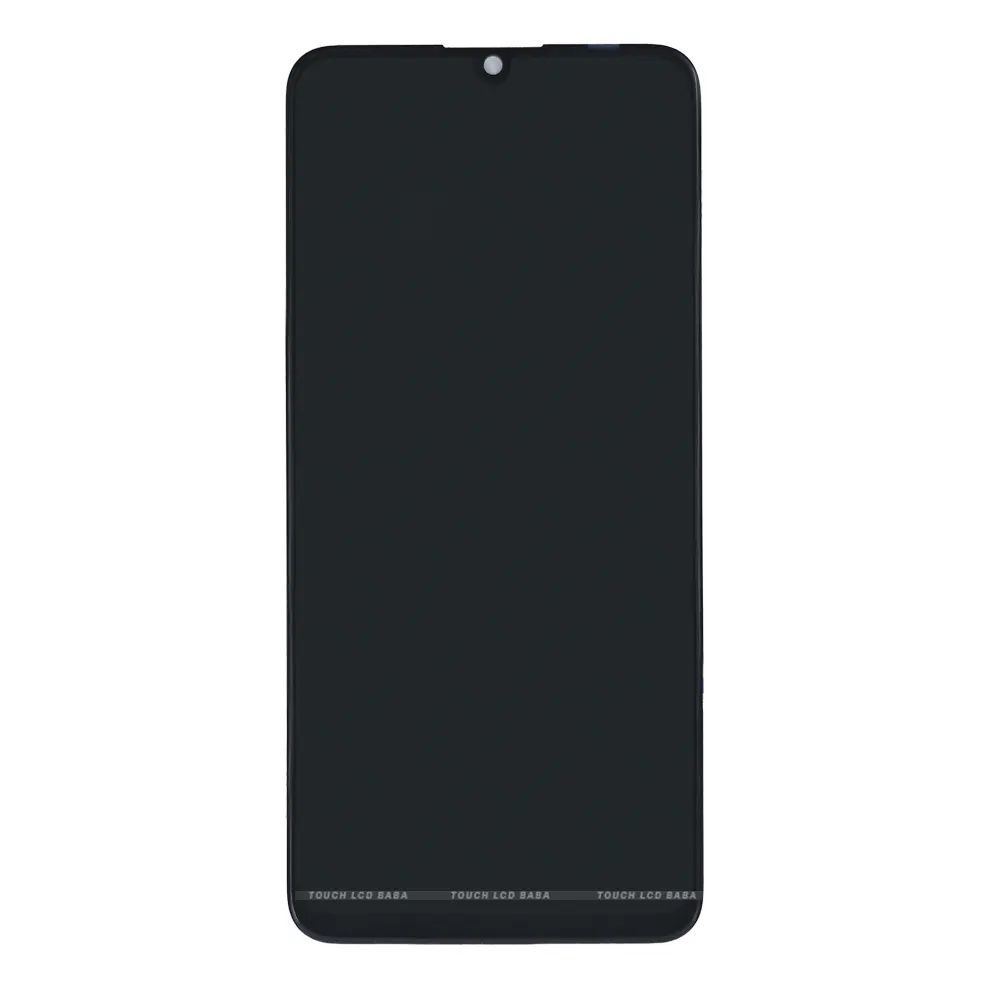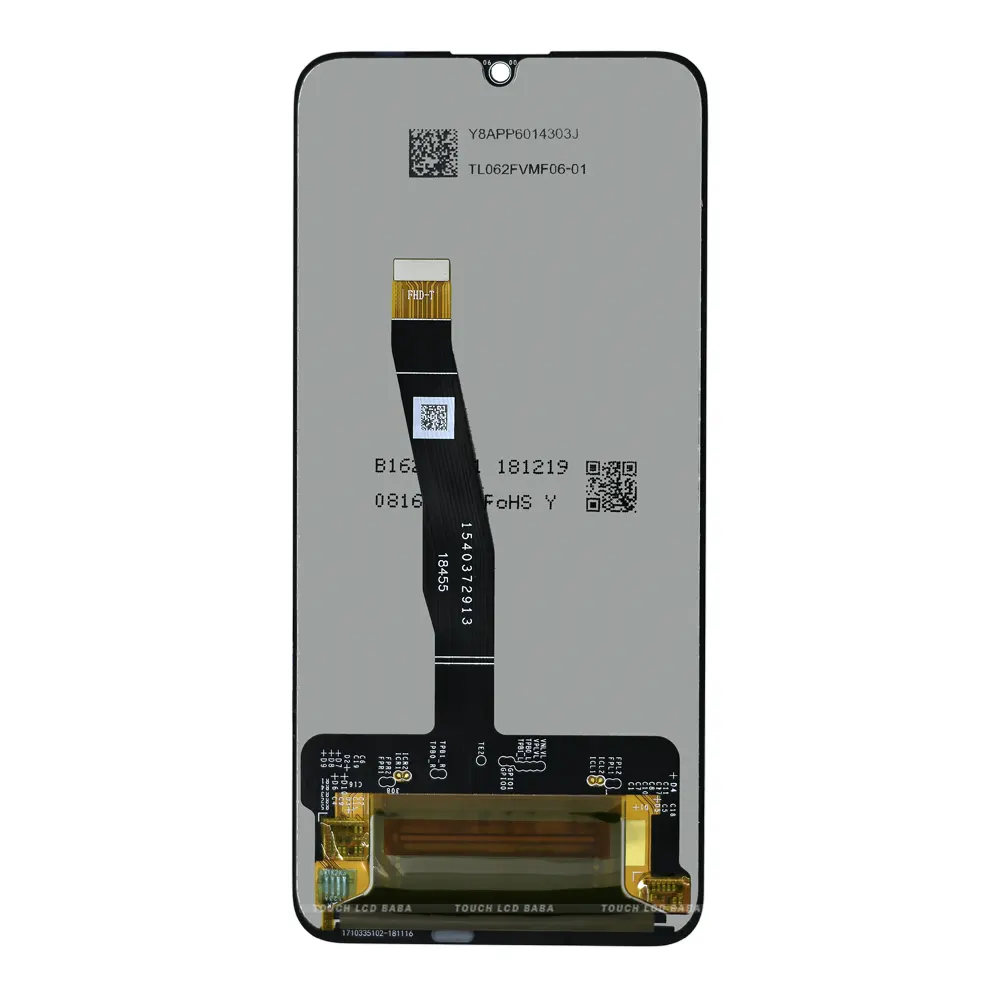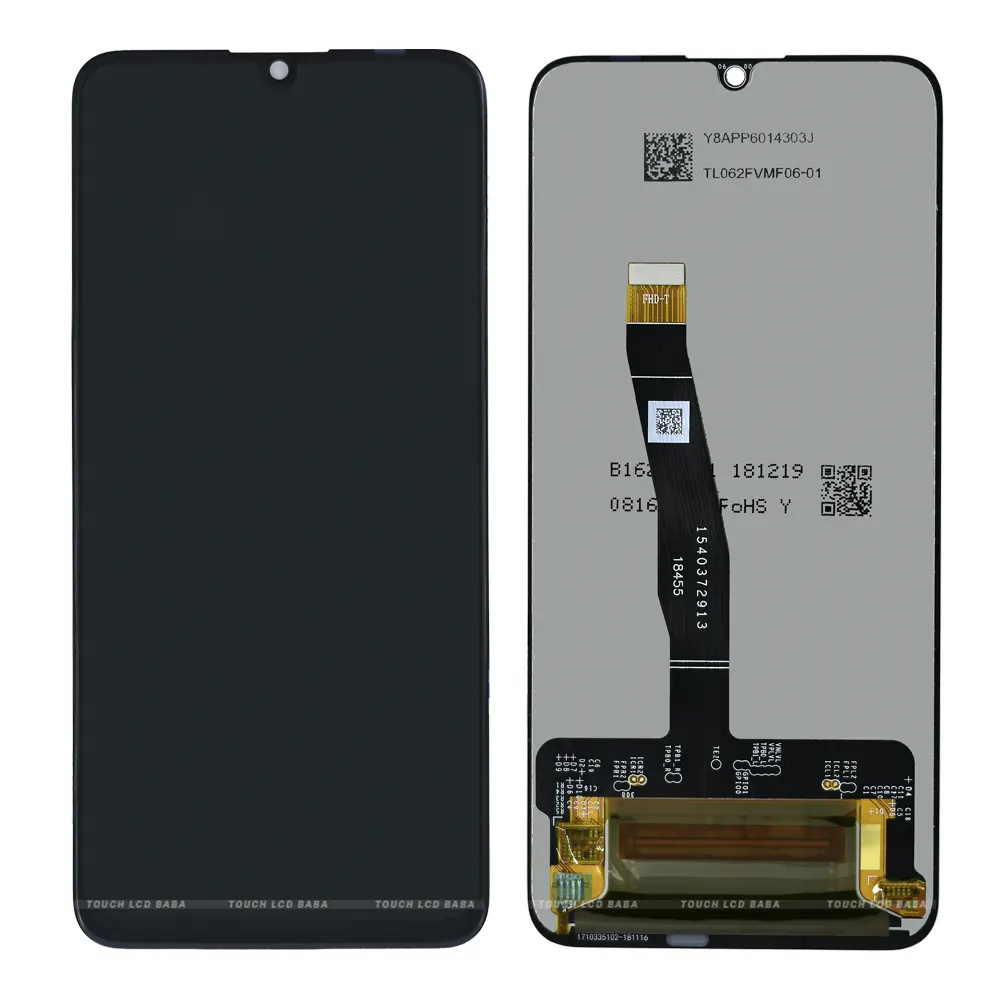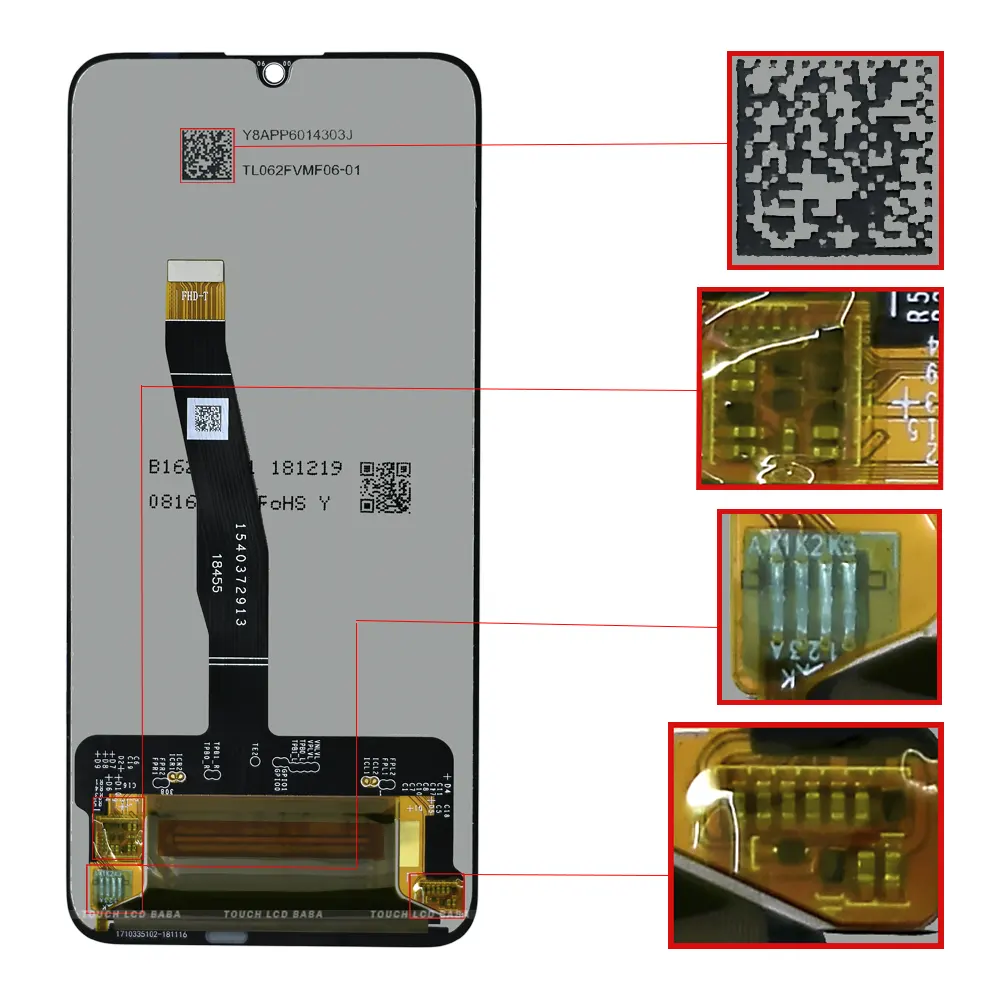 Shipping, Return and Refund Policy
All the products come with 30 days return, refund, and replacement guarantee. To return a product, It should be in the same condition we sent. You can't use or fix the new Huawei P Smart 2019 display if you want to return it. For complete details about Shipping, Returns, and Warranty, please click here.