The LG G8x is an immensely popular dual-screen phone, and if you break its back glass, we have a perfect solution for your needs. The spare part on this page is a 100% original battery back door of the LG G8x, which helps you easily replace all the blemishes on the rear side. You can order the back glass from anywhere in India, and we'll deliver it to your doorstep.
In most cases, when you drop the phone, the front display and the back housing will damage simultaneously. So you need to purchase the LG G8x Thinq Display and back glass to repair your phone. If only the back glass is damaged, you can buy it separately, depending on your requirement. If you were worried about the back panel replacement, we believe now you are optimistic about replacing it quickly. If you've any questions about the back door, please contact us at 9587954273.
LG G8x Back Glass Specifications
| | |
| --- | --- |
| | This LG G8x Thinq back panel is 100% original, brand new, and has an adhesive sticker. |
| | The LG G8x ThinQ back glass is original and offers the same quality. |
| | We supply the back door and the adhesive sticker, as shown in the photos. |
| | You can purchase a Black or a Blue back panel depending on the stock availability. |
| | We always check each piece for 100% flawless condition before dispatch. |
| | The back glass is readily available in stock, and the turnaround time is very fast. |
| | You can order the product using Cash on Delivery or Online Payments (10% additional discount). |
Why should you replace the broken LG G8x Thinq Back Glass?
The back panel protects your phone's vital components and must be in the right shape. A broken back panel allows dust, water, and other impurities to enter the phone's hardware. For this reason, if you are dealing with a broken rear glass chipped off from several places, you should consider replacing it as soon as possible.
A broken back panel looks aesthetically bad, and you might not feel comfortable using your phone in public. A broken back panel attracts unwanted attention, and you can't take a broken phone in a meeting because your prestige matters. We all face such situations, and replacing the back glass is easy rather than hiding it using other tactics.
Is it mandatory to replace the back glass when the scratches are minimal?
Removing the back panel immediately is not mandatory if the damage is minimal. Sometimes, when only one hairline scratch has occurred, you don't need to replace it. It is common to have slightly damaged glass; if you use a back cover, you can still use your phone without any problems.
The problem becomes more prominent when the back glass is severely damaged and parts from the bezel automatically. We've seen numerous cases when the back panel comes off automatically from the backside without any manual intervention. That's because broken glass can't stay stuck for long and will fall off. In such cases, when the damage is beyond ordinary, you should replace it immediately. Many customers keep lingering on, but replacing the back panel takes 15-20 minutes.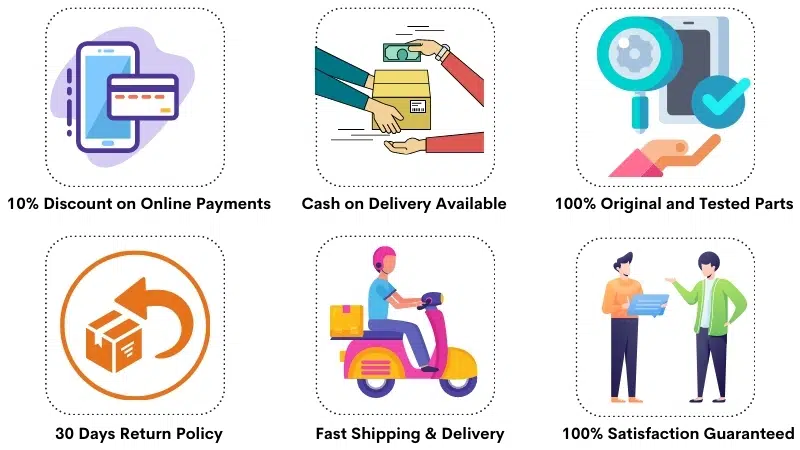 Frequently Asked Questions
Q: How much does replacing a broken LG G8x Back Glass in India cost?
A 100% original LG G8x back glass/ back panel replacement costs around Rs 1500-1600. You'll have difficulty finding the LG G8x battery back door in the local markets. If you want to purchase a duplicate back panel, that is not available in our store. Please note that words like back panel and back glass refer to the same product.
---
Q: What is included with the LG G8x back glass?
The back glass comes the same as you see it in the photos. It comes with a flash diffuser and camera lens. The adhesive sticker is also on the back panel; you don't need additional glue to affix it to your phone. You need to peel off the adhesive sticker and stick it on the backside.
---
Q: Can I replace the back glass myself at home?
Yes. It is straightforward to replace the back panel at home, provided you have the basic knowledge and ample skills to complete the operation at home. According to us, anyone with basic knowledge of mobile phone repair can easily replace it at home without any problems. If in doubt, you might want to visit a nearby technician and have him replace it.
---
Q: Why is the LG G8x back panel unavailable in the local market?
Please note that LG spare parts are not easily available because local vendors focus only on hot-selling models. If you go to the local market, you won't find these products because this is an uncommon item many customers don't demand. That's why local vendors don't have the sources to purchase such products, as the demand is minimal. At Touch LCD Baba, we deal with millions of customers, so we have many uncommon items that customers need.
---
Q: I feel that the LG G8x back glass price is high. Isn't it?
Some customers might feel that the price for the back panel is high, but it is not. It's all about demand and supply, and such items are not readily available in the market. When only a few vendors in China have the stock of a particular product, they tend to sell it for high prices, which is why you might feel that the price is high. Honestly, many customers buy this product without having a single question because they have been waiting for it for a long time. That's why you should also purchase it while the stock lasts.
---
Q: Does this back glass offer the original quality as before?
Yes. The back panel offers the same original quality as before. It provides the same texture, vividness, and shine. Once you've replaced the back panel, you won't realize any difference between what you have now and what you had before. That's the real beauty of original parts when you spend a bit extra, but you are equally satisfied with your experience.
---
Q: How good is the fitting of this back glass?
The original backglass fits perfectly without leaving any openings from the sides. Your phone becomes brand new again, and you eliminate all the scratches on the old back panel. Many customers replace the back glass even without damage to maintain the brand-new condition of their phone. The back panel is shiny, and if you don't use a back cover, it will get blurry over time, and to restore the beauty of your phone, you might want to invest a little money.
---
Q: Do I need to purchase an adhesive tube separately? How to fix the new back panel? 
No. You don't need to purchase the adhesive separately because the back glass has a precut sticker. You need to tear off the protective layer of the adhesive sticker and stick it in the right direction. You should follow these steps :
First, blow hot hair in a circular motion all over the back panel to soften the adhesive.
Please remove the back panel slowly and ensure you don't pull it off hurriedly.
After parting the back panel, clean the remaining glue from the frame.
Then clean other parts of your phone, like the camera and any other dust accumulated over time.
After that, tear off the adhesive sticker of the back panel, align it properly, and then paste it.
Fasten the back panel with rubber bands but don't overdo it. Overtight rubber bands can have adverse effects on display.
That's pretty much about it. You can unfasten the rubber bands and are ready to rock after an hour. The back panel replacement is easy, provided you follow all the steps correctly. If in doubt, you can take the help of a YouTube video or call us for any questions.
LG G8x ThinQ Back Glass Photos
These photos represent the actual product you'll get after your order. It is a 100% original LG G8x back glass which is a perfect replacement for all the cases of back panel damage. If you've any questions about this part, please get in touch with us at 9587954273.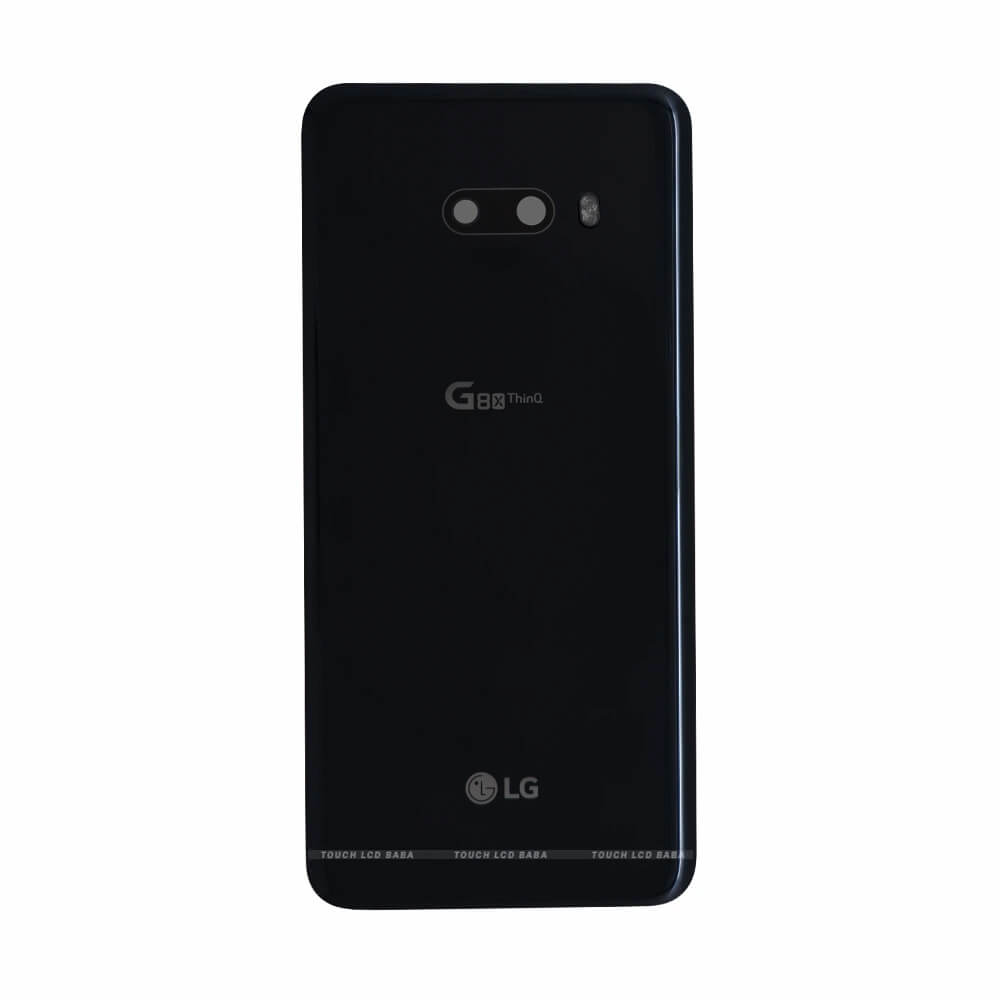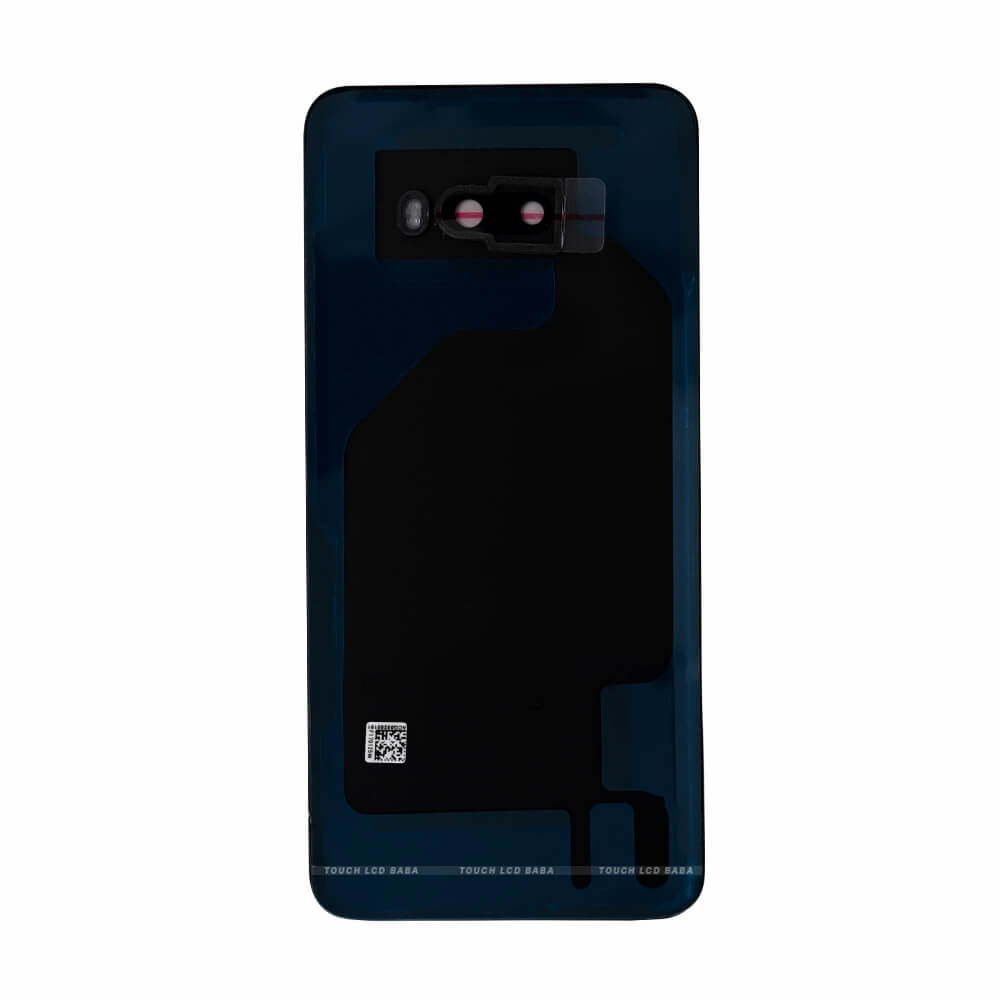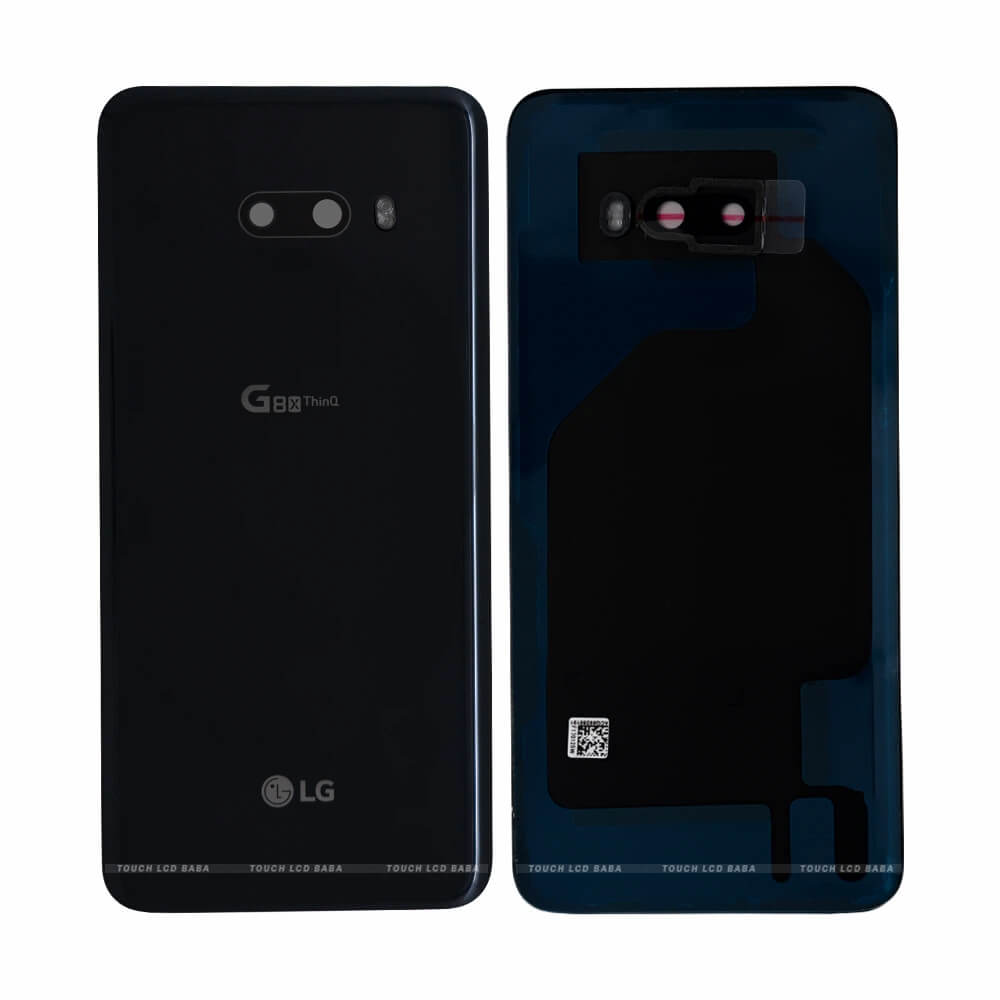 Shipping, Return and Refund Policy
All the products supplied by us come with 30 days return, refund, and replacement guarantee. To return a product, It should be in the same condition as we sent. You can't use or fix the new LG G8x back glass if you want to return it. For complete details about Shipping, Returns, and Warranty, please click here.