The Moto G 2nd generation is the successor of Moto G, and if you arrived here searching for a Moto G2 display replacement, you are on the right page. We still remember when this phone was launched, and customers bought it in a flash because of its awesome features and price tag. Many customers are Moto fans and still use this device in 2021 for their basic needs.
If you are also a die-hard Moto fan and need a replacement for your Moto G2 phone, we can certainly help you in this regard. You can easily replace a broken Moto G2 display with a new one and restore the full functionality of your phone in no time. The display replacements are really rewarding when it comes to broken screens.
Moto G2 Display Specifications
| | |
| --- | --- |
| | This display is 100% original, tested and suitable for all variants of Moto G2 (Moto G 2nd Generation). |
| | The Moto G2 display size is 5.0″, the display type is IPS LCD and the resolution is 720 x 1280 pixels. |
| | It is a complete combo of display and touch screen glas merged into one. |
| | You can use this display replacement to overcome all the display and touch screen glass related issues. |
| | The main touch screen glass comes with Corning Gorilla Glass 3 protection. |
| | The new display offers 100% the same colors, quality and brightness as your original display. |
| | We always verify each display for 100% flawless working before dispatch. |
| | You can return the product to us within 30 days in the same condition as you received. |
| | You can also test and verify the working condition of new display before installation. |
| | The display is readily available in stock and turnaround time is very fast. |
| | You can order the product using Cash on Delivery or Online Payments. |
How is the Moto G2 display combo structured?
The Moto G2 display combo is a complete unit of inner display and the top layer of touch screen digitizer glass. The topmost part is called touch screen glass which is hardly pasted on display using LOCA glue. It is not possible to take away the touch screen glass easily because the glue is solid. If you try to remove the glass hastily, the display will also break, and that's why it's called a combo.
In theory, it might sound easy to replace only the touch screen glass, but the person who does this practically knows about all the obstacles. Therefore, if you end up with a damaged Moto G2 display, the best choice would be replacing the complete display unit regardless of what is broken and what is safe. A combo is structured in a complicated way, and trying makeshift solutions doesn't make any sense. Surely, you can find lots of low-quality solutions, but none of them will help you.
What is the best way to save as much money as possible?
It is a harsh truth that most customers want to save money on screen replacements, and that's why duplicate products are so prevalent in the market. If you go to the local market, you can find duplicate screens at every shop, but you can't purchase a truly original display there. That is because all customers want to save as much money as possible. Because of this customer's mindset, shopkeepers focus on selling cheap duplicate products rather than selling original. A vast majority (up to 98%) of business comes from duplicate screen replacements.
The best way to save money is to purchase duplicate screens or other similar solutions which the official service center or we never recommend. Surely, you can try your hands on the lowest quality solutions, but you should do that only if you don't care about the quality. If you are happy with almost anything, then you can purchase replica products without any hesitation. To save money, you've to sacrifice a large chunk of the display's quality.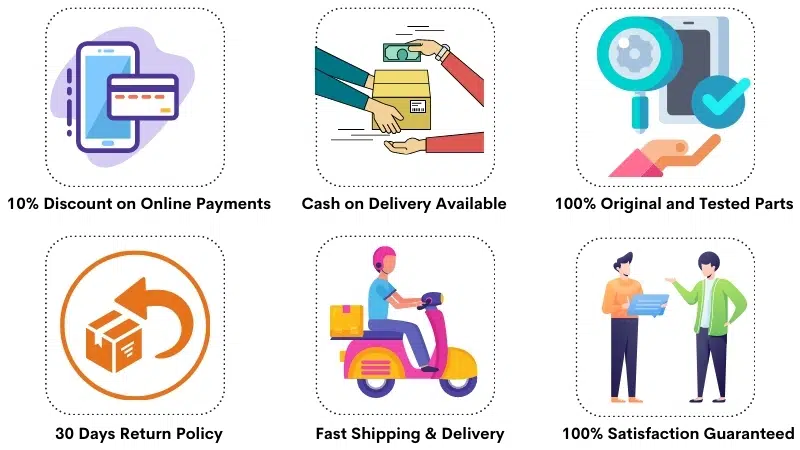 Frequently Asked Questions
Q: How much does it cost to replace a broken Motorola Moto G2 display in India?
The price of a 100% original Moto G2 display replacement is around Rs 1800-2000. If you buy a first copy screen replacement, the combo costs Rs 1300-1500 in India. The installation charges are not included in the display's price.
Q: Is it possible to install the Moto G2 display at home?
We don't recommend this approach because Motorola phones have a complicated structure, and repairing them isn't that easy. If you've repaired phones before, you can try this at home; otherwise, always visit the nearby technician and have him replace the display for you. That would be the best approach to replace the broken display.
Q: Is there any warranty after installing the new display?
Some have asked if there is some warranty on the display after installing it, and our answer is No. Mobile phone screens always come only with a testing guarantee, and there is no afterward warranty of any kind. The reason is, once you've verified that the display is working flawlessly, you can easily ruin it during installation and then blame the seller.
After receiving the display, some customers are truly careless and assemble the display the way they want. While doing this, the screen gets damaged, and then they try to claim it under warranty.  We've seen such cases when customers even break the display while assembling it and later fight with the seller. We are 100% honest and straightforward in our dealing, and that's why we want to make it absolutely clear. Our responsibility is supplying 100% original products in perfect condition but keeping them safe is utterly your responsibility.
Q: Can I purchase this display from the official service center?
We believe that screen replacements for Moto G2 are no longer available in the service center because this model has already reached its End of Life. So if you inquire in the official service center, you will not get a positive answer because the stock is no longer available.
Q: Can I install a black display on a white mobile phone?
The Moto G2 phone comes in two different colors, Black and White. You can easily install a black color display on a white phone without any issues. Some customers may find this combination a little weird, but there is absolutely no problem from a usability perspective. Sometimes, when a particular color is not available, customers buy other colors, and you can easily install the other color's screens without any problems.
Q: What are the benefits of purchasing the display along with the frame?
If you purchase a display along with the outer frame, it's an added advantage because you don't have to go through the hassle of manually pasting the display. When you purchase the display along with the frame, you need to transfer the motherboard, battery, and other components from the old assembly into the new assembly. This makes the installation a breeze, and you can easily do that home.
Moto G2 Display Photos
This is a brand new combo (display and touch screen both) of Moto G 2nd Generation and you can use this combo to replace a broken display or touch screen. The part comes with an outer frame exactly as shown in the photos below. You can easily change this at home as minimal effort is required!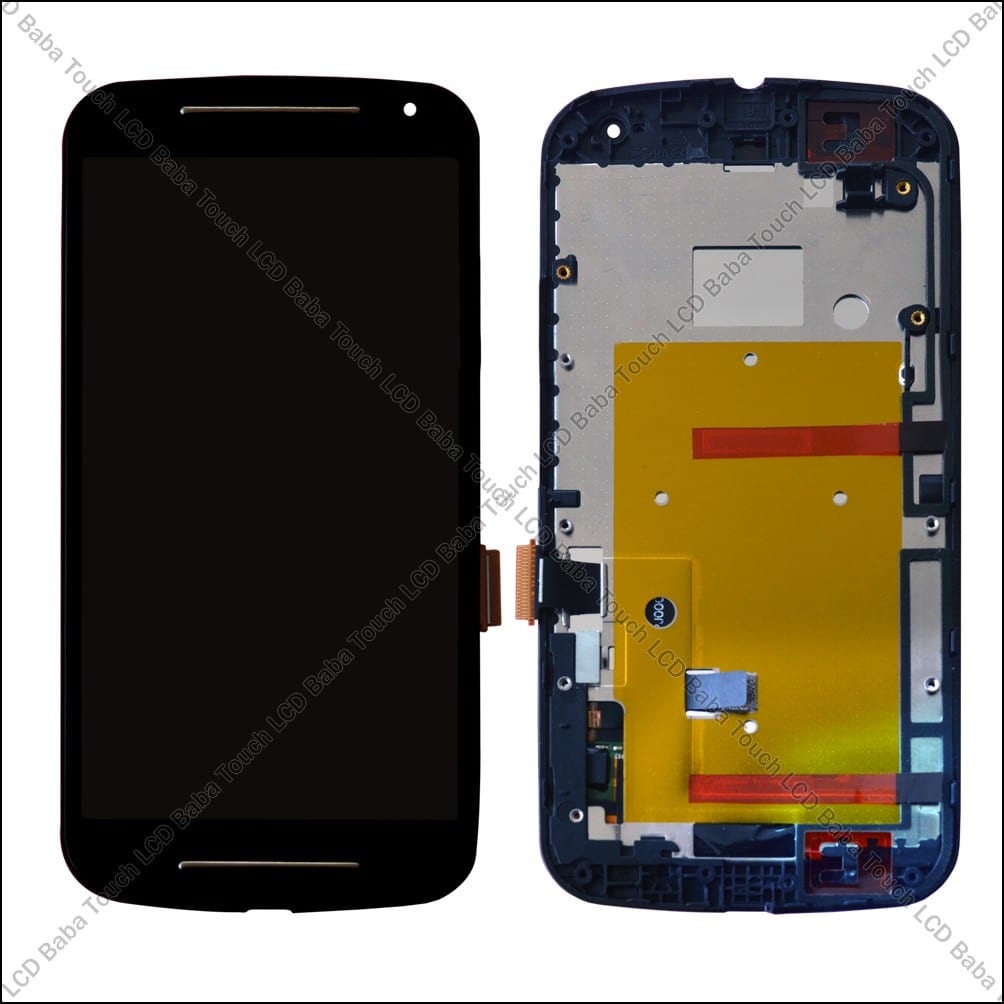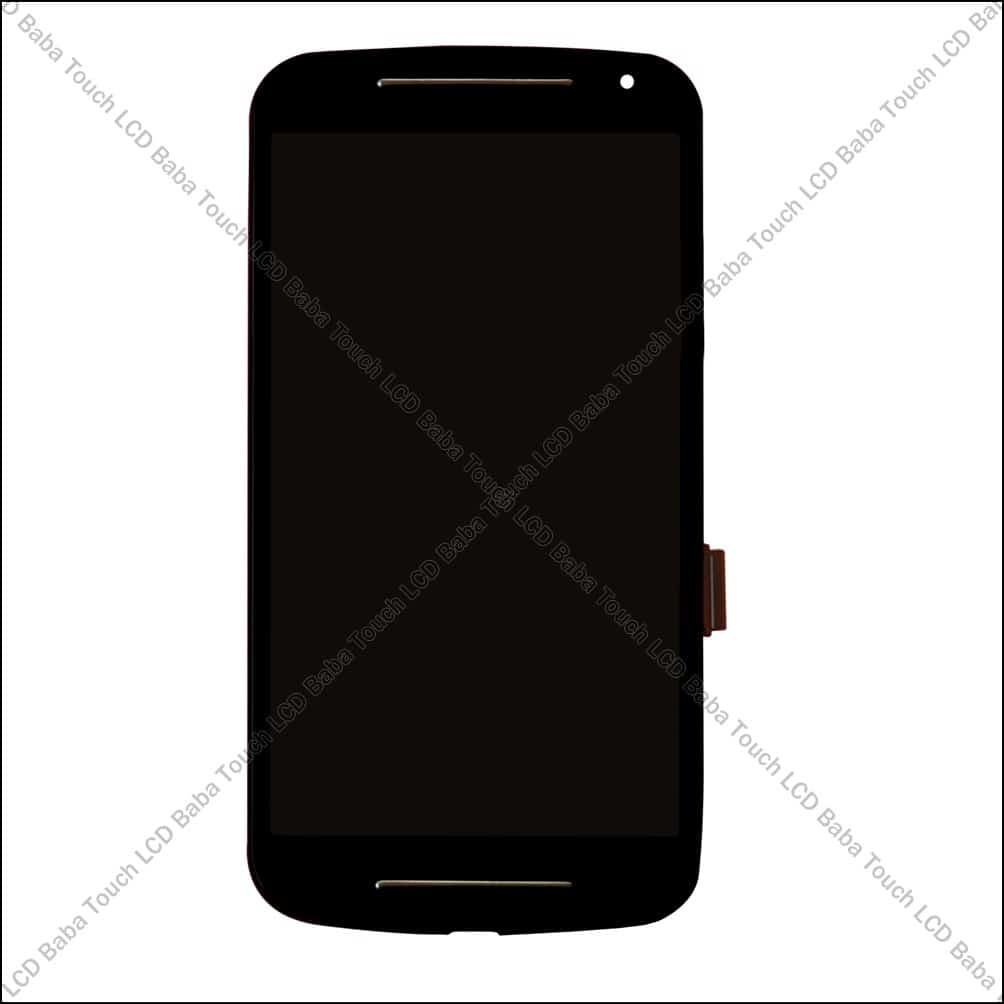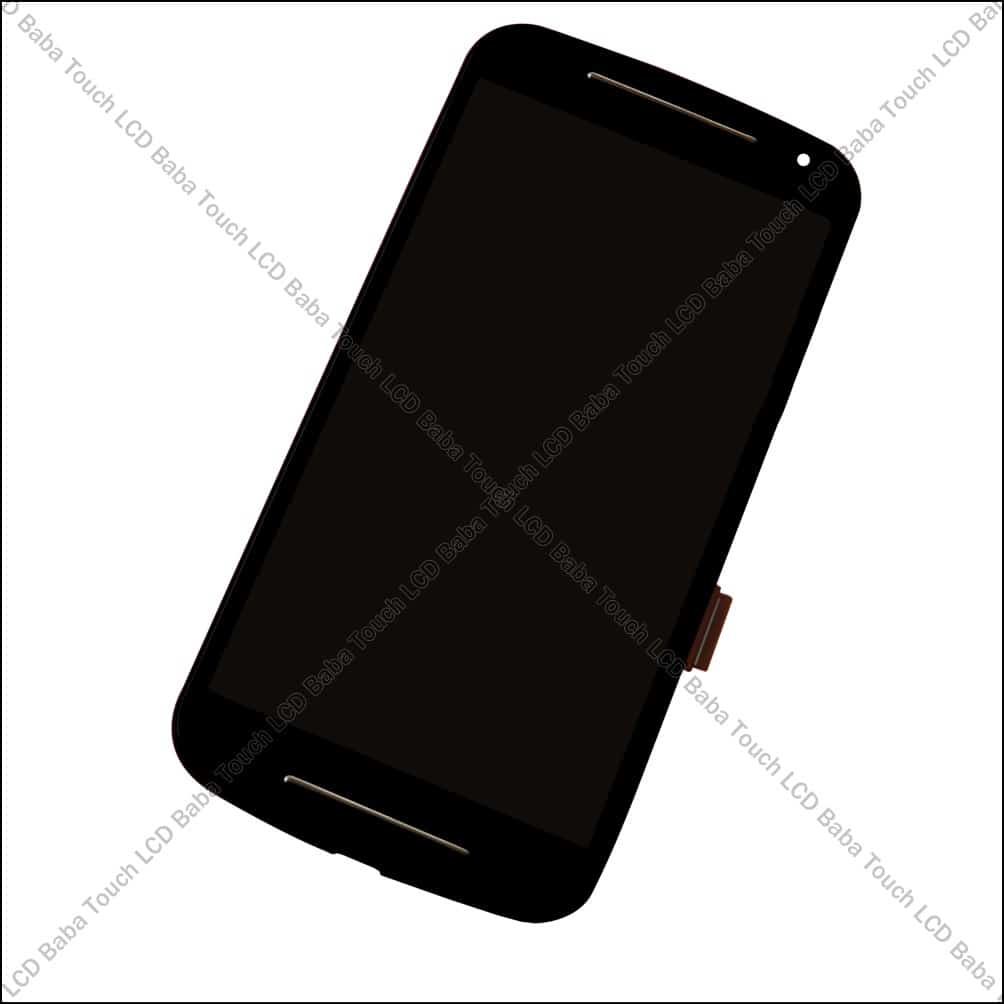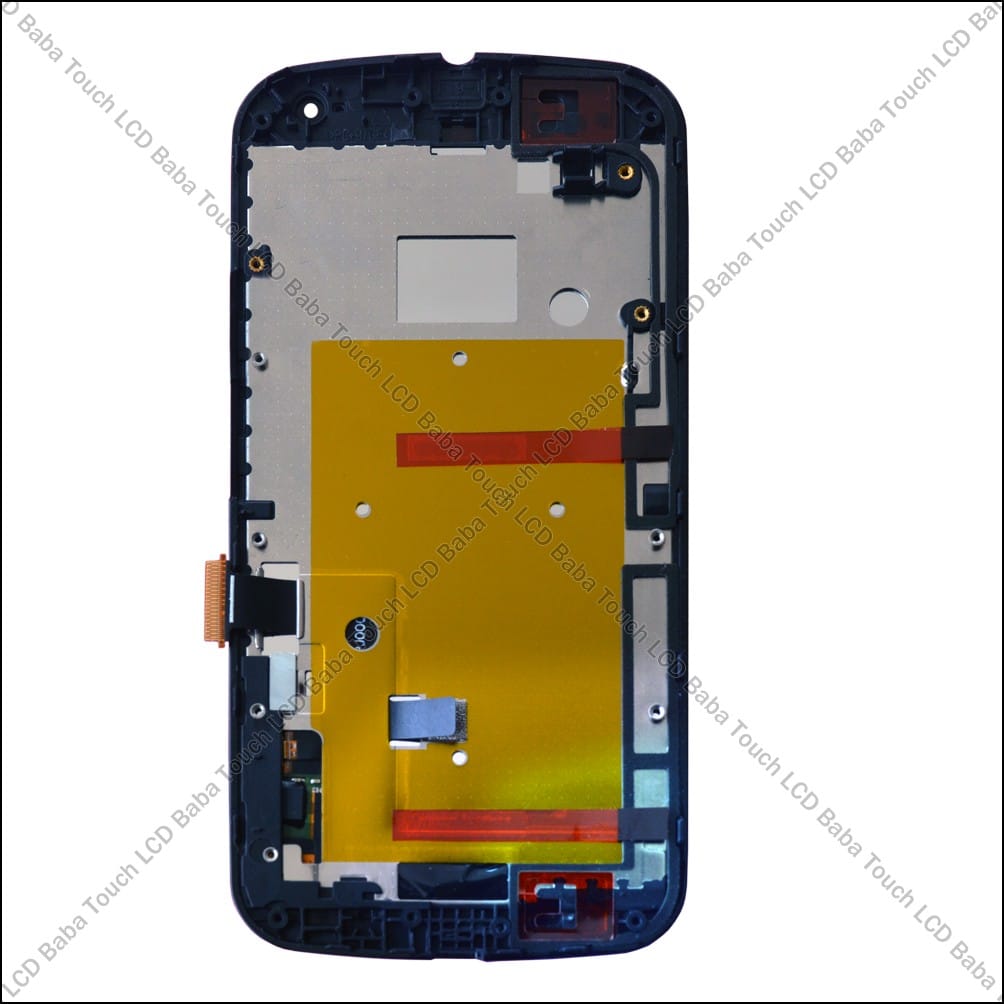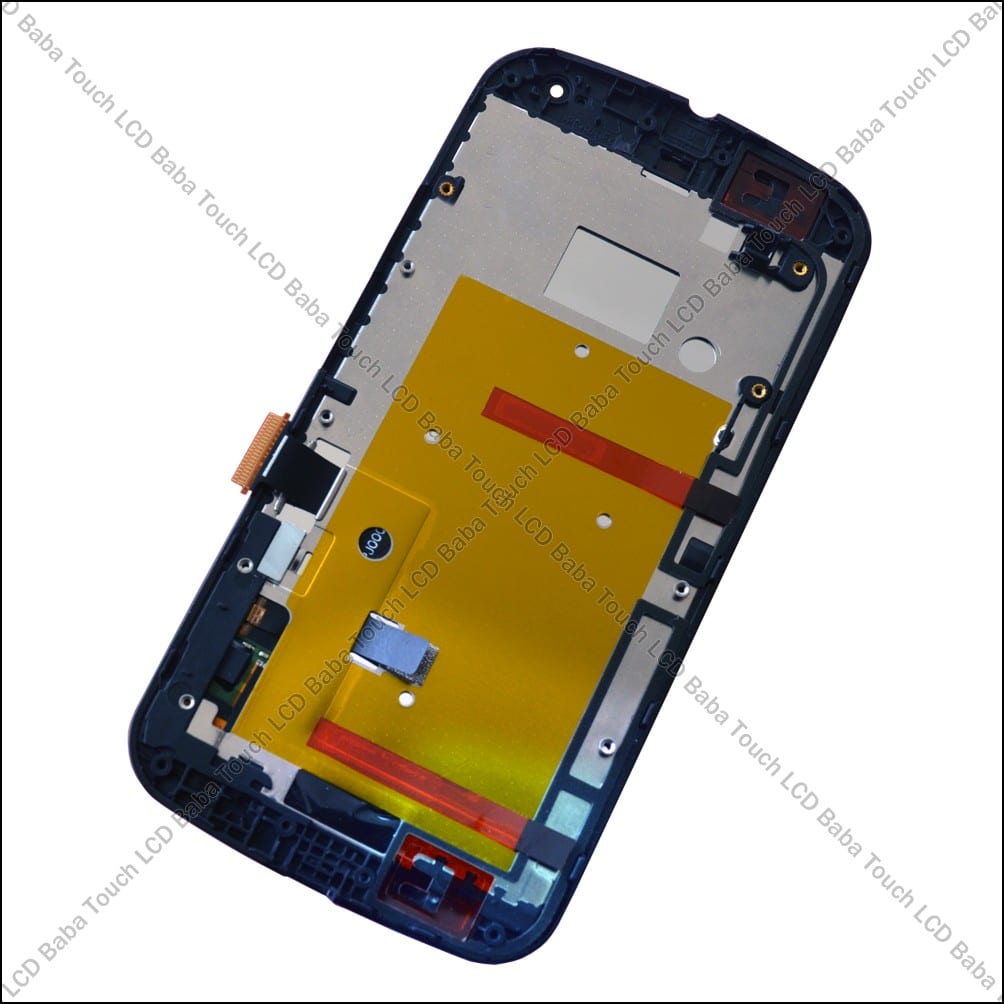 Shipping, Return and Refund Policy
All the products supplied by us come with 30 days return, refund, and replacement guarantee. To return a product, It should be in the same condition as we sent. You can't use or fix the new Moto G2 display if you want to return it. For complete details about Shipping, Returns and Warranty, please click here.