If you need a display replacement for the Sony XA Dual phone, we have it available on touch LCD Baba. We sell a brand new display and touch screen glass combo on this page, which you can use to replace a broken display or touch screen glass. It is a complete display unit of Sony Xperia XA which can furnish a new life to your mobile phone.
If you put down the phone accidentally, the display or touch screen glass will break off very easily. However, It is not the end of the world because a broken display or touch screen glass can be easily replaced with a new folder. You just need to take off the broken screen and fix a new one in place of that. After replacing the screen, you can use your phone for a prolonged period without any issues.
What is the meaning of the Sony XA Display Combo?
The simple meaning of the Sony Xa display combo is a complete unit of IPS LCD combined with the touch screen glass. When both parts are combined using LOCA glue, the resultant unit is called as Sony XA Combo.
Such kinds of screens are readily available because these spare parts fill in the gaps If something breaks. If you replace the Combo, you will not lose any data on your mobile phone as everything will stay the same as before. It is very easy to replace the Combo as you just need to decouple the broken display from your phone and fix a new one in place of that.
What are the supported model numbers of Sony XA / Sony XA Dual?
Sony is a global brand and sells phones in all countries. The model Sony XA is also available in all the countries, but the model numbers are different. These model numbers are :
You should check If your phone's model number matches the one listed above. If yes, you can order the Sony XA screen available on this page as It will support your phone without any issues. Please note that the same screen is suitable for all countries, but the model numbers are different.
How can I replace only the touch screen glass and reuse the same display?
In many cases, when you drop the phone, only the touch screen glass will damage, and the display will stay intact. In such instances, many customers want to replace only the touch screen glass and don't want to spend money on complete combo replacement.
Please note that mobile phone screens are designed so that in any case of physical damage, you must replace the complete display unit. In the last few years, mechanics have found alternative ways to replace only the glass, but the resultant product is a very inferior quality display.
If you go to the local market and ask a technician to replace only the glass, first, he will tell you that there is a risk factor in the glass replacement. If the display also breaks during the separation process, they (mechanics) are not responsible for that. It means that only glass replacement is like taking chances and hoping that everything will come out perfectly.
Even if the technician can replace only the glass, you'll have a display of much lower quality than before. You'll certainly see dust spots, glue spots, and dust particles inside the display. Such screens never last long, and due to lots of issues, we don't recommend glass replacement. If you want a 100% original and long-term solution to the problem, you should always consider a complete combo replacement.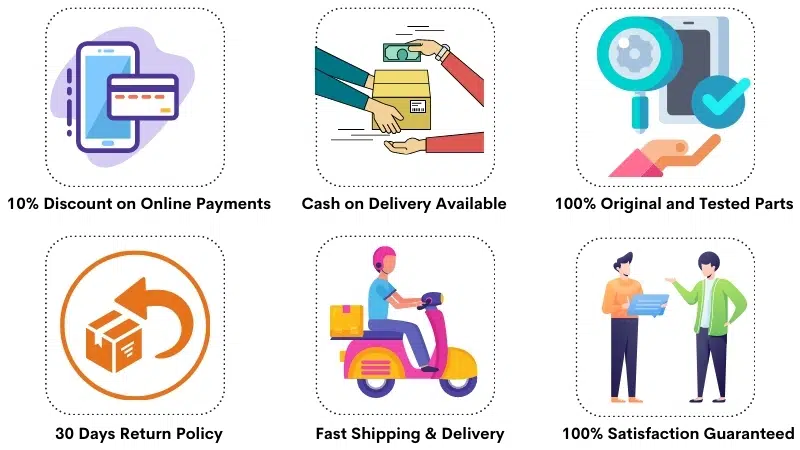 Sony XA Display Specifications
| | |
| --- | --- |
| | This combo is 100% original, brand new and suitable for Sony XA. |
| | The Sony XA display size is 5.0″, display type is IPS LCD and display resolution is 720 x 1280 pixels. |
| | The main touch screen glass is protected by Scratch-resistant glass so that the phone can stay safe from minor drops. |
| | It is a complete unit of display and touch screen glass glued together into a single unit. |
| | We test each display for 100% perfect working before shipping to our valued customers. |
| | The Sony XA display offers 100% the same brightness, colors and quality as your original display. |
| | The display is available in all the colors including Black, Grey, Lime Gold, Rose Gold and White. |
| | We send insured parcels so you don't have to worry about intransit damage. |
| | We can deliver shipments even to the smallest villages and towns. |
| | The display is readily available in stock and turnaround time is very fast. |
| | You can order the combo using Cash on Delivery or Online Payments. |
Frequently Asked Questions
Q: How much do I need to play to replace a broken Sony XA display In India?
The price of a 100% original Sony XA display replacement is around Rs 2700-2900. If you buy a first copy screen replacement, the Combo costs about Rs 1300-1500 in India. You may have to pay additional repairing charges on top of the display's price to a mechanic.
Q: Can I replace the display myself at home?
It is possible to replace the display at home, but we don't recommend this approach because It is not suitable for all the customers. If you don't replace the display carefully and make a mistake, you could end up damaging the new display or other parts, which are even harder to get.
For this reason, we recommend that you always visit a technician and ask him to replace the display for you. Surely, he will charge Rs 150-250 from you, but it will be a completely hassle-free experience for you.
Q: How can I get an original Sony XA display for less than Rs 1000?
Many customers ask us to provide a display for a throwaway price, and even that should be 100% original. We take sideways from such customers because they are not worth a discussion. If you are also looking for an original screen for ridiculously low prices, we wish you the best of luck, but we don't have any such offerings available on our website.
Q: What is the average lifespan of a display replacement? 
The average lifespan of the Sony XA display largely depends on how diligently you handle the phone. If you don't care about the phone, throw it here or there or keep the phone with other objects in the pocket, you can't expect that display will work for a long time. Some people watch movies on the phone at night, and later they sleep on the mobile itself and find it broken in the morning.
Then they think that screen broke automatically and even showed the notion of a big surprise, but that is all fake. If you keep your phone safe and handle it well, protect it using tempered glass, and don't drop it too often, you can easily use a screen for more than two years or longer.
We've seen customers who have never replaced the display yet, and It has been more than four years since they bought the phone. So in the bigger picture, it depends entirely on you as the display never goes bad automatically without doing anything.
Q: Should I stick the display using Glue or Double tapes?
It is an excellent idea to stick the display with double tapes, but there is a problem. Although even the company uses a pre-cut gasket to paste the display yet in local markets, it is impossible to find such type of product. The quality and the adhesive strength of the material used by the company are simply beyond wonderful, and It is impossible to source such quality adhesive in the local markets.
The double tape, which is generally available in the market, is very inferior in quality, and the display will start to bulge out very soon. To avoid such issues and align with the current market conditions, we recommend using glue to stick the display. The bonding capacity of glue is excellent, and you won't face any problems in the short term. It is effortless to use glue, and even if you face a problem after one year, you can still apply glue from sideways and stick the display again while you can't apply the double tape again. So try using glue whenever possible for you.
One word of caution, please don't use too much liquid glue; otherwise, It will dislocate directly inside the display. Use a small amount of glue evenly on all corners, let it dry a little bit, and then stick the screen properly.
Q: How can I simulate the testing process?
It is essential to simulate the testing process; otherwise, you can't ensure the working condition of the new display. When we say simulating, we are talking about testing the display before fixing it in your phone. We suggest that you never fix any display on your device before testing it first. It is vital to test the compatibility of the screen with your phone and then proceed to the next steps. We are very confident that there won't be any issues, but still, It is a standard convention to test the screen and then fix it.
To test the new Sony XA screen, connect its touch screen and display's connection to your phone's motherboard, and turn on the device. The display will light up, and you can test the display just like you use your phone every day. When you are satisfied with the working condition of the screen, you can go for the final fitting of the product.
Shipping, Return and Refund Policy
All the products supplied by us come with 30 days return, refund, and replacement guarantee. To return a product, It should be in the same condition as we sent. You can't use or fix the display if you want to return it. For complete details about Shipping, Returns and Warranty, please click here.