The part you see on this page is the Sony Xperia XZ display and touch screen combo, which you can use to replace a broken display or touch screen glass. In Sony XZ, the display and touch screen both parts function as one, so, in case of any damage to the display or touch screen glass, damage, you have to replace the complete combo.
The separate display and the touch screen are a thing of the past now. In recent years, all mobile phone displays are made on folder technology by combining the display and touch screen into a single unit. It simply means that It is not possible to replace the parts individually. When you need a Sony Xperia XZ display, you have to replace its complete screen unit, as shown on this page.
Sony Xperia XZ display price depends on several factors, and the most important factor is quality. The display we offer is 100% Original and works flawlessly. Each display is tested in our facility before we send it out to our customers. Still, all parts come with 30 days replacement guarantee for any manufacturing defects.
Customers buy a costly premium phone without a second thought, but when it comes to repairing, they want to spend the minimum amount. They have a belief that for a 30k phone, the display should cost 1200, which is unrealistic in any situation. Always keep in mind that a quality screen replacement is never cheap and will cost you money always. If you run behind affordable solutions, you are wasting your time and money.
What is the meaning of the Sony XZ Display Combo?
The simple meaning of a combo is a complete unit of display and touch screen. Some people think that they will get two pcs of the display, but It is not valid. As the mobile phone display consists of an IPS LCD and touch screen glass, thus the full unit is called a Combo.
Some people also call it Folder, but the meaning is the same. You are essentially buying a complete display unit, as it is what you precisely need to overcome a broken display issue. It is the same part as it comes fitted in a brand new phone. You just need to take off the broken combo and fix a new one in place of that. It is effortless to replace the Sony XZ combo, and it can be done anywhere without any hassle.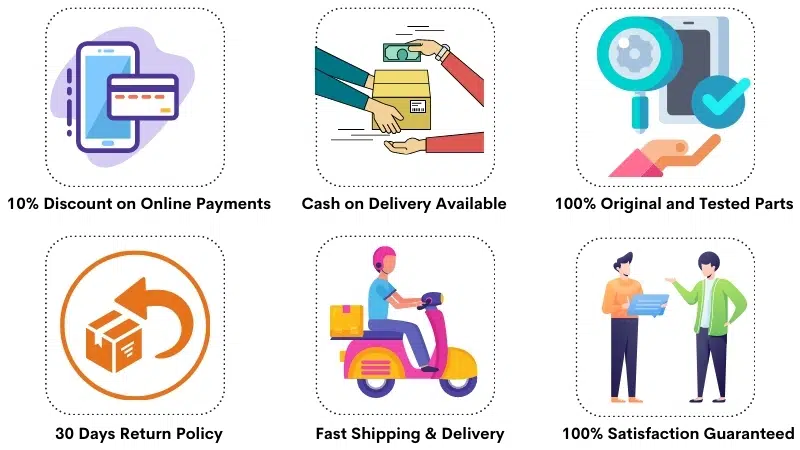 What are the various options to replace a broken display?
To replace a broken Sony XZ display, you can choose one of these three options. These options are :
A) Go to the Official Service Center.
The first option preferred by customers is going to the official service center. The problem with this approach is the non-availability of the service center in all the areas and hefty prices. You will not be able to find a service center in most cities and prices are very high. So this option is out of most customers' hands. In the service center, you might need to wait for a long time until the part arrives and you've to live without a phone in the meantime.
B) Visit The Local Market To Replace The Display.
You can also visit the local market to replace the display, but, likely; you will not find this screen in the local market. Additionally, you will face lots of quality issues because the local market sells only first copy duplicate screens. So this option may not be suitable for customers who need quality screen replacements. If you are happy with a duplicate product, you can purchase the screen locally.
C) Buy The Display Online and Fix it Locally.
You can buy an original display online but you need to pay attention to the reputation of the seller. All the websites are not selling original products and if you are trying to find low-priced deals, you will end up buying a counterfeit product.
On our website, we sell 100% original products but you need to make the necessary arrangements to fix the display on your phone. Therefore, before you order a display, please talk with a mechanic who will fix the display for you and then order the display online.
Sony XZ Display Specifications
| | |
| --- | --- |
| | This combo is 100% original, brand new and suitable for Sony Xperia XZ (Model F8331 / F8332) |
| | The Sony Xperia XZ display size is 5.2″, display type is Triluminos IPS display and resolution is 1080 x 1920 pixels. |
| | You can use this combo to replace a broken touch screen glass or display or both. |
| | It is a complete set of display and touch screen, you don't need to buy anything else for display problems. |
| | The touch screen glass is protected by Corning Gorilla Glass 4 protection for maximum safety. |
| | We source the display from the OEM manufacturers who make for the company. |
| | We make sure to test each display on motherboard for 100% unflawed working before dispatch. |
| | After receiving the parcel, we offer 30 days return, refund and replacement period for the customers. |
| | We can deliver and pickup the display from all over India, even from the smallest towns. |
| | The Sony XZ display is readily available in stock and shipping time is very fast. |
| | You can pay us using Cash on Delivery or Online Payments. |
Frequently Asked Questions
Q: How much does it cost to replace a broken Sony Xperia XZ display in India?
The price of a 100% original Sony XZ display replacement is around Rs 2800-3000. If you buy a first copy screen replacement, then the combo costs about Rs 1300-1500 in India. You may have to pay additional repairing charges on top of the display's price to a mechanic.
Q: Can I replace the Sony XZ display myself at home?
Sony phones are overly elaborated, and you might not be able to fix the screen at home. If you take the wrong step, you might face additional problems or ruin some other components of your phone. Therefore to avoid such problems, always make sure to take the new display to an expert technician and have him replace the screen for you. He will charge Rs 150-250, but you will not run into any trouble.
Q: Where is the official service center in my city? 
We are not affiliated with Sony in any way, and hence we don't have the address of official service centers in your city. To avail of that information, you might want to visit the official Sony website or call on their toll-free number for more assistance.
Q: Can you provide only the touch screen glass without the display?
We are sorry, but we don't have only the touch screen glass available in stock. We do not encourage the sale of duplicate products, and that's why we've never even tried to find only the touch screen glass. From our experience, working against a set quality protocol will always result in a customer's dissatisfaction, and we want to avoid that at any cost.
Q: How safely do you pack the parcels? 
We pack your products very carefully by using hard plastic boxes, thermacol, bubble wrap, and corrugated boxes. Our packing procedure is very dependable, and literally, there is no chance of in-transit damage. Still, we buy insurance for all the parcels, and you don't have to worry about in-transit damage. You can always record an unboxing video, and if you face any issues, simply forward that video to us, and we will provide a free replacement to you.
Q: Will you also fix the display on my phone?
No. We don't install the display on your phone as our responsibility is limited to delivering you a 100% original and working spare part. To install the Sony XZ display on your phone, you will need to find a local technician. It is always a good idea if you make the necessary arrangement first and then order the product.
Q: How do you test the display before shipment? 
We test each display on an actual motherboard of Sony XZ and then ship it to the customers. So, from our warehouse, we send a 100% tested and verified display your way. It is essential to test the screen to avoid defective screens and additional hassle.
Q: I'm getting the same display for a lower price. Can you comment? 
There are a lot of websites that are just stealing product photos from our website and selling duplicate screens under the hood. So if you think that you are getting the same part for a 50% lower price, you are just fooling yourself. You'll certainly get a duplicate first copy because this is what most vendors do to trap the customers. They offer low prices so that customers can be easily trapped.
Q: Do you have a local facility where we can self collect the screen? 
No, We work from Rajasthan, and we don't have any such local facility where you can personally visit and collect the product. If you are in Rajasthan and you want to collect the product, you can always contact us provided you are willing to travel. The best way to order a Sony XZ display is, place the order online and receive the display at your doorstep.
Q: Can you offer me a discount on the listed price? 
Yes. We do offer a flat 10% discount on online payments. If you pay us by using Credit Card, Debit Card, or any other online payment instrument, you can get a 10% discount on the listed price. You don't need any coupon codes for that as the discount will apply automatically when you checkout.
Shipping, Return and Refund Policy
All the products supplied by us come with 30 days return, refund, and replacement guarantee. To return a product, It should be in the same condition as we sent. You can't use or fix the new Sony XZ display if you want to return it. For complete details about Shipping, Returns and Warranty, please click here.