We understand the pain of having a broken Honor 9x display, but you can easily handle it by replacing the broken display. By opting for Honor 9x display replacement, you can easily bring your phone back into 100% perfect shape in no time. On this page, we'll discuss Honor 9x screen replacement options and answer all the questions you have in your mind.
What is the meaning of Honor 9x display Combo?
The simple meaning of a combo is a complete assembly of display and touch screen glass. During the phone's manufacturing, the display is pasted with the touch screen glass for clarity, brightness, and durability. Honor 9x display is very solid and provides a mesmerizing experience to the user.
Now, if you drop the phone accidentally, you will have a scratched touch screen glass. If the phone slipped out of your hands from more than 3 feet height, the inner display could also damage very quickly. It doesn't matter if the display is broken or the touch screen glass is shattered because you'll always need to replace the complete Honor 9X combo. The display is pasted with the touch screen by design, so if you try to change them individually, both parts will break off.
Honor 9x Display Specifications
| | |
| --- | --- |
| | This combo is 100% original, brand new and suitable for Honor 9x STK-L22. |
| | Honor 9x display size is 6.59″, display type is LTPS IPS LCD with a resolution of 1080 x 2280 pixels @432 PPI. |
| | The main touch screen glass is 2.5D Curved Glass which is toughened and very strong. |
| | It is a complete unit of display and touch screen glass combined together. |
| | The combo offers 100% original brightness, colors and sharpness as your original display. |
| | We verify each display for 100% perfect working before dispatch. |
| | We source the part from the same factory who makes for the company. |
| | It comes with 30 days replacement warranty for manufacturing defects. |
| | You can even return a product within 30 days time period. |
| | The display is available ready in stock and shipping time is very fast. |
| | You can order our products on Cash on Delivery and Online Payment. |
What are the alternative solutions to this problem?
Many people are looking for substitutes rather than correctly addressing the problems. The local market technicians are trying to do such hacks, and one of them is replacing only the touch screen glass without replacing the display. A professional technician will never recommend glass replacement, but such solutions are often the favorite of local technicians to mint money.
If you take your Honor 9x to the local market with a broken touch screen glass, the majority of mechanics will advise the glass replacement to you so that they can make money. The glass used to replace the broken glass is worth Rs 60, and you can be charged up to Rs 2000 for that. You can easily understand why mechanics suggest glass replacement.
After glass replacement, you will have a compromised display having faded colors, dull brightness, spots inside the display, and other similar distracting stuff. The workarounds will never work as a permanent solution, and you'll be disappointed for sure. We strongly suggest you stay away from subpar solutions and always go for 100% quality products.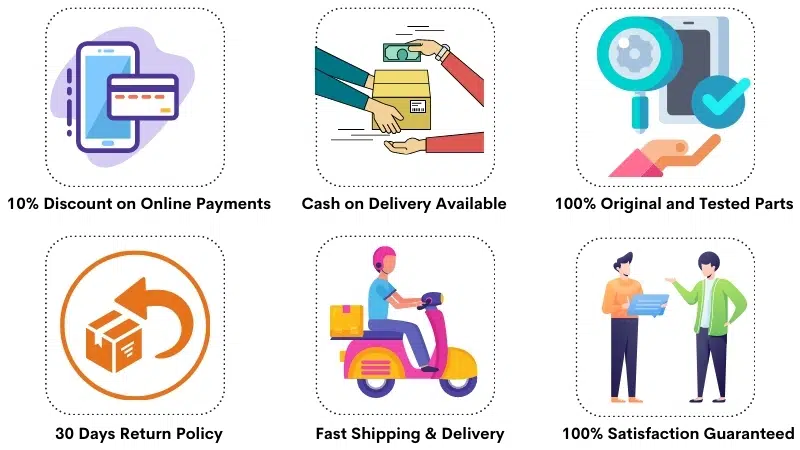 What is the best way to replace a broken Honor 9X display?
There are three ways to replace a broken Honor 9x display, and choosing one of them depends on your requirements and priorities.
A) Visit the official service center
For Honor 9x screen replacement, you can visit the official service center. The repairing charges are usually very high in the service center, but you'll get the authentic product for sure.
This option might not be suitable for many customers who can't travel to the nearest service center. Usually, the service center won't have the spare part readily available in stock, and you might need to wait for some days to get your mobile phone back.
B) Repair the phone in Local Market
There are competent technicians in the local market, but they can't do much as only first copy screens are available locally. If you visit a technician, he will buy the first copy display on your behalf and fix it on your phone. A first copy display is another fancy name for a duplicate display. The quality of the first copy display is very bad, and you'll probably start hating your phone, which you once loved a lot.
A good technician can't do anything if the original spare parts are not available. That's why repairing in the local market may not be suitable for customers who want 100% original quality. If you are happy with anything, you can get your screen replacement there.
C) Buy the Original Display Online and Fix it in Local Market
You can buy the original display Honor 9x display online and get it installed by a local technician. This way, you can enjoy the best of both worlds, having an original display for a low price.  You might be wondering about how we can sell the original display for cheap. Always keep in mind that original screens are not that costly as hyped in the service center. They charge a lot for the branding, and you can get the same spare part for a low cost online.
Please also note that all Online sellers are not selling original products so If you come across a display for a low price, you can clearly understand that it is going to be the first copy. If you just need a copy, better buy it locally.
Frequently Asked Questions
Q: How much do I need to pay for a new Honor 9x display in India?
The price of a 100% original Honor 9x display replacement is around Rs 3800-4000. If you buy a first copy screen replacement, then the Combo costs about Rs 1600-1800 in India. You may have to pay additional repairing charges on top of the display's price to a mechanic.
Q: Does the new Combo come with Gorilla Glass protection?
If you purchase a brand new Honor 9x phone, It does not have Gorilla Protection. Instead, the phone is protected by a 2.5D Curved Glass, which is toughened and very strong. The screen replacement we offer is the same as comes with a brand new phone.
Q: What are the drawbacks of replacing only glass? 
The glass replacement is not suitable for customers who don't want to compromise on the quality. If you are happy with having spots inside the display, low brightness, dull colors, you can surely try your hands-on glass replacement.
Q: Why are most customers not satisfied after repairing locally?
Many customers are looking for original products for super low prices, and this is not possible. If you pay peanuts, how you can expect the same quality as before. That's why thousands of customers are not satisfied with the repairs because they don't want to spend the money. If you happily spend money on a new mobile phone, you have to spend some money on the original spare parts.
Q: Why do I see a considerable price variation among different websites?
Lots of the most popular websites are allowing their sellers to sell counterfeit products. The sellers offer low-quality products there, and people buy them thinking that they are buying from a big branded website.
You should understand that those big websites are not selling the products, but local sellers sell their products on their platform. If you thought you got a fantastic deal and you bought the display for very cheap, we wish you the best of luck.
If you compare the prices and buy the lowest priced product, you are wrong. You really can't compare the price of an original display with a first copy display, and if you do, the base of making the comparison is wrong in the first place.
Q: How do you test the new display before dispatch? 
We have the Honor 9x phone in our testing unit, and we keep it in an open condition. We use this phone's motherboard to test the display before shipping to ensure our customers always receive a 100% fully functional product.
Q: How can I verify the display quality before fixing it?
You can certainly verify the display quality and working condition of the product before fixating it. To test a display, you need to connect the new display to your phone's motherboard and turn on the phone. That is how mechanics test the display before pasting it into your phone.
You can connect the display to your phone in an open condition and easily test the display. When you are satisfied that everything is working fine, you can install the product permanently on your phone. If you find any issues during testing, you can always contact us for assistance.
Q: Can I return a display after pasting it on my phone?
We don't accept any returns in the used condition as It is a business for us. We will not replace or accept a return after fixing the product or after removing the screen guard. Returns are only possible when the product is in unused condition.
Q: Is the data on my phone safe?
Yes. The data on your phone is 100% safe because replacing the display will not negatively impact the data. The display is a completely separate part and nowhere connected to the data on your phone.
Q: What If I receive a damaged/broken display inside the parcel? 
We are cautious about packaging the screens as they are fragile products. We pack your products in rigid plastic boxes and secure them with additional layers of protection. Even after that, we buy insurance for your parcel, and any damage that happens during the transportation is our responsibility.
If you are overly worried about in-transit damage, you can always take a video when you open the parcel. If you find anything damaged, we can replace it for no charge.
Shipping, Return and Refund Policy
All the products supplied by us come with 30 days return, refund, and replacement guarantee. To return a product, It should be in the same condition as we sent. You can't use or fix the items If you want to return them. For complete details about Shipping, Returns and Warranty, please click here.