If you are looking for the Honor 20 display replacement, we have the complete display unit available on this page. A broken display can be put off when you can't use your phone correctly, and even worse, you can't find an Honor 20 screen replacement in the local market. There are many models that require expensive screen replacements, and you can't find a prompt replacement in the local market. The Honor 20 phone is such a model and you will have a hard time finding a replacement for this phone.
The local market works on the business model of maintaining the most popular models, and If a particular model is demanded very little, you won't find it in there. If you are also facing the same problem, there is nothing to worry about as you can easily order the Honor 20 display online and get it fitted by a local technician.
Honor 20 Display Specifications
| | |
| --- | --- |
| | This display is 100% original, brand new and suitable for Honor 20. |
| | The Honor 20 display size is 6.26″, display type is IPS LCD and display resolution is 1080 x 2340 pixels. |
| | The supported model numbers are YAL-L21, YAL-AL00, YAL-TL00. |
| | We buy the combo from the OEM manufacturers to ensure 100% quality. |
| | The combo is exactly the same as comes with a brand new phone. |
| | We make sure to test each combo for 100% perfect working to ensure 0% defect rate. |
| | Our products come with 30 days returns, refund and replacement guarantee. |
| | All shipments are insured for damage during transit. |
| | The Honor 20 display combo is readily available in stock and shipping time is very fast. |
| | We accept orders using Cash on Delivery and Online Payments. |
What is the meaning of the Honor 20 Display Combo?
The simple meaning of the Honor 20 combo is a combined unit of display and the touch screen glass. So when you hear the word Combo, understand it as a whole display unit that consists of the inner display and upper touch screen glass layer.
The Honor 20 combo is a kind of ready-made spare part that is ready to fix. Even the official service center uses the Honor 20 combo to replace a broken display or touch screen digitizer glass. You just need to dismantle the phone, take out the broken display and fix a new combo in place of it. It is a completely hassle-free process, and It is just like replacing a defective part with an identical brand new part.
How can I replace only the glass without replacing the display?
Many customers consider this option to save money on the Honor 20 screen replacement. First of all, glass replacement is not the right solution, but it is just a workaround because you are not willing to spend money.
As a customer, you might not have much idea about how manufacturing a display works, so we want to shed some light on this topic. When Honor 20 display unit gets its shape in the factory, the display gets closely combined with the touch screen glass layer. It means that the display and touch screen glass combine into a single unit, and in case of any damage to the inner display or the top glass layer, you need to replace both of them.
Now in many cases of a scratched phone, only the top layer of the touch screen glass will break, and everything else will stay intact. So customers think that only glass replacement can solve the problem while it is not a valid fact. The glass replacement is never going to solve the issues, but It will worsen the condition even further.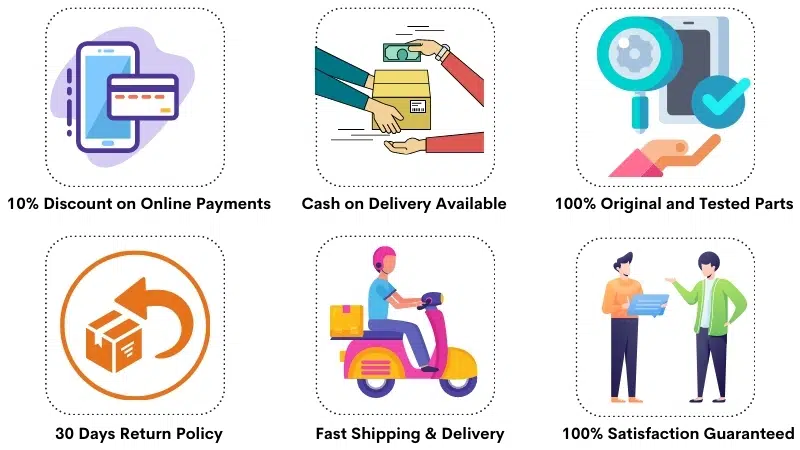 How does only glass replacement hurt the display quality?
The top layer of glass closely combines with the inner display, and to perform a glass replacement, first, you need to decouple the display unit from the front housing of your phone. After that, you need to disjoint the touch screen glass from the display, and during this process, you will end up damaging both the display and the touch screen glass.
In some cases, if the separation of the display and touch screen separation is successful and you paste a new glass, still you will observe these issues with the finished product :
The overall brightness and color reproduction of the display will take a big hit.
The display will not remain as vivid and sharp as It was before.
You no longer have the protection of Gorilla Glass because you pasted a duplicate glass on display.
Often, you will see dust particles, glue spots, and wrinkles inside the display.
The overall experience of using a quality phone will take a nosedive.
We have seen so many clients rushing for this compromise and later repenting of their decision. It is a great idea to save money but just to save a little amount, you can't take chances on the life of your phone.
You must understand the conception of High and Low Prices.
Have you ever bought a pair of branded shoes for the same price as local shoes? If not, then how you can expect you will get an original Honor 20 display for super low prices. If you get the display for a low price, surely, It will work on your phone but not in the same way as the original one. You will face lots of quality issues, visibility issues, and other problems you've never encountered before.
Cheap Mobile phone screens are mass manufactured by some third-party vendors who are only into producing low-quality screens. They make low-quality screens intentionally because India has a huge population and everyone loves low prices. Such screens are normally called first copies but actually, those are the worst quality products you can ever buy for your phone.
We suggest buying the original screen so that you can enjoy long-term durability without any compromise with quality. The original screens are dearly priced but the quality is worth the investment. These screens are not third-party manufactured but sourced from OEM (Original Equipment Manufacturer) who produce these for the company. These are the original Honor 20 screens but available at a much higher price. You can literally buy two duplicate screens for the price of one original display.
Frequently Asked Questions
Q: How much does it cost to replace a broken Honor 20 display in India?
The price of a 100% original Honor 20 display replacement is around Rs 4800-5000. If you buy a first copy screen replacement, then the combo costs about Rs 1800-2000 in India. The price difference between the original and first copy display directly relates to the quality difference.
Q: Can I use this display if I bought the Honor 20 phone overseas?
Yes. You can use this display even if you bought the phone overseas. The model number of foreign variants can be different, but they use the same display as fitted in the India variant. So you can buy this Honor 20 display, and we assure you about its 100% compatibility with your phone.
Q: Do you recommend the self-installation of the display? 
We don't recommend self-installation unless you know what you are doing. We have seen customers trying to replace the display at home end up with further damages to the phone or the new display. For this reason, we always suggest you simply visit a technician who is well versed in screen replacements. By following this practice, you'll stay away from all unforeseen issues.
Q: Can I claim a broken display under warranty from an official service center? 
A broken Honor 20 display can't be claimed under warranty because It is your fault. Even If you've damaged the screen unintentionally, you've to pay the full price for screen replacement. If you bought insurance for your phone previously, then you can try claiming the display replacement from the insurance company.
Q: Why I see different prices among all websites? 
It is just like the local cloth market, where everyone is selling a different quality material at different prices. So if you group the screens found online for low prices, those are all priced nearly the same. These screens are certainly the first copies, and for this quality, you better buy from the local market rather than buying online.
You may find our prices much higher than our competitors because we are not into selling refurbished or first-copy screens. Our focus is selling 100% pure original items regardless of the price. So If you want an original screen for Honor 20, you can buy from us with 100% confidence.
Q: What is the difference between an original and a first copy display?
There are big differences between the original and first copy display. The original Honor 20 display comes directly from the Original Equipment Manufacturer, who officially makes screens for the company. These screens are original, costly, durable, and worth the investment.
The first copy (or duplicate display / OG display ) display comes from third-party manufacturers who use cheap quality leftover materials to craft a new display. The quality of such screens is nearly 40% of the original. The overall quality of the display and the smoothness of the touch screen will wane to a great extent.
Q: Which part is used in the official service center to repair the phone? 
If you ever repaired the display from the official service center before, you must have noticed that there was no difference in the quality. That is the magic of the OEM display that comes directly from the manufacturer who makes the original screens for the company.
That is what we sell to our customers on Touch LCD Baba. The parts we offer are sourced from the OEM manufacturers so that you can get the same original quality as before. We sell these Honor 20 displays to our customers after exhaustive testing, and there is no chance of any defect.
Q: Do you test the display combo before dispatch?
Yes. We test each Honor 20 combo using an actual motherboard of the said model. This testing process ensures that our customers always get a 100% original product without any issues. Once we test the product on the motherboard, all the chances of a defective product are diminished completely.
Q: How can I test the new Honor 20 display before fixing it? 
You should always test the new Honor 20 display with your phone before you fix it permanently. You need to test the display to verify its working condition and for your satisfaction with the spare part. Once you've checked the display yourself, you will feel more confident because now you know that the part is 100% perfect and suitable for your phone.
All the mechanics take a trial of the new display before fixing it because, without testing, you can never be sure about the working condition of the display. If you find any issues while testing the product, you can always opt for a replacement or refund.
Q: What are the terms and conditions for returning the display? 
To return a display, It should be in brand new condition as you received it. If you've tampered with a display or pasted it in your phone or removed the screen guard, then you are not eligible for a return. Please also note that we don't accept returns based on false accusations.
There is a substantial uneducated community in India who order goods online and then try to find cheaper alternatives in the market. Once they have found a low-cost option, they will try to return the product by accusing the seller of non-existing issues. We have seen this happening repeatedly, and we will not waste our time and money on processing such returns.
If you have got a problem with the product, take a small video and send it to our WhatsApp support number. We will do our best to resolve your issues and even accept the return easily, but the issue should be genuine, not fabricated.
Shipping, Return and Refund Policy
All the products supplied by us come with 30 days return, refund, and replacement guarantee. To return a product, It should be in the same condition as we sent. You can't use or fix the items If you want to return them. For complete details about Shipping, Returns and Warranty, please click here.