Huawei Y9 Prime 2019 is a trendy phone, and most customers have bought it overseas. It means that it is not an Indian model, but most customers have bought it from Dubai and similar countries. So if you have also bought this phone abroad, you don't need to worry as we can provide a 100% original display replacement for this phone.
If you were worried that Huawei Y9 Prime 2019 display might not be available in India, that's the wrong assumption. We stock many foreign models phones because our customers often demand such models. You can find complete information regarding the Huawei Y9 Prime 2019 display combo with the outer frame on this page. The display combo shown on this page comes with the complete outer frame and side buttons, as shown in the photos. Before you purchase the product, you should understand its use and then decide whether this product is helpful for you or not.
What is the outer/middle frame, and how does it help?
The outer frame is the front side body of the phone that holds the display combo firmly in place. In many cases, when the display breaks, the front side frame also gets misshaped, curved, and deformed. The phone might continue to work in such cases because the motherboard works just fine.
In such cases, it is not possible to purchase a display combo and install it because a broken frame can't hold a new display in any condition. If the base is curved, you can't evenly paste a display, and that's why you need a display with the outer frame. The main role of the outer frame is to hold the display firmly in place, and it isn't possible to install a display without a proper frame because you always risk damaging the display.
Do you need the outer frame in all the cases?
You don't always need an outer frame because installing a without frame display is undoubtedly possible. Please refer to this page to purchase a Huawei Y9 Prime 2019 display without an outer frame.
You need the outer frame only if the front side bezel/frame is malformed or you want to buy the with-frame display purposefully for ease of installation. Buying or not buying the with frame display depends on the need of the hour and what you prefer. Some customers never purchase a without frame display regardless of their old frame's condition. In our opinion, a with frame display is always better than a without frame display on any day because it is easy to install and completely renovates the front side of your phone.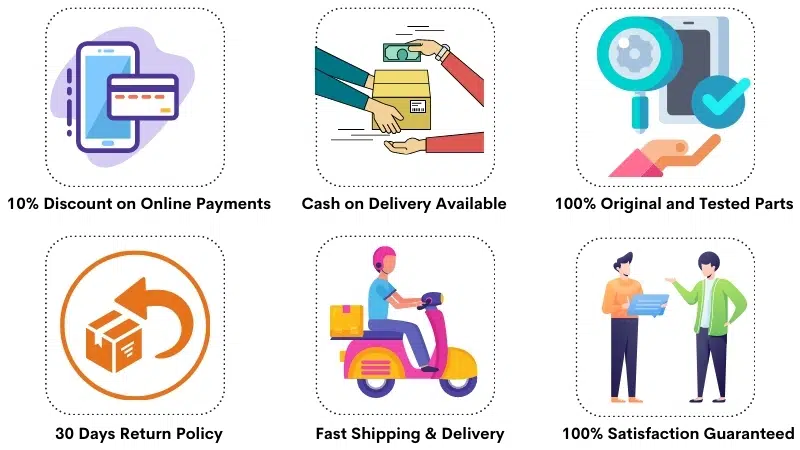 Huawei Y9 Prime 2019 Display With Frame Specifications
| | |
| --- | --- |
| | This display combo is 100% original, tested and suitable for the Huawei Y9 Prime 2019 (STK-L21). |
| | The Huawei Y9 Prime 2019 display size is 6.59-inch, the display type is LTPS IPS LCD with 16M colors. |
| | The display's resolution is 2340 x 1080 pixels resolution, 391 PPI pixel density. |
| | It is a complete combo of inner display and top layer of touch screen digitizer merged into one. |
| | You also get the complete outer frame as shown in the product photos. |
| | The new combo offers 100% the same colors, quality and brightness as before. |
| | We test each display for 100% flawless working before dispatch. |
| | We back our products with a 30 days return, refund and replacement guarantee. |
| | You can always contact our support team at 9587954273 if you need any assistance. |
| | The display is readily available in stock and turnaround time is fast. |
| | You can order the display using COD or online payments(10% additional discount). |
Frequently Asked Questions
Q: How much does it cost to replace a Huawei Y9 Prime 2019 display with an outer frame? 
The price of a 100% original Huawei Y9 Prime 2019 display replacement with an outer frame is around Rs 4500-4800. An outer frame is beneficial when dealing with a bent, curved, or misshaped front side body. The combo also comes pre-installed in the frame, and you don't need to paste it manually.
Q: Do you sell the outer frame separately without the display?
We are sorry, but Huawei Y9 Prime 2019 frames are not available separately. As shown in the photos, we sell a complete display unit accompanied by the outer frame. The display comes preassembled along with the earpiece mesh. You don't need to paste/glue the display inside the frame manually.
Q: Is this display 100% original, the same as the initial display?
Yes. This display is 100% original, the same as you get with a brand new phone. If you install this display, the front half of your phone gets completely renewed, and you can enjoy the phone with the same smoothness as before. The original display lasts long, and you don't have to worry about minor drops.
Please note that buying the original display is beneficial because it helps you maintain the camera and display quality levels. The previously captured photos will look sharp, and you can still capture photos with the same efficacy as before. You can also enjoy movies with vivid colors and play games smoothly with a precise touch screen response.
Q: Do I also get the side buttons with this combo?
Yes, the new combo also gets the side volume and power buttons. If the old buttons are fallen off from the frame and need the side buttons, this combo is beneficial for your needs. Replacement of side button furnishes a brand new look to your device.
Q: Is the Huawei Y9 2019 and Huawei Y9 Prime 2019 display same?
No. Please note that Huawei Y9 2019 and Huawei Y9 Prime 2019 are different models. We suggest that you don't confuse yourself and purchase the right model for you. Please note that Huawei Y9 Prime 2019 comes with a Pop-up camera, and Huawei Y9 2019 comes without a pop-up camera. We hope you can easily remember this difference between both models.
Q: Does replacing the Huawei Y9 Prime 2019 display cause any data loss?
You don't lose any data by changing the display because there is no direct connection between the data and the display. All your photos and video reside on the motherboard, while the display is separate hardware. Therefore, you can change the display as many times as you want without any data loss.
Q: Should I purchase a low-quality display for a low price?
The purchase decision is yours, and it depends on how much you value your phone and what kind of output you expect after replacement. In our opinion, low-quality duplicate spare parts shorten the life of your phone and introduce many unforeseen issues you really don't want to cope with. For example, many customers complain about a shortened battery life because of a duplicate display. You might wonder how a display can affect battery life, but you probably don't know about a strong connection between them.
A display consumes battery power directly, and a duplicate display draws way more battery power than an original display. That's why phones running with a duplicate display get discharged quickly. We have just informed you about one consequence, but there are many more which you'll automatically observe if you purchase a duplicate product.
Q: Who manufactures the original and a duplicate display?
Like everything else, mobile phone screens are also manufactured in a factory. The original display gets manufactured in a big reputed factory while small factories manufacture duplicate spare parts for low prices. What you get after your order depends on what the seller supplies to you. In India, 95% of vendors prefer dealing with duplicate products to attract more business, as most customers prefer low-quality products for low prices.
On the other hand, we prefer dealing with customers who need original spare parts for their phones because that is a satisfying business model. We see happy customers everywhere who appreciate our efforts and become repeat customers. Once you replace a broken display with an original one, you'll remember the experience for a lifetime.
Q: is it possible to test the new display before installation?
Yes. You can easily test this display before installation. To do that, you need to open your phone, connect the new display's flex cable to your motherboard and turn on the phone. Without assembling the new display, you can take a trial in real-time and verify everything. When you are satisfied that everything is working as per your desire, you can permanently assemble the display on your phone.
On a side note, you should always test the display before installation because you can easily detect the problems (if any) with the new display before assembling it. Although we supply strictly tested parts, you might still have issues with your phone's motherboard. Testing the display before installation helps you identify all the future issues, and that's truly helpful. If you face any problems during the trial phase, you can easily return the part without any problems.
Q: is it possible to return a used display?
As per our return policy, we supply brand-new parts and don't accept used returns. If you install a new display on your phone, it approves that you had tested the display before installation and found it working perfectly. Therefore, please always keep in mind that you can't return a display after using or pasting it on your phone because that's beyond our return policy.
Q: Where is the official Huawei Service Center in my city?
We don't have a ready list of Huawei Service centers, and you can easily find the exact location of the service center by using the Huawei India website. As per our knowledge, Huawei doesn't provide spares for foreign models in India but feel free to contact the official service center for your satisfaction.
Shipping, Return and Refund Policy
All the products supplied by us come with 30 days return, refund, and replacement guarantee. To return a product, It should be in the same condition as we sent. You can't use or fix the new Huawei Y9 Prime 2019 display if you want to return it. For complete details about Shipping, Returns and Warranty, please click here.