If you've broken your Lenovo K6 Note display (Model Number K53a48) and looking for a replacement, you are on the right web page. You can buy a new display, and touch screen combo of the Lenovo K6 Note on this page. Please note that the display and touch screen both parts are combined in the K6 note, and when you want to replace a broken touch screen glass (or display), you'll need to replace the entire folder consisting of the display and touch screen.
Our daily routine depends on mobile phones, and when the display cracks, our entire routine gets messed up. If the phone has stopped working completely, it can be very troublesome if you need to do a banking transaction urgently and the touch screen isn't working.  You should always handle the smartphone carefully because the display is a very delicate part and can break easily. There is no doubt that we would be upset when the display breaks, but it would be much more heart-wrenching when that display is of the Lenovo K6 Note.
What does the Lenovo K6 Note Display Combo mean?
Please note that the touch screen glass merges with the display, and it is not encouraged to separate both parts to replace them individually. Therefore, in case of any breakage, complete combo replacement is the only choice. These days mobile phone companies are making phones with combined display and touch screen modules only.
Such pasted combos provide awesome brightness, very sharp colors, and amazing durability. The only drawback of a combo is increased repairing expenses whenever the phone drops. People demand exception screen quality, which is only attainable with a pasted display and touch screen units.
The touch screen glass is separately available. What is that for?
Many of our customers want to replace only touch screen glass and say that the inner display is perfect. Although we truly understand that display is fine, but as display and touch are combined, It is not recommended to separate them and replace them individually. If you replace them separately, you'll face many quality issues, and the screen quality will completely sink.
The touch screen digitizer glass is separately available everywhere, but that is a fake product. It is a very low-quality glass which is available for less than Rs 100 in the wholesale markets. Yes, you are reading it right. The worth of only touch screen digitizer glass is Rs 100 only, and technicians easily charge Rs 500 from the customer. That is the sole reason for touch screen glass being so popular in the local market. It is a bread and butter solution for the technicians, and everyone has some mind to understand the quality of a Rs 100 product.
You go to the local market and visit any technician's shop, first of all, he will suggest replacing only the touch screen glass. Now, you go to the service center or call them, and they will suggest the combo replacement. The service center will never recommend low-quality solutions to its customers because a duplicate touch screen glass will make your life miserable.
Lenovo K6 Note Display Specifications
| | |
| --- | --- |
| | This display is 100% original, tested and suitable for Lenovo K6 Note, model number K53a48. |
| | The Lenovo K6 Note display size is 5.5″, the display type is IPS LCD and the resolution is 1080 x 1920 pixels. |
| | It is a complete assembly of the inner display and the top layer of touch screen glass combined into one. |
| | You can use this Lenovo K6 Note combo to overcome all the broken display and touch screen glass issues. |
| | This display offers 100% the same colors, quality and brightness as your factory fitted display. |
| | We buy our stock from OEM manufacturers so that our customers can enjoy the original quality. |
| | We verify each display on the actual Lenovo K6 motherboard before shipping the product. |
| | You get 30 days return, refund and replacement guarantee on all our products (in unused condition). |
| | You can also easily test the display before assembling it on your phone. |
| | The display is readily available in stock and shipping time is very fast. |
| | You can order the product using Cash on Delivery and Online Payments. |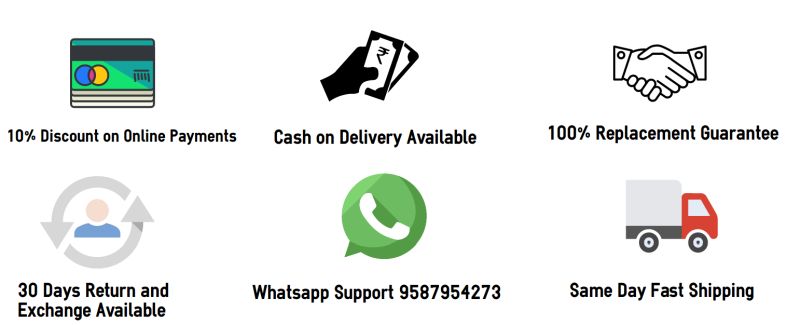 Common Customer Questions
Q: How much does it cost to replace a broken Lenovo K6 Note display in India?
The price of a 100% original Lenovo K6 Note display replacement is around Rs 2200-2500. If you buy a first copy screen replacement, then the combo costs about Rs 1100-1300 in India. You may have to pay additional repairing charges on top of the display's price to a mechanic.
Q: Should one buy the original display or the duplicate display?
Our customers often ask this question because they are confused about what is the right approach. On the one hand, they want to save money, and on the other hand, they want the original product. First of all, set it in your mind that the original products never come for cheap and only the china copies are available for low prices. If you purchase an original display, stop expecting it for Rs 1200 because that isn't going to happen, and such expectations often yield counterfeit products.
The duplicate display products are available at low prices. Any customer who is extremely short on a budget can go for a duplicate product, but otherwise, it is never recommended.  Duplicate displays are this cheap only because they are made of inferior quality material and cannot offer the same quality as the original because the original displays are made of much higher quality material.
The duplicate screens look similar to the original display but give out only 40% of what the original does in terms of quality. When we say quality, we talk about the colors, quality, brightness, and touch screen smoothness. Just imagine having a display that offers only 40% brightness of the original display, and then you'll easily understand why such copies are so cheap. The duplicate touch screen glass is fragile and delicate, and even very little pressure will damage it in no time.
Q: Do you test the new K6 Note display before shipment?
Any display product that has not been through all the testing levels and has passed them all with great results does not go out for delivery, and that is a guarantee. We have a complete team of experts who uses various techniques to test every detail of the display product, and without their approval, a display product is not sent to the customer.
Our team employs many testing techniques, and one of them is using the actual motherboard of the Lenovo K6 Note to test all the screens one-by-one. After testing the screens, the chances of a defective display and diminished completely.
Q: What can I do if the new display is not working?
If you face any issues with the new display, It would be shocking for us, but we are always here to assist. If you test the new display and face any issues, please report this to our support team immediately so that your matter could be resolved at the earliest. You can share a video of the problem with our WhatsApp support number at 9587954273.
You have the option to return the product within 30 days of delivery if you are not satisfied with it and we can arrange for a new product for you or give a full refund. However, you can only return unused products, so make sure that you do not glue it to your phone's screen and do not even remove the display's protective film before testing it completely.
Q: Will I lose all my data after the display replacement?
You will not lose any of your data if only the display screen of your smartphone is broken. Your data is stored in the Internal Memory or the external SD Card of your device, and if both these parts are fine, you need not worry about losing any of your data. You will soon be accessing your data once your display is fixed and your phone starts functioning again.
Lenovo K6 Note Display Photos
These images show the actual product you'll be getting after placing the order. This is a combo of display and touch screen for Lenovo K6 Note. You will see two flex cables in the pictures. One is for display connection and the second is for touch screen connection.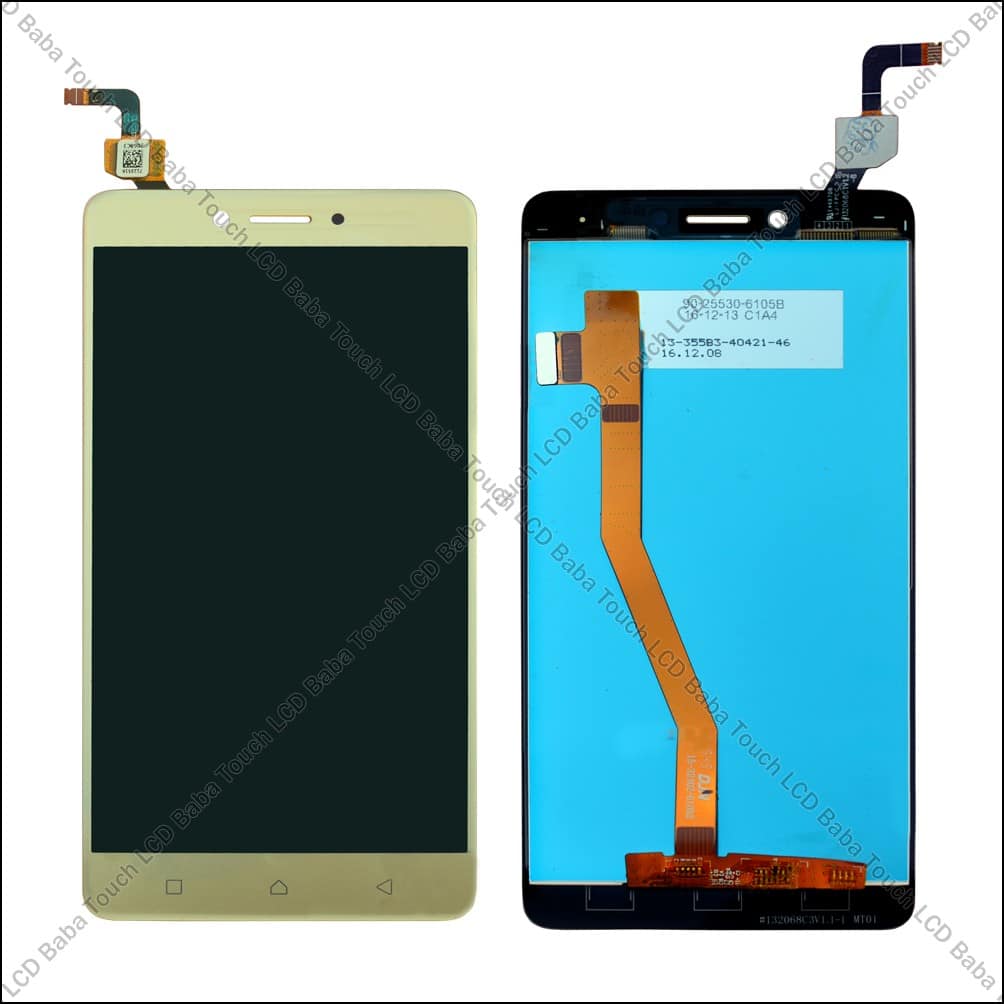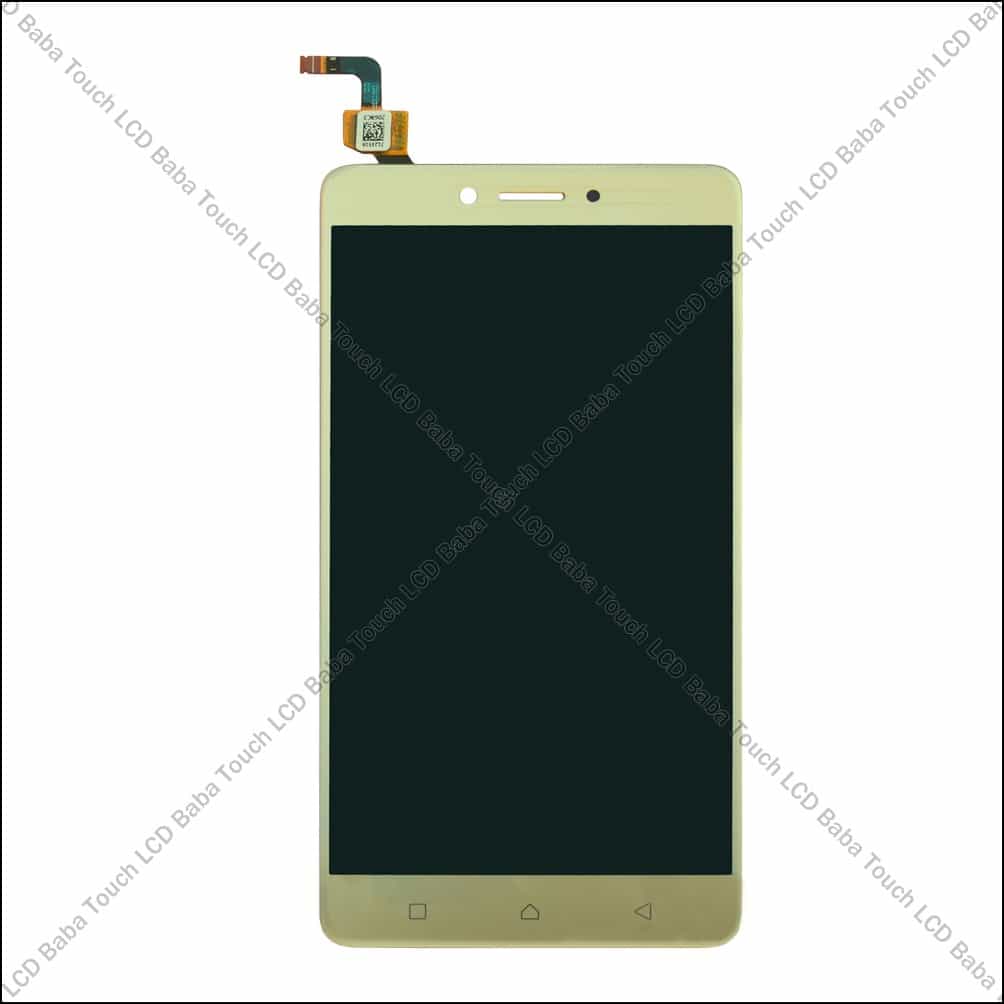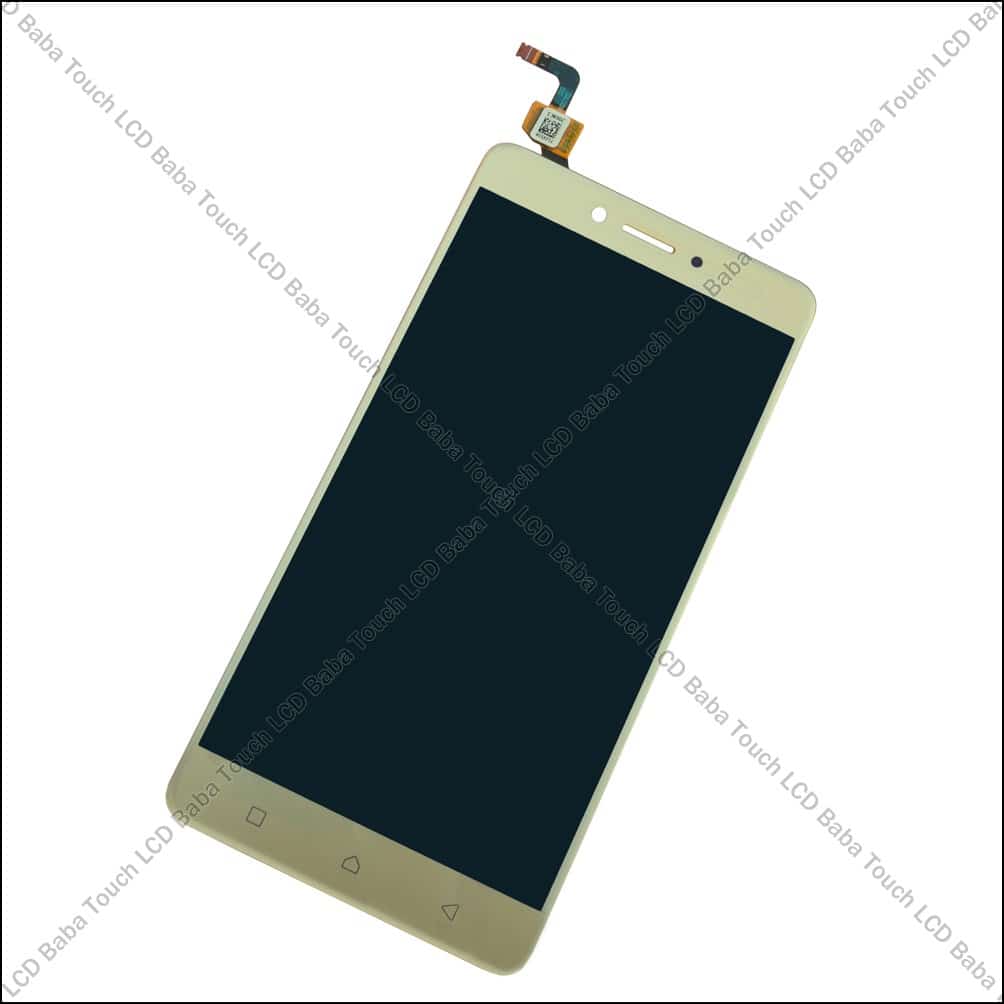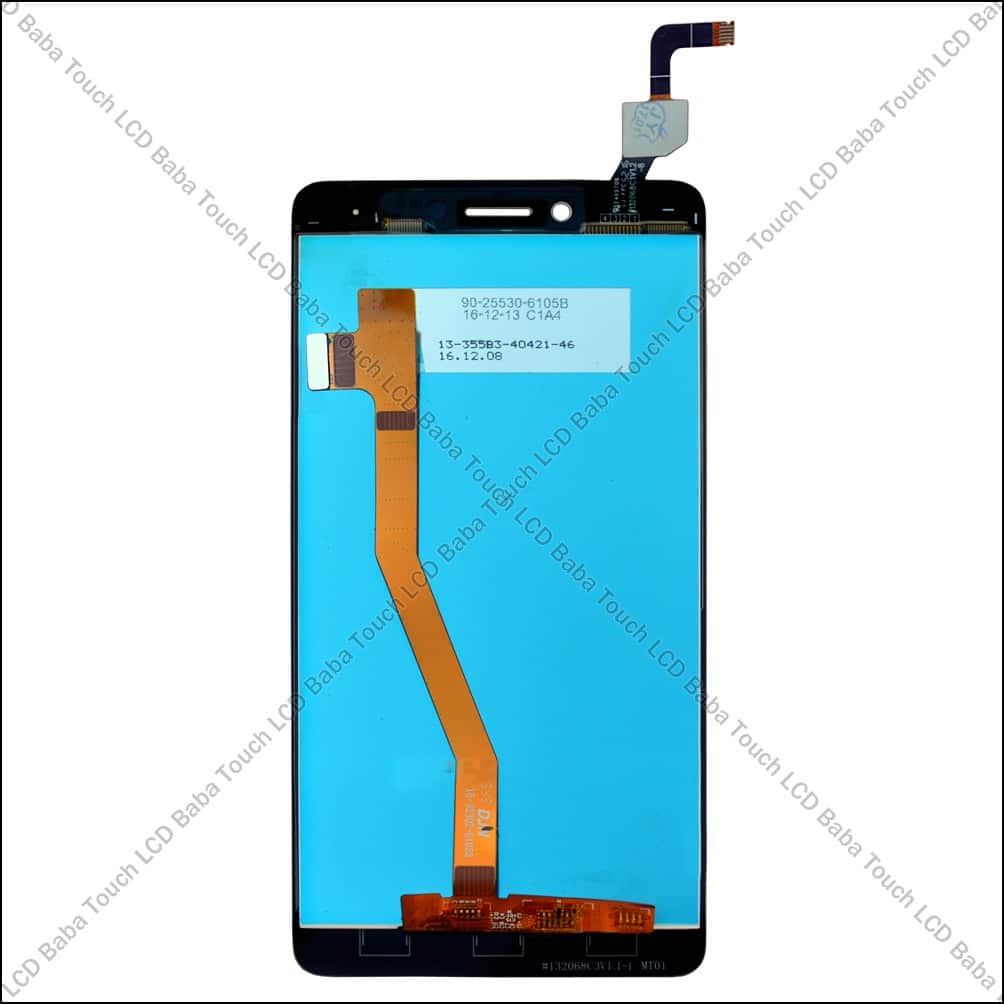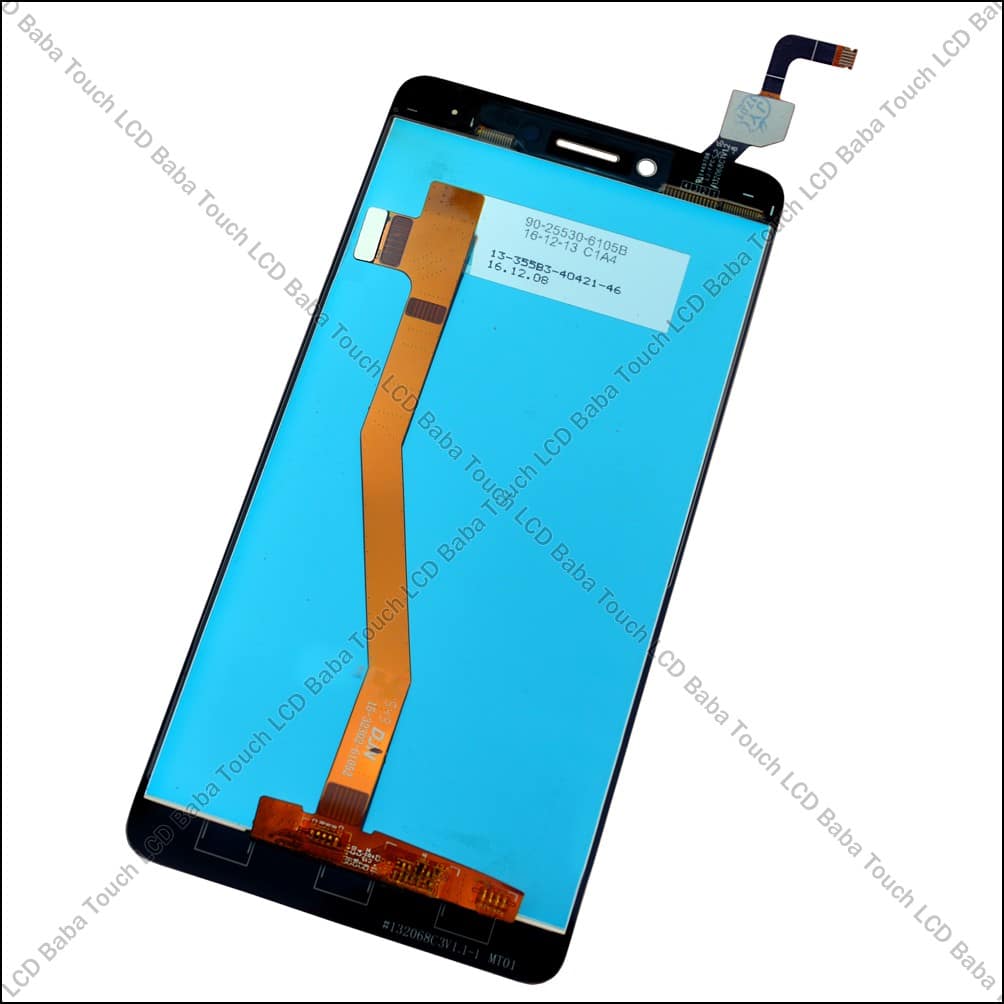 Shipping, Return and Refund Policy
All the products supplied by us come with 30 days return, refund, and replacement guarantee. To return a product, It should be in the same condition as we sent. You can't use or fix the product if you want to return it. For complete details about Shipping, Returns and Warranty, please click here.