If you're searching for the best solutions to replace a broken Moto G62 display, you've found the right page. Here, we offer a 100% original Moto G62 display combo with the middle frame, and many customers want to buy a display unit that accompanies the frame. If you don't want to buy a display with a frame, you can search our store for a without-frame display, which is also available. This page is especially for customers who want a display with the middle frame and don't want to paste the display manually.
The decision to buy a display with a frame or without a frame depends on an individual customer's preference.  Most customers buy a display with a middle frame because they don't want to paste/glue the display manually inside the frame and prefer having a factory-fitted product. Some other customers need the frame because they have broken their old frame and can't assemble a without frame display. So, the need for a middle frame depends on individual customers, but a with-frame display is always good for all display replacement cases.
What does a Moto G62 display with a middle frame consist of?
Most customers install a without-frame display replacement in their phones as that serves their purpose well. In some cases, when the damage to the phone is excessive, the front side body also cracks or loses its original shape. In such cases, a with-frame display comes as a life savior. You get a display and touchscreen combo pre-glued in the frame. If you buy this part, you get the display unit already pasted/glued in the frame, and this spare part feels like the front half of your phone in new condition.
Some customers buy a duplicate frame and a first-copy display individually and combine them using glue. The outcome of fitting a duplicate display in a duplicate frame is not good because you don't get the original quality. The product we offer here is an original display assembly, and its price might not be in the budget for some customers. However, you can completely renew your phone using this display, and that's the best screen replacement you can buy.
What are the primary benefits of a display replacement with a middle frame?
Many customers call and ask if they can buy a with-frame display even when their old frame is in good shape. They typically want to know about the primary benefits of this product as they are investing a few hundred extra in it. So these are the primary benefits of buying a Moto G62 display with a middle frame :
You don't need to paste/glue the display manually in the frame as it is a factory-fitted display.
A with-frame display is essentially the front half portion of your phone in brand-new condition.
It is much easier to assemble a with-frame display at home because pasting isn't required.
You get much better fitting and finishing because there won't be any visible glue around the corners.
After installing a frame display, the phone completely renews and feels like you've just bought it today.
The durability of a factory-assembled display is marginally good when compared with a without-frame display.
Please note that the official service centers always assemble a display containing the frame. So when you buy a with-frame display, you buy a product that is 100% equivalent to what you get in the service center. This product is a dream come true for many customers because finding such products in the local market is nearly impossible.
Motorola Moto G62 Display With Frame Specifications
This display is 100% original, tested, and suitable for Motorola Moto G62 5G, model number XT2223-3.
The Motorola Moto G62 display is a 6.55″ IPS LCD, and the resolution is 2400 x 1080 Pixels.
It is a 100% original display, the same as you get with a brand-new phone, with a 120Hz Refresh Rate.
You get a display and touchscreen combo pre-assembled in the outer frame.
You don't need to fix/assemble the display manually in the frame.
After replacing the display, you'll not face dull colors or brightness issues.
You get a 30-day return and replacement period, provided you keep the product in good condition.
You can resolve all the display and touchscreen-related issues by replacing the combo.
We source our stock from the OEM manufacturer to ensure 100% original quality.
The Moto G62 display

replacement is available in stock, and the turnaround time is very fast.

You can order the product using Cash on Delivery or Online Payments (10% additional discounts).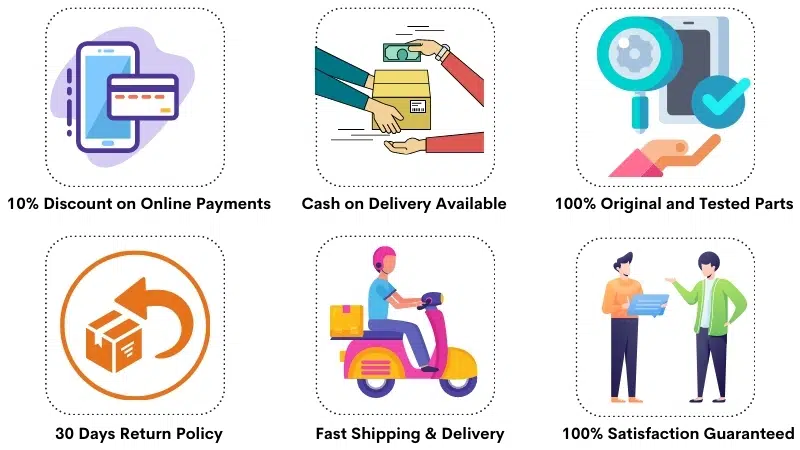 Frequently Asked Questions
Q: How much does replacing a broken Moto G62 display with a middle frame cost in India?
A 100% original Motorola Moto G62 original display replacement with a middle frame costs Rs 3800-4000. If your phone's old frame is in good condition, you can buy a without-frame display if that feels more affordable to you. We've both types of screens available, and you can choose the best one that fits your requirements. The installation charges are extra, and you can pay a technician.
---
Q: Can you provide only the middle frame without the display combo?
We don't offer a frame separately as we source factory-fitted screens and sell them as they arrive from the manufacturer. You can't find fresh, original frames separately as they are not sold individually. All the frames sold separately are duplicates, and the display will never fit perfectly in such frames. So if you buy a Rs 200 frame, you should know that it is not original and you'll face trouble.
Most customers who want only the frame have bought the display from another source for a cheaper price. It is also possible that you've bought a duplicate display and want to fit it inside a frame as you're having trouble finding the frame in your locality. We understand your concern, but unfortunately, the original frame is unavailable separately.
---
Q: Can I assemble the new display at home?
The display sold on this page is easy to assemble at home, but it doesn't mean anyone can do that. When you replace the broken display with a new display, you need to shift the motherboard, battery, on/off flex cable, vibrator, and other parts from the old frame into the new frame. That sounds easy, but when you do it practically for the first time, you might not know how to do it properly. Therefore, self-replacement is not recommended for first-timers, and if you've already done such things before, you can assemble the display yourself.
---
Q: How would I know this is an original Moto G62 display?
You should understand that identifying original products takes time, experience, and practical industry knowledge. If you're a customer with an overly skeptical mindset, we are sorry, but we can't do much to make you trust us. When a customer is doubtful and lacks knowledge, it becomes much harder to convince because they only look at the negative side. The product offered on this page is 100% original, and any customer having some knowledge can easily identify that by looking at the product photos.
We want to reassure you that we sell authentic products and have the best reputation in the industry. All screen replacements come with a 30-day return period (in unused condition), and you can always place an order to check the quality. It would be great to trust the vendor and at least try the service once to see what you get. Business without trust is not possible, and that's why you need to trust us once.
---
Q: I want to buy a display for a lower price. Do you offer something? 
If you want to buy a display for a bargain, you better see the local market. All screens sold for low prices are copies (duplicates), and you can easily get them for Rs 1400-1500, including the installation. We don't want to give you the wrong advice because original screens are expensive and all low-budget customers should buy first-copy screens.
We offer original screens, which are expensive, and you can't get such screens for low prices. Most customers make a mistake and try to find original screens for the lowest price and end up with duplicate products. As a customer, you should always be practical and never trust deals too good to be true. A customer's greed in buying the original display for a low price is always counterproductive, and later, if you blame online shopping, that's not the root cause because you've made a mistake and didn't buy the product from reliable sources.
---
Q: How can I ascertain the functional condition of the new display?
Before installing the new display, a technician would always verify its working condition. This procedure is called open condition testing, which allows you to test the display without fitting it on your phone. You can connect the new displays' flex cable to your phone's motherboard in an open condition and try the product. Open condition testing is 100% accurate and allows you to verify all the aspects of the new display and touchscreen.
After testing the display, you can easily satisfy yourself because everything is good. Now, you can move to the final part of permanently assembling the display, and once you do that, returns or replacements are impossible. Please note that any damage during installation is not our responsibility, and you should always be careful while installing a new display and avoid any experiments.
Moto G62 With Middle Frame Display Photos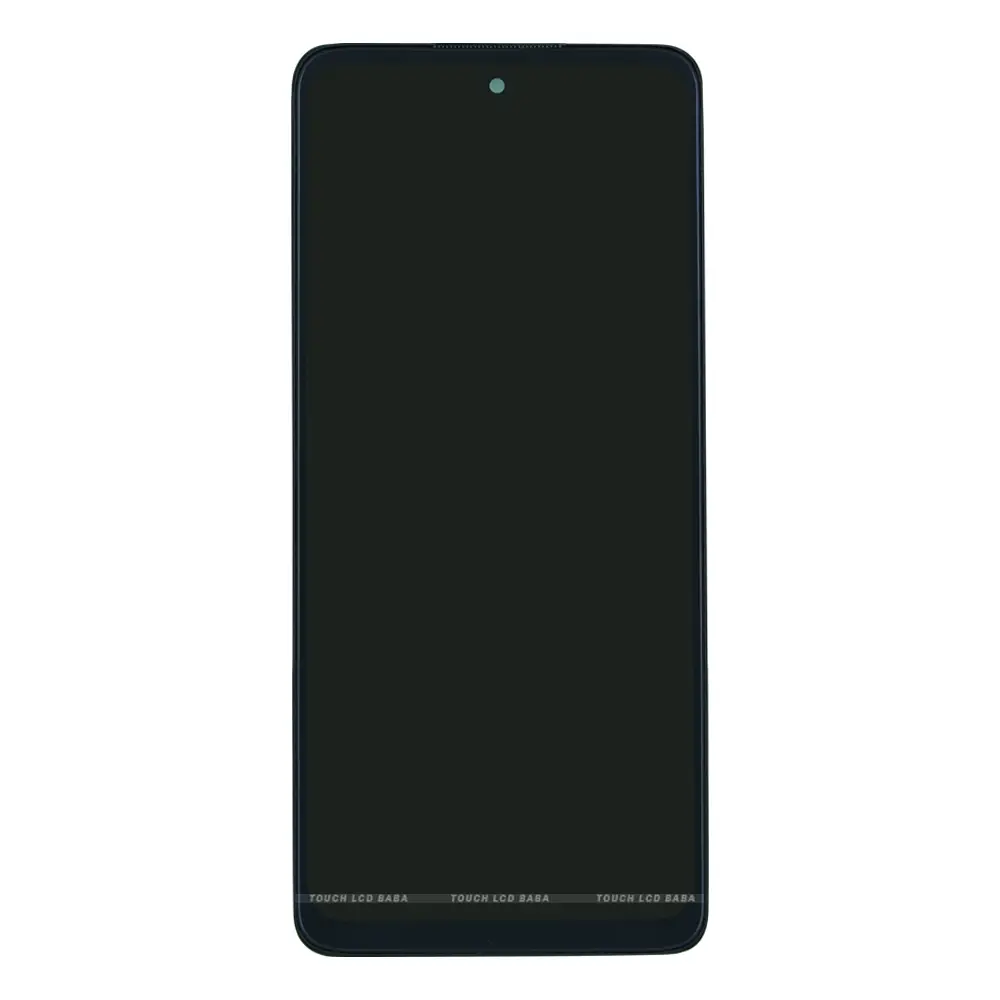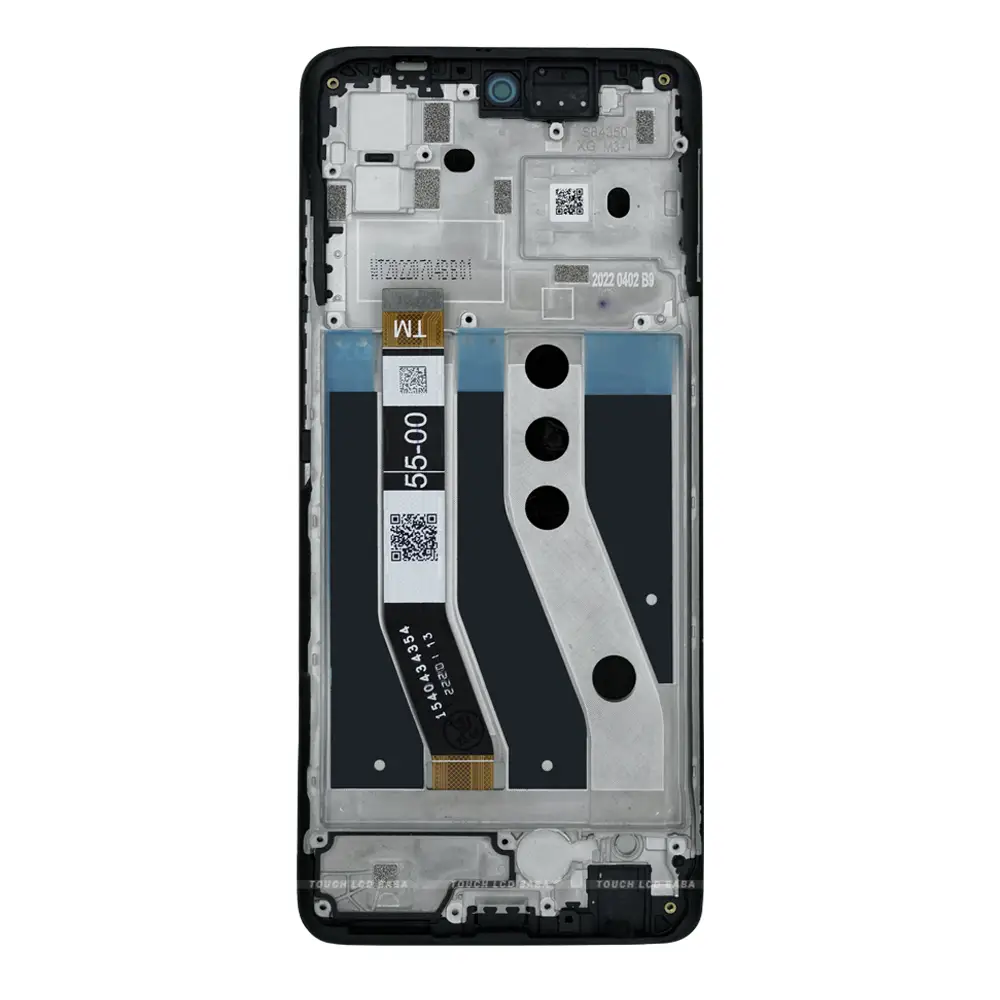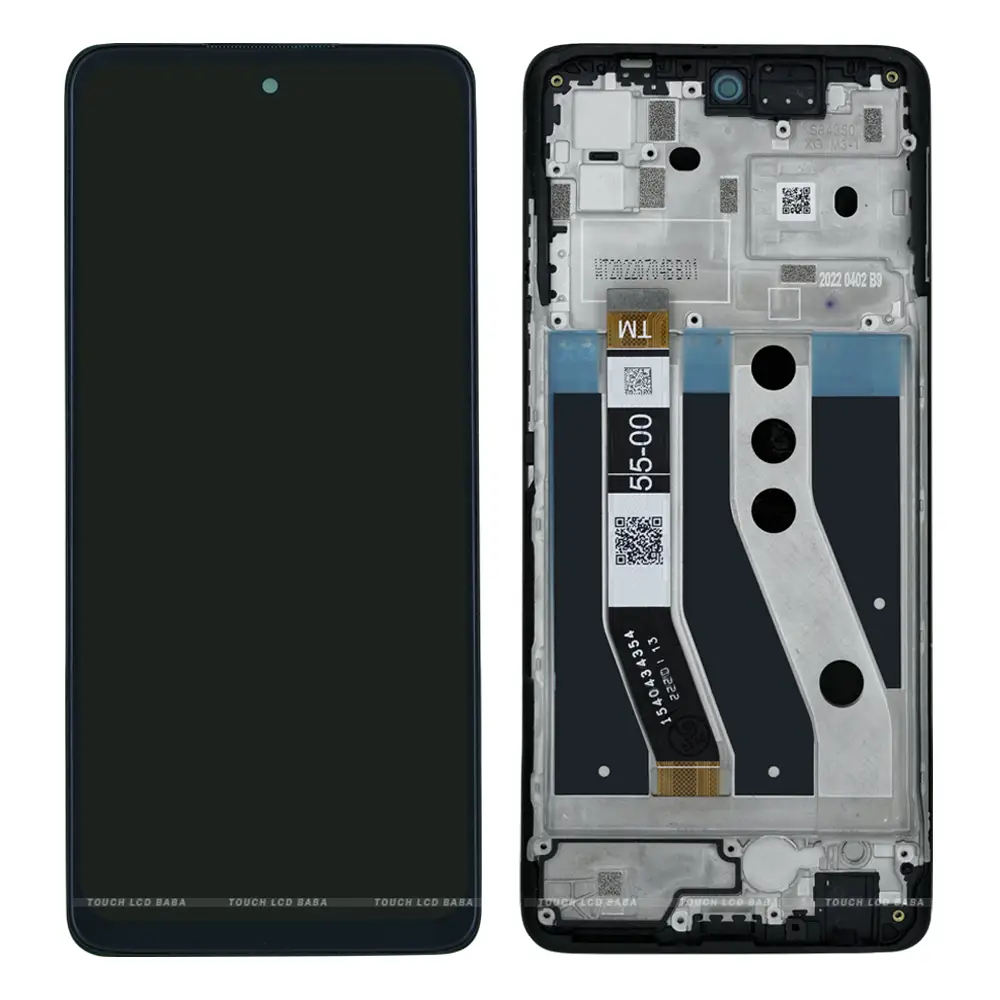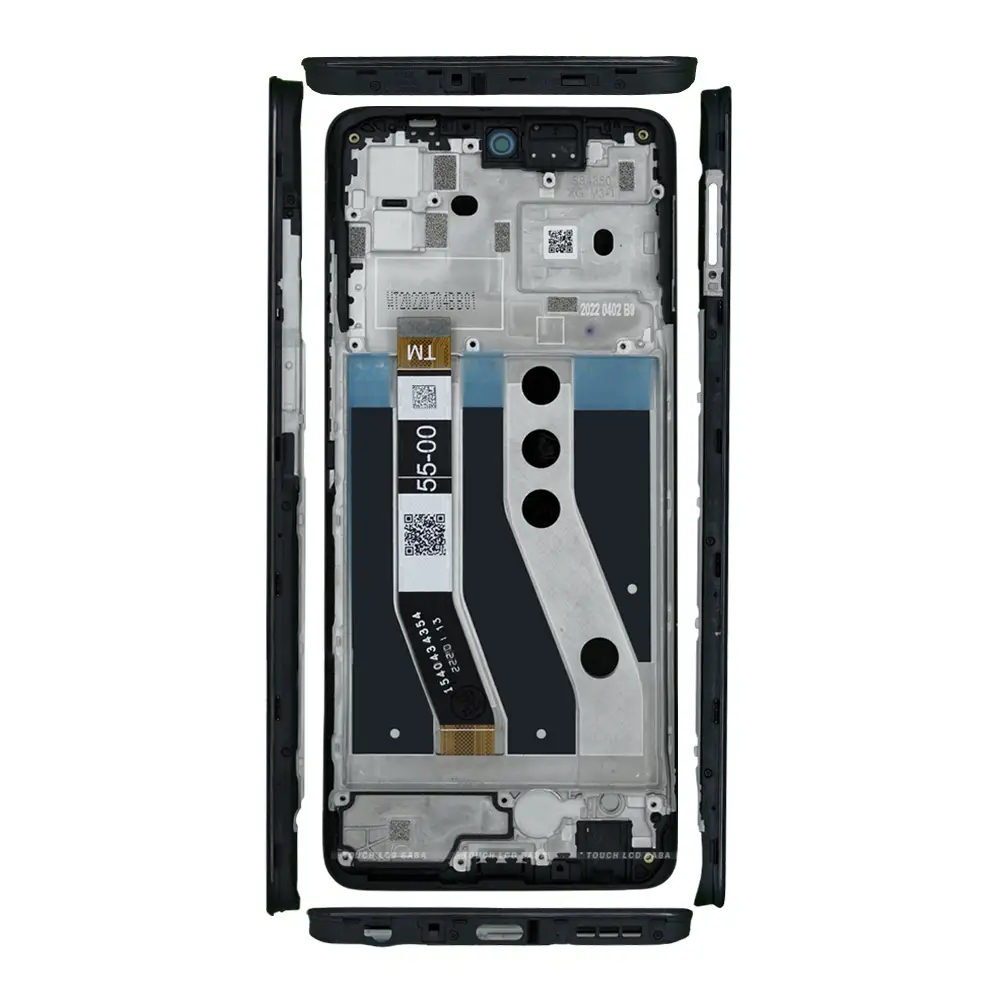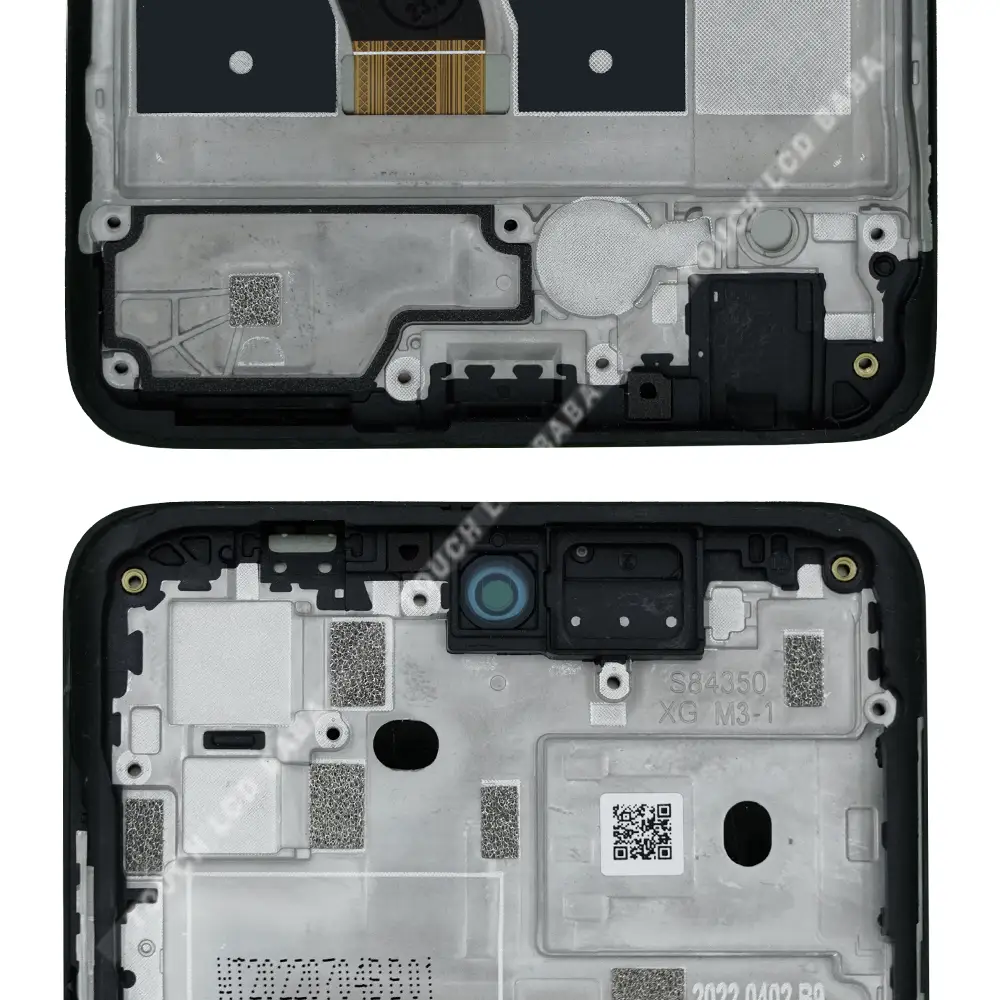 Shipping, Return, and Refund Policy
All our products come with a 30-day return, refund, and replacement guarantee. To return a product, It should be in the same condition we sent. You can't use or fix the new Motorola G62 display if you want to return it. For complete details about Shipping, Returns, and Warranty, please click here.