If you are searching for Nokia 7 Plus display and touch screen glass replacement, we can provide you with a 100% original screen for a reasonable price. On this page, we offer Nokia 7 Plus Combo (Display and Touch Screen Both), which you can use to replace a broken display or touch screen glass. The display replacement is straightforward by using the combo. You need to take off the broken screen and replace it with the new one.
What is the model number of the Nokia 7 Plus phone?
The Nokia 7 Plus phone number is TA-1046 if you have bought the phone in India. In case you bought it overseas, the model number of the device can be different depending on the origin country, but the same display works for all the phones. Always be sure to verify the model number before you order to be on the safer side.
If you are not sure about the model number, you can always send front and backside photos of the phone, and we'll assist you in finding the right model number and display for your phone. It is crucial to order the right screen; otherwise, you've to go through the return process, which takes more time and trouble.
What Should You Do After the Nokia 7 Plus display breaks?
If you have broken your Nokia 7 Plus display or touch screen accidentally and looking for a replacement, you can quickly repair the phone by using a new screen. You can buy a Nokia 7 Plus screen replacement and then fix it on your phone on this page. These days all mobile phones are built upon folder technology. The word folder means that the display and touch screen are closely combined, and you can't separate them for replacement. In case of any damage to the touch screen glass or display, you need to replace the complete combo.
Can you replace only the touch screen glass without replacing the combo?
Many people want to go for only glass replacement if the display is intact, but that is not a quality solution. The only glass replacement of the Nokia 7 Plus is not easy, and the outcome will not be the same quality as before. If you want a 100% original quality screen replacement for Nokia 7 Plus, you should buy the complete display and touch screen unit.
Technicians in the local market normally suggest glass replacement, and customers are biased towards it due to low prices. The glass replacement is a thriving job because mechanics can make big money, and they are not concerned about the quality degradation of your phone. However, the official service center never suggests or does glass replacement because it is not a long-term solution. We also don't do or recommend glass replacement at Touch LCD Baba because of considerable quality issues.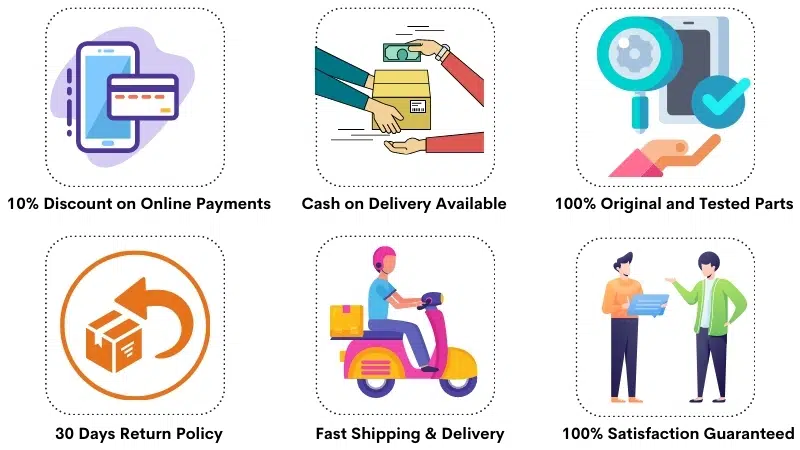 What if the display and touch screen glass are both broken?
If the display and touch screen glass are broken in accidental damage, then there is no solution other than replacing the complete Nokia 7 Plus combo. The Nokia 7 Plus combo is built up using the display and touch screen glass. If both parts are scratched, you need to replace the entire combo comprising the display and touch screen glass. The display assembly mainly comprises two parts, the display, and the touch screen digitizer glass. If both parts are demolished, then there is no option other than replacing the complete display unit.
How can you fix the display after buying from us?
Lots of customers also ask how they can install the combo on their phones. The answer is, after buying the display, take it to a mechanic and have him install the display for you. For your help, you can watch YouTube videos showing how to replace Nokia 7 Plus screen. So it is not a very tough task, and if you visit a skilled mechanic, it is easy for him to replace the Nokia 7 Plus screen in less than 15 minutes, and there won't be any issues.
Just one thing you should always keep in mind and that is, NEVER install/paste the new Nokia 7 Plus display directly without testing. Always connect the new display to your phone first (without fixing) and take a full trial. There is no need to paste the display permanently on your phone at this point. When you are 100% satisfied after taking a trial, then you can go for the final pasting of the combo. You should never paste a combo without testing it first because you can't replace the display after pasting.
How do we test the display before shipping to you?
Are you worried about receiving a defective or non-working Nokia 7 Plus display? This video will put a full stop to all the negative thoughts in your mind as we do test each display before sending it to the customers. This video shows how we test each screen and verify it on the same phone you use. There is no chance of receiving a defective or dead screen.
Always buy a tested product and save yourself from any kind of hassle that comes from defective products.

Nokia 7 Plus Display Specifications
| | |
| --- | --- |
| | This screen replacement is suitable for Nokia 7 Plus, having the model number TA-1046. |
| | Nokia 7 Plus display size is 6.0″, display type is IPS LCD and resolution is Full HD+ 2160 x 1080 pixels. |
| | We test the display before we ship it to our customers. |
| | You can see the actual display testing video on this page. |
| | Nokia 7 Plus touch screen digitizer comes with Gorilla Glass 3 Protection. |
| | We offer 100% original screen of Nokia 7 Plus with no quality compromise. |
| | The display supports all features supported by your original screens like gestures and multi-touch. |
| | We offer 30 days replacement, returns, and refund on all the products. |
| | It is 100% OEM display, the same as comes fitted in a brand new phone. |
| | The Nokia 7 Plus screen is always available in stock, and shipping time is less than 24 hours. |
| | We accept Cash on Delivery and online payment methods. |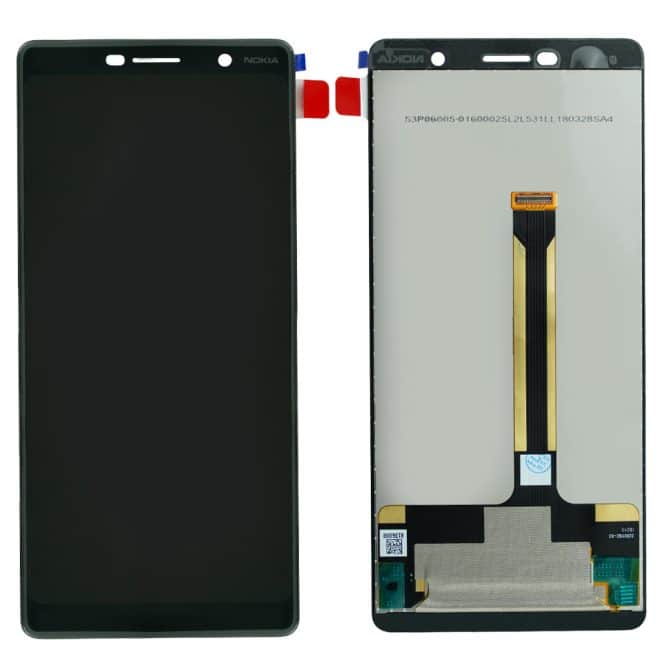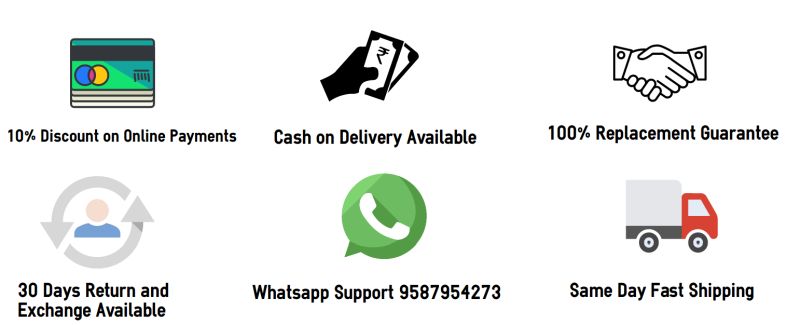 Frequently Asked Questions
Q: How much does it cost to replace a broken Nokia 7 Plus display screen in India?
The price of a 100% original Nokia 7 Plus display replacement is around Rs 4800-5000. If you want to purchase a first copy screen replacement, it costs around Rs 1800-2200 in local markets. Please note that the original and first copy screens have a vast difference in quality, so please buy wisely.
Q: Why is the price so high in the official Nokia Service center?
It is a widely known fact that the official service center charges a hefty price, and the same spare part is available for a much lower price in the outside market. All vendors in the local market are not selling originals, and that's why we are here. We offer a 100% original display of the Nokia 7 Plus, offering the same flawless experience as before.
You might wonder how you can make sure about the product's originality, and many customers mull over this dilemma. The original display will look very similar to the broken one, and that is, you can match your broken display with the new one. You can match the OEM manufacturer stamp, the IC chips on the backside, and other similar stuff. Another good way of judging the original combo is the screen's quality and brightness. An original display will emit 100% original brightness while a first copy will not have the same brightness and color reproduction. You can easily notice the difference between the two.
Q: How can I replace only the touch screen glass without changing the display? 
Nokia 7 Plus glass replacement is something we avoid suggesting at any cost. That is because of the quality issues, and it is not possible to restore a broken display to its 100% original condition. You will see lots of flaws in the glass-changed display, and this is very normal. If you wonder what those blemishes are, here you go:
You will see the wrinkles inside the display, which look strange.
A few dead pixels will show up in the display because mechanics overheat the combo to remove the glass.
Once the mechanic has pasted a new duplicate glass on display, you will observe many dust and glue spots inside the screen.
The glass used by mechanics is not the gorilla glass but a very fragile glass that breaks again easily.
To sum up, only glass replacement is not something you can feel proud of. If the degraded quality bothers you, never go for only glass replacement as It will do more harm than good. Nokia 7 Plus is a costly phone, and It is justified if you spend Rs 5000 for its original display.
Q: I'm afraid of receiving a defective screen. How can I gratify myself? 
We understand that purchasing online is sometimes not safe because of some shady sellers. We verify each Nokia 7 Plus display at Touch LCD Baba before we dispatch to our valued customers. You can see proof of our testing process in the video we've posted higher up.
Still, we care for our customers and offer 30 days replacement and return guarantee on all the products. You can take a trial before installing the display to verify the working condition of the display yourself. If you face any issues, you can return the product to us for a replacement or refund. Please note that you need to return the part in unused condition to claim a refund or replacement.
Q: What if I receive a display in damaged condition?
We know that the Nokia 7 Plus display is fragile, and we pack it perfectly by securing the content with a thermocol and cartoon. We pack our products in hard plastic boxes, accompanied by additional protection layers so that in-transit damage is never a case. Still, you can record an unboxing video when you open the parcel and keep it as proof. If you receive any damaged product, you get a free replacement.
Q: Can I claim a broken Nokia 7 Plus display under the official service center warranty?
You can never claim a broken screen in the official service center warranty. The 1-year warranty covers minimal aspects which can't be influenced by the customers. You can never claim a broken Nokia 7 Plus display in warranty as it is your fault. In case you bought the phone along with an insurance cover, please take advantage of that and get in touch with the insurance company to claim the benefit.
Q: Do you sell a 100% OEM Nokia 7 Plus display?
Yes, we sell genuine original OEM parts from the same manufacturer who makes for the company. We don't believe in shallow gimmicks and never provide first-copy screens to customers. We consider customers' phones as our own, and therefore we love happy customers who get the true value of the money spent.
Q: I thought Gorilla Glass 3 protects my phone. Why it still breaks so easily?
Nokia 7 Plus display is indeed protected by Gorilla Glass 3, but It has its limits. If you drop the phone from over 2-3 feet height and on the display's face, the screen will easily break. That is because the metal frame of the Nokia 7 Plus puts additional pressure on the display, resulting in easy damage.
So the essence is, Gorilla Glass 3 is just a helpful measure to protect the screen, but It can't withstand enormous drops. Always keep your phone safe by applying tempered glass over the display and don't use slippery back covers that contribute to accidental drops.
Shipping, Return and Refund Policy
All the products supplied by us come with 30 days return, refund, and replacement guarantee. To return a product, It should be in the same condition as we sent. You can't use or fix the new Nokia 7 Plus display if you want to return it. For complete details about Shipping, Returns and Warranty, please click here.