If you are struggling with a fast-draining Redmi Note 5 Pro battery, don't fret because it usually happens with every mobile phone owner. Many customers are unhappy about short-lived battery life, and often the solution lies in replacing a worn-out battery. If you were getting adequate backup time before and now the situation is entirely adverse, you surely need a battery replacement.
You should know that a battery is not perpetual and naturally needs replacement once you've used the phone for nearly two years. If you are not a heavy user, you could use the battery for around three years, but problems are bound to happen after that. You'll feel urged to charge the battery many times a day because the battery will not hold the charge. Anyhow, you'll keep managing for a few days and then reach the point when battery replacement becomes a must for you.
What are the common problems of a worn-out battery?
You'll face many problems with a worn-out battery, and at first, you might not be able to understand that these problems are appearing because of the battery. As you dig deeper, you'll search for your problem on the Internet and find answers. Here are some of the most common issues resulting from a worn-out battery :
The battery drains very fast with the same usage pattern as before.
You've to charge your phone multiple times a day, which was not the case before.
The battery has swelled up, and you feel a bulge inside your phone.
The battery completely drains overnight without actively using the phone.
After a certain percentage, for example, 15%, the phone turns off automatically.
Your phone reboots randomly without any obvious pattern.
The battery has stopped taking charge, and charged percentage doesn't go up.
You've already used the battery for over two years and are facing random problems.
We've consolidated some issues faced by our customers, and an exhausted battery causes other similar issues. You can easily replace the Redmi Note 5 Pro battery and restore your phone's immaculate condition.
Redmi Note 5 Pro Battery Specifications
| | |
| --- | --- |
| | This battery is 100% original, tested, and suitable for Redmi Note 5 Pro. |
| | The battery model number is BN45, and the battery capacity is 4000 mAh. |
| | You can use this original battery to replace a swelled / defective / fast draining battery. |
| | Rated Capacity: 3900mAh |
| | Typical Capacity: 4000mAh |
| | Rated Voltage: 3.85V |
| | Limited Charge Voltage: 4.40V |
| | We guarantee 100% same backup time as you used to get with the original battery. |
| | We offer 7 days testing and replacement warranty on the battery so that you can ensure backup time. |
| | The Redmi Note 5 Pro battery is readily in stock and turnaround time is very fast. |
| | You can order the product by using Cash on Delivery or Online Payments (additional 10% discount). |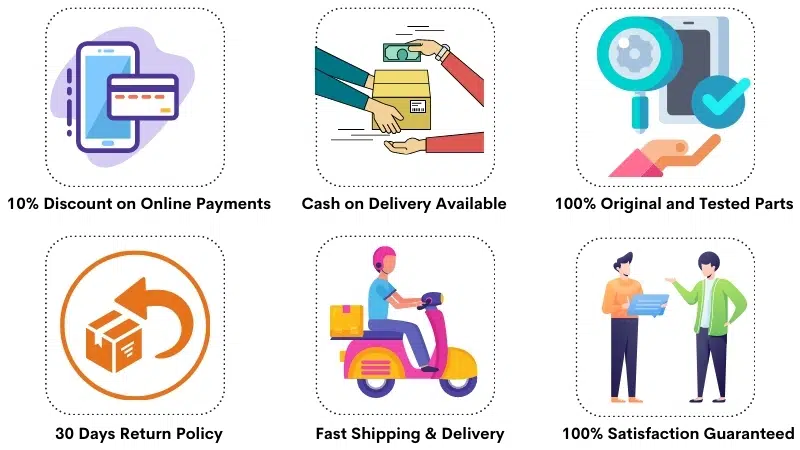 Common Customer Questions
Q: How much does it cost to replace the Redmi Note 5 Pro battery in India?
The price of a 100% original Redmi Note 5 Pro battery replacement is around Rs 1200-1300. If you buy a duplicate battery, the price is around Rs 350-450, including installation. Counterfeit batteries are infamous for their performance issues, and your phone starts to scramble with such products.
Q: Why should you always purchase the original battery?
If you are easily attracted to low-priced products, you shouldn't do that in this case. All the batteries available for cheap are duplicate/compatible and don't offer the same backup time equivalent to the original battery. If you purchase a battery for Rs 500, that would only add up to your problems rather than resolving them. The original battery offers many benefits which justify the investment:
You get the same backup time as advertised because of the actual battery capacity.
An original Redmi Note 5 Pro battery will not overheat your phone.
You'll not fast draining issues because an original battery can hold the charge very well.
You can enjoy peace of mind because you've bought the best product.
There is no need to do experiments or invest more money to buy a new battery.
Buying an original battery can save you a lot of hassle. You can get cheap batteries for Rs 500-600, and the seller typically offers a 3 or 6 months warranty. However, when the battery's capacity is not actual, you'll not get the desired backup time. Maximum, you can ask for a replacement from the seller, but still, you'll get the same low-quality product again.
Q: Why is my Mi Note 5 battery draining so fast?
Battery draining issues indicate battery problems. Please go inside the Settings-->Battery section, and you can see a battery graph there showing the draining progress. You can also see the applications that consume the most battery power. If you find any abnormal applications there, please uninstall them. If you recognize all the applications and you have been using them for years without battery drain issues, then the battery is the culprit.
Q: Why is the battery draining overnight and the phone heating up?
Many customers face overnight draining problems even in standby mode. It indicates battery problems, and if your phone heats excessively, you should replace the battery immediately. If the battery is relatively new, like you've just bought it a few days back, you should ensure an original adapter and charging cable.
Q: Can inbuilt battery be replaced?
It is a misconception that you can't replace an inbuilt battery. An inbuilt battery is more or less like a traditional battery but assembled inside the phone. You don't have direct access to the battery, and to replace the battery, you've to dismantle the phone. It is easy to replace an inbuilt battery, and you shouldn't worry about that.
Q: What are the best usage practices?
A Redmi Note 5 Pro battery's life largely depends on your usage pattern. To keep the battery in good shape, always ensure the followings :
Always use an original charging cable and adapter.
Don't leave the phone in overnight charging.
Don't use whatever chargers are available in hand at work.
Always use branded power brands to charge the phone if necessary.
Avoid playing resource-intensive games, as this phone is not designed for that.
If you have replaced the charging connector, always ensure to purchase the original.
If you follow the best usage practices, battery problems are very unlikely. People invite most problems themselves with their negligent behavior towards their phones, and later when battery issues intensify, replacing the battery is the only solution.
Q: Can I return/replace the battery in case of any issues?
An original Redmi Note 5 Pro battery is always free from problems as the manufacturer tests them before shipping. Still, if you are worried, you should always do a small test before assembling the battery permanently. Please follow these steps :
Dismantle the phone and remove the old/excused battery from the phone.
Connect the new battery temporarily without fixing/pasting it.
Use the original charger to charge the new battery for 10-15 minutes and see how much the charging percentage has increased.
Use the phone for some time and see much much drain has occurred.
If everything is fine, you won't notice any abnormalities, and the battery will drain properly. If your phone was instantly switching off, you should check for those issues after replacing the battery to ensure they are gone. For any questions or discussions, you can always call us at 9587954273.
Redmi Note 5 Pro Battery Photos
Please refer to the images below if you want to see the actual product photos of the Redmi Note 5 Pro battery. If you've any questions about the product or need additional information, you can always reach us at 9587954273, and our support team will assist you with all the questions.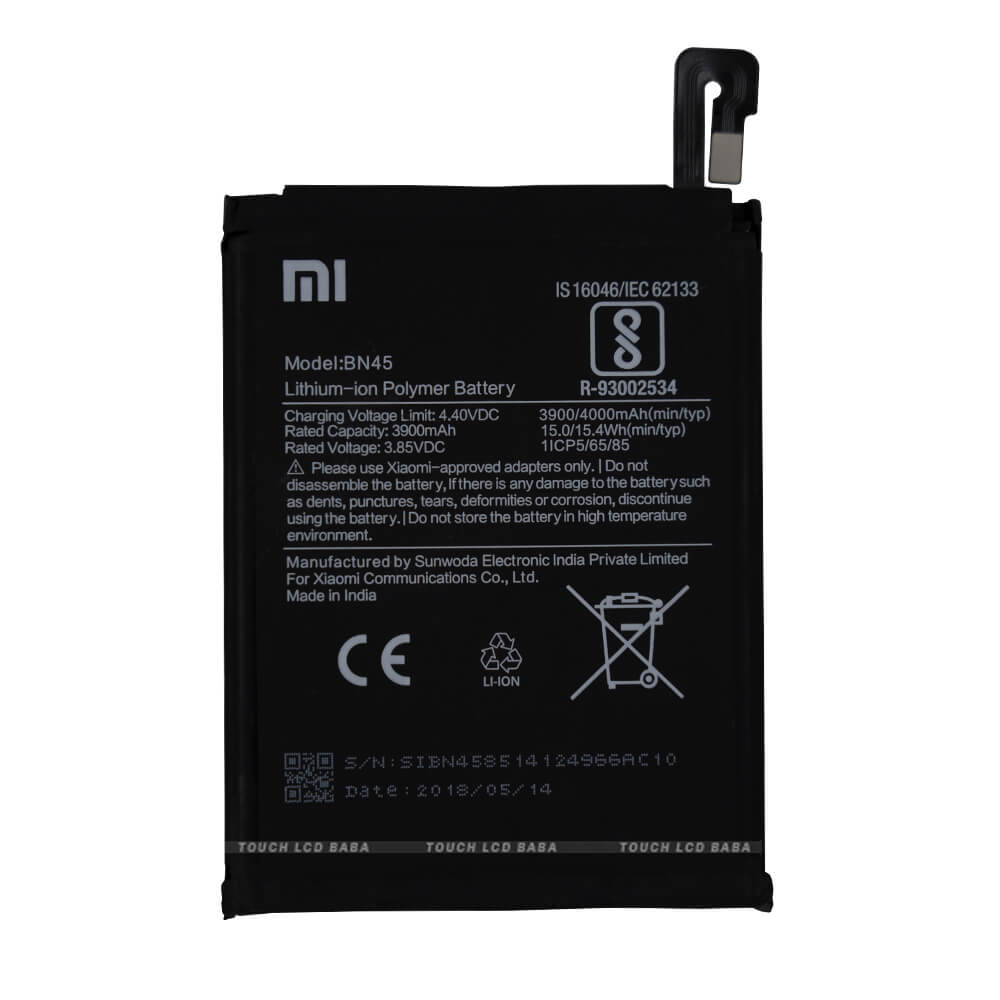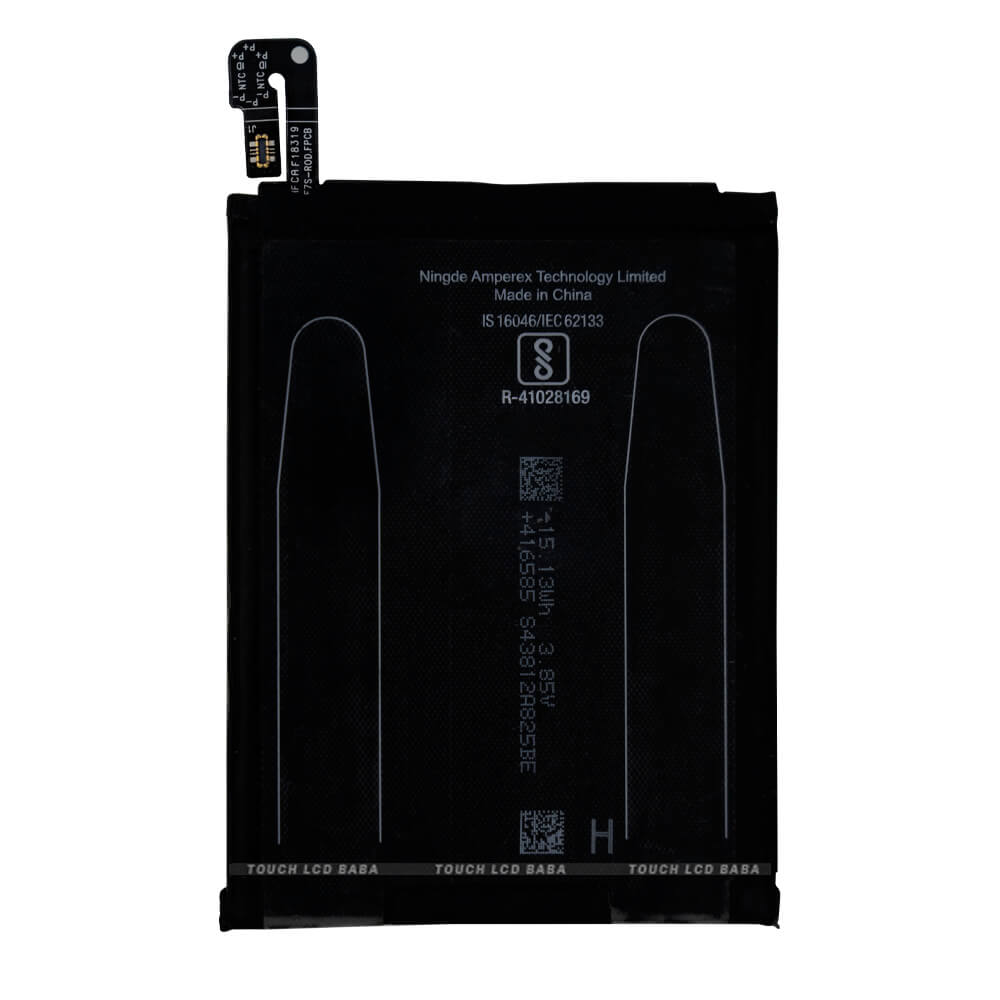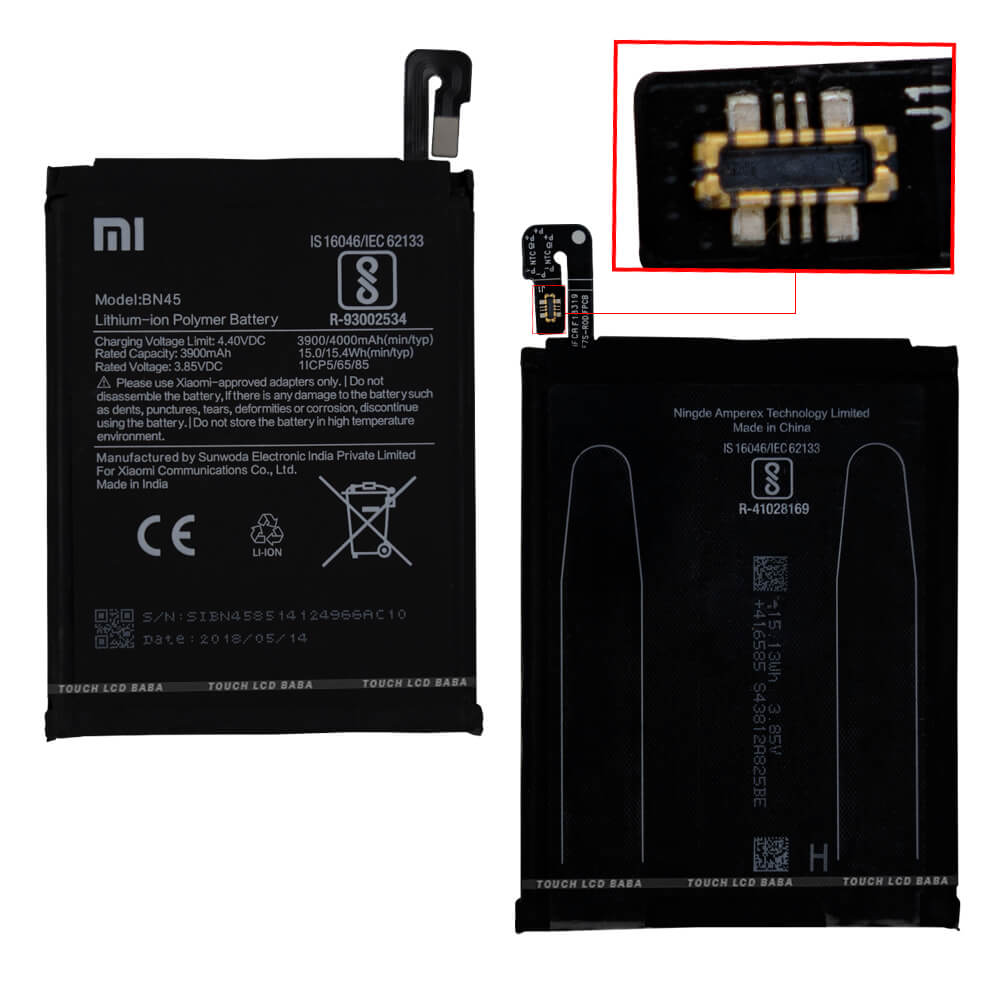 Shipping, Return and Refund Policy
All our products come with 30 days return, refund, and replacement guarantee. To return a product, It should be in the same condition we sent. You can't use or fix the new Redmi Note 5 Pro Battery if you want to return it. For complete details about Shipping, Returns and Warranty, please click here.