Customers don't want to give up their Honor 20 phones and want to buy the original display replacements. New mobile phones hit the market every day, but some are customers' favorites, and they don't want to ditch them even after years of usage. If you use a phone for years, you'll likely drop it, damaging the display or touch screen digitizer glass. When that happens, you need a new display unit to replace the broken part, but unfortunately, you can't find original screen replacements for this model in the local market.
If you install a duplicate display on your phone and intend to use it for another two years, that would never be possible. That's because duplicate screen replacements don't work for long and die quickly. That's why such products are cheap and easily available everywhere. The main motive of such products is to get more business, and all the quality aspects are completely missing. If you've been through such a situation and need an original display, we can help you. Many customers face a scarcity of original screens in their locality, and we help such customers get their desired products.
What is an Honor 20 Display Combo With Outer Frame?
A display combo with the outer frame consists of an inner display, a front layer of touchscreen glass, an outer frame, and a new battery. This option is the best if you want to renew your phone. The Honor 20 display replacements without the outer frame are also available. If you feel your phone's frame and battery are good and don't need to replace them, you can buy a display combo without the frame.
The combo that comes with the frame is beneficial in so many ways. Please note that if you replace a broken Honor 20 display from the official service center, they will always use the spare part that comes with the outer frame. Replacing a display unit with an outer body is a standard practice in a service center; many customers need these kinds of products regardless of price. So if you need a mesmerizing, original, authentic display replacement for your Honor 20, this product is for you.
Do you always need the display combo with the middle frame?
If you want to repair your phone in less and facing budget constraints, you always don't need the frame. Many customers buy the display with a middle frame because they don't want to settle for less or compromise anyway. If a better product is available, they will surely buy it without considering the pricing and other factors. Some customers consider many small things and are free to buy a display without the middle frame if that serves their purpose well.
Furthermore, please note that buying a display with a middle frame is essential if the frame is deformed. Sometimes, the device breaks badly when the blow is severe, and the body bends from the front side. If that happens, you need a new frame or can't repair the phone. When the front side portion of your phone is not in good condition or malformed, you must buy the display with the frame, and a new battery also accompanies it. The middle frame replaces the broken body of your phone and renews it just like you want.
Honor 20 Display with Middle Frame Specifications
| | |
| --- | --- |
| | This display is 100% original, brand new, and suitable for Honor 20. |
| | The Honor 20 display size is 6.26″, the display type is IPS LCD, and the display resolution is 1080 x 2340 pixels. |
| | The supported model numbers are YAL-L21, YAL-AL00, and YAL-TL00. |
| | You get a 100% original display and touchscreen, an outer frame, and a new battery. |
| | We offer a 100% identical spare part as you get assembled in a brand-new phone. |
| | We buy our stock from OEM manufacturers to ensure 100% original quality. |
| | Our products come with 30 days returns, refund, and replacement guarantee. |
| | All the shipments are insured for damage during transit. |
| | The Honor 20 display combo is readily available in stock, and shipping is fast. |
| | We accept orders using Cash on Delivery and Online Payments. |
| | The product is 100% original, tested, and works flawlessly without any problems. |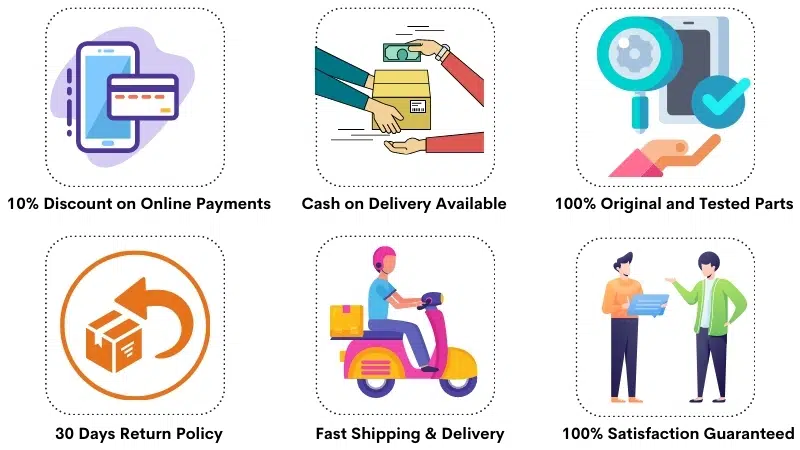 Frequently Asked Questions
Q: How much does buying an Honor 20 display with an outer frame cost?
A 100% original Honor 20 display replacement with the outer frame costs around Rs 5500-6000. This package includes the middle frame, display and touchscreen unit, and battery. You can easily renew your phone and only need to use the old back panel. It is impossible to purchase duplicate screens with a frame, as they are unavailable anywhere.
---
Q: What are the core benefits of buying an Honor 20 display with a middle frame?
The Honor 20 display that comes with the middle frame is beneficial in so many aspects. We understand that the display combo is expensive; hence the benefits should always exceed the price, which would become a justified investment. Here are the primary benefits of buying the Honro 20 display with the outer frame :
You don't need to paste the display manually, as everything comes pre-assembled in the frame.
The new display unit has a new front side body; hence the front portion completely renews.
A factory-assembled display is 100% free from glue or other pasting signs, giving you a feel of a brand-new mobile phone.
You get a 100% original display; hence, the brightness, colors, contrast, and touchscreen maintain their 100% original levels.
You don't need to worry about intermittent problems because original spare parts are always defect-free.
A new battery also accompanies the display combo; hence, if you have a depleted battery, that problem also resolves.
The satisfaction of using an original display is always worth it because you don't even feel as if you've replaced the display ever.
Please note that the original display is a blessing for customers who understand the value of original spare parts; otherwise, everything is overpriced for a customer. You should know that original spare parts always provide the actual value for the investment, and that's why so many customers buy them without questions. If you care for your phone and need the frame, battery, and original display combo, this replacement is 100% perfect.
---
Q: I need the original frame separately. Do you offer it?
We are sorry, but the Honor 20 frame is not available separately. Please don't that we don't buy frames separately, but a display combo arrives pre-assembled in the frame. So it is not possible to sell the frame separately. In most cases, you'll not be able to find a frame separately because it is an obscure product. When you try to find specific parts like a display frame, it is not an easy task.
Customers want to buy a frame separately to reduce repair costs. Finding a display for Honor 20 is relatively easy, but it is equally tough to find its frame. So customers often buy a duplicate display and then try to find a frame online to paste a duplicate display inside it manually. We believe such strategies are counterproductive, and you'll never be happy with the outcome. Buying individual parts separately and then pasting them manually will never get you the look and feel of a factory-fitted display.
---
Q: Can I buy this display combo without the battery?
No. You can't. The display combo comes as it is; we can't remove or add any parts. The Honor 20 combo on this page is 100% original and comes with an outer frame and battery. We can't remove any of its elements and tailor it to your needs because that's impossible. Your existing battery is likely good, but it is impossible to change the structure of the original part.
Some customers ask us to remove the battery from the frame and provide them with the display combo. Please note that the battery comes pasted inside the frame, and removing it is useless. The battery often overbends while removing it from the frame and becomes useless. That's why removing the battery from the frame is not a good idea, especially if the battery is new. In most cases, the battery becomes useless after removing it from the frame, and we always avoid doing that.
---
Q: How can I trust that this Honor 20 display is 100% original?
If you have trust issues, there is nothing much we can do about that. We offer a 100% original display and know it very well; how you can identify it is not our business. It is not a harsh answer, but understanding anything in real life requires knowledge, expertise, and training. Suppose you ask someone how I can differentiate between an original and a fake diamond; that will surely take time and training. The same goes true for this business or any other business in real life. Getting to the root of facts takes time; you can't identify them without practical knowledge.
If you have a skeptical mindset and trust issues, we prefer not to do business with you. We've invested so many years in this business, and we don't want to prove anything because a customer is skeptical. Anyone with industry knowledge is most welcome to discuss, and we've all the answers. Furthermore, doing business without trust is unnecessary, and you can take your business to a trustworthy vendor.
---
Q: Can you walk me through the complete process of buying and installing?
Customers who buy the display replacement online often worry about the whole process. If you try to find original spare parts in the market, you'll most fail because no one stocks such products. So many customers buy screen replacements from us because they want original products. Here is the whole process of buying and installing :
You order an Honor 20 display from our website, and we will ship the product to you.
After delivery, you visit a nearby technician's shop to install the display.
The technician dismantles the phone and tests the new display without installing it.
If the display combo passes during the test, he installs the display on your combo. If a product fails in testing, you can easily replace it by contacting us.
You stay there for 30 minutes during installation and then return home with a perfectly repaired phone.
You should always visit an expert technician and stay beside him during installation. If you face any problems, it is very easy to replace the display in unused condition. You can't replace the display post-installation or after removing the screen guard, and you should always keep that in mind.
---
Q: Can you briefly overview how to test the new display before installation?
Testing the display before installation is elementary and convenient; almost anyone with basic skills can do that. Please note that you don't need to remove the broken display to test the new display. Here are the steps you should take to test the new display :
First, decouple the rear panel gently using the proper technique.
Remove all the screws and maskings from the motherboard section.
Locate the old display's connection on the motherboard and gently eject it.
Connect the new display's flex with the motherboard in the right direction.
Please turn on the phone to quickly test the new display and use its touchscreen in real time.
When you are satisfied with the performance, you can install the display on your phone.
Open condition testing is rigidly accurate and popular among all mobile phone technicians and service centers. Everyone in this industry follows this practice to test new screens before installation. We've outlined these basic steps so that at least you know about open-condition testing. Always test the display yourself and then proceed to the final installation.
Honor 20 Display With Frame Photos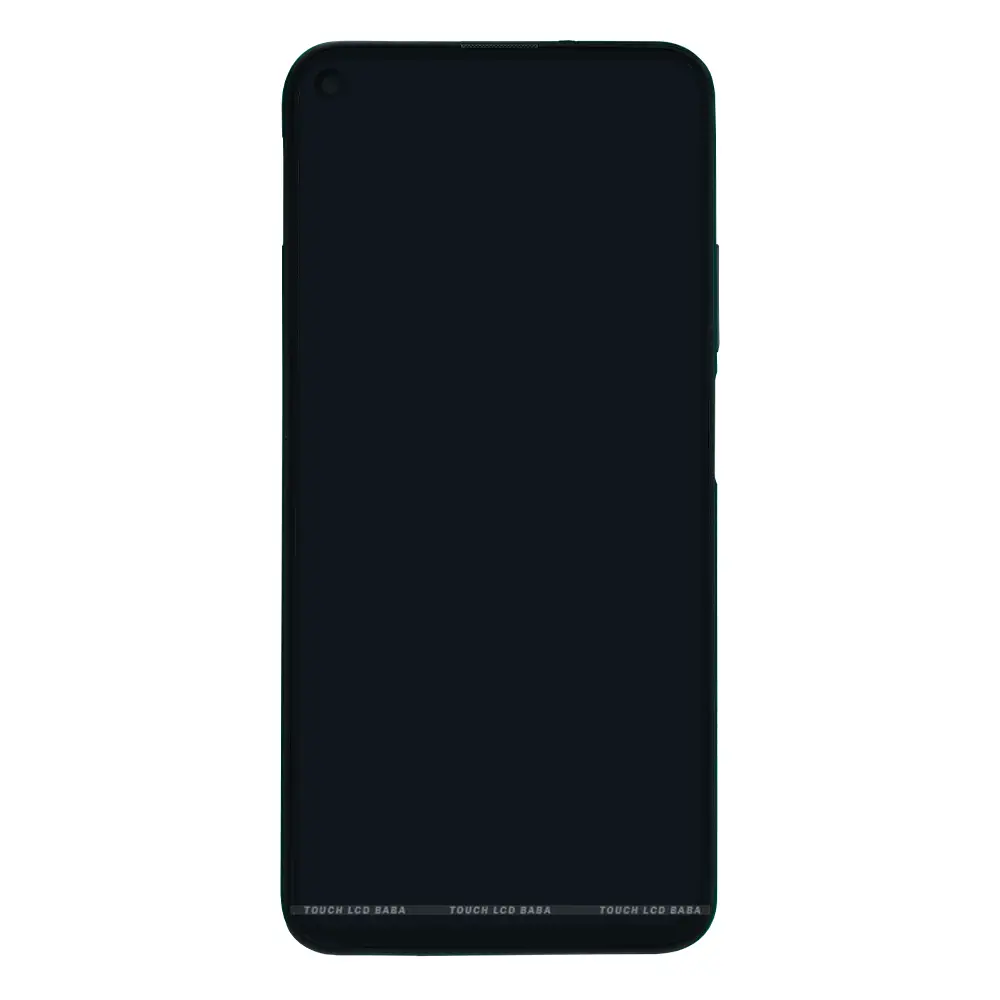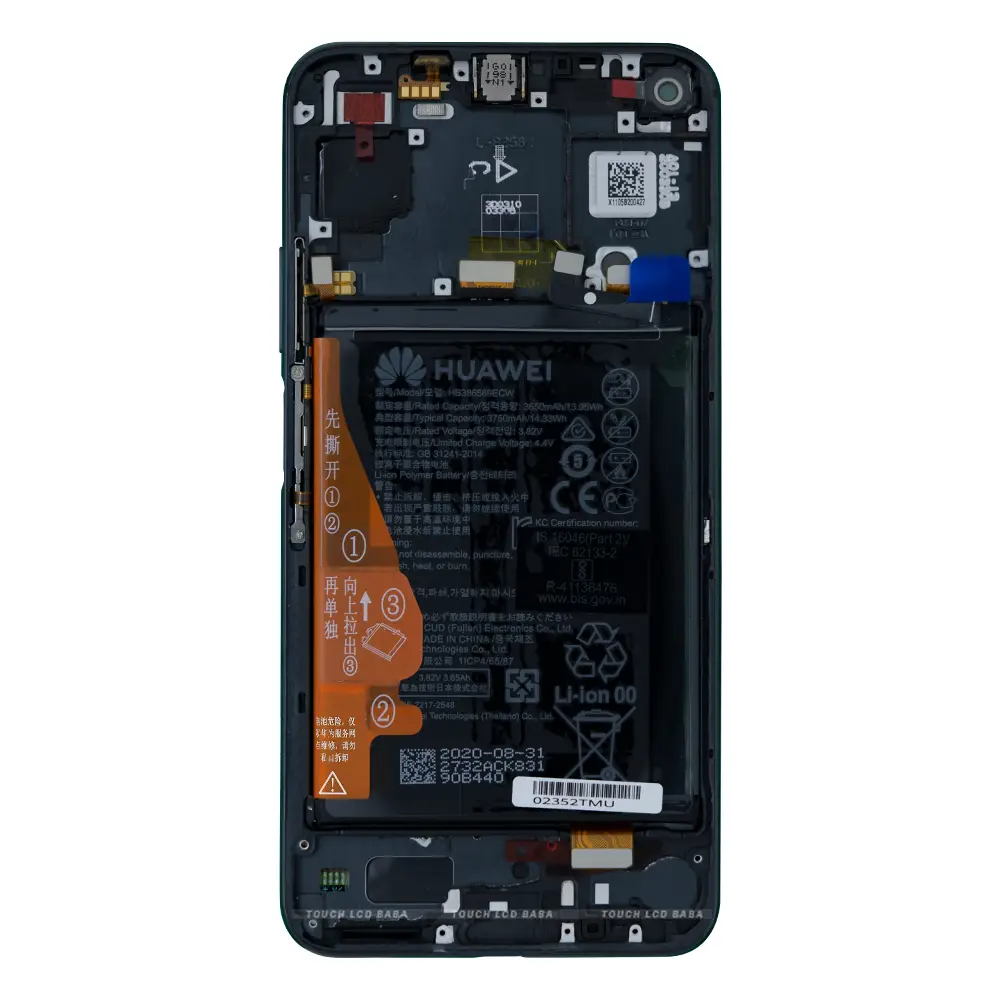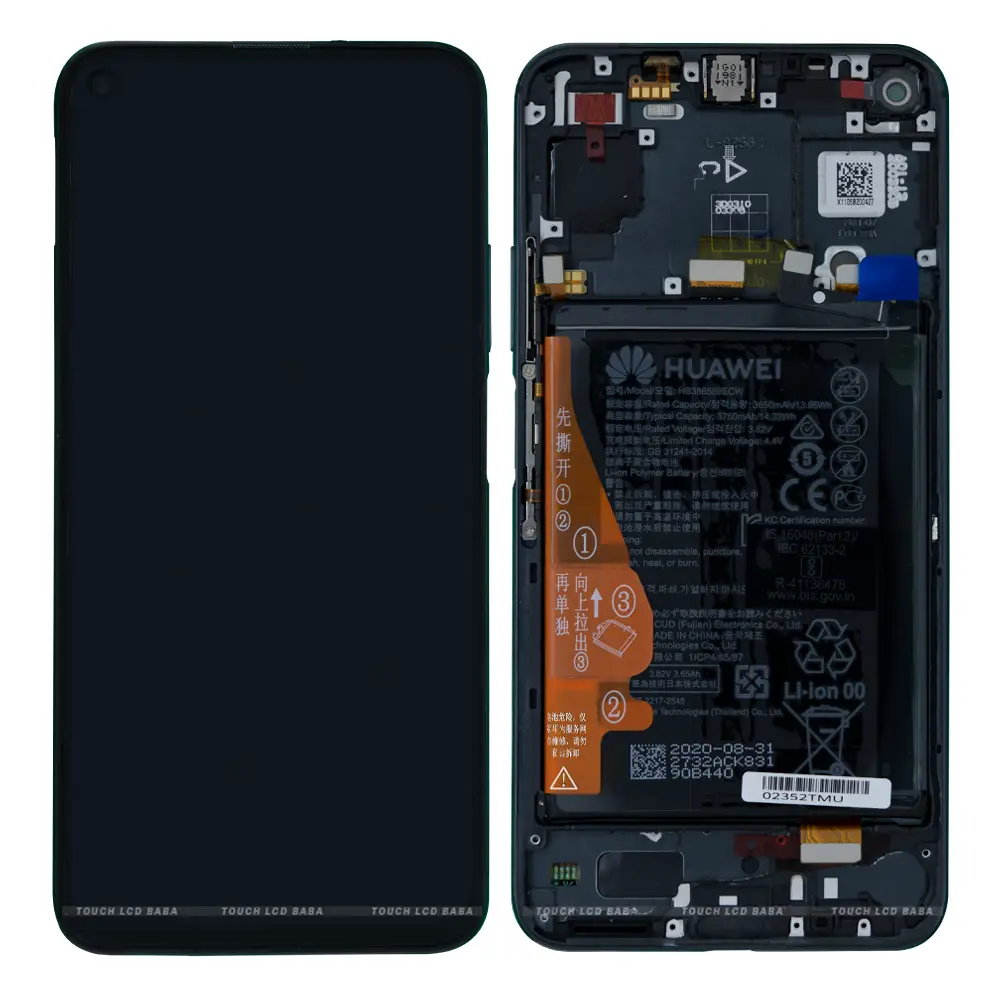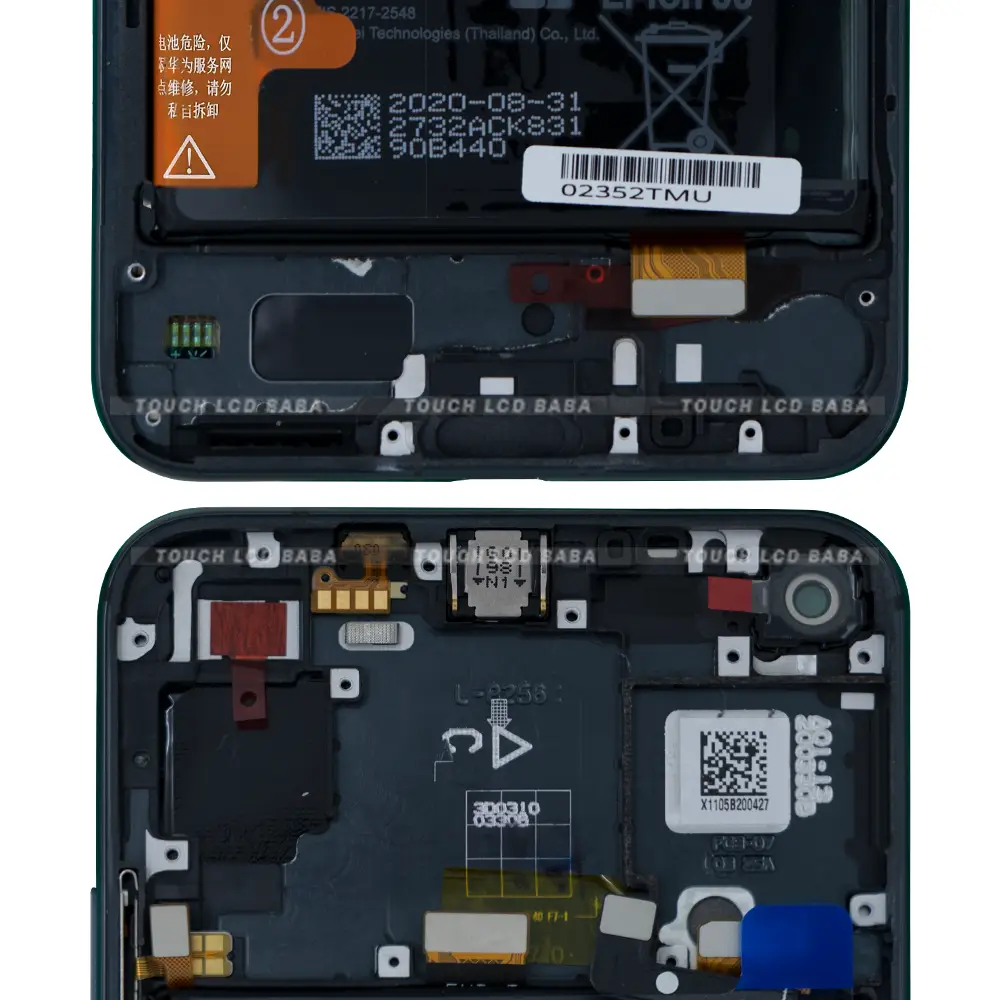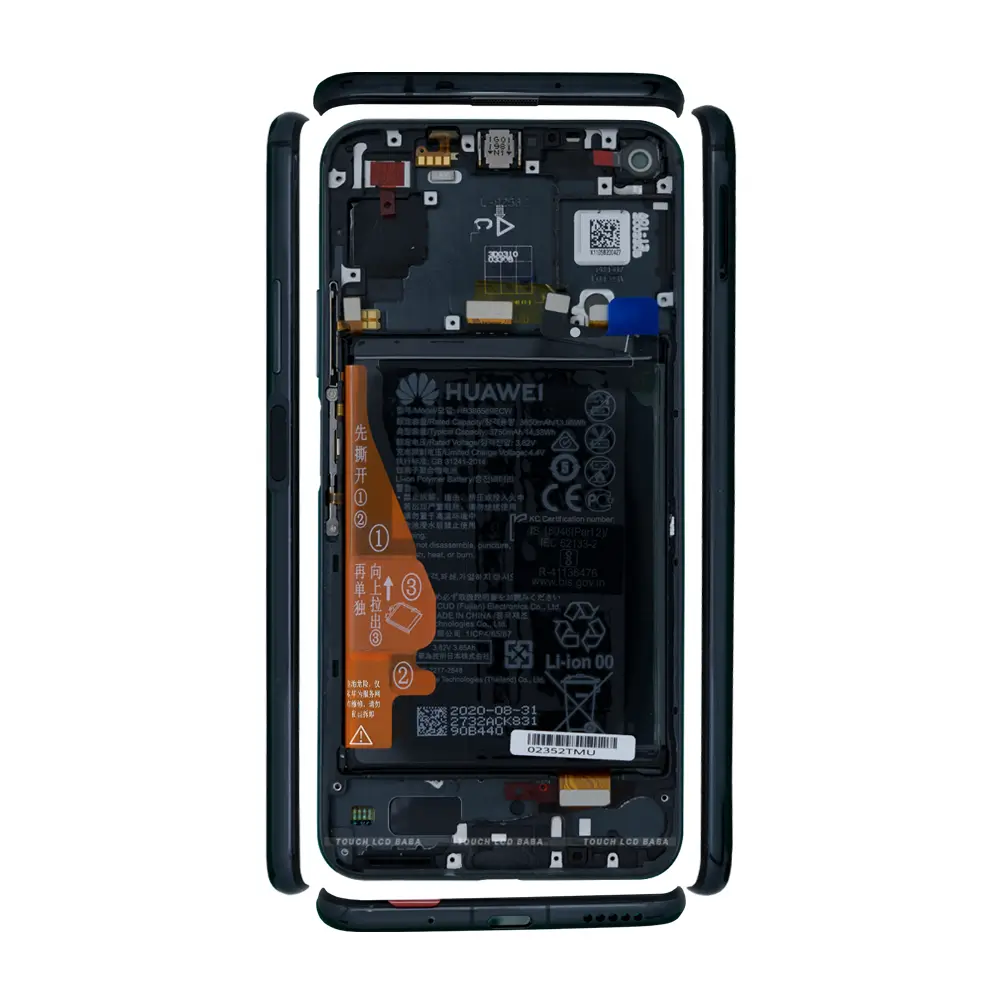 Shipping, Return and Refund Policy
All our products come with 30 days return, refund, and replacement guarantee. To return a product, It should be in the same condition we sent. You can't use or fix the new Honor 20 display if you want to return it. For complete details about Shipping, Returns and Warranty, please click here.